ReDew Makes the Only Jeans You Need
The Swedish apparel company ReDew makes the comfiest, best-fitting performance denim we've found for women on the move. Bonus: the jeans are made in part from recycled plastic bottles.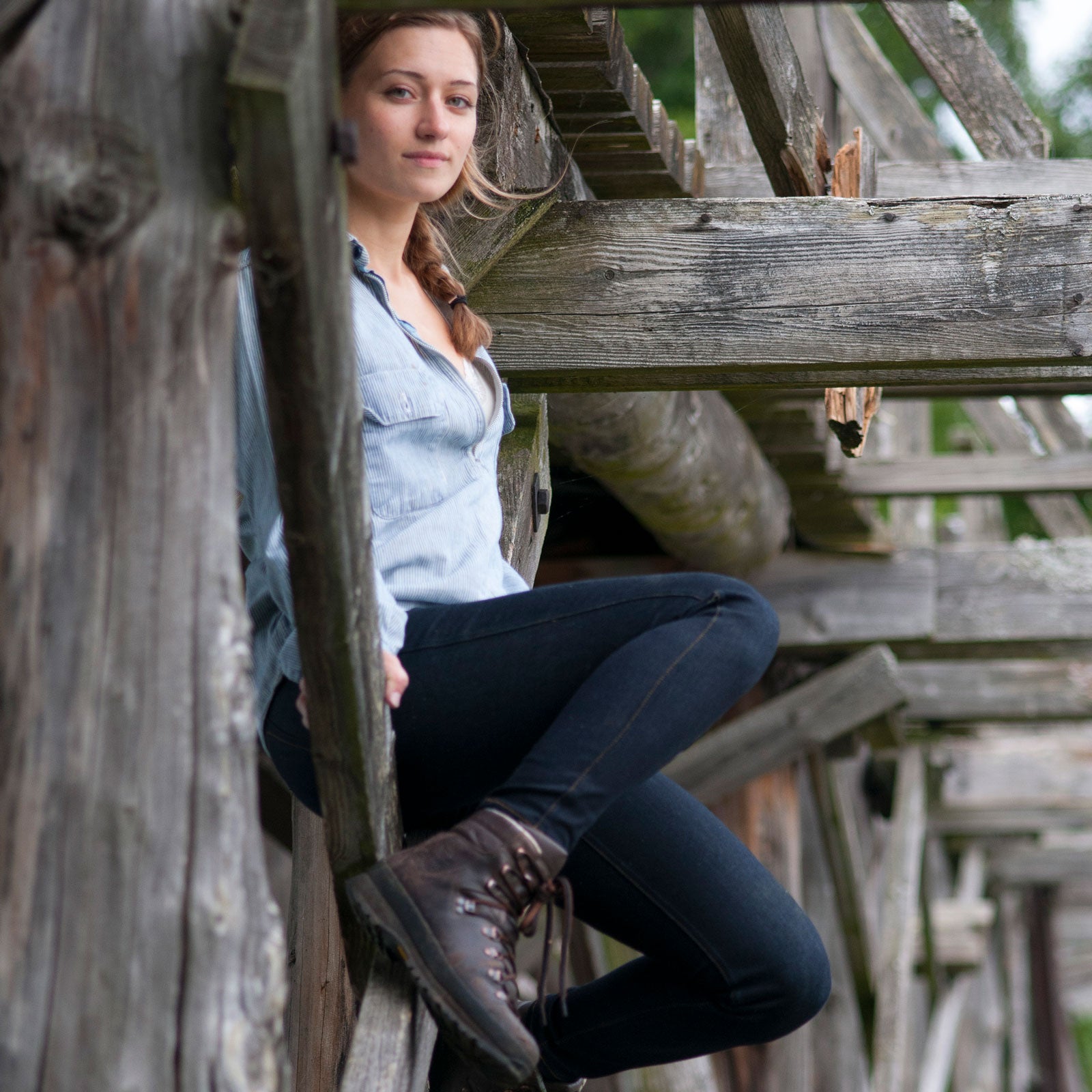 Heading out the door? Read this article on the new Outside+ app available now on iOS devices for members! Download the app.
There's been an explosion of great denim lately, much of it falling into the performance category—meaning that the classic cotton twill is upgraded with synthetic fibers or other technologies. Some fabrics stretch enough for climbing and hiking; others hold their shape over many days of wear.
I've tested quite a few of these über-jeans over the past two years, and I've liked a lot of them. But a newer arrival just bested them all: the Örn jeans ($149–$159), from the Swedish company ReDew.
They're stretchy. Really stretchy. So stretchy that I can actually wear them on a 14-hour flight and feel like I'm lounging in pajamas. The organic cotton is blended with 14 percent polyester (from recycled plastic bottles) and 4 percent Lycra, so they maintain their shape and are elastic enough for hiking and even impromptu yoga. Not that I'd replace my regular yoga pants with these jeans, but they do let me pop out a few lunges to break up long sessions of sitting at computers or in airports.
But stretch alone doesn't make them better than the rest. After all, many of the performance jeans I've tested are stretchy. What sets the Örn apart is that they really feel and look like traditional all-cotton denim. They're designed with a deep-grooved twill that's substantial, even deluxe. Whereas a lot of performance denims are thinner and lighter than standard-issue jeans, the Örn is a heavyweight—in a good way.
The fit is terrific. I've got a small waist and broad hips, so my pants' waistbands sometimes gap—but not these. The rise is a smidge long for me, so the zipper pooches out sometimes, but I forgive it. Plus, my taller friend reports no pooching on her pair.
Whereas a lot of performance denims are thinner and lighter than standard-issue jeans, the Örn is a heavyweight—in a good way.
It's not surprising that these jeans fit so well, given the company's leadership. Peter Lantz, who cofounded ReDew with outdoor-industry veteran Anders Haglund, spent decades designing jeans for companies such as H&M and VF.
But Lantz and Haglund wanted to produce a cleaner, more sustainable product. So they founded ReDew in 2014, and in 2015 they established a foundation that donates 25 percent of the company's profits to wildlife and habitat conservation. Their jeans hit the market in Sweden in 2017 and in the U.S. in 2018.
ReDew is also achieving some cool innovations in denim construction. Its labs developed a proprietary finish that gives the fabric a worn look but doesn't weaken its strength (as other distressed treatments do). And the black finish on my Örn jeans comes from a novel dye technology that lasts longer than conventional dyes while using vastly less water and chemicals.
I'd like to think that if ReDew made more versions of its jeans—the company currently offers two models for men and two for women—I'd buy them. But then again, the Örn is turning out to be the only one I need.
Lead Photo: Courtesy reDEW8