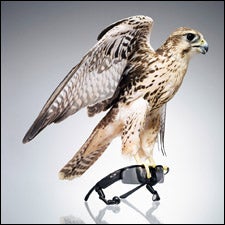 Heading out the door? Read this article on the new Outside+ app available now on iOS devices for members! Download the app.
Mysteries of the mind-body connection: Why does Willie Nelson make me run faster than the White Stripes? And why do both sound so much better coming out of the Thump Pro? I don't have answers, but I do know that after several trail runs I fell shamelessly in love with these 1GB digital audio player-cum-sunglasses, to the point where the stupid-expensive price mattered not at all. In contrast to earlier models, the Pro is lighter, with racier lines and swappable lenses. Plus the earbuds' sound quality beats iPod's standard-issue jobbies by a landslide. But mostly the Pro rules because there are no messy wires, no tugging when you turn your head—you and your tunes are fully integrated. Though, come to think of it, that may put me closer to Willie Nelson than I care to get.
Oakley Thump Pro

Oakley Thump Pro
Oakley Thump Pro $349 oakley.com
Gold Ring
Campagnolo Shamal Ultra
Campagnolo Shamal Ultra

Campagnolo Shamal Ultra
They say you can only make a first impression once. Apparently, the engineers at Campagnolo believe you should take the opportunity to say, "I'm fast." They've resurrected the Shamal Ultra racing wheel in a gold-anodized package that looks as flashy as it performs. The Shamal is similar in proportion to Campy's venerable Eurus wheel, one of the finest all-around hoops available, but it's even lighter (1,395 grams per pair), thanks to stunning, oversize carbon hubs. These medium-profile wheels (24.5mm in front for stability and 28.5mm in back for aerodynamics) use Campy's G3 spoke pattern—three spokes arranged together—in the rear for incredible lateral stiffness and power transfer. Few wheels this light and responsive can hold up to the rigors of daily riding—climbing, sprinting, racing, and training. And that first impression? With this wheel, one is all you need.
Campagnolo Shamal Ultra $1,160 campagnolo.com
Get to the Point
Grivel Air Tech GSb
Grivel Air Tech GSb

Grivel Air Tech GSb
Crampons are oddly like underwear: Something's terribly wrong if they come off by accident, and if you have to change them en route, you want the procedure to be as swift and uncomplicated as possible. Which is why Grivel's Air Tech GSb crampons are such a blessing. The breakthrough design locks points to boot with a metal tooth that fits into a hole in the rubber toe of your (compatible) boots. Not only is the system exceptionally secure; it eliminates the traditional front-bail attachment, which adds bulk to the toe and can trip you up. Pair the 12-point Air Techs with SCARPA's new GSb-compatible Escape GTX ($229; scarpa.com), an all-purpose boot that's comfortable enough for long approaches and stiff enough for peaks like Rainier and Shasta, and you've got a winning setup for summer mountaineering. And unless you're also sporting Kevlar Underoos, it's probably going to outperform your skivvies.
Grivel Air Tech GSb $152 grivelnorthamerica.com
Amphibiaphone
Verizon G'zOne Type-V
Verizon G'zOne Type-V

Verizon G'zOne Type-V
Surfing. Kayaking. Taking a bath. Until now, the list of excuses for not returning a call was long indeed. But inaccessibility is going to require a lot more creativity, thanks to go-anywhere phones like the waterproof, shockproof, dustproof, and heatproof (in excess of 140 degrees) G'zOne. This bomber, palm-size unit is built to meet military specifications for durability, including a three-foot, 30-minute dunking tolerance. It does everything you'd expect of a phone today—Web and e-mail included—plus it has GPS capability. Oh, and a two-megapixel camera, so you can skip the call back and just send your buddy a picture of the surf. Actions, as they say, speak louder than words.
Verizon G'zOne Type-V $300 verizonwireless.com
*Price includes two-year contract.
Adventure, Bagged
Mulholland Brothers Safari Bag
Mulholland Brothers Safari Bag

Mulholland Brothers Safari Bag
You'll never have to brave a gantlet of booby traps, swipe an artifact from an ancient temple, and barely outrun a giant rolling boulder. That only happens in movies. But you can still lust after a bag worthy of such a caper—which is exactly why we love San Francisco–based Mulholland Brothers' Safari Bag. Its zipperless, wide-mouth opening reveals a single compartment, which makes for quick packing if you have to flee in a hurry. But what makes this duffel ooze epic-journey charm is its luxurious, indestructible, honey-colored hide. Each bag is hand-crafted from the same type of leather Pony Express riders used for saddles and saddlebags more than a century ago. Which, in addition to sounding cool, makes this bag look even better with age: The more trips you take, the more waxy tannins the leather releases. And that, serendipitously, makes you want to take more trips.
Mulholland Brothers Safari Bag $850 mulhollandbrothers.com
Tropical Cruise
Phat Cycles Aloha Mahalo 3
Phat Cycles Aloha Mahalo 3

Phat Cycles Aloha Mahalo 3
So what if you live in Kansas, not Kauai? This cruiser brings the beach to you. Hibiscus blossoms decorate the top tube, fenders, and chainguard. For late nights it has two sets of lights, one switch-activated and one motion-activated and concealed in the tail fin. Whitewall tires on black anodized rims and a smaller geometry (to fit a women's frame, naturally) deliver the final touches. And the ride is pure comfort, from the oversize, dual-spring saddle to the pedals, which have one smooth side for riding barefoot. And the Shimano three-speed grip shift needs just a gentle twist to keep you cruising up hills. For good or bad, this bike makes you feel like you're on vacation every day.
Phat Cycles Aloha Mahalo 3 $479 phatcycles.com
Trending on Outside Online