Gear Guy
Should my hiking socks and sock liners be made from the se material?
On a recent hiking trip, I developed a whopper of a hot spot on my heel. A friend lent me a pair of liner socks, and the rest of the journey was comfy. I'm sold! I've heard that the liner should be made of the se fabric as the outer socks. What's your opinion on this? Brenda Shoreview, Minnesota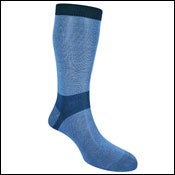 Heading out the door? Read this article on the new Outside+ app available now on iOS devices for members! Download the app.
Well, you've been fortunate if you're just now suffering from a hot spot after what I assume is an extended length of time hiking with a single layer of socks. I'm a strong believer in the two-sock system, even with hiking socks that claim to be so effective that only a single layer is needed. That would be a wool sock such as those from SmartWool, the logic being that the merino wool absorbs so much moisture from your feet that friction is kept to a minimum. But I still like a liner sock.
Bridgedale Coolmax Sock Liners

Coolmax Sock Liners
I understand the idea behind the same-material-for-both-liner-and-main-sock theory. You want to avoid some kind of weird interaction between different materials. But I'm not really aware of any prevailing wisdom—conventional or otherwise—that dictates such a sock policy. In fact, I regularly hike with synthetic liner socks (I prefer those made from DuPont Coolmax or polypropylene; they run around $8 per pair) with wool socks such as the SmartWool Light Hiker ($15; smartwool.com) or Bridgedale Light Trail sock (also $15; bridgedale.com).
Besides, even "wool" socks have a substantial amount of synthetic fabric in them, to help with wear and stretchiness. A SmartWool sock, for instance, is about 75 percent wool, with the rest nylon and something like Spandex.
Anyway, once you start putting socks on, keeping feet cool is always an issue. I like wool because it's a pretty good temperature regulator, and it really does help keep feet dry. Wool liner socks also are available, of course—those from SmartWool sell for about $10. And they're really very good.
You've seen our picks for 2007 Gear of the Year, and now the entire
Outside Summer Buyer's Guide is online. Check out this year's more than 400 must-have gear items, including footwear.
Trending on Outside Online