Style Special: Beyond Aloha
Creative casual in Honolulu's new art hub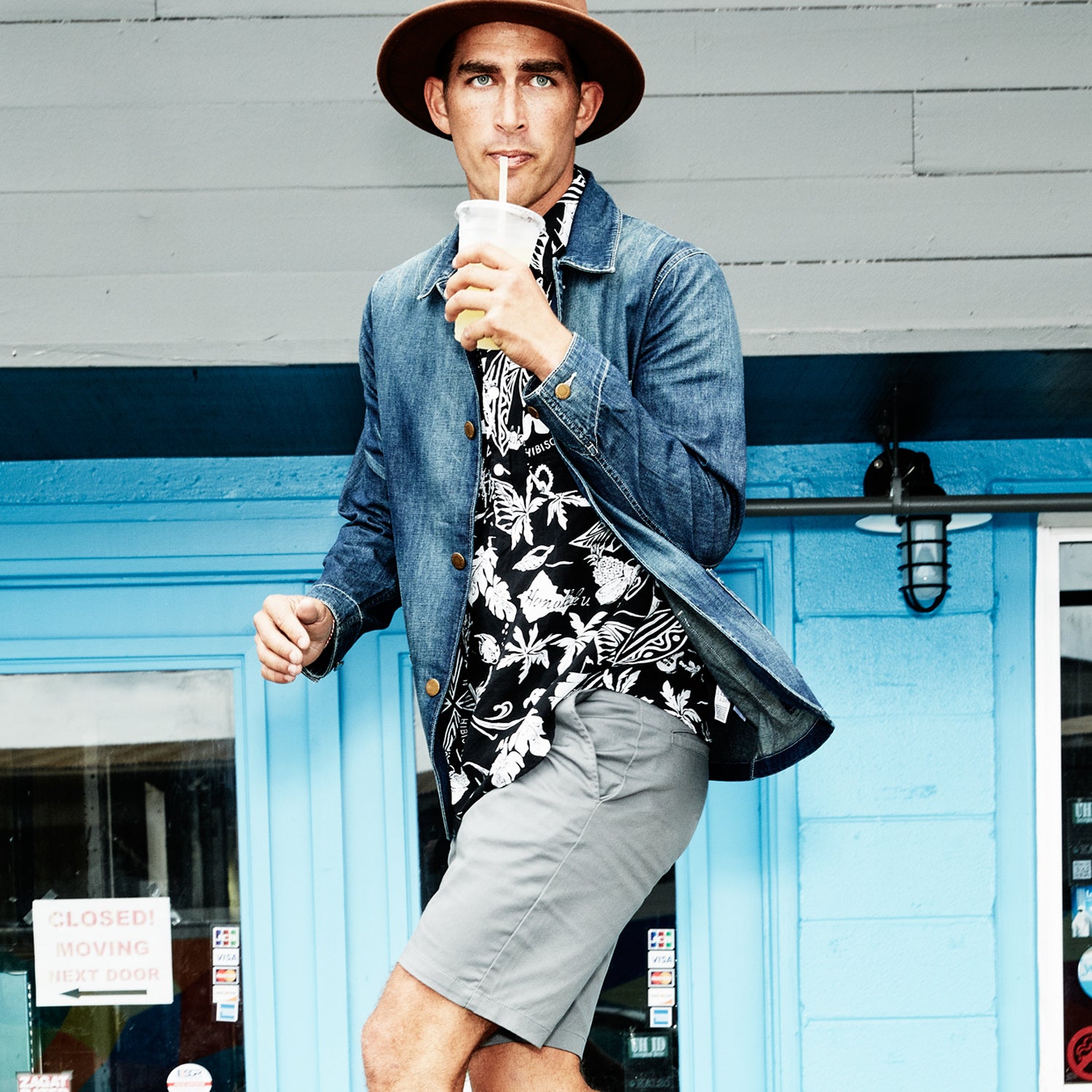 Ture Lillegraven
Heading out the door? Read this article on the new Outside+ app available now on iOS devices for members! Download the app.
The district of Kakaako in Honolulu has been a lot of things—a burial site, a farming community for Hawaiian royalty, and a neighborhood of rundown auto-repair shops. Most recently, thanks to a rising generation of activists and artists, it's become a thriving hub for culture and creativity. 
---
Austin Kino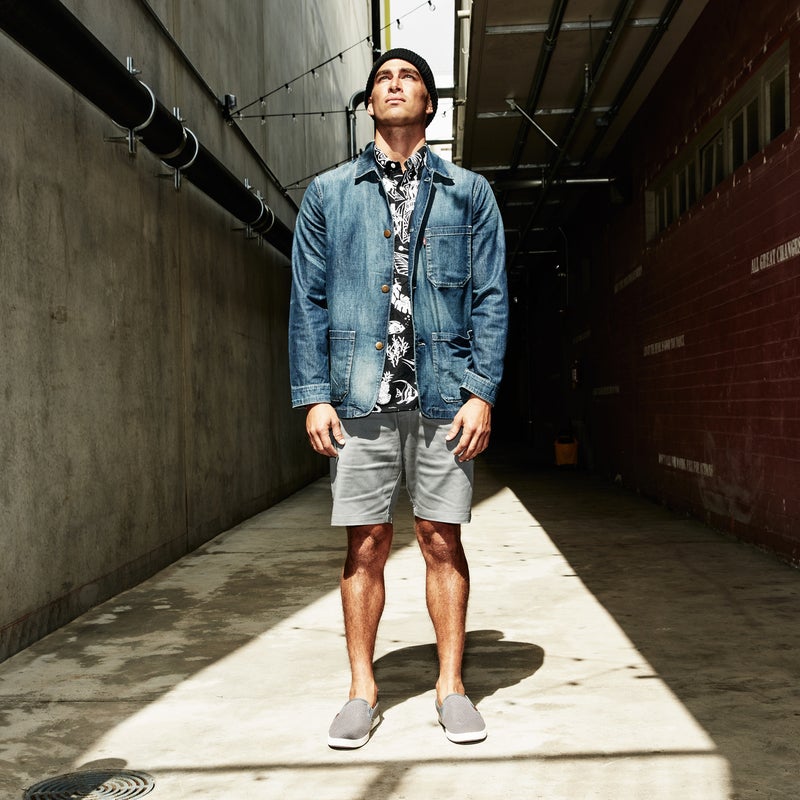 Forty-one years ago, the Polynesian Voyaging Society launched a replica of an ancient double-hulled canoe to test the theory that native Hawaiians origi­nally came from Polynesia. Crew members used only traditional methods of navigation and successfully completed nine long-­distance ocean voyages. In May 2014, that same ship, the Hokule'a, left Oahu on a 54,000-mile bid to circumnavigate the globe, stopping along the way to meet with local communities. Kino, who has been training as an apprentice navigator since he finished high school, recently joined the crew for a leg of the journey—a crossing from the Virgin Islands to Florida. In 2014, the 28-year-old started  a nonprofit to teach kids about ecological preservation. "We're trying to be a catalyst to inspire the next generation through adventure," he says.
On Austin: Engineer coat by Levi's ($98); Tropical linen shirt by Ralph Lauren ($145); Benefit Hybrid shorts by RVCA ($55); Makani shoes by OluKai ($90)
---
​Jyoti Mau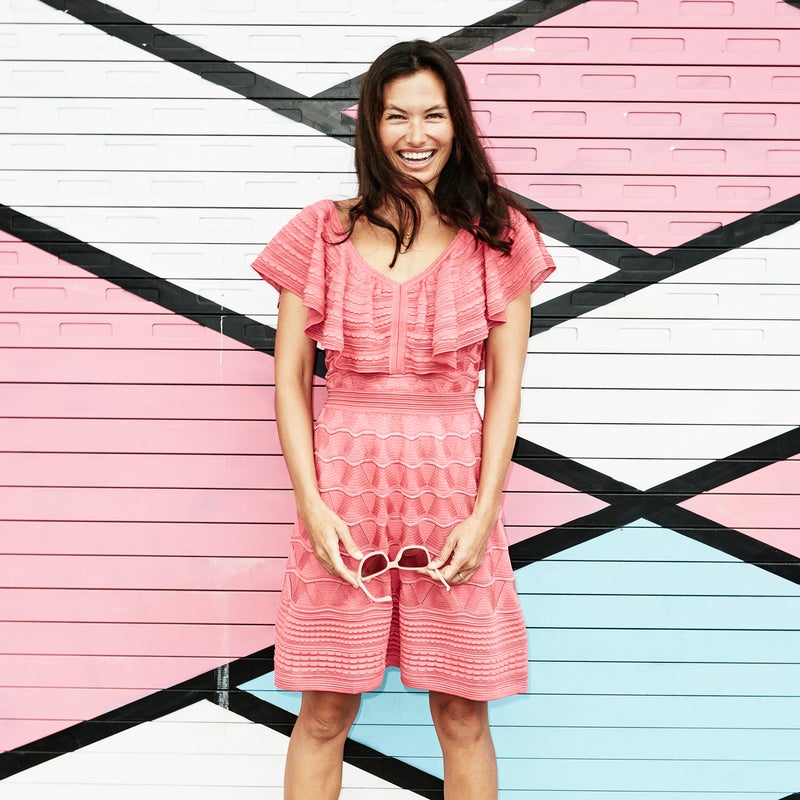 For three years, Oahu native Mau worked as a fashion photog­rapher in Los Angeles. In 2009, she returned to the island, where she worked for Hana Hou magazine. She now raises her two sons and is coming out with a children's-clothing line later this year. 
On Jyoti: Knit Ruffle dress by M Missoni ($595); Loea sandals by OluKai ($120); Colette sunglasses by Smith ($89)
---
Matt Kawika Ortiz
Ortiz's Wooden Wave, a graphic-arts studio he started with his wife, is located in the heart of ­Kakaako and is part of Lana Lane, an artist collective. Lana Lane's headquarters serve as a work space for 25 artists and look a bit like your childhood dream fort. There's a bouldering wall, a game console, and a rack of surfboards, and everyone has their own area within the complex. "It's an incredible group of people," says Ortiz, explaining that the idea behind Lana Lane is to help creative people avoid a tendency to be solitary by giving them a place to gather. Of course, in Hawaii here's no shortage of excuses to ditch work. "When the waves are good, the place empties out," he says.
On Matt: Cold Ones shirt ($55) and pants ($55) by RVCA; Holona sandals by OluKai ($80)
---
​Kamea Hadar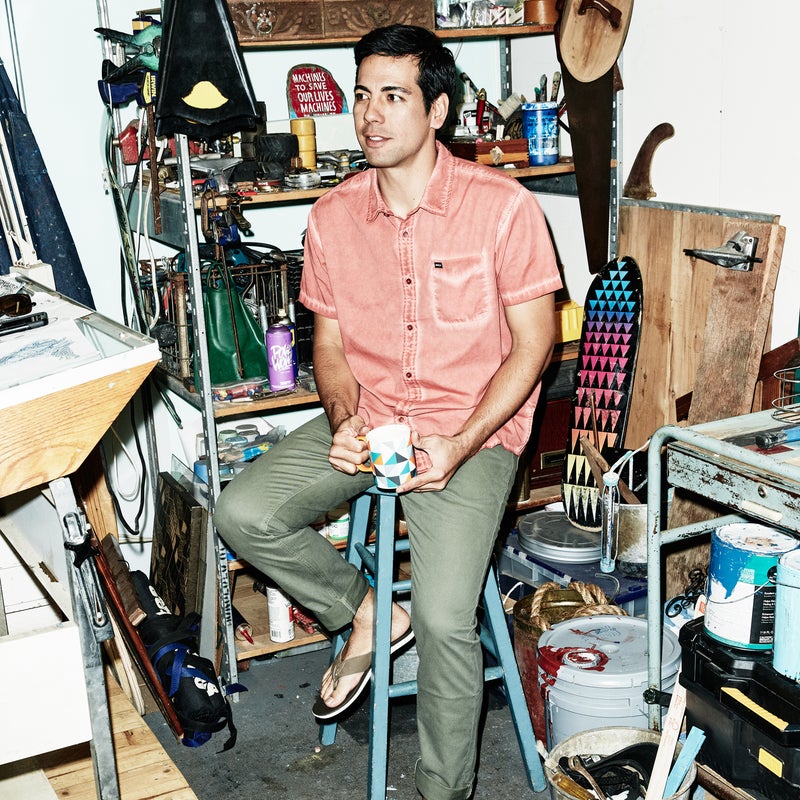 Hadar is a cofounder of Pow! Wow! Hawaii, an annual weeklong festival where artists from around the world paint murals, play music, and exhibit their work on Kakaako's walls. "It started with an idea to paint canvases as part of a live exhibition," Hadar explains. "But we got a little drunk and started working on the walls, and people thought it was cool." Today he ­focuses exclusively on large-scale art. "It has completely changed the way I paint," he says. Pow! Wow! now hosts some 80 artists, chosen each year based on a combination of talent and personality. 
On Kamea: Ripley shirt by Vans ($45); Spanky pants by RVCA ($70); Hokua sandals by OluKai ($70)
---
Noa Ginella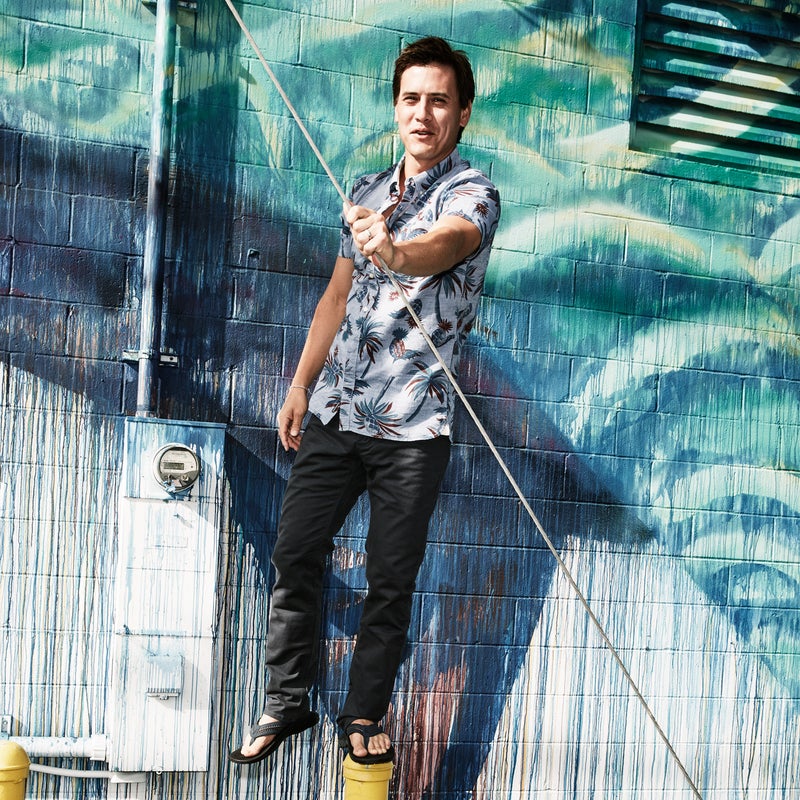 Three years ago, when ­Ginella was 19, SUP magazine called him "one of the best young watermen in the world." He's only gotten better. In addition to racing and surfing competitions (he's currently ranked seventh in the Stand Up World Series), the resident of Oahu's North Shore also spearfishes and freedives.
On Noa: Sunset Stripe Breezer shirt by Tommy Bahama ($118); Table Rock shorts by Prana ($65); Nui sandals by OluKai ($80); Montecito sunglasses by Kaenon ($229) 
---
​Kainoa Lum
Each winter, Hawaii becomes the center of the surfing uni­verse when giant Pacific swells roll into the islands' legendary breaks. Lifeguards like Lum, who is 29, practice for every contingency. "To qualify to be a guard, you have to take a timed agility test, and once you're accepted the training is really intense," he says. Lum has been patrolling beaches on Kauai for seven years and just took part in his first jet-ski and helicopter-rescue training. "The lifestyle of being around the ocean is what made me want to be a lifeguard here," he says.   
On Kainoa: Lightweight Baseball ­jacket by Nautica ($228); Everyday Vintage shirt by Vissla ($25); Uluwehi Keaukaha shorts by ­Forest Cloud ($295); Makani shoes by OluKai ($90); Silversword sunglasses by Maui Jim ($249)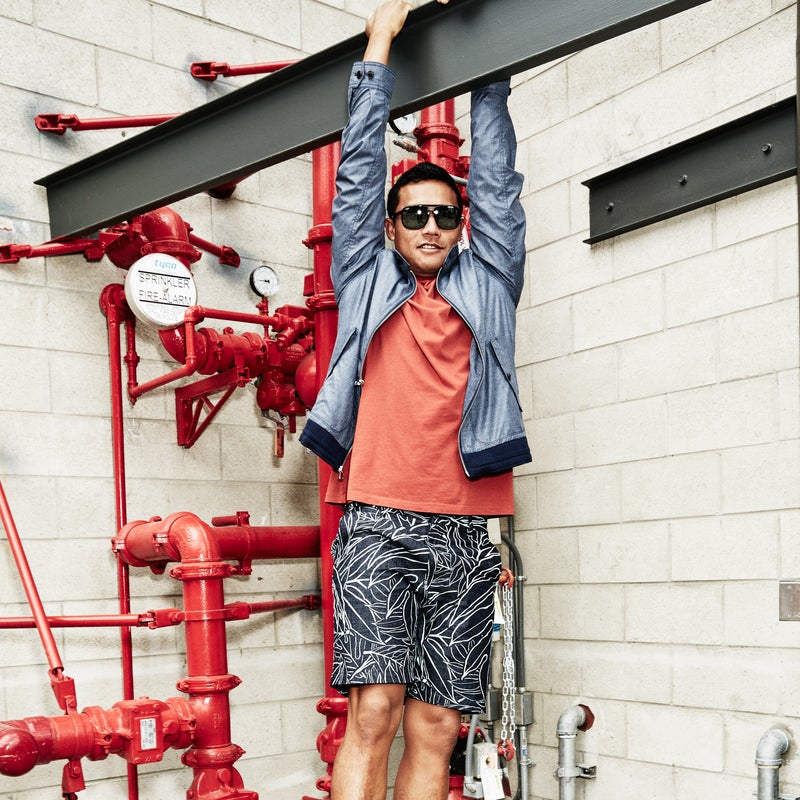 Locations: Hank's Haute Dogs and Honolulu Beerworks
Trending on Outside Online