Trading Places
The plan: Pair up six of our favorite globe-trotting photographers. Ask them to comb their hair. Subject them to one another's creative visions.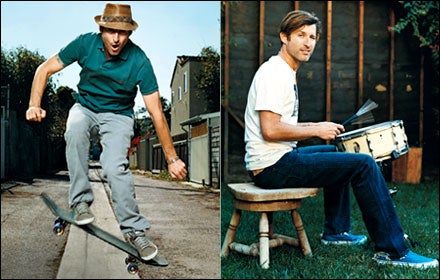 Heading out the door? Read this article on the new Outside+ app available now on iOS devices for members! Download the app.
Chris McPherson

For McPherson, skateboarding in a Venice Beach alley for his old friend Jeff Lipsky was only a little uncomfortable. "I really like to be behind the lens," says the 36-year-old from L.A., who braved avalanche terrain to shoot Jackson Hole's house-flipping freeskiers for the November 2007 issue. "I just tried to have fun and act normal." Normal for McPherson is keeping a skateboard in his trunk at all times. "My brother was a pro skateboarder and a photographer," McPherson says of stepbrother Tod Swank, owner of monolith skate brands Pig Wheels and Foundation. "He showed me you can make a living at photography."
On McPherson: LEFT: The Custom-Fit Polo Shirt ($75) from Polo by Ralph Lauren; 514 Slim Straight Corduroys ($44) by Levi's; Blazer Low Classic shoes ($75) by Nike; hat and watch his own.
RIGHT: The Aftermath Tee ($55) by KZO; Matchstick Jeans ($178) by Levi's Capital E; Classic Slipons ($40) by Vans.
Jeff Lipsky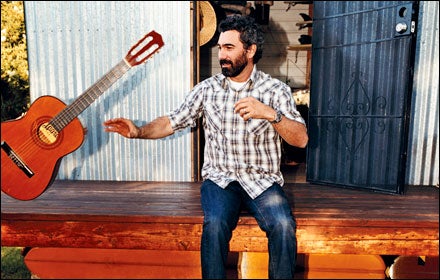 Over the past five years, Venice Beach–based Lipsky, 41, has shot more than 30 stories for Outside, including March's cover image of Jack Johnson. But the former Telluride, Colorado, fly-fishing guide had no interest in being shot by a colleague—until we told him the colleague was Chris McPherson. "Chris and I assisted [celebrity photographer] Mark Seliger together way back when," says Lipsky, "so it was really fun to hang out with him again." It also helped that Lipsky was able to pick the set, a friend's backyard down the street from his studio, complete with a bocce court, hammocks, takeout barbecue, and McPherson's French bulldog, Steve. "Our dogs were getting in and out of the shots all day," Lipsky says.
On Lipsky: Boulder Plaid Western Shirt ($68) by Lucky Brand Jeans; Basic Crew ($17) by Banana Republic; 514 Slim Straight Jeans ($44) by Levi's; Classic Slip-ons ($40) by Vans; Oyster Perpetual Submariner Date watch ($5,850) by Rolex.
Joshua Paul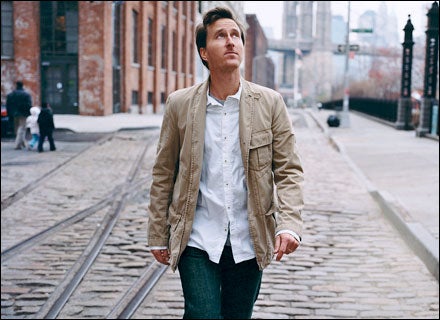 If you ask Paul about his most dangerous assignments, you'll wonder how he's still alive. For Outside alone, the Brooklyn-based photographer, 39, has survived two weeks in the Amazon with no food but plantains, and taken a ten-mile night hike through an Azerbaijani viper field to get back to the Georgia border, which he'd accidentally crossed. "I always wanted to be a war photographer, and I think this kind of adventure lends itself well to that," Paul says. "You have survival gear and a couple of cameras and you come off with a really cool story." After all the chaos, being photographed by colleague Alex Tehrani should be a cinch, right? "It's funny, I go to Africa and I worry about logistics and shots," Paul says. "I was way more nervous to be a model."
On Paul: Light Weight Military Twill Blazer ($198) from Polo by Ralph Lauren; Stretch Poplin shirt ($60) by Banana Republic; Short Sleeve Crew ($46) by James Perse; 501 Jeans ($46) by Levi's.
Alex Tehrani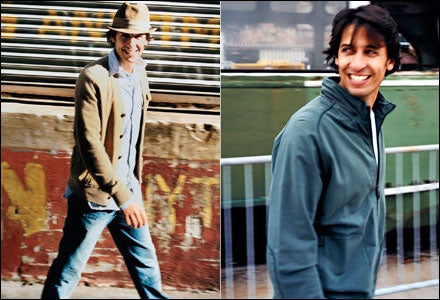 "If Josh and I didn't connect on a human level, it would've been a disastrous shoot," says 37-year-old Tehrani of being paired up with Joshua Paul in Brooklyn's DUMBO neighborhood. "But we hit the streets, and whenever someone was inspired, it was like, 'Put your camera down, I want to shoot you.' " Tehrani, who also calls Brooklyn home, rarely has it so easy. While on assignment for Outside, he's been chased out of a South African cave by a swarm of hornets and a wild boar, and dodged crocodiles and Gaboon vipers in Gabon. "People always say, 'You've got the most killer job,' " Tehrani says. "It's true, I love it. But it's not like we're just swinging on vines in the jungle. You've got to be on your toes every step of the way."
On Tehrani: LEFT: Long Sleeve V-Neck Cardigan ($625) and Custom-Fit T-Shirt ($30) from Polo by Ralph Lauren; Hesher Jeans ($168) by Levi's Capital E; Dunk High Supreme 08 shoes ($135) by Nike; Aristocrat Hat ($187) by Goorin Brothers; collared shirt his own.
RIGHT: Custom-Fit T-Shirt ($30) from Polo by Ralph Lauren; SAG 479-368 Track Jacket with Stow Away Accordion Hood ($245) by Victorinox.
Paolo Marchesi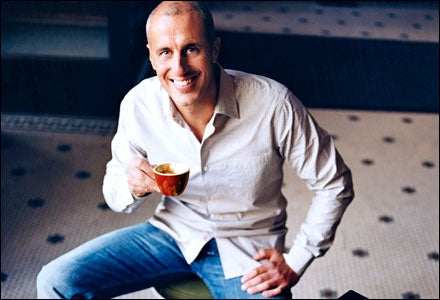 "John was very, very focused and into the moment," says Marchesi, 39, of his counterpart, John Clark. "He was pretty intense, and I can get pretty intense too, so it was fun." If there's one thing the Bozeman, Montana–based Marchesi knows, it's focus. While diving in Micronesia on a personal project, he became so intent on photographing the barracuda that he ran out of air at 70 feet. Fortunately, he got the attention of a nearby dive master just in time. Marchesi agreed to head underwater again for Outside, to shoot Humboldt squid for a July 2006 story. "I didn't know if I was going to come back in one piece," he says.
On Marchesi: Heritage Military Shirt ($79) by Banana Republic; Trouleg 8HL jeans ($220) by Diesel.
John Clark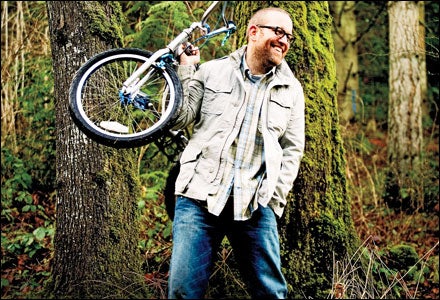 Clark's prop list: his childhood BMX bike, a stuffed oryx head (it was a Valentine's Day gift; long story), and his favorite cameras. "As someone uncomfortable being photographed, I tried to bring something I could interact with," says the 35-year-old photographer, who went into Deschutes National Forest to shoot backcountry igloos for our January 2008 issue. Clark grew up jumping this exact BMX in his family's backyard in Pendleton, Oregon, the state in which he still lives. "The camera in Paolo's shot [left] is also mine," Clark says. He picked up the five-by-seven Graflex because he's into the work of Montana photographer Evelyn Cameron, who shot with one around the turn of the 20th century. "Her photos are fantastic," he says. "It's not just a dipsy-doodle."
On Clark: Jokei-SP Jacket ($200) by Diesel; Long Sleeve Button Down 40's Poplin Check Shirt ($60) by Timberland; Classic Tagless Crewneck (3 for $10) by Hanes; 569 Loose Straight Jeans ($44) by Levi's; Chuck Taylor All Star Canvas High Tops ($42) by Converse.