Gear Guy
What are the best products to use when washing technical fabrics?
I get all kinds of different advice on how to care for my gear. Normal detergent, hi-tech fabric cleaners, and spray-on or wash-in waterproofing make my head spin. Can you clarify how to best take care of soft-shell and hard-shell fabrics? Gudni Reykjavik, Iceland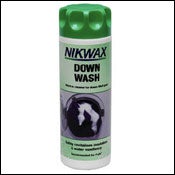 Heading out the door? Read this article on the new Outside+ app available now on iOS devices for members! Download the app.
It certainly does get a bit confusing. But it's safe to say that basically all high-end gear makers recognize real-world conditions. They test-wash their stuff in everyday washing machines, using everyday cleaning products. So for the most part, I have no qualms about washing fleece, Gore-Tex, soft shells, wool or synthetic long underwear, and the rest of my gear in the same detergent I use on my blue jeans—liquid Tide. That goes for down or synthetic-fill jackets or sleeping bags (take care to use front-loading washing machines, not top-loaders, as a top-loader's agitator can damage that kind of gear). There also is a case to be made for using specialized detergents such as Nikwax Down Wash ($9; nikwax.com) on down, as it is formulated to protect the delicate oils that keep down soft.
Nikwax Down Wash

Down Wash
I've also had some experience with spray-ons designed to restore the durable water-repellent coating (DWR) on shells. Nikwax TX-Direct Spray-On ($21) does a good job on this count, re-creating a garment's ability to bead up water (although it does not last as long as the factory DWR).
Otherwise, I don't encourage a lot of add-on washing solutions because A), they're fairly expensive, and B) a garment comes from the factory with carefully thought-out coatings and treatments.
As a side note, do NOT use fabric softener on outdoor wear. Fabric softeners leave a waxy deposit, which can inhibit a fabric's ability to wick moisture. If you have done so, don't sweat it too much, as another wash or two should eliminate the softener.
The 2008 Winter Outside Buyer's Guide is now online. From snow sports to trail-running to camping, get reviews of more than 300 new gear must-haves.
Trending on Outside Online