Gear Guy
What are the pros and cons of synthetic and merino wool base layers?
Which fabric—polypropylene, Capilene, or merino wool—works better for layering, considering warmth, weight, and price? Bill Spreckels, California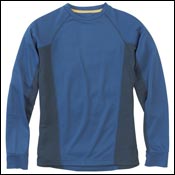 Heading out the door? Read this article on the new Outside+ app available now on iOS devices for members! Download the app.
There are a lot of variables here, but I'll try to hit the main points.
Polartec Power Dry Crewneck

Polartec Power Dry Crewneck
I find the most useful base layer to be Patagonia's Capilene 1 (which used to be called Silkweight). I use it pretty much any time of the year, as a first layer in the winter (with a layer or two over it) and as a single layer even on hot days. It offers good warmth, excellent wicking, and the ability to dry quickly. Plus, it's super light and compact. The basic T sells for $36 (www.patagonia.com), a long-sleeve crew for $38.
For a midweight synthetic, I really like Polartec Power Dry. It uses a bi-component knit that puts different fabrics next to your skin and on the outside. It's warm, wicks like mad, and is great in stop-and-start activities such as Alpine skiing or mountain biking. Several makers use it under proprietary labels (Patagonia calls it Capilene 4), but L.L. Bean (www.llbean.com) sells an unadulterated Power Dry Crewneck, long-sleeve, for $32. An excellent buy.
But for me, merino wool is what makes my Gear Guy bunnies hop. I don't use it much during the summer, at least not near sea level, but for fall, spring, and everything in between, it is fabulous. It's warm, comfortable across a wider temperature range than synthetics, feels great next to the skin, keeps you warm even if wet, and wicks well. The secret to the stuff is the deep pockets within the fibers, which trap and hold moisture.
A number of makers now are in the wool market. One of the pioneers is Icebreaker (www.icebreaker.com), a New Zealand company. Its super-useful, lightweight Skin200 Oasis Crewe is $60; the midweight Bodyfit260 Long Sleeve Crewe is $70. SmartWool (www.smartwool.com) also uses merino wool in a base layer line, selling a microweight short-sleeve crew for $50. Patagonia also makes wool base layers, such as its moderately heavy Wool 3 line, which includes the Zip-Neck T for $98.
Price is the knock on wool. But it is exceedingly tough, so will likely outlast most synthetics. And for comfort, it's nearly unbeatable. The only problem is that if it gets wet—from sweat or rain or a dunk off the kayak—it's slower to dry than synthetics. It'll still keep you warm, though.
Get more advice from the Gear Guy as he picks this season's top gifts in Away.com's Holiday Gift Guide. You'll probably find a few things to put on your own wish list, too.
Trending on Outside Online