What color sunglass lens should I use while hiking?
What color sunglass lens should I use for hiking? From sunrise to sunset, I want just one pair if that's possible. I have tried to look this info up, but I want to get it right. Is polarized the way to go? I'm clueless. Jay Las Vegas, Nevada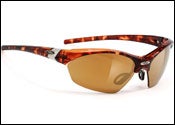 Heading out the door? Read this article on the new Outside+ app available now on iOS devices for members! Download the app.
First of all, relax! People often survive without sunglasses, amazing as that may sound. So it is hardly a life and death decision. Chill, be mellow, and get into a mood for embracing the sun.
Rudy Project Kalyos Sunglasses

Kalyos Sunglasses
From your Las Vegas address, however, I will infer that you're out on hikes in the Nevada/Sierra/Yosemite sorts of areas. And I won't dispute that glare can be a problem there. So sunglasses will come in handy (and they can protect your eyes). For the most part, I've found that grey, orange, and amber tints work best for all-around use. That tint knocks down the glare and brightness, and helps with depth perception. If you were to get sunglasses with interchangeable lenses, I'd add a yellow lens to my set as well. Yellow works well in low or flat light, increasing contrast.
I'm neutral on the polarizing issue of polarized lenses. They're generally best when you're around water, as they cut the glare that reflects from a wet surface. The verdict is somewhat mixed on their utility around snow. They do reduce glare, but some experts also think they reduce contrast. So I'm not sure you need polarized lenses. But they probably wouldn't hurt.
So, which glasses? Smith's Catalyst Slider glasses ($109; smithoptics.com) might work well because they're designed for smaller faces. Plus they come with three lenses: grey for bright conditions, rose/copper for better contrast when it's a little cloudy, and clear for when you just need eye protection but no tint. Rudy Project glasses are a bit expensive, but the quality is top-drawer. The Kalyos ($140; rudyprojectusa.com) is a spiffy-looking pair of sunglasses that comes in four frame colors, each with a complementary lens. I like the Demi Turtle frames with the brown lens. You can swap the lens out for other shades as well, but spare lenses are $40 each.
In a polarized, the Zeal Optics Zest ($100; zealoptics.com) is designed for women and has an excellent all-purpose amber lens. Nice-looking glasses, and perfect for trail hikes.
So, there you go. All good choices that you and your eyes will be happy with. Whew.
The Gear Guy reports from 2007 Winter Outdoor Retailer, the bi-annual gearapalooza in Salt Lake City. Check out his top picks for gear to watch in 2007.
Trending on Outside Online