Gear Guy
What Do I Need in My Winter Emergency Car Kit?
19 essentials designed to keep you alive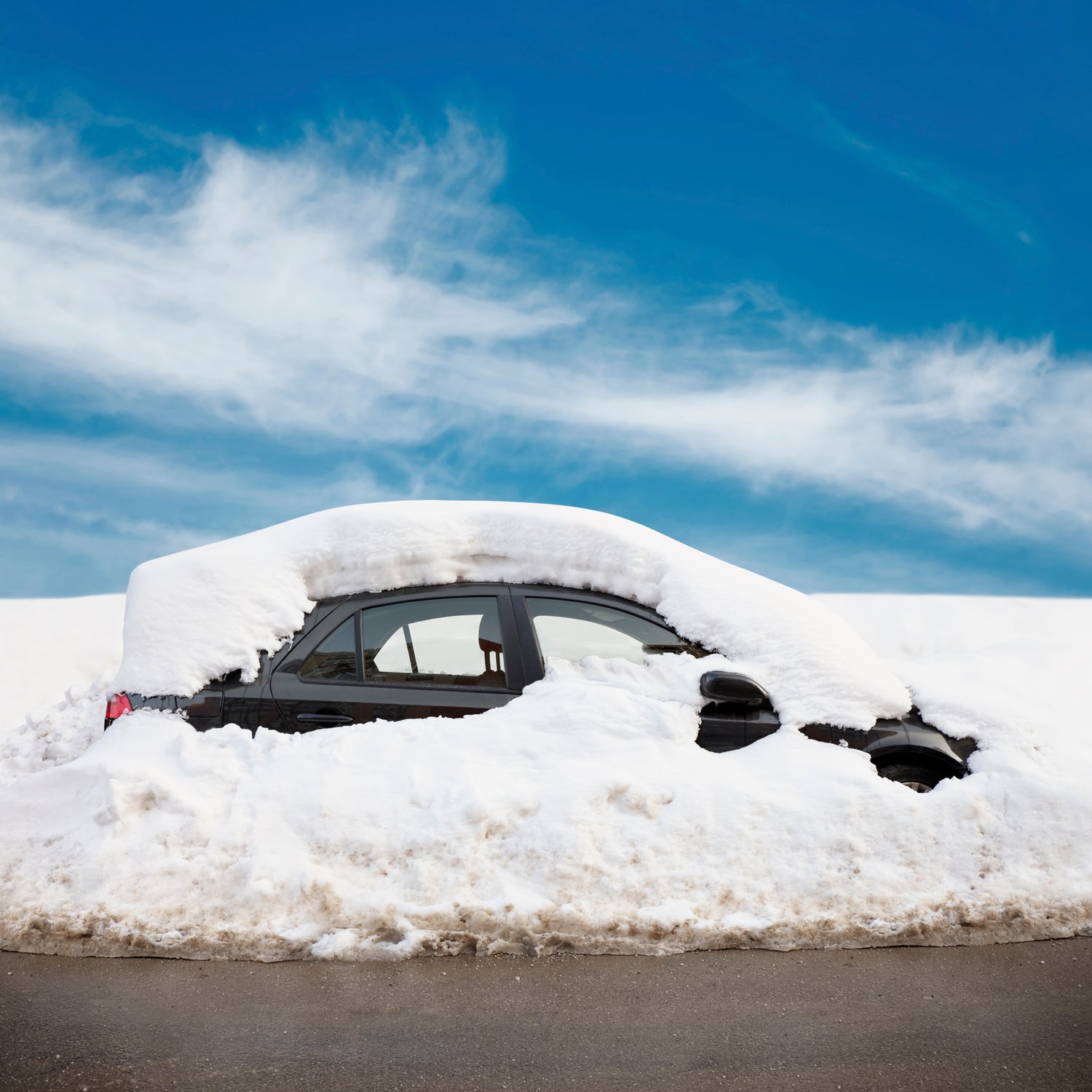 zlisjak/iStock(Photo)
Heading out the door? Read this article on the new Outside+ app available now on iOS devices for members! Download the app.
The emergency we're most likely to encounter this winter has nothing to do with a superstorm, nuclear attack, or apocalyptic volcanic eruption. It's more likely to take place in your car. And when you slide off the road or your ride breaks down, the right gear can mean the difference between life and death.
We spoke with Joel Stevens and Mark Puhaly, owners of Forge Survival Supply, to talk about the gear that belongs in your vehicle this winter. The men also run two successful survival blogs, and just co-authored Everyday Survival Kits: Exactly What You Need for Constant Preparedness, which dedicates an entire chapter to emergency car kits.
Before you switch on the ignition, you'll want to take a few practical measures. First, communicate your travel plans to friends and family, says Stevens. Then think about where you plan to drive before stocking the car. "I'm not going to carry four sleeping bags if I'm in the middle of south Texas from April to September," says Puhaly. Start with these essentials:
Pack: In most automotive emergencies, you'll want to stay in the car and wait for rescue. But sometimes you can't afford to—that's when you need a good pack. "If you leave your vehicle and go for help, you should pack some items with you," says Stevens. Bring only the essentials (a light, extra layers, water, cellphone, and fuel), all of which we found fits in the compact Mountainsmith Tour TLS hip-pack.
Warm Blanket: Stevens prefers wool because of its superb warmth-to-weight ratio and wicking abilities.
Bivy Sack: Lightweight and packable, a bivy sack such as the REI Minimalist Bivy ($100)—which weighs only 15 ounces and packs down to 10 inches wide—will protect you from extreme cold.
Duct Tape: The most versatile item on this list.
Clean Water: Stock your car with a few bottles of water or a gallon jug. A filtration system like the Platypus GravityWorks 4L—which can purify four liters of water in minutes—is also a good option if you're traveling near a water source.
Poncho: A cheap plastic poncho will keep you dry in the rain and it can also be used as a makeshift shelter.
P-Cord: Parachute cord, a lightweight nylon rope, can be used for everything frosm erecting shelters to making an emergency splint.
Food: Puhaly and Stevens suggest packing enough food to last each person three to five days. Go for non-perishables like calorie-dense Mainstay Food Rations, which have a five-year shelf life. MREs, which last between three and five years, are a good option, too. Find a spot in your car where you can store the food and forget about it. "The more prep that goes into your kit ahead of time, [the better]. When you actually need that gear, you're going to be grateful that you took the extra time to think about it beforehand," says Stevens.
Tinder: A fire can keep your warm and make you more visible to rescuers. We like WetFire Tinder, a lightweight, flammable cube that's easy to pack and store.
Stormproof Matches: The WetFire Tinder is useless without them.
Multi-Tool: A good multi-tool like the 14-tool Leatherman Sidekick doesn't take up much space, but helps with everything from cutting p-cord to opening a can.
Compass and Maps: Nope, this gear isn't obsolete. You don't want to rely on your phone if you have to hike to find help.
Headlamp: We like the 160-lumen Black Diamond Storm, which is waterproof, has multiple light modes, and is relatively inexpensive at $50.
First-Aid Kit: Customize a store-bought first–aid kit with supplies that might come in handy in the car (think gauze, a cleaning agent, and pain killers).
Road Flares: A warning sign for both rescuers and oncoming traffic.
Tools: Stock a mini tool kit with pliers, an adjustable wrench, a flat-head screwdriver, motor oil, fuses, and jumper cables. Puhaly and Stevens also recommend car-safe spare gas like Spare Fuel, emergency fuel that doesn't emit harmful fumes. 
Cellphone Charger: The Brunton Torpedo can store enough electricity from your 12-volt power socket to recharge your phone twice.
Beacon: A beacon like the SPOT device, which transmits your location even when you're off the grid, is a great insurance policy.
Extra Layers: Instead of throwing it away, pack that old jacket or baselayer in the trunk.
Lead Photo: zlisjak/iStock
Trending on Outside Online