Gear Guy
Which base-layer-and-jacket combo will help regulate my temperature for fall hiking?
When I'm hiking, I sweat, to put it delicately, with the regularity of Old Faithful and with the intensity of Niagara Falls. What do you recommend in the way of a wicking base layer and a lightweight breathable jacket for fall hiking? Or perhaps you know of a DVD I can watch of someone else hiking (sweat-free). Meir New York, New York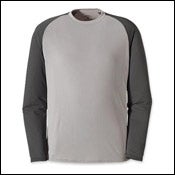 Heading out the door? Read this article on the new Outside+ app available now on iOS devices for members! Download the app.
I really don't think this problem is due to "overheating." To me it sounds like a case of hyperhidrosis—aka, excessive sweating. For that, you'd need to consult a physician and see if there might be a solution such as a prescription-strength antiperspirant.
Patagonia Capilene 1 Crew

Capilene 1 Crew
I might be able to help a little with the clothing-management part of things. For a base layer, I'd likely start with what used to be called Patagonia Silkweight Capilene. Now it's Capilene 1 (patagonia.com), but it's the same stuff: a light, fast-wicking, polyester-based fabric that I find to be one of the more versatile base-layer materials. Polyester absorbs very little water, so it does a good job of pumping moisture to the surface of the garment, where it can evaporate or wick into the next layer. The men's Capilene 1 Crew is an exceedingly useful long-sleeve shirt that sells for $38.
You might also try some wool long underwear. Today's wool apparel is made from very soft merino wool, and I firmly believe it's the best base-layer material out there. It's an excellent temperature regulator so it modulates the change from, say, hiking uphill and heating up to hiking downhill and cooling off pretty well. Also, merino wool fibers have tiny little pockets embedded in them. These pockets scoop up water and hold it away from your skin, so your skin feels drier. It's true that wool doesn't dry as quickly as most synthetics, but this is a little bit less of an issue in the case of wool because it retains warmth when damp or even wet. Icebreaker's Bodyfit Longsleeve Crew (icebreaker.com) is an excellent midweight wool base layer, and it sells for $70.
As for shells, if you're sweating profusely under a shell, I'm inclined to suggest you simply take it off. That applies even if it's raining a little; it's almost better to let some cooling and evaporation take place even at the expense of getting a little damp. Consider as well a jacket made from eVent, a material that's chemically similar to Gore-Tex but has different properties that in my view make it more breathable. It can be a little hard to find. A company called Ground (groundwear.com) makes an excellent eVent shell called the Repel, which sells for $350.
Hope that helps!
Check out the new 2007-2008 Winter Outside Buyer's Guide, packed with reviews of more than 300 new gear must-haves. It's available on newsstands now.
Trending on Outside Online