Gear Guy
Which sports bra will keep me dry in cold weather?
This one will really test your knowledge! I do a lot of sports in cold weather, and all the sports bras I've tried get wet and don't dry. I've even spent the big bucks on Patagonia Capilene. Can you suggest a bra that provides minor support and dries readily? And, out of curiosity, if my Capilene underwear keeps dry, why doesn't my Capilene bra? Killaine Vancouver, BC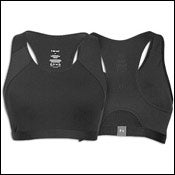 Heading out the door? Read this article on the new Outside+ app available now on iOS devices for members! Download the app.
Well, that last one is an interesting question. The only physiological reason I can think of that would make your chest sweat more than the rest of you is that you have on a bra AND another top, or maybe two, of some sort. So your chest is warmer than the rest of you, and is therefore sweatier. Plus, maybe your running top is a bit looser than the bra, so it has a chance to dry off more readily. At least, that's my theory, and I'm sticking to it.
Hind's Vent Mesh Sports Bra

Hind's Vent Mesh Sports Bra
You don't mention which specific Patagonia bra you've tried. If it wasn't the Women's Active Classic ($34; www.patagonia.com), you might give it a try. It has light underwire and gets generally high marks for support. Another popular choice is the Shock Absorber MultiWay Sports Bra ($46; www.shockabsorber.co.uk). Yeah, the price is a bit steep, but Shock Absorber lets you calculate how much support you need based on cup size and activity, then purchase one of four support levels, from a little to a lot. Lastly, Hind's Vent Mesh Sports Bra ($34; www.hind.com) has received high marks in the wicking category, thanks to the company's proprietary dryLETE fabric. And the mesh panels across the sides and back allow for maximum ventilation.
I obviously had to do a little homework to answer this one, and I came across a leading women's magazine whose editors had recently tried several sports bras. Their top picks were the Friction Free Seamless bra by Champion ($36; www.championusa.com) and the Ultra Sport Bra by Hot Chillys ($40; www.hotchillys.com).
Lastly, this will sound silly, but you can always spray your chest with a little antiperspirant. I mean, why not? It works on armpits, and it works on feet; surely it can work on other places, too.
Get more advice from the Gear Guy as he picks this season's top gifts in Away.com's Holiday Gift Guide. You'll probably find a few things to put on your own wish list, too.