Gear Guy
Who makes the best waterproof-breathable fabric?
In terms of rain jackets, which waterproof-breathable fabric is more breathable: eVent, Gore-Tex Pro Shell, H2No (Patagonia), or Dry Light Tec (MontBell)? Chris Mission, Kansas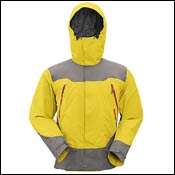 Heading out the door? Read this article on the new Outside+ app available now on iOS devices for members! Download the app.
You could hire a dozen German laboratories to evaluate that stuff until the cows come home. And when all is said and done about the only thing you'd really settle is that cows are no fun in your living room. Part of me believes that many of the tests on fabrics tend to support whatever the fabric manufacturer wants to say about its particular product.
Marmot Exum Jacket

Exum Jacket
So I'm going to give you the anecdotal version, with myself as lab rat. So far I've worn two pieces made with Gore's new Pro Shell material: a sample jacket stitched together by Gore for journalists and retailers, which I wore last winter, and a Marmot Exum Jacket ($375; marmot.com). I'm extremely impressed by the light weight and breathability of Pro Shell. I haven't had a chance to really give it the ultimate test of wearing it while hiking or skiing in cold, wet weather. Mainly I've worn them skiing when the only moisture comes from doing a face-plant. But I expect it to work as well or better in the wet than the earlier XCR Gore-Tex. And durability conclusions are a few years out. My conclusion: A bit pricey, but an excellent product.
I'm also a big fan of eVent, although it's difficult to find many garments that use it. eVent is chemically similar to Gore-Tex, but it's manufactured in such a way that the pore structure is different. I have a Pearl Izumi bicycling jacket (no longer available) made with eVent, and think it's fantastic. And I have had it wet on several occasions. It's more breathable than older Gore-Tex and at least on par if not better than Pro Shell. Westcomb, a small British Columbia company, uses eVent in its Mirage jacket ($379; westcomb.com) as well as some other pieces.
Both Patagonia H2No and MontBell Dry Light Tec are polyurethane-coated materials. The technology is a bit different for each, but the end result is the same: The polyurethane coating has tiny pores that allow perspiration vapor to escape while keeping rain drops out. I haven't used any Mont-Bell products that employ Dry Tec Light—you'll find it on the Versalite Jacket ($140; montbell.com)—but over the years I've used several pieces with H2No and have been very happy with them. Generally the coated materials are a little less breathable than Gore-Tex or eVent, but the qualitative difference is shrinking, and the lower cost of coated jackets is attractive. Patagonia's Jetstream ($225; patagonia.com) is an excellent jacket for the price.
So, with myself as the test case, I think eVent is the most breathable stuff around. Pro Shell is its equal or just a millimeter behind. The Patagonia and Mont-Bell products come in third, but not by much. And they're arguably much better buys.
The 2008 Winter Outside Buyer's Guide is now online. From snow sports to trail-running to camping, get reviews of more than 300 new gear must-haves.
Trending on Outside Online