Gear Guy
Why the Fugoo XL Is the Best All-Around Bluetooth Speaker
The sound is amazing, plus it's tough as nails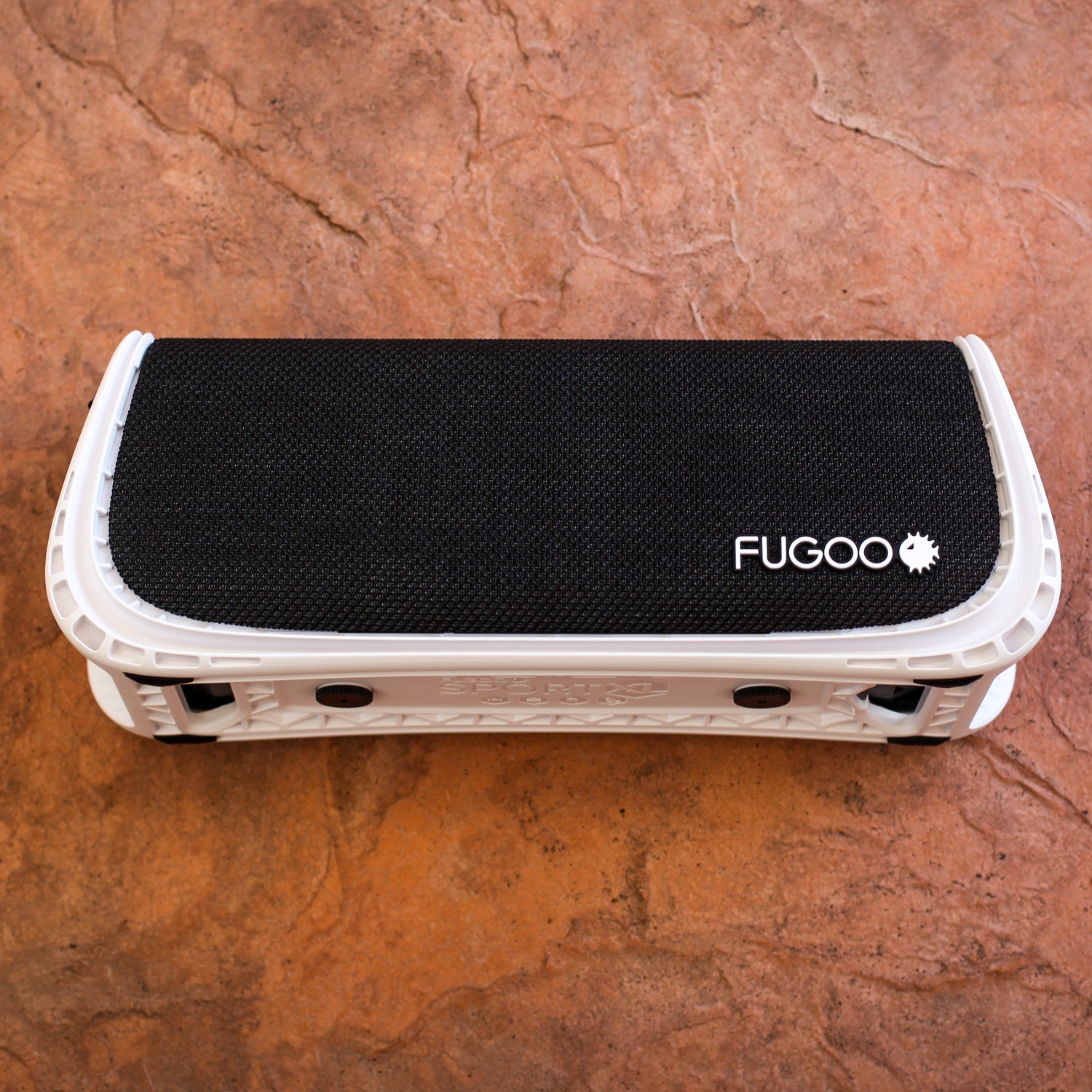 Joe Jackson(Photo)
Heading out the door? Read this article on the new Outside+ app available now on iOS devices for members! Download the app.
Before I get into my review, I want to make one thing clear: Bluetooth speakers have no place in the backcountry. The sounds of nature are amazing and should not be sullied by someone else's shitty taste in music. I never carry a speaker if I'm skiing, climbing, riding, or hiking. If, however, I can access a campsite with my Toyota Camry and park next to some bro with a generator, it's game on. Same thing goes for when I'm cleaning out my garage or at a cabin with my family. A good speaker can make all these places more enjoyable, and in my opinion, there's not better choice than the Fugoo Sport XL.
I first got my hands on the Fugoo in the spring of 2016 when I tested rugged Bluetooth speakers for this column. It placed second in my round-up, only because it's super pricey at $230 and pretty heavy at just over four pounds. But in terms of sound quality, it was lightyears ahead of everything else we used and totally holds its own against newer models like the Bose SoundLink Revolve+. The bass drops on the Fugoo were thunderous and guttural, but the sound was also so clear that you could hear the sound of a guitarist's fingers sliding from cord to cord on steel strings. And boy, was it loud. My wife and I took the XL along when visiting her parents last year, and my father-in-law took a liking to it. Every time he used it, I was scared we were going to piss off the neighbors, even in the middle of the day.
My Fugoo was free since it was a tester, but after a year's worth of use, I'd gladly throw down the cash because music coming out of any other lower-quality speaker sounds like trash. Listening to everything from Hiss Golden Messenger to my Spotify Trapaholics radio station, I've always wondered how Fugoo made it the speaker so good, so I called up Dennis Stone, the company's vice president of engineering.
His answer, as you might imagine, was complicated. But in layman's terms, the quality comes from the number of drivers, where those drivers are placed, and a proprietary digital signal-processing algorithm that the speaker uses to create the sound. 
While most speakers in the XL size range have six drivers, the XL packs in eight. There are four tweeters, two mid-woofers, two bass radiators, and each driver handles a specific sound range so that the mid-range woofers aren't trying to handle everything (which can be the case in some lower quality speakers). Then you add in the algorithm, which analyzes every song coming through and decides which drivers will pump out which sounds to make the music sound crisp, full, and awesome.
The drivers are distributed across the speaker (they sit on the front, back, and both sides) so the sound pours out in a circle instead of a straight, direction line, creating a richer listening experience. They are also tilted eight degrees upwards so that the music doesn't get shot into the table and dulled by that flat surface.  
The sound is enough of a selling point, but I also like that the XL is tough and waterproof. My friend borrowed the speaker last year and left it outside for three days in a rainstorm. When the sun finally came back, he turned it on and the thing was no worse for the wear. The XL also floats, so you can grab it if a  friend accidentally pushes it into the lake.  I've dropped, banged, and abused the speaker during daily use and never been afraid that it was going to break. And with a 35-hour battery life—which is best in class for this size speaker—there will be plenty of jams for your weekend camping trip, that next backyard hoedown, or the parking lot apres dance sessions next winter.
Lead Photo: Joe Jackson
Trending on Outside Online