The Best Women's Daypacks, Explained as Dog Breeds
From light and adaptable to strong workhorses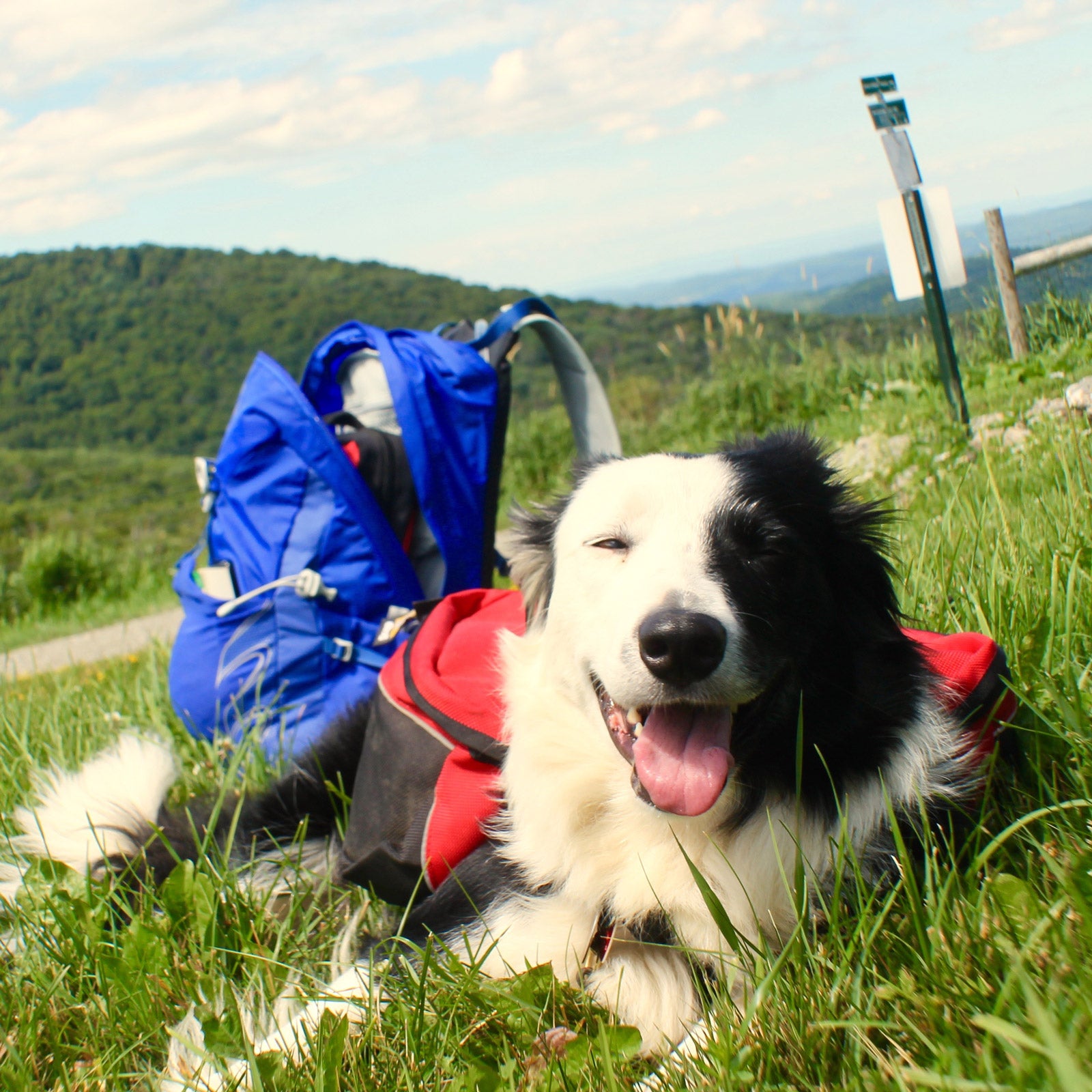 Jenna Woginrich(Photo)
Heading out the door? Read this article on the new Outside+ app available now on iOS devices for members! Download the app.
Most of my time outdoors is going hard on day trips with my two border collies by my side. As a farmer, I have a difficult time leaving for a few nights of backpacking, so I pack as much as I can into day hiking in upstate New York, where I live. I like going hard up a summit and, when I reach the view, stopping to make hot tea and read a chapter of a book before I hike out. It's wonderful, but it means carrying more weight than the average trail runner or view seeker. I need a pack that can accommodate my plan for hot beverages, stories, photographs, and all the supplies for me and at least one canine. These four packs had the chops to get the job done from summit to social life and served as my everyday carry as a feral woman.
To help describe their best features, I assigned a dog breed to each model, because some adventures are all about speed and versatility, while others are built for hauling lots of gear across the wilderness. Whether your hike requires a sheepdog or sled dog, I've found the perfect pack for you.
The Test
I took each of these packs out several times on summer and fall summit hikes. I loaded them up with the same weight (15 pounds) to really push their limits and provide me with a full day of snacks, water, and other gear. When the trail part of the day was over, these packs came with me to town to visit friends or my local brewery. These were my favorites, each suited to a specific single serving of daylight outdoors.
Osprey Tempest 20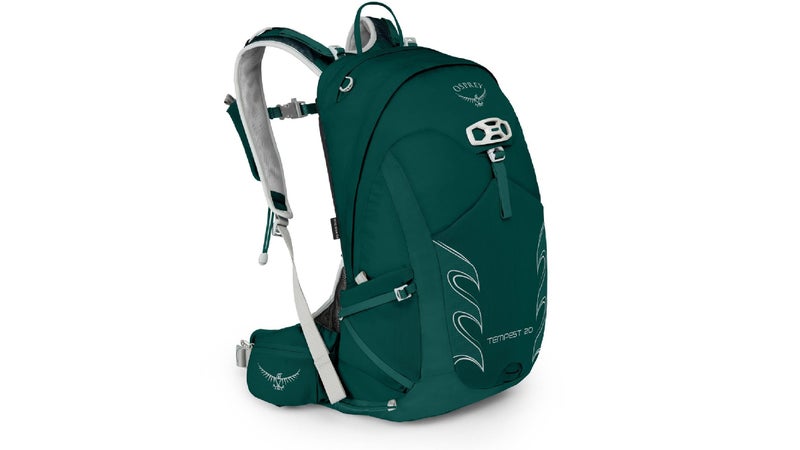 Border Collie: Light, smart, adaptable
Volume: 20 liters
Weight: 1 pound, 10 ounces
Rain cover: Not included
Some would say the Tempest 20 is overdesigned, with its bevy of stitched-on loops, hooks, bevels, and toggles. But they would be wrong. I took this pack out for four different daylong trips and ended up using every single feature, from the comfy sheath on the left arm strap to the helmet toggle (which held both a cowboy hat and a riding helmet). My favorite feature is the oversized mesh waist belt with big pockets. It perfectly fit my hips (and I have hips) without sliding or chafing even on the hottest, sweatiest hikes. It comfortably holds a 300-milliliter hydration bladder in its own chamber outside the main compartment and away from your gear, which I really appreciated. This is the border collie of the lot: light and quick, adaptable, and smart—ready for a trail run, bike ride, or any activity that demands constant movement and quick access to snacks.
---
REI Co-op Trail 40 Pack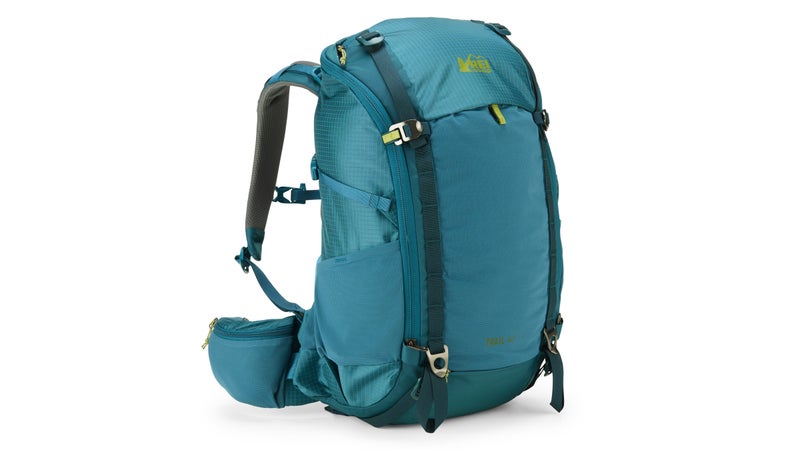 Siberian Husky: Strong, comfortable, workhorse
Volume: 40 liters
Weight: 2 pounds, 13 ounces
Rain cover: Included
Hands down the most comfortable pack in the group. The overstuffed shoulder straps, waist belt, and padded back are so cushy that this pack feels like strapping into a nap, even when loaded for an overnight trip—which is exactly what it was. Because this was the volume leader of the group, I decided to take it camping. I threw in a tent, inflatable sleeping pad, stove, change of clothes, first aid, food, water, and cookware. (I had to strap the sleeping bag on the outside—it isn't magic.) It still felt well distributed and meant for harder work. And the best feature—this pack is panel loading instead of top loading—means you don't need to take everything out to find something vital stashed deep inside. This is the Siberian husky of the lot: willing to haul more and go a little farther, but way comfier to snuggle with than seems reasonable.
---
Deuter Speed Lite 24 SL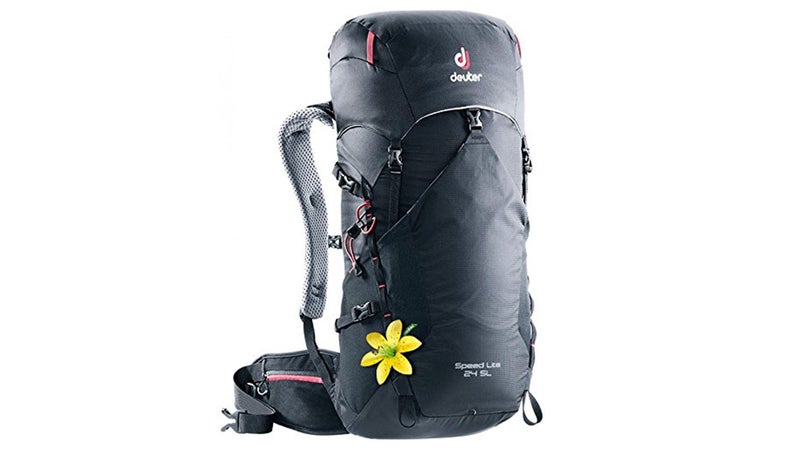 Golden Retriever: Dependable, versatile, handsome
Volume: 24 liters
Weight: 1 pound, 12 ounces
Rain cover: Not included
This pack would be my go-to for a hike I've never done before, because it can handle any situation or season. It's extremely light and ready for afternoon treks around a pond loop, or it can be loaded up for an overnight shelter-to-shelter hike. It has straps and a daisy chain for extra gear if you're out of room or need a place to stash trekking poles, and it was the second most comfortable under a heavy load, which is amazing considering its base weight. This was the only pack in the group that people stopped me on the trail to look at, mostly because it comes standard with a fake flower I pretended not to like. As the golden retriever of the lot, the Deuter Speed Lite is handsome, dependable, and ready to get up and go at a moment's notice.
---
Fjällräven High Coast Trail 26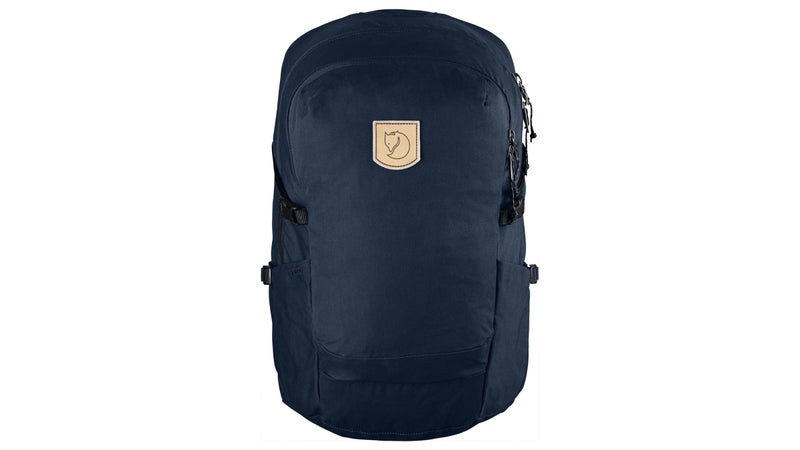 Weimaraner: Inconspicuous, sleek, surprisingly tough
Volume: 26 liters
Weight: 2 pounds, 8 ounces
Rain cover: Included
This pack is technically a unisex pack, but I'm including it because it's the most stealth outdoor product I've ever used. Anyone looking at it would see something not far from a regular school pack, yet it's designed for the trail. Its frame is fixed and light and hugged my back without any seams, bumps, or irritation. You can slide in a full three-liter hydration pack, no problem. The waist belt may be its weakest feature, being thin and not well padded, but it was comfortable even with a full load, and the chest straps made the High Coast feel like I was wearing it, not carrying it. The fabric is an eco-material called G-1000, coated with a natural wax that sheds water and handles abrasions but feels like space suede. It even packs its own small rain cover for when it pours. For what it's worth, this pack felt the easiest to bring into town with me, being so minimalist in appearance. Sleek, European, and ready for a waterfall day hike or a night in a hotel, the High Coast is the Weimaraner of my picks.
Lead Photo: Jenna Woginrich
Trending on Outside Online