Women's Workwear Is on the Rise
Thanks to a deep focus on fit and function, the women's workwear industry is booming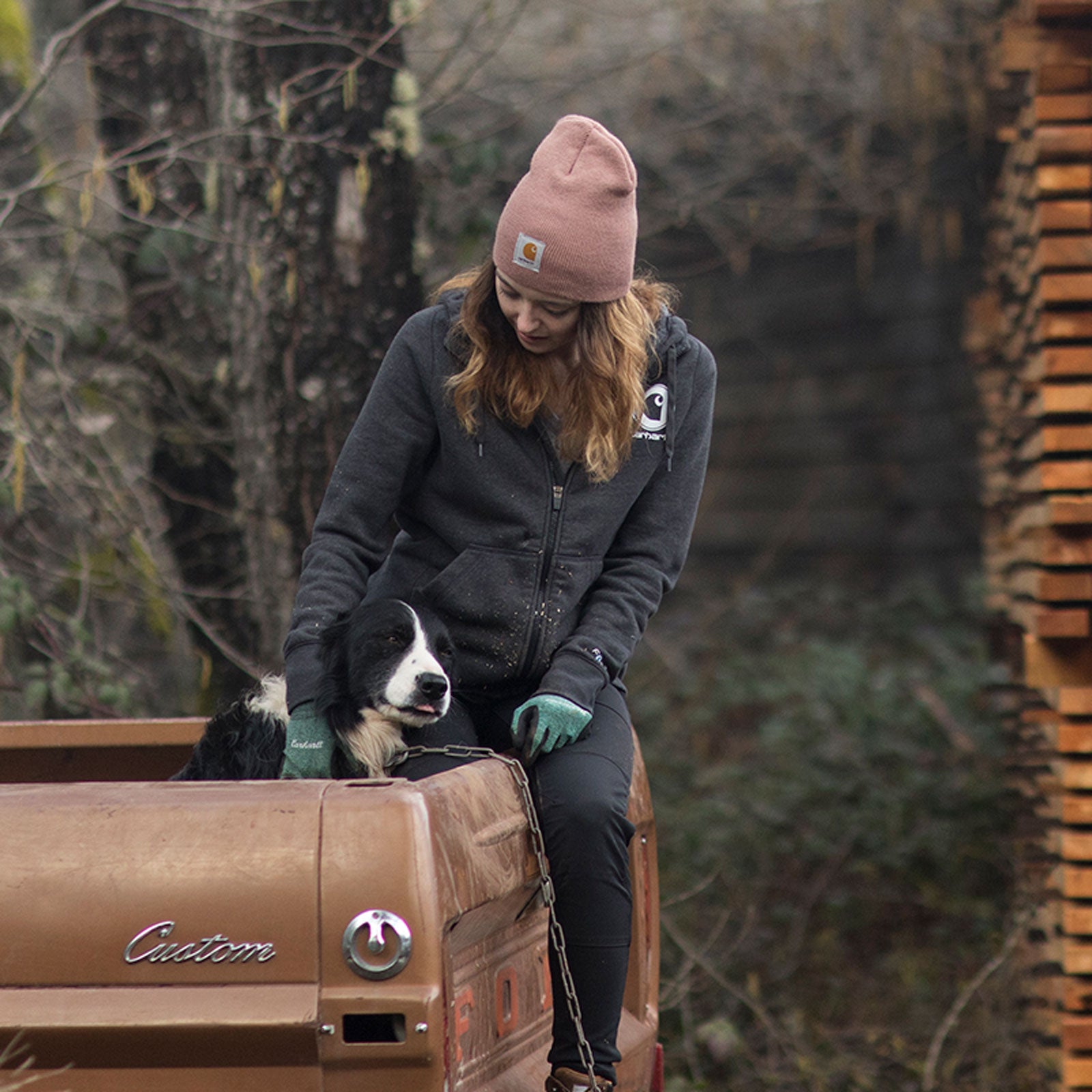 Heading out the door? Read this article on the new Outside+ app available now on iOS devices for members! Download the app.
Workwear as a style statement is having a moment. Google "Is Workwear Trending?" and the first few results show Calvin Klein models sporting road-worker orange and construction boots. From the runway to the jobsite to the outdoors, women's clothing is getting more functional. The uniform-and-workwear industry is currently worth $30 billion and is projected to reach $48 billion by 2022. That kind of stable growth is an anomaly in the apparel sphere, where e-commerce has upended traditional retail sales and styles change with each season. A rise in the number of women in industrial occupations is a key part of the growth, according to recent market research, but blue-collar laborers aren't the only ones driving it.
"To me, this is all about the #metoo momentum and the awareness that women are as strong and capable as men and deserve respect and all else that goes with that equality," says Jeannie Wall, an outdoor-clothing consultant for Rab with 30 years of experience in the outdoor industry. "The new workwear speaks to the strength and power of women, with an aesthetic and fit that makes women feel strong and beautiful. It's the new 'power suit' that finally doesn't make us look like men."
Dickies introduced its first women's jeans meant for work in the late 1940s, according to Dickies' senior design director, Erica Tew. During WWII, Carhartt outfitted Rosie the Riveter in coveralls, but the workwear giant didn't have a dedicated women's line until 2006. Red Ants Pants, a small brand out of White Sulphur Springs, Montana, also opened in 2006, manufacturing burly duck canvas pants, double reinforced in the knee and butt, in two cuts designed for women. Duluth Trading Co. mailed its first women's catalog the year prior.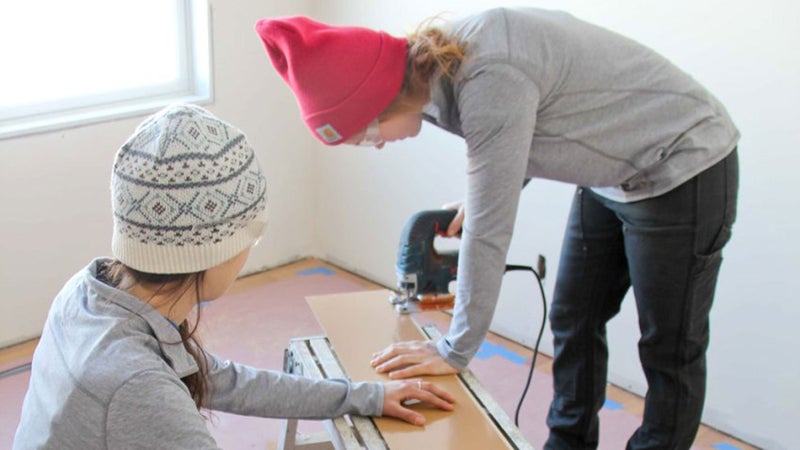 The need was clear, says Red Ants Pants founder Sarah Calhoun, a former trail-crew worker and Outward Bound instructor. To get women into her made-in-the-USA britches, Calhoun traveled the country with an Airstream trailer, organizing Tupperware-style parties with pants and beer. Even with prices more than double that of Carhartt's, women gobbled up Red Ants. Today she sells thousands of Red Ants Pants products annually, but she gauges her success by a different metric: the Red Ants Pants Music Festival drew 18,000 people in 2018, its eighth season, and raised enough money to grant $100,000 to programs supporting women and girls in rural Montana.
Carhartt took a few years to nail its women's line, but the branch is now the company's fastest-growing business unit with its revenue increasing by a double-digit percentage from 2017 to 2018, according to Deb Ferraro, Carhartt's vice president of product development. "Where we have the most success is where we take similar [men's] product, and we don't shrink and pink it, but we fit it appropriately for women's shape."
More recently, others have followed suit, reporting similar demand. "Our growth has been kind of like there's a balloon going up in the sky and you grab a rope and hold on," says Sara DeLuca, co-founder of Dovetail Workwear, a women's-only clothing company based in Portland, Oregon, that launched in May 2017. Arborwear, which has manufactured heavy-duty tree-climbing pants since 1997 and women-specific pants since 2010, added three new women's pants in the last three years.
"The new workwear speaks to the strength and power of women, with an aesthetic and fit that makes women feel strong and beautiful. It's the new 'power suit' that finally doesn't make us look like men."
But for all the success, there are also challenges. Dovetail, which offers sizes 000 through 18, is extending its line to size 24 this year. That inclusivity has garnered the tough, stretchy, attractive pants a fervid following, but it makes inventory management more complex, limiting new product development. Red Ants Pants' decision to manufacture domestically has driven up costs, as have Dovetail's and Patagonia's partnerships with socially and environmentally responsible mills, and the latter's application of environmentally benign textiles.
And one of the biggest hurdles for business growth is innate, says Calhoun: "Our pants don't wear out."
Still, innovation is happening in both fit and materials. After visiting a horse farm where women wore yoga pants on the job, Carhartt's product team hybridized leggings and work pants into the Force Utility Legging. In one of the two colors offered, most sizes are sold out. Patagonia's workwear, which dropped in 2017, is perhaps the largest departure from the mainstream. In a mix of traditional and cutting edge, Chouinard's brand makes its apparel from organic hemp and cotton, recycled polyester, and Dyneema (a strong, lightweight fiber more common in sails). Patagonia's testing showed that, while much softer than the ubiquitous duck canvas, its hemp blend was 25 percent more abrasion-resistant. Duluth, which saw a 150 percent increase in women looking for plus sizes on its website last year, is offering 55 percent of its core women's line in extended sizing this fall and plans to offer more than 60 styles in plus by summer 2019.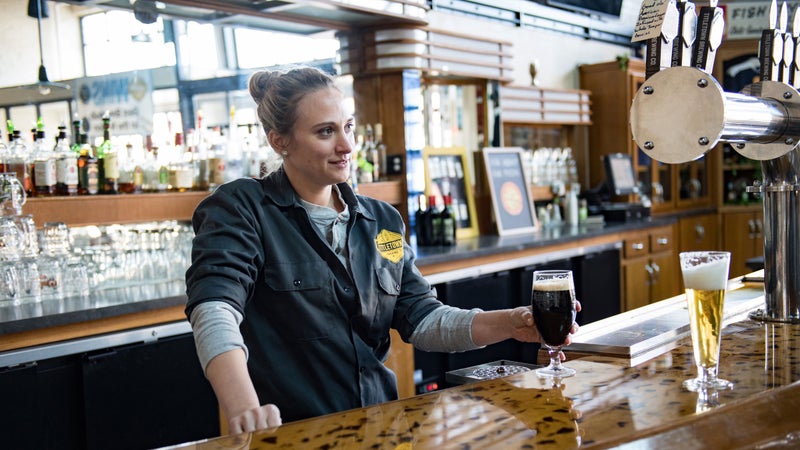 "You need to look like yourself, feel confident, and look like you take your work seriously," says Taylor Johnston, founder of Gamine, a small women's company inspired by historic, tailored work clothing, influenced by a New York City fashion sense, and focused on sustainable production.
Also a horticulturist who designed the gardens in front of the Guggenheim, Johnston sees room for growth in both her own business and the industry as a whole. "If you needed a pair of pants, heels, and a shirt for a desk job, you'd have countless options," she says. "There should be just as many options for those who do dirty work."
Lead Photo: Courtesy Carhartt