Cooling Trend
Hockey is hotter than ever, as players coast to coast discover its winning blend of agility, speed, and fun. Boost your winter fitness with our quick-start guide to the season's greatest game.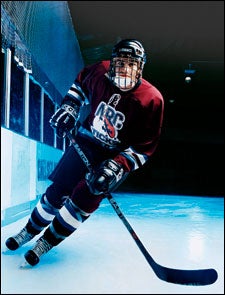 Heading out the door? Read this article on the new Outside+ app available now on iOS devices for members! Download the app.
THANKS TO THE NATIONAL HOCKEY LEAGUE'S successful efforts to bring expansion teams to states like Florida, California, Arizona, and Texas, ice hockey has been liberated from its historically regional appeal and is reaching critical mass, with Sun Belt citizens discovering what northerners and Canadians have always known: Hockey combines the athleticism and camaraderie of your favorite team sport with the pure thrill of skiing or surfing. Hockey's two-for-one rush has helped it become one of the fastest-growing sports in the country. The National Sporting Goods Association counted 2.4 million players in 2004, up 25 percent from the previous year. And it's not just regional boundaries being broken: More than 300,000 female players contributed to the growth. The buzz has created new opportunities for experienced stickmen and novices alike, and now you can catch the wave too, whether that means playing pond hockey in New York's Central Park or taking beginner classes at the San Diego Ice Arena.
hockey gear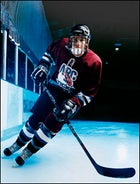 ICE MACHINE: The Arc Ticks' Alec Hanson and his teammates (following pages) play amateur hockey at Manhattan's Sky Rink.
Hockey blends strength and endurance, explosive speed, agility, grace, and, in no small measure, high-octane adrenaline. "Hockey players are doing everything that other athletes do and more, but we're doing it on ice," says Mike Bracko, the director of Calgary's Institute for Hockey Research, a faculty member with the American College of Sports Medicine, and, at 48, a thrice-weekly player in an amateur adult league. "We've got to be able to avoid body contact like basketball and football players, and we've got to be able to handle this puck with our sticks—while we're moving on eight-inch steel blades. Hockey uses every single muscle in the body, without exception."
In particular, your calf muscles get a workout as you glide, stride, and balance on those knife-edge skates, while your quads and glutes are called on to generate skating power. Your upper body and core muscles are crucial to passing, shooting, and fending off opponents. Though the sport is strenuous, skating is easy on the joints, so it's not uncommon to see players logging serious ice time into their sixties and seventies. (Hockey legend Gordie Howe played his last professional game at 51.) And since everything happens in a speeding blur, your hand-eye coordination improves. All of which translates into better performance in other pursuits, from mountain biking to snowboarding.
As cardiovascular exercise, hockey is a great interval workout: Sprint, recover, sprint. "You're on the ice from 45 to 90 seconds, working your butt off, and then you come off for a rest," says Bracko, who estimates that the average 195-pound hockey player burns about 1,050 calories in a 90-minute game. At that rate you could down three bottles of Molson Golden postgame and you'd still be losing weight.
And don't let terrifying memories of the movie Slap Shot give you the wrong idea: Nearly every amateur league prohibits body checking. As for skating, you don't even need prior experience. Greg Walentas, a 38-year-old from Keystone, Colorado, picked up a stick for the first time when he was 30 and says he progressed rapidly through the ranks. "In two years I went from not being able to do a hockey stop to playing on a men's A team against former college players," he says.
Need further convincing that hockey is worth a spin? On the pages ahead, we've gathered everything you need to get started, from finding a team to essential gear and training tips to skating alfresco at one of our favorite frozen ponds.
Big Glide Country
Yellowstone Expeditions

Access & Resources
Arden Bailey
is not only the founder of Yellowstone Expeditions (800-728-9333, 
www.yellowstoneexpeditions.com
), he also recites poetry and is a walking encyclopedia of geologic facts—a blessing on those six-hour ski tours. Nights are spent at the Canyon Yurt Camp, where two large yurts form the social center (including the kitchen and dining areas), and several smaller yurtlets serve as sleeping quarters. Beware: This is outhouse territory, and things can get pungent. Four-day, three-night packages from $800 per person, based on double occupancy.
Yellowstone Expeditions [wild comfort]
I'VE BEEN SWORN TO SECRECY, so I can't tell you the exact location where I slipped off my polypro and eased my ski-weary bones into a steaming river in Yellowstone National Park. It's mid-March, and I've spent the past four hours "ski-whacking" (one part ski touring, two parts bushwhacking) through a forest of timber, blackened by the massive 1988 fires that devastated more than 1.4 million acres in the greater Yellowstone area. Part of the time, I shouldered my skis and hiked through mazes of sulfur-burping mud pots coated with a disconcertingly thin, acid-green crust. And I scooted as stealthily as possible past a herd of irritable bison that seemed intent on goring me.
It's day two of my four-day tour with Yellowstone Expeditions, the only guide service to offer yurt-based backcountry ski trips in America's oldest national park. Founded in 1983 by geologist Arden Bailey, who still serves as lead guide and head chef, the company isn't new. Nor is it flashy. And it certainly doesn't come equipped with a fancy spa. What it does offer is backcountry balance: daily six- to ten-mile ski-and-snowshoe forays into remote wolf-and-grizzly territory—minus the backbreaking loads, snow-cave camping, and freeze-dried nibbles that usually come with overnight slogging. You'll work your quads to Jell-O, but each night, instead of digging a snow kitchen and hunkering over hot oatmeal-water, you'll be shuttled back to the yurt camp in an eighties conversion van with snowcat treads and skis in place of tires. The guides will have stoked the sauna, prepped the appetizers, and cracked open a fresh box of wine. After enjoying a shower (a five-gallon bucket is filled with wood-heated water that trickles out of a little tube), you'll eat in the dining yurt. If you're like me, when you finally limp back to your double-occupancy "yurtlet"—a basic shelter with plywood floors, sleeping bags for duvet covers, and clotheslines for your soggy polypro—you'll be too tired to fully appreciate the total silence of the surrounding woods.
During the summer, about two million visitors clog Yellowstone's roads with RVs and campers. But between the months of October and May, only half this many venture in—most of them to watch the blur of the park from the seat of a noisy snowmobile. Sign on with Bailey, though, and he'll deliver nonstop one-of-a-kind experiences. Early one morning, while the coffee was still brewing, he herded us into a snowcoach called the Überschnecke ("Supersnail") and took us to the Grand Canyon of the Yellowstone, an 1,800-foot-deep gash that rivals the beauty of the real Big Ditch—on a much smaller scale. There, we searched for the Beam, an elusive sun pillar that appears on perfectly clear days when temperatures dip below zero. During such cold snaps, masses of ice crystals hover low in the canyon, and when the sun hits them just right . . . voilà: The Beam appears.
After breakfast, we ski on, climbing through charred wood and winding past hot springs until, exiting one valley, we come upon a circle of bloodstained snow. Wolves. Shifting quietly from ski to ski, we imagine a pack of them chasing, attacking, and killing the bison whose bones are laid out before us.
But ski touring isn't only about transcendental experiences. It's also about being cold, then hot, then cold again. It's about eating enough to keep moving but not so much that you stop. It's about using your own power to travel through places where your tracks soon disappear and no one can retrace your strides. Most of all, it's about skating away from the well-trodden path with no preconceptions about what you might find.
Hit the Ice
Ready to try your slap shot? Even if you've never skated before, there's a league out there that will put you in the game. Here's how to get started:

Quick Start
CHECK THE COMPETITION » Leagues run throughout winter, so now is a good time to gauge the level of play in your area. You'll likely have a choice of teams, so it's worth investigating before plunking down money to join a league. Contact USA Hockey (www.usahockey.com), amateur hockey's governing body, or simply Google "adult hockey" in your town—most ice rinks run their own leagues.
SEEK PARITY » Avoid leagues where the games are too often one-sided. The larger the league, the more likely it is that the talent will be evenly distributed. The only downside could be travel time, since in big-city leagues you may end up crossing town to find your games.
SIGN UP » If you've played before, you'll start with a tryout, during which team captains draft players. Beginner? No problem. Join a learn-to-play class. Most novice workshops include eight to ten on-ice instructional sessions and culminate with students forming teams or joining established squads. Many rinks also offer pay-as-you-go pickup games, which are great if you need a flexible schedule.
QUICK START» WHERE TO PLAY BIG-CITY HOCKEY
Boston New England Senior Hockey League (www.neshl.com)
Chicago Greater Chicago Adult Hockey League (www.gcahl.com)
Dallas Dr Pepper StarCenter (www.drpepperstarcenter.com)
Denver Sun Microsystems Ice Centre (www.icecentrehockey.com)
Houston Bay Area Houston Hockey Association (www.bahha.org)
Jacksonville Jacksonville Skate World (www.jaxskateworld.com)
Los Angeles Anaheim Ice (www.anaheimice.com)
Minneapolis Adult Hockey Association (www.ahahockey.com)
New York Sky Rink, Chelsea Piers (www.chelseapiers.com)
Philadelphia Flyers Skate Zone (www.flyersskatezone.com)
Phoenix Coyotes Adult Hockey League (www.coyotesice.com)
san Diego San Diego Ice Arena (www.sdice.com)
Seattle Greater Seattle Hockey League (www.gshockey.com)
Home-Court Advantage
A do-it-yourself guide to building a backyard rink
For 21 years and counting, sports writer Jack Falla has maintained a hockey rink at his home in Natick, Massachusetts. His 60-by-35-foot layout, dubbed the Bacon Street Omni, has become a neighborhood institution. For an inside look at Falla's labor of love, read his book Home Ice: Reflections on Backyard Rinks and Frozen Ponds (McGregor, 2000). It includes a detailed chapter on how to build one of your own. Here are the basics:
THE PLAN
Construct a plywood-sided corral lined with plastic. Falla recommends 3/4-inch plywood and 6-mil plastic. Come winter, flood it with water. Voilà: instant ice rink.
STEP ONE
Start with 14 four-by-eight-foot pieces of plywood. Cut seven of them in half lengthwise, to serve as the sides and the rear; use the taller boards for the backstop and corners.
STEP TWO
Staple the plastic above the waterline on the inside of your rink. Twenty-four hours ahead of a subfreezing cold front, flood the rink with three to five inches of water.
STEP THREE
After a few days, the ice should be ready to skate. For a smooth surface, scrape with a shovel and resurface with a fresh layer of water.
HASSLE SAVER
Rather not spend the weekend at Home Depot? Get NiceRink's Rink-in-a-Box ($319), a DIY kit for a 20-by-40-foot backyard pond. www.nicerink.com
On Frozen Pond
Long before indoor rinks and Zambonis, hockey was played under open skies. Tap into the fresh-air tradition on North America's best outdoor ice.
hockey gear

Wollman Rink, New York, NY Located in Central Park, Wollman is a Big Apple tradition, and now it's even cooler, with new Wednesday-night adult pond-hockey classes. www.wollmanskatingrink.com // Laurn Grove Park, Hancock, MI Former Olympian Paul Coppo played at this lighted rink, where neighborhood kids still skate until the wee hours. www.cityofhancock.com // McLaughlin Pond, Colorado Springs, CO Tree-shaded McLaughlin is on private property a three-minute walk from the Broadmoor Hotel. You'll find nets on the ice and regular pickup games. www.broadmoor.com // Elmhurst YMCA, Elmhurst, IL An Elmhurst fixture since the sixties, the Y rink offers coed novice hockey classes and an all-outdoor adult league. www.elmhurstymca.org // Côte St.-Luc, Montreal, Quebec The rink behind Samuel Moskovitch Arena is one of the few outdoor rinks with a roof. Three words: No shovels required! 6985 Mackle Road. // Winter Lodge, Palo Alto, CA Built in 1956, Winter Lodge was the first permanent outdoor ice rink west of the Sierra. Look for 50th-anniversary events this winter. www.winterlodge.com // Lower Chester Park, Duluth, MN The only refrigerated sheet of outdoor ice in the city, this neighborhood rink even has its own resurfacing machine. www.ci.duluth.mn.us // Riverfront Park Ice Palace, Spokane, WA From October to March, the Ice Palace hosts six-week learn-to-skate and learn-to-play classes for just $55. www.spokaneriverfrontpark.com // Dollar Lake, Eagle River, WI Hundreds of would-be Gretzkys will descend on Dollar Lake for the first annual U.S. 4-on-4 Pond Hockey Championship, February 17–19. www.eagleriver.org // Darex Family Ice Rink, Ashland, OR This low-key venue has regular pickup games and $2 skate rentals. www.ashland.or.us
The Skills You'll Need
»SKATING
Schedule ice time at your local rink and practice left and right turns, tight gliding turns, crossovers, skating backwards, and quick stops. Even if you never join a team, you'll benefit from the strength and balance training. In-line skating is great when ice isn't available.
»SHOOTING
Set up a goal in your driveway or basement and practice taking shots. Keep your top hand on the end of the stick and, for slap shots with maximum power, position your bottom hand halfway down the stick. For wrist shots, move your bottom hand up 12 to 16 inches from your top hand. Wear in-line skates when practicing at home.
»STICK HANDLING
Practice off the ice with a tennis ball or golf ball—either one will bounce all over the place like a puck made out of Flubber. Once you learn to control those balls, the puck will seem a lot more tame.
Essential Gear
Skates, Protection, Clothing, & Gloves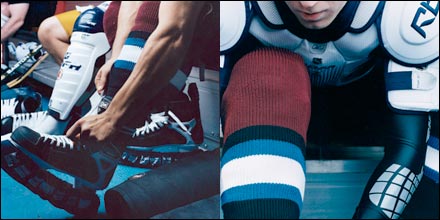 [SKATES]
Veteran hockey players never skimp on skates. Plan on spending at least $150 for a quality entry-level pair, and look for support, comfort, and light weight. Expect to go down one to one and a half sizes from your street shoes, and before buying be sure to walk around the shop for ten minutes to check for rubbing or pinching.
With a gapless fit and comfortable padding, the CCM Tacks 492 ($165) are plenty of skate for the average player. Or skip the intermediate stuff and go straight for the company's Pro Tacks ($500), which are light yet stiff thanks to perforated carbon ankle support, and come with a rare no-questions-asked, 30-day money-back guarantee. The BAUER VAPOR XXX ($499) uses a thermo-formed panel on the heel and side to improve stability and protect your foot from stray pucks, sticks, and other players.
[PROTECTION]
Brawling is out in amateur hockey, but collisions—and falls—are still part of the action. You'll need a set of pads (shoulder, elbow, shin) that provide maximum mobility.
The Bauer 4000 pad set ($135) is a good starter package; it's highly adjustable, and a hydrophobic lining wicks sweat away. With molded shoulder caps and full-wrap elbow pads, the JOfa/ Reebok 6K ($200) provides superior protection but still moves with your body.
[CLOTHING]
You don't need much besides a team jersey, but a good base layer and a pair of hockey pants will increase on-ice comfort.
Designed to be worn under hockey pads, the Nike Pro Hockey Performance Base Layer shirt ($50) is constructed with moisture-wicking Dri-Fit fabric. Grippy gel-print patterns on the sleeves help hold pads in place. The CCM 692 Tacks hockey pants ($75) are made with anti-shred 420-denier nylon, but plenty of Lycra keeps them flexible. Padding in back protects the lower spine, and zippers on the inseams make them easy to pull on and off over skates.
[GLOVES]
A good pair of gloves protects your hands and forearms without hampering your feel for the stick.
The plastic inserts in the CCM 692 Tacks ($59) bolster hand protection, a wide cuff enhances mobility, and synthetic palms grip when wet. Based on the same technology as that used in Bauer's highest-end glove, the Vapor X ($70) protects with dual-density foam and has pigskin palms for a soft feel on the stick.
Essential Gear
Sticks
hockey gear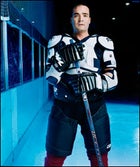 [STICKS]
You could pick up a cheap wooden stick for about 20 bucks, but it might splinter after just a few games and wouldn't deliver the precision and power of a high-performance model. A composite stick—made with synthetic materials like carbon fiber and graphite—will last for years and give your shot a lot more zing.
The CCM Vector 110 ($149) features a patented internal shock-absorption layer that cushions blows, making it one of the most durable sticks on the market. The flexy shaft is paired with an extra-stiff blade to produce hard, fast shots. At 14 ounces, Easton's Kevlar-and-graphite Stealth ($300) is the lightest stick on ice. It's surprisingly durable for the weight, thanks to Kevlar reinforcements, and is reasonably priced for a pro-level stick.
Essential Gear
Helmets
hockey gear

[HELMETS]
Cut no corners when protecting your head. Get a helmet that fits snugly (but not headache-tight) and has been approved by the Hockey Equipment Certification Council, the Boston-based organization that has set the standard for safety since 1978.
Versatile fit is the main attraction of the Bauer 8000 ($120). The helmet comes with three sets of adjustment straps, making it easy to fit it to any head. The two-piece design of the CCM Tacks 852 ($75) allows for some adjustability, but its main selling point is good protection with maximum ventilation. For an extra $50, add the Oakley Visor, a distortion-free face shield.
WHERE TO FIND IT
Bauer: www.bauer.com; CCM: www.ccmsports.com; Easton: www.eastonhockey.com; JOfa/Reebok: www.rbkhockey.com; Nike: www.nikehockey.com