Crunch Time
Stomp into winter with the year's most versatile snowshoes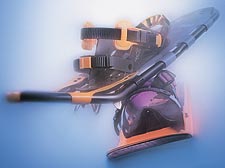 Hacob Khodaverdian
Heading out the door? Read this article on the new Outside+ app available now on iOS devices for members! Download the app.
IT WASN'T LONG ago that any winter athlete worth the stench of his polypropylene was likely to pan snowshoeing with the disparaging one-liner "Why snowshoe when you can ski?" Simplicity was the obvious retort. Strapping snowshoes to an approach shoe, hiking boot, or snowboarding boot freed you from castlike ski boots, stuck-together climbing skins, and the alchemy of ski-wax selection.


Luckily that argument still stands—as do the inherent joys of snowshoeing for its own sake. Walk into any outdoor shop, though, and the first thing you'll discover is that there's nothing simple about buying the latest snowshoes, which come in a mind-boggling array of styles. Indeed, in response to the demands of this burgeoning sport's devotees (who drove annual sales from 13,500 pairs in 1996 to 160,000 in 2000), manufacturers now offer deft and grippy models for transporting climbers and backpackers into mountainous terrain that even skiers would have trouble skinning up; lightweight, versatile systems that are luring trail runners and fitness junkies into snowshoe racing; and stiff, compact designs that offer snowboarders the solid toe-holds they need for climbing steep chutes. All of which means that the only question you need to answer about snowshoeing is "Where do I want to go?" Our best advice for gearing up: Define your interests, and the right shoe will take you there.



Snow Sports (Cont.)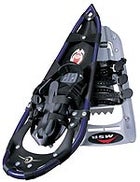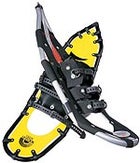 Multipurpose

The MSR Denali Ascent (8 by 22 in.; 3 lb., 12 oz. per pair; $160) uses a burly, solid copolymer body—a polypropylene used in ski construction, and a deviation from the classic hard-frame/soft-deck snowshoe paradigm. The strap bindings attach easily, and the combination of stainless-steel cleats and traction bars gives these shoes an epoxy grip on ascents, descents, and traverses. What makes the Denali stand out, though, are the optional snap-on tails available in 4-inch (11 oz.; $25) and 8-inch (16 oz.; $30) sizes. Because you can match the Denali to snow conditions and pack loads with the tails, it's like owning three different-size snowshoes.


With its aluminum frame and rubberized nylon deck, the Crescent Moon 9 (9 by 27.5 in.; 3 lb., 4 oz.; $240) has far greater eye appeal than the Denali—despite its modern materials, it's a shoe you might hang over the cabin's fireplace. In addition to its aesthetic advantages, the Crescent Moon 9 has a teardrop shape that facilitates a smooth, more natural gait—no duck waddling to avoid clunking or stepping on your own feet. Another worthy feature: The binding relies on a snowboard-style ratcheting strap and goes on fast, centering the foot securely. Stainless-steel cleats underfoot give this elegant shoe adequate, though not exceptional, grip.

Running and Racing

Redfeather's Falcon 25 (right; 8 by 25 in.; 2 lb., 8 oz.; $230), which Olympic gold-medal marathoner Frank Shorter and world-class snowshoe racer Tom Sobal both had a hand in designing, walks the weight/performance line successfully. The rubbery moisture-repelling Hypalon plastic decking is lighter than most, yet tough enough to endure seasons of heavy use (unless you regularly step on barbed wire). The titanium cleats below the toe and heel provide excellent grip at half the weight of most crampons. The bindings—also cut from Hypalon—are light, offer excellent torsional rigidity, and mold nicely to running shoes. A turned-up tail helps snow runners lengthen their stride.


The Northern Lites Elite (8 by 25 in; 2 lb., 6 oz.; $200) doesn't look as streamlined as most racing shoes, but when it comes to substance and value, few surpass it. Because Northern Lites designers used aluminum-alloy tubing, they were able to produce a smaller-diameter, lighter frame without sacrificing strength. The binding is a cradle built with Voilé binding straps—a simple, workable design that has prompted several manufacturers to copy the approach. The decking is a feathery but puncture-resistant polyurethane-coated nylon mesh secured to the frame's perimeter with cleats that do double duty by improving traction and, combined with the crampons underfoot, adding to the Elite's spiked-track-shoe feel.



Snowboarding and Steep Skiing

Verts (8.5 by 18 in.; $75) may look like toys spit out of the Lego factory, but these tough nylon plates let you front-point up ungodly steep slopes, carving out a sturdy platform as you go. The bindings position your toes inches from the front for maximum step-kicking power. Going downhill, most Vert users are strapped to boards, but keep the shoes on and you'll find that the anchored heels plunge confidently into the slope. The downside? A small footprint—which means that you'll posthole during a deep powder ascent. Two slightly modified versions of Verts are available: Da Kine's (2 lb., 8 oz.; $75) opts for a web binding strap (shown on right), while K2's (3 lb., 4 oz.; $160) features K2's step-in Clicker snowboard bindings that pair up with their Clicker snowboard boots.


The larger surface area of the Tubbs Mountain 25 (left; 8 by 25 in.; 5 lb., 2 oz.; $265) reduces the posthole factor, which can turn a pleasant outing into a winter death march. A curbed nose and hinged binding (think telemark bindings) also help the shoes float higher in the snowpack and make flat ground effortless to traverse. While the deck of the Mountain 25 resembles the nylon of other high-end shoes, it's actually a nearly indestructible copolymer skin called ArcTec. For a hinged snowshoe, the Mountain 25 climbs superbly—its aggressive front crampons stick to snow and ice like Velcro. Nevertheless, the hinge prevents users from kicking the steps that make the Verts unparalleled climbing tools.
Snow Sports (Cont.)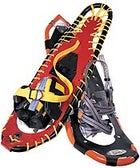 Backpacking and Winter Climbing
Multiday treks into the heart of winter produce unique problems—like the need to carry hefty packs through deep, unconsolidated snow. Which is why you want a 40-acre shoe underfoot for flotation. Notable among the big paws is the aluminum-framed, nylon-decked Sherpa Pembu Mountain (9 by 30 in.; 5 lb., 11 oz.; $269), the zenith product from the company that brought snowshoeing out of the stick-and-rawhide era. An ideal shoe for Alaskan meter readers, the Pembu's urethane-coated deck is extremely durable, and because it's laced to the frame with a tough rubbery plastic material (instead of being riveted to the top), it also enhances traction. The big crampon claws underfoot are among the best available for hard snow.

With an aircraft-grade aluminum frame and an incredibly rugged mesh-coated urethane deck, the Atlas 1033 (9 by 30 in.; 5 lb., 4 oz.; $249) is a high-flotation, heavyweight shoe that's earned the respect of both the climbing community and the Navy SEALs (who use it for winter operations and could probably wield it as a deadly weapon to boot). The spring-loaded binding—tension on a strap of webbing across the heel brings the back of the shoe up and out of the snow, reducing drag—saves energy on long hauls and clamps to any boot with a unique one-pull cord system. And while the 1033 once had a reputation for skittering slightly on icy descents, the new serrated traverse tracks—rows of stainless-steel teeth running lengthwise and parallel to the center of the frame—combine with the old cleats up front to provide pit-bull bite.

A Step Beyond Snowshoeing
Many winter walkers reach the top of a hill and wonder, "Why doesn't someone make a snowshoe that glides?" Well, finally, someone does. The Yupi Snowspider 28 (6 by 28 in.; 5 lb., 3 oz.; $180) is a hardened sheet of aluminum covered below in an edge-to-edge climbing skin. Strap a hiking, climbing, or snowboarding boot into the hinged nylon binding, and the base bristles to provide uphill grip. In anything other than hardpack snow and ice (conditions where the Yupis flail), you can walk straight up 35-degree slopes. Steeper slopes are tackled by zigzagging, or by kicking the tip into the slope and stairstepping. Once you've summited, simply point the boards downhill and, with the skins still on, ride the glide back down.

Salomon's new Raid Snowshoe (8 by 24 in.; 4 lb., 1 oz.; $200) is a molded polycarbonate shoe with good (not fabulous) grip. The binding centers the boot on a contoured plate and cinches the foot with snowboard-style ratcheting straps. A mechanical pivot lets your foot remain on a level plane when the shoe is canted on a traverse. The most interesting feature on the Raid, however, is a special toe adapter that lets it mate with cross-country ski boots using the Salomon Nordic System. Step out of the snowshoe and into the Raid Blade (not shown, $400), a 145-centimeter, wide-body cross-country ski with a fish-scale base and sharp metal edges that's perfect for downhills, adequate for gentle climbs, and a lot more fun than plodding along when the trees open up to a never-ending series of undulating hills.

Where To Find It
Atlas, 888-482-8527, www.atlassnowshoe.com; Crescent Moon, 800-587-7655, www.crescentmoonsnowshoes.com; Da Kine, 541-386-3166, www.dakine.com; K2, 800-972-4038, www.k2snowboarding.com; MSR Snowshoes, 800-877-9677, www.msrcorp.com; Northern Lites, 800-360-5483, www.northernlites.com; Redfeather, 800-525-0081, www.redfeather.com; Salomon, 800-225-6850, www.salomon-sports.com; Sherpa Snowshoes, 800-621-2277, www.sherpasnowshoes.com; Tubbs Snowshoes, 800-882-2748, www.tubbssnowshoes.com; Verts Snowshoes, 801-281-1331, www.verts.com; Yupi Skishoes, 604-905-4874, www.yupiskishoes.com.
Board Feet
Boot and binding systems for powder surfers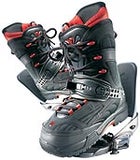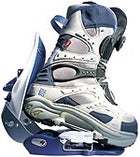 WHETHER you're a freerider jonesing for the steep and deep, or a freestyler wired for terrain-park jibbing, the gear question is the same: "Should I go with step-in bindings or straps?" The short answer is that there is no short answer: Both systems have been so highly refined that it's no longer as much a question of performance as it is personal preference. Strap bindings require novices to sit down at the top of the lift to attach the rear foot to the board; step-ins (obviously) don't. Not a big deal either way, of course, but there you have it. Herewith, the best step-in and strap setups for all-mountain riders and the park-and-pipe crowd.
 
Freeriding Step-In
K2 Magma HB Bindings ($200) and T1 Boots ($240)
(800-972-4038; www.k2snowboarding.com)
The Binding: Freeriding's ultimate expression takes place in the backcountry. That's why, coupled with K2 ascent skis or Clicker-compatible Verts snowshoes (see page 86), the Clicker binding system crosses in and out of bounds fluidly. Rather than building heel-side stiffness into the boot (which would make it awkward to hike in), K2 equips the Magma HB binding with an external high-back (HB). You'll need to fine-tune the high-back's forward lean with a screwdriver for customized performance, and the Magma step-in does takes a little stomping oomph to engage, but once you're locked into the binding you'll forget about all that fiddling.
The Boot: The T1 Boot packs a wallop, in both stiffness and, unfortunately, weight (8 lb. a pair). The upside? These qualities translate into superior support and impressive stability when the powder turns to chunky crust. The heel cup holds your foot in place nicely, and the ankle strap gives remarkable over-the-top foot support. A rigid plastic spine along the outside of the boot provides extra heel-side power when railing high-speed turns.
Freestyle Step-In
Switch Standard X-type Bindings ($150) and Vans Klutch Boots ($290)
(800-826-7800; www.switchbindings.com /www.vans.com)
The Binding: The Switch cleats engage on the inside of the dual-density plastic base, ensuring that snow doesn't muck up the works. The design lends itself to lateral support. It's a more robust system than your average step-in, with four points of boot-to-binding contact boosting energy-transfer efficiency. A soft-touch forward-lean adjustment with a quick-release lever is user-friendly for those wearing gloves, and because you can actually see the Switch mechanism—as opposed to having a disk hidden beneath your foot—it's a no-brainer to step in.
The Boot: The Klutch boot is soft enough to tweak out your backside method and stiff enough to keep you from noodling at speed. But the real story here is the Boa lacing system. The brainchild of a former medical-supply engineer (who designed a similar gadget for use in coronary angioplasty procedures) the Boa is a wire-and-reel device that tightens with the turn of a dial and loosens just by pushing a button. Gone are the days of looping the rabbit though the hole with cold fingers and ice-caked laces.
Snowboarding (Cont.)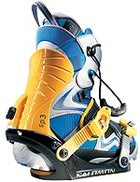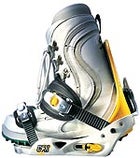 Freeriding Straps
Salomon SP3 Bindings ($160) and Dialogue Boots ($220)
(800-225-6850; www.salomon-sports.com)

The Binding: The SP3 sports a high back with a cupped wing that transfers energy directly from your calf into the board, making turning less work while reducing wasted upper-body movement. The traditional beef with strap bindings was that they required frequent minor adjustments for fit and performance. Not so with the SP3: A fixed toe strap opens wide to let your foot in and out of the binding without making you thread and rethread the strap. To adjust forward lean on the fly, just turn a plastic dial on the high-back.
The Boot: The Dialogue boot serves as a great reminder of snowboarding's one great advantage over skiing: instant comfort. Featuring a roomy fit that accommodates wide feet and high insteps, and EVA molded midsoles and natural-rubber soles (both with ample cushioning), the boots feel like a new pair of running shoes. Even with a soft closed-cell foam liner and a lightweight outer boot, though, the Dialogue offers a surprisingly stiff, precise ride, thanks in part to a simple lacing system that cinches all that cush around the foot.

Freestyle Straps
Burton CFX Bindings ($240) and Sly Boots ($190)
(800-881-31; www.burton.com)

The Binding: Superpipes, tabletops, spines, rails…bring 'em on. The CFX binding has been a strong seller for Burton for a number of seasons, but this year's model features some significant redesigns: specifically, new ankle and toe straps that decrease pressure on both the instep and the outside of the foot, and a three-component high-back that increases stiffness without adding weight. The base plate has integrated EVA padding to soften harsh landings, and the toe is ramped upward for more turning power (trust us, it makes a huge difference).
The Boot: Burton's freestyle boots have always been famous for their comfort, and the Sly, thanks to Burton's high-end lasted 3D Matrix HD liner, is no exception. But none of that would hold much water if the boots didn't perform in the half-pipe—which, of course, they do. The synthetic upper is incredibly light and flexes easily from side to side when you're contorting yourself into a grab position.
Tough Old Birds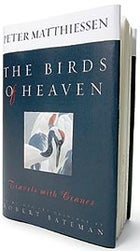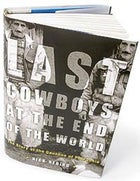 The Birds of Heaven: Travels with Cranes, by Peter Matthiessen, paintings and drawings by Robert Bateman (North Point Press, $27). Bard of the world's rarest creatures, from the snow leopard to the Siberian tiger, Matthiessen here spans the globe tracking several species of enormous, high-flying cranes and the "craniacs" who follow them. Setting out in 1992, he crosses Mongolian marshes and steppes—dining on "cold and fatty marmot"—and joins ornithologists in helicopters to spot Grus vipio, the white-naped crane. But for Matthiessen, understanding wildlife has never been simply a matter of adventure; it's a holistic effort to inhabit the human ecosystem—history, culture, geopolitics—invariably interwoven with the natural one. Thus, his observations of the "tenuous" relations between Russian, Chinese, and Japanese scientists are as freighted as those of cranes, both species "sharp-eyed and wary." The final chapter, which opens with a passage on whooping cranes from the author's classic 1959 book Wildlife in America, is particularly poignant, updating that earlier lament with a report of "the first wild whooping crane born in the United States in sixty years." Torn, as always, between despair and tentative hope, Matthiessen is our finest chronicler of "the lengths to which man is driven to salvage the last wild survivors of his own heedless course on earth." A portion of this book appeared in Outside in 1994. —Caroline Fraser


Edward Abbey: A Life,, by James M. Cahalan (University of Arizona Press, $28). Adventures with Ed: A Portrait of Abbey, by Jack Loeffler (University of New Mexico Press, $25). Late in life, Ed Abbey called himself "just one more cranky, cantankerous, dyspeptic, choleric, poker-playing, whiskey-drinking, cigar-smoking evil old man." This crank, of course, produced two classics—Desert Solitaire and The Monkey Wrench Gang—that inflamed a generation of environmentalists. Now two new biographies—the first a meticulous study by a university professor who never met Abbey, the second by his best friend, Jack Loeffler—help fans sort out the myths surrounding Cactus Ed and celebrate a life lived by Whitman's credo: "Resist much, obey little." From the Pennsylvania teenager seeing the Southwest from a boxcar in 1944 to the young anarchist at the University of New Mexico, Abbey chafed against traditional constraints. Spending summers as a fire lookout and ranger, he stalked the American desert in solo stints that led to his 1968 breakthrough, Desert Solitaire—a book that inspired fire lookout Loeffler to drive to Arizona to meet the man who'd become his closest compañero. While Cahalan uncovers fascinating evidence of how Abbey fictionalized his nonfiction, look to Loeffler to see why this serial husband, womanizer, and heavy drinker was beloved, even worshiped, by a wide circle of admirers. After Abbey's death in 1989, his friends buried him in the Arizona desert under a rock bearing the words NO COMMENT. But the eternally irreverent Abbey still has plenty to say —C.F.


The Last Cowboys at the End of the World: The Story of the Gauchos of Patagonia, by Nick Reding (Crown, $24). Sure, this book is full of crazy Patagonian cowboys who parade around in sheepskin chaps and call each other Loco and Pork Rind, but at its heart this is the story of a road and the havoc it wreaked. In the early 1990s, a 900-mile highway pushed through to Chile's Cisnes Valley, a secluded area cordoned off by 6,000-foot Andean peaks. Soon after came Reding, a fly-fishing guide and aspiring novelist wondering, "What was it like for a man and woman suddenly to wake up one day and have an entirely different idea about the size of the world and their changing place within it?" It wasn't pleasant. Reding bunks with Duck and Edith, who run cattle for an absentee patrón and raise three kids in lodgings so sketchy that Reding worries about hanta-virus. The road brings talk of boom boxes and monster trucks, but fails to deliver prosperity. Gauchos like Duck always knew they led hard lives; now they know they're poor as well. A year after Reding's arrival, the lure of the outside world proves too much, and the family rents a row house in a faraway slum town. A sobering and often entertaining look at the dissipation of a way of life, The Last Cowboys marks the debut of a strong new voice. —Bruce Barcott


Loaded: A Misadventure on the Marijuana Trail, by Robert Sabbag (Little, Brown, $25). Cocaine chronicler Robert Sabbag (Snowblind) returns to the smuggler's trade with this brass-balls story of the pot dealer who brought Colombian gold to a nation of grateful stoners. Allen Long began the seventies as a 22-year-old weed connoisseur and filmmaker, and ended them as one of the world's biggest herb peddlers. No mere narco-capitalist, Long played the game for the adrenaline pump of lifting a loaded DC-3 out of the South American jungle—and scoring the finest weed known to man. "Drinking Heineken, sucking oxygen, snorting coke and smoking pot, and flying back to the USA with some two and a half tons of blond—this for Allen Long was perhaps the finest moment of the trip," Sabbag writes in this rollicking, over-the-top road-tripper's saga. Alas, gringos in DC-3s gave way to drug lords and gangland executions—and even Long eventually served his time. —B.B.


FROM OUR PAGES:
Last Flight Out: True Tales of Adventure, Travel, and Fishing, by Randy Wayne White (The Lyons Press, $25). In this new collection, Outside's own Florida wild man finds himself up to his ears in orangutans and bar stools.
Trending on Outside Online