The Gear Our Editors Loved in July
Heading out the door? Read this article on the new Outside+ app available now on iOS devices for members! Download the app.
Outside editors have been working at home for over 500 days. The lines between work and play have blurred even more than they already were. This summer, our foreheads are more indented from our helmet's pressure during our lunch rides, our sandal tans are deeper, and our skin is covered in additional layers of sunscreen—we're basically ready to do our favorite activities at a moment's notice. Here's what we use to make it happen.
Topo Designs Dirt Shorts ($69, S-XL)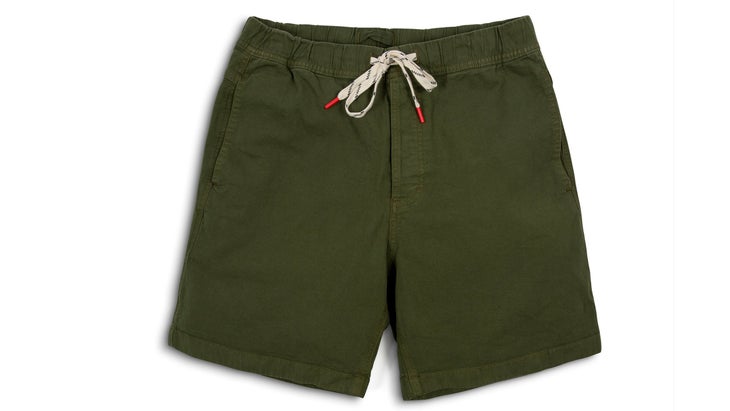 These have been my go-to shorts this summer. They're hardy enough to wear on a scrambly hike or during an afternoon at the crag, but the loose fit and the garment-dyed wash makes them soft and comfortable enough to wear around the house (or to the office when the AC is broken). I also really like the zippered back pocket, which lets me secure my wallet during a hike with my dog and then have it handy when I get a milkshake afterwards to try and beat the heat. —Luke Whelan, senior editor
---
Adidas Terrex AX3 Hiking Shoes ($80)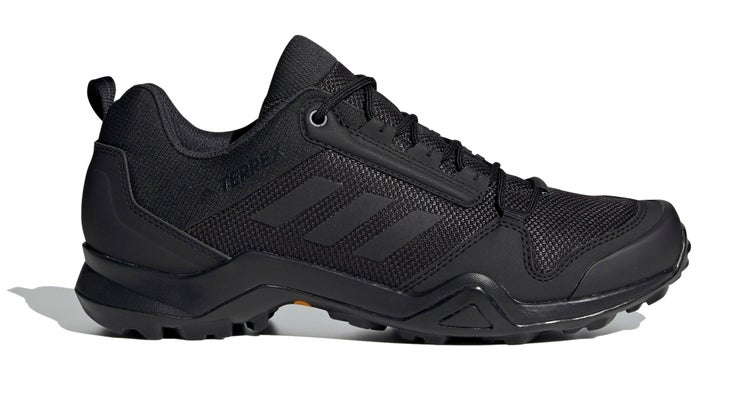 I've been wearing these virtually every day for three months now, for everything from lifting weights, to hiking my dogs, to dancing all night at a Pride party in Helena, Montana. They're a little roomier than the trail running shoes I usually wear, but at 12.5 ounces, aren't any heavier. The heavily lugged Continental rubber sole provides all the traction you'd expect it to, and an abrasion-resistant toe and heel help them stand up to rocks and sticks. When I do eventually need to buy a new pair, replacing them will be easy on my wallet—I have no idea how Adidas packs this much performance into an $80 shoe. —Wes Siler, contributing editor
---
POC Infinite All Mountain Shorts ($130, XS-L)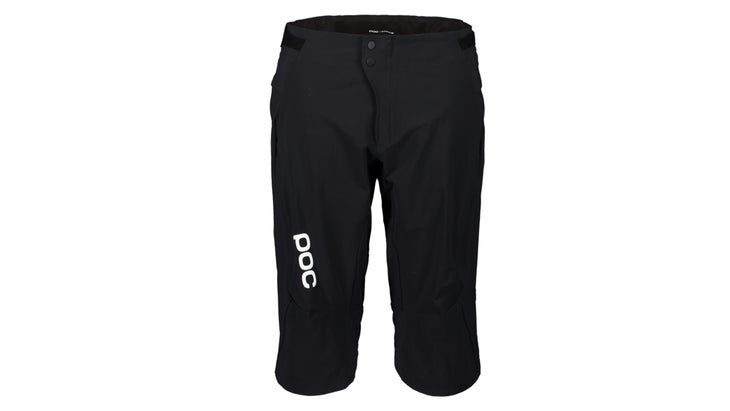 This July, I've spent more hours than I can count in my All Mountain Shorts. Almost every time I ride with women, the subject of mountain bike shorts—and how tough they are to get right—comes up. POC nails it here. These shorts are made of a light, breathable, quick-drying fabric that's reinforced in high-wear areas (like the seat) with a more durable weave. Zippered vents along the thighs make them even better suited to warm weather. Low-profile velcro at the sides of the waist helps dial in the fit without a belt (helpful for riders who prefer fanny packs) and the cut through the legs splits the difference perfectly between trim enough to be flattering and roomy enough for movement. Stretch in the fabric helps, too. A deep but non-zippered pocket at each hip holds a phone securely enough for aggressive downhill antics, but makes for easy access mid-ride to change a song or take a quick look at Trailforks. —Abigail Barronian, associate editor
---
Salomon Ultra Glide ($140)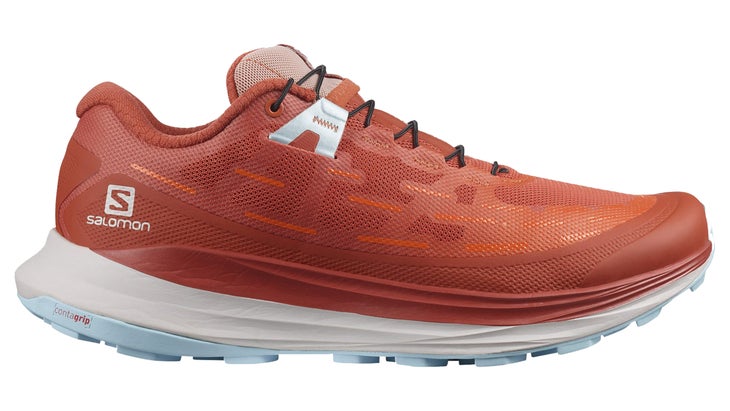 This has been a high-mileage summer for me, which is why I've been particularly obsessed with Salomon's new highly cushioned trail shoe. With a 38-millimeter heel stack, this is one of the plushest shoes in the brand's line. But the midsole compound—a mix of EVA and olefin foams—produces a firm, bouncy feel familiar to anyone who is a fan of lower-stack Salomon classics like the Sense Ride. In other words: it's ideal for anyone who wants a shoe to absorb the pounding of big days without feeling soft or sluggish. —Ariella Gintzler, senior editor
---
Luno Air Mattress 2.0 ($330)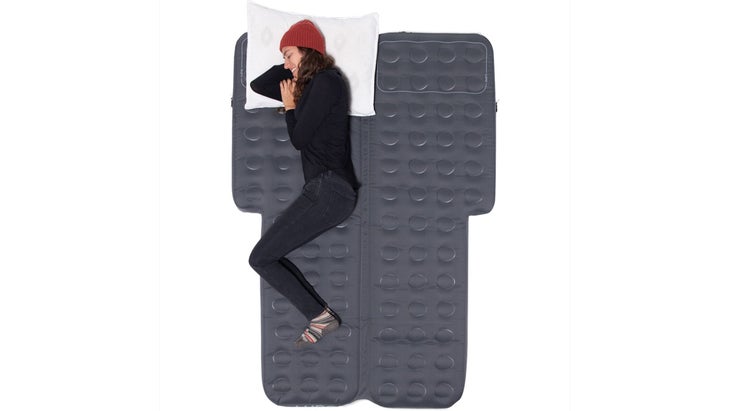 I'm always trying to simplify my car camping setup—I want to bring the least amount of gear possible but still be plenty comfortable. That's why I was excited to test the two-person Luno air mattress, which is designed to slot into the back of a car and eliminates the need for a tent. The bottom two thirds is skinnier so it fits between wheel wells and door handles, and then spreads out up top so you have more room to spread your arms. Thanks to two configuration options, the Luno 2.0 fits hundreds of different cars including the Subaru Outback, Forester, and Impreza, as well as the Toyota 4Runner and Rav4. (Tacoma owners are out of luck for the moment.) Each mattress ships with a 12-volt pump you can plug into your cigarette lighter, and is made from a strong, leak-proof, 300-denier material that held up at night and didn't leak a bit of air. Heads up: you will want to outfit your car with a cargo box and use that for your principal storage, otherwise you'll have to unload your car every time you want to sleep. —Jakob Schiller, contributing writer
---
Maap Cycling Training Bib ($235, XS-XXL)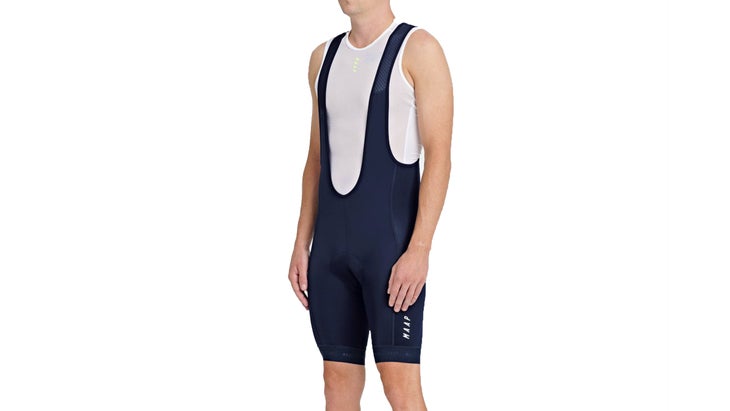 These bibs are now my go-to, everyday favorite. The Italian-made material is thin and breathes well, but the design is plenty sturdy so they perform well on a quick 20-mile loop or an all-day epic. I found the chamois to be plush but not overdone, and the silicone grippers at the leg hem kept everything in place. —J.S.
---
Glow Workwear Squeeze Pants ($99, XS-XL)
I'm a curvy five-foot eleven inches tall  (read: long legs, wide hips, big butt), so I'm not exaggerating when I say I've never found a pair of outdoorsy pants that fit perfectly. That is, until I found Glow Workwear. I've been testing pants from Glow on my partner's greens and veggie farm in northern New Mexico, and after nearly a month of wear, they've held up to kneeling in the fields, shoveling muck, and plenty of dog slobber without a single snag or stain. The Squeeze pants feature cargo-style pockets, with a zippered one in the front for tons of storage. The nylon-spandex blend hugs my hips and waist enough to stay up, but the extra stretch means they never feel too tight. The best part? They do not fit like highwaters, because Glow offers regular or long lengths in sizes XS (0/00) to XL (14/16). A fun aside: Outside readers voted on color combo favorites for the company back in 2018, so it's extra cool to see these come to life this year. —Abigail Wise, digital managing director
---
Swift Zeitgeist Pack ($195)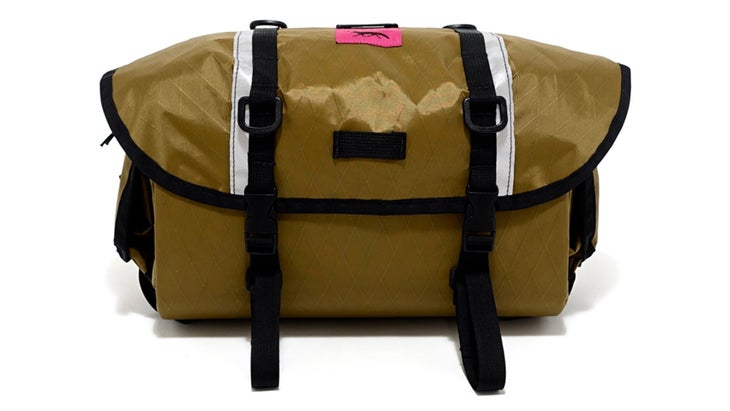 If you want to drive as little as possible, and ride your bike as much as possible you need to find a way to carry a lot of stuff. The Swift Zeitgeist is my daily go-to for just that. I run it on the handlebars of my commuter/town/gravel bike (although you can hang it on your saddle if you have integrated loops) and I can never believe how cavernous the 12-liter capacity is. I've taken it on overnight camping trips, long day rides, spins with my daughter, and countless grocery store jaunts. A couple weeks ago, I stuffed a jug of lemonade, two sandwiches, two medium-sized bags of chips, and a package of tortillas in there. It's also tough: the 210–denier nylon fabric has plenty of abrasion resistance and while it's quite dusty after seven months of frequent use, the material itself shows zero signs of wear. I also like that it's handmade in Seattle, that its side pockets are just big enough for my repair kit, and that the long reflective strips down the lid provide extra visibility at night. —Will Taylor, gear director
---
Under Armour Women's Meridian Heathered Bike Shorts ($60, XS-XXL)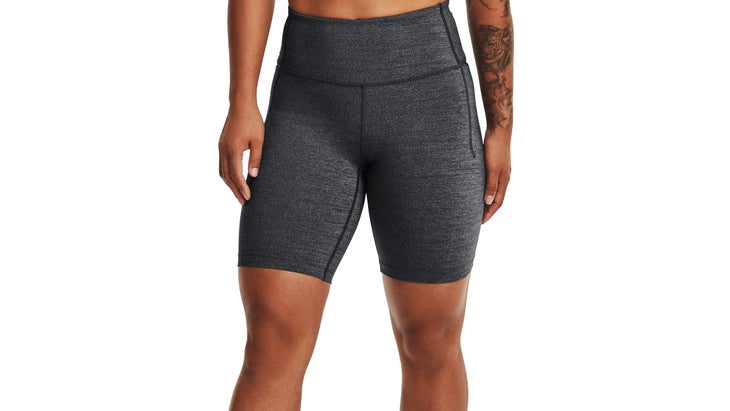 I test a lot of apparel, and sometimes in the blur of flashy new technologies and sleek silhouettes, it can be hard for pieces to stand out. But over the last couple years, I've found that the most reliable sign of a stellar piece isn't its tech specs or its fabric weight or its feature set, but rather how often I pull it out of my laundry, already sweaty and dirty, for one more wear before the wash. These bike shorts from Under Armour have become one of those pieces this summer. I've worn them hiking, running, biking, rafting, inline skating, climbing, and even slip-'n'-sliding and they didn't ride up once. I've thrown them on under a dress for a little extra coverage and even worn them as PJs, both in my sleeping bag and at home. Other things I love: The two thigh pockets that are secure enough to hold my phone on a run, the generous eight-inch inseam, and the unrestrictive but figure-hugging four-way stretch. Plus, anti-odor tech helps me feel less guilty about all those skipped washes. —Maren Larsen, associate editor
Lead Photo: Tegan Mierle/Unsplash