Mammoth Mountain Just Reinvented the Terrain Park
The California ski area is building a whole set of features inside their famous hike-to bowl, creating the country's first off-piste playground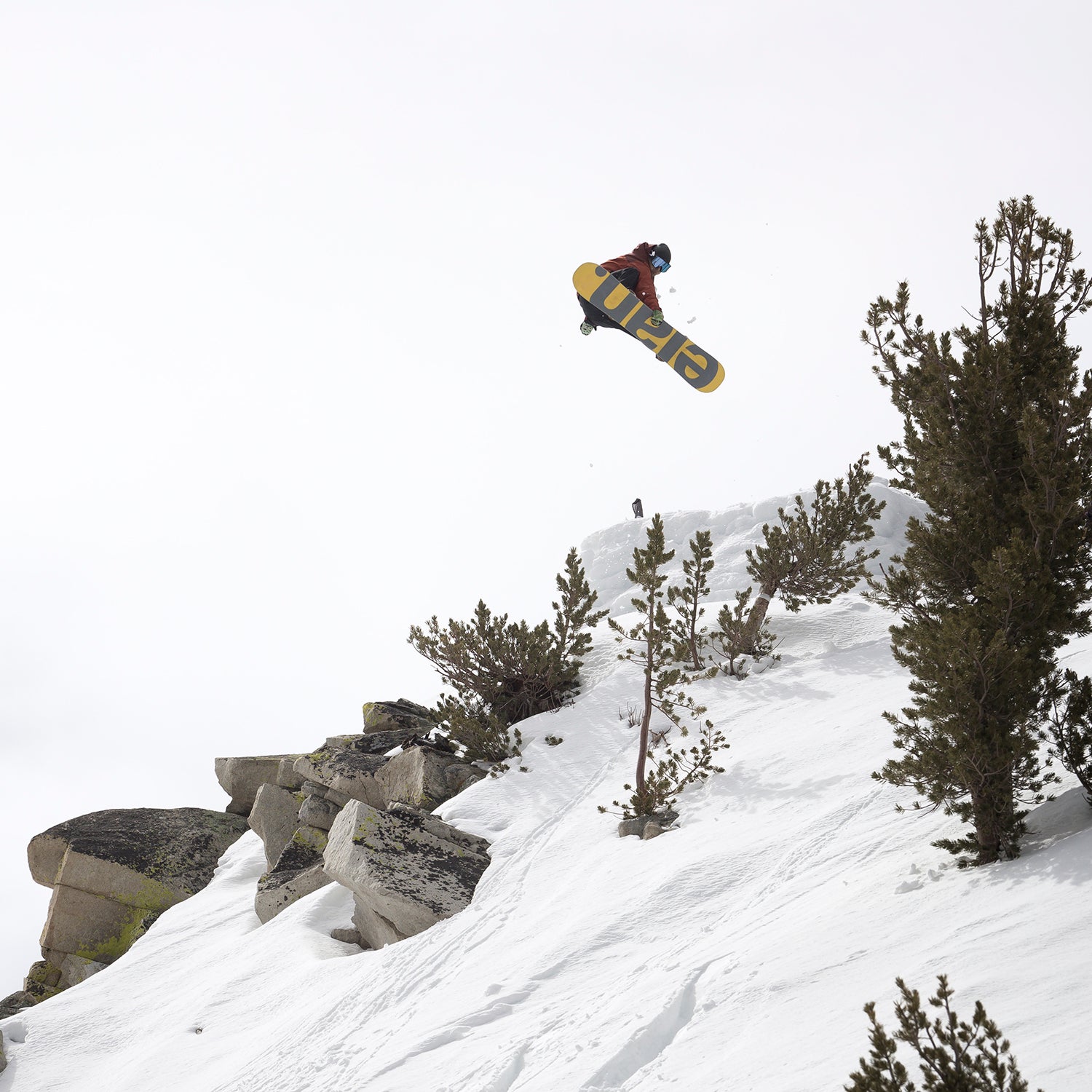 Heading out the door? Read this article on the new Outside+ app available now on iOS devices for members! Download the app.
This winter, Mammoth Mountain is running a unique experiment: building carefully crafted and maintained terrain park features inside Hemlocks, the mountain's most famous hike-to bowl. Those who want to do more than just surf powder in this iconic spot will now also be able to ride jumps meant to enhance the area's 650 feet of vertical drop. 
Mammoth isn't the first resort to merge park features with backcountry terrain. Rusutsu Resort, in Japan, recently built wooden features in the midst of their side-country birch tree stands and British Columbia's Baldface enhances some of their natural terrain with wooden features, too. But Mammoth will be the first U.S. resort to officially introduce a terrain-park sensibility to its hike-only backcountry.
"Hemlocks already has a lot of natural features in it," says Mammoth Mountain's Gabe Taylor, a former pro snowboarder and mastermind behind the project. "There are a lot of undulations, lots of takeoffs and landings….The bowl has a natural park feel to it already. We're going to build a dozen features designed to help those natural hits, so riders can line up the takeoffs and landings and make the most of the terrain."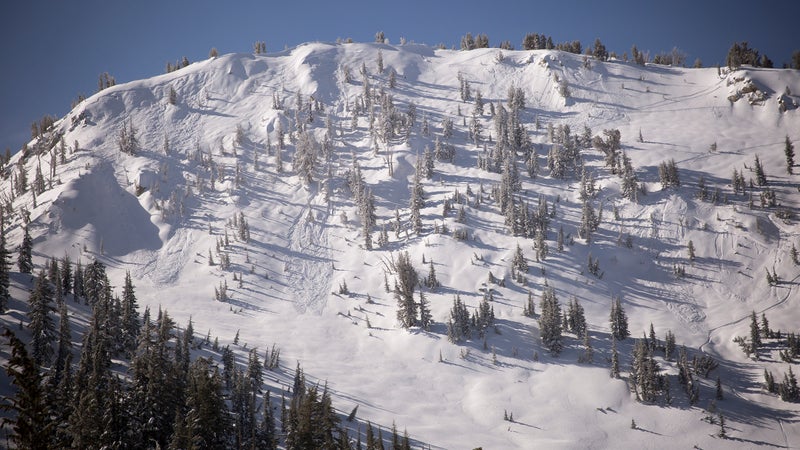 Mammoth's park crew is in charge of construction and plans to have a first batch of jumps ready by early January. They'll be building many of the classic features you'd see in a normal terrain park, like small cheese wedges (jumps that angle sharply up), step-downs (a landing area that sits below a jump and helps you catch more air), and hips (a jump where the landing is off to the side instead of directly in front of you). A few choice locations will also feature larger jumps with smooth landings, where the crew expects that some skiers and boarders might sail a full 70 feet. 
Taylor has been dreaming about this project since he first rode Hemlocks back in 1999, and has been working on it with Mammoth for three years, taking direct inspiration from Supernatural, the backcountry terrain park competitions that Travis Rice designed for Red Bull at Baldface Lodge, a cat-skiing resort in British Columbia, in 2012 and 2013. 
Hemlocks sits within the resort's boundaries, so the snow is controlled for avalanches by Mammoth's ski patrol, but the mandatory quarter-mile hike from the top of Chair 14 diminishes the crowds and gives the hill a backcountry feel.  If you're wondering if park rats are going to be willing to boot-pack for air, Taylor says there's a built-in demographic who's begging for terrain like this. 
"It's the next step in progression from terrain parks. There are a lot of people who've grown up skiing and snowboarding, and they ride the parks, but they're getting older," he says. "They don't want to jump off 60-foot tables all day long. They still want to catch air, but they also want to ride powder. They want to ride trees. They want to find a way to incorporate it all. This is it."
Frank Knab is the kind of boarder Taylor has in mind. Knab, a pro who rides for Jones Snowboards, grew up in parks but quickly discovered the joys of the backcountry when he moved to Mammoth in 2009. He helped Taylor test a couple of preliminary jumps in Hemlocks last season. "It's unreal to hike for a little bit, then rip deep pow and hit this massive jump that's built perfectly in the middle of the backcountry," Knab says. "Hemlocks is the last place in Mammoth without direct chair access. It holds snow for quite a while and it's some of the steepest terrain on Mammoth, so the landings are beautiful, letting you go really big if you want. This is going to bring a whole new aspect to snowboarding here. I think it will lure a lot of park kids into the backcountry, and allow them to learn the first steps of backcountry riding." 
Mammoth is starting with 12 features this year, all built from snow, but Taylor isn't ruling out building wooden features in the future. And Knab thinks it's only a matter of time before you see similar developments popping up at other resorts. "Mammoth is the only resort putting big jumps in their backcountry right now, but they're such an innovative mountain when it comes to parks. I think other resorts will catch on and follow Mammoth's lead," he says.