The Best Gear from Summer Outdoor Retailer 2019
Our list of best summer gear for next year includes Olympic innovation, a legit cup of camp coffee, and two classics done better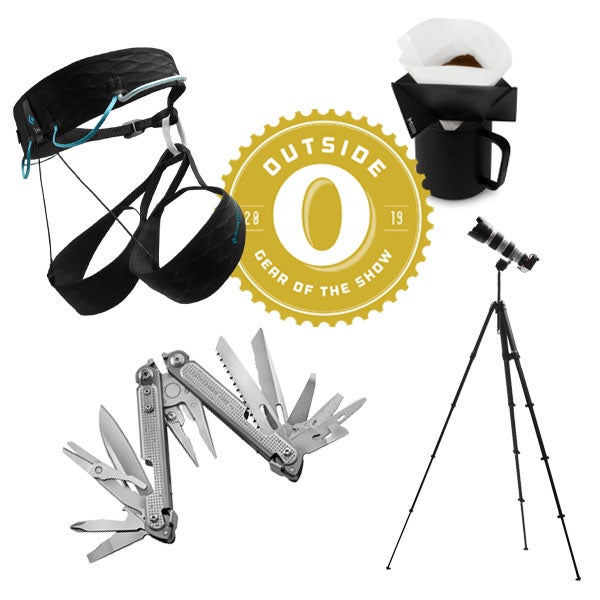 Heading out the door? Read this article on the new Outside+ app available now on iOS devices for members! Download the app.
Outside's team of gear editors is in Denver this week for the Outdoor Retailer trade show, checking out the equipment coming down the pike for next summer. Of the thousands of products on display, these are the four we're most excited about.
Leatherman Free P4 Multitool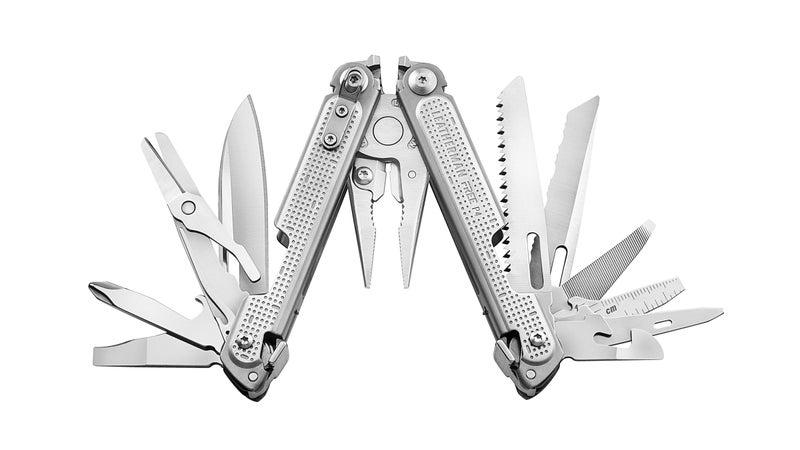 Leatherman is synonymous with multitools. Founded in 1983 by Tim Leatherman, an engineer and world traveler who desperately wanted an instrument that had both pliers and a knife, the company has continued to lead the multitool universe despite plenty of worthy challengers. How? By continuing to innovate in a field that often feels stagnant.
This year's Leatherman Free P4—and the entire Free series—is a perfect example of that. The company completely redesigned what was already a very robust and complete lineup of tools to make something better. The main draw of the P4 is complete one-handed operation. Thanks to magnets in the handle, you can just slip your thumb between the two sides of the tool and flip it open to quickly and easily access the pliers, while those magnets also keep the handle closed when you're using the other implements. There are 20 other instruments on the P4—two blades, four screwdrivers, a can opener, and the other standards you'll find on other multis—most of which are accessible and stowable with a single hand without opening up the device. Plus, the whole package is sleeker and less bulky than Leatherman's other offerings, with as many doodads.
The P4 is the big dog in the Free series and is already on the market ($140), but there are options with fewers tools (the P2) and ones without pliers (the K4), the latter of which is yet to be released. But they all feature the satisfying magnets and precise, one-handed operation.
Did Leatherman need to make a better multitool? No. But it did, and we think it's awesome.
—Will Taylor, gear director
---
Peak Design Travel Tripod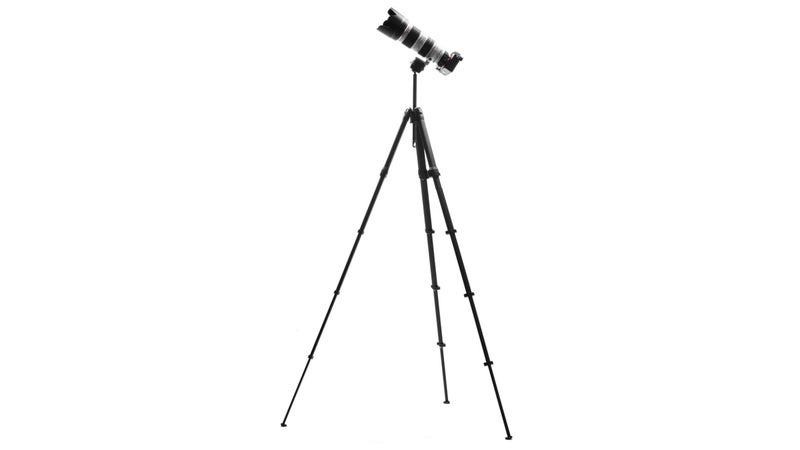 By now you've likely heard of Peak Design. The Bay Area company is known for taking somewhat ordinary products, like camera accessories and backpacks, and making them sleeker and more user-friendly while still fully featured. (It also has its fundraising game dialed, with many gangbuster crowdfunding campaigns.) Its latest—the Travel Tripod—is no different.
Now, to be fair, we haven't thoroughly tested it yet. But it's small, folding down to slightly longer than a foot, which Peak Design says is half the size of traditional travel tripods. And to cut down on volume, the company flattened out the legs (many 'pods have cylindrical supports, which don't lie flush and create wasted space when they're folded up). The result is a model that can fit in most packs' water–bottle pockets. Plus, it has a fully adjustable head—not the common screw top—which can even pivot down so that your camera hangs between the legs for low-to-the-ground shots. If you prefer your iPhone over a full-size DSLR, the center column hides a separate compatible mount. Further boosting its portability, the Travel Tripod weighs roughly 3.5 or 2.8 pounds, depending on whether you opt for the aluminum or carbon construction.
At the time of this writing, the Travel Tripod has garnered north of $6 million in backing on Kickstarter, easily eclipsing its $500,000 goal. (And anecdotally, we hear that pro photographer Ted Hesser is stoked about it, which bodes well.) It goes on sale in December, and the aluminum version will retail for $350, while the carbon version will run you $600. If it lives up to its potential and the Peak Design reputation, it could make getting outside (and capturing the memories) easier and more fun. And isn't that what the best gear is all about?
—Will Egensteiner, senior editor
---
Black Diamond AirNet Harness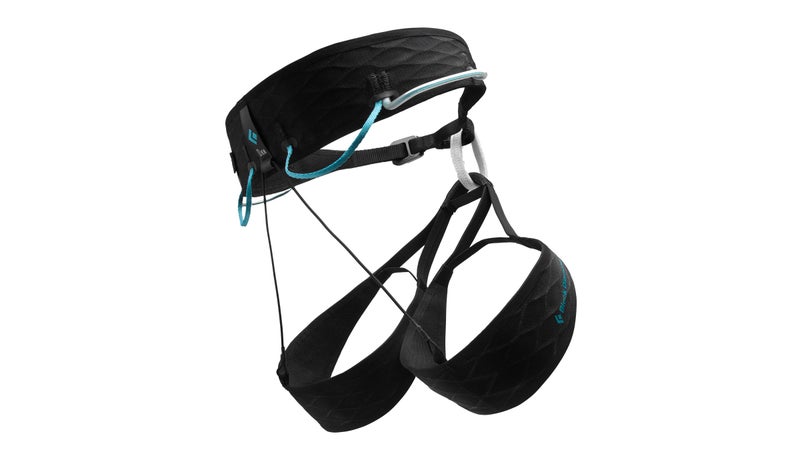 With the Tokyo Summer Olympic Games just one year away, and climbing an Olympic sport for the first time, it's no surprise that climbing companies are stepping up to design gear specifically for top-level competition. The product we're most excited about: Black Diamond's new AirNet harness ($160), an ultrastrong, ultralight 8.3-ounce model.
Black Diamond used Dyneema fiber to make the AirNet strong while shaving weight. It's not the first company to do this—and the AirNet is certainly not the lightest on the market. (Black Diamond, Edelrid, and Petzl all make lighter harnesses, though not all are geared toward sport climbing.) But two things set it apart. The first is the way the waist and leg loops are constructed. The Dyneema is laid out in a crisscross pattern and then sandwiched in an abrasion-resistant shell. Black Diamond says the netlike structure distributes weight more evenly and enabled designers to make the whole harness more breathable.
The second, and in our minds most significant, detail is the belay loop. Most are stitched from a single length of webbing. The part that's stitched, called the bar tack, is often bulkier and stiffer than the rest of the loop. It can get in the way while you're belaying and can cause an unpleasant lurch as the loop shifts on your weighted harness, either as you're belaying or falling and hanging on the other end of the rope. Black Diamond's solution was to create a seam-free belay loop from a length of tubular Dynex cut into ovals and wrapped in highly durable thread.
Ultimately, Olympic-specific gear has limited uses. In particular, the application of a seamless belay loop on a competition harness seems ironic, given the fact that most comps have dedicated belayers, so the athletes never have to clip into an ATC or a Grigri. But what we're excited about is how the technology could find its way into other climbing gear for us non-Olympians.
The seamless belay loop would significantly upgrade other harnesses already on the market. And that construction method could also apply to slings—circular bands of webbing climbers use to make anchors—which are currently constructed using the same bar-tack method. For now we'll just have to wait and hope.
The AirNet goes on sale January 1.
—Ariella Gintzler, assistant editor
---
Miir Pourigami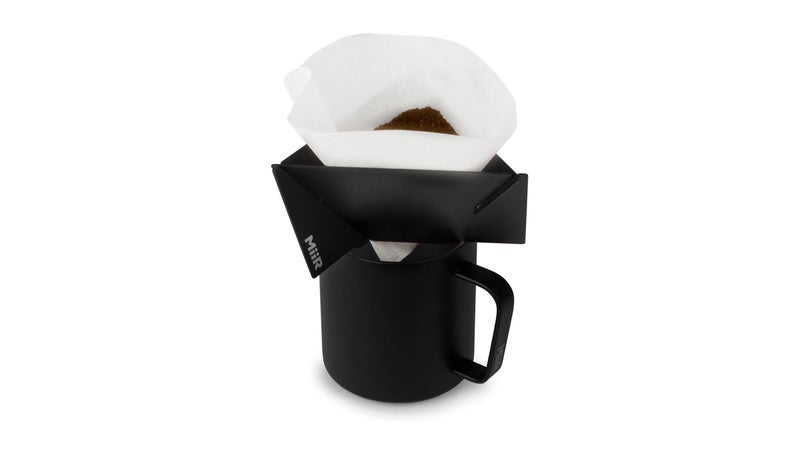 Camp coffee is serious business. A well-brewed cup of morning joe can change your day on the trail or performance at the crag.
But for years, the solutions to good java in the wilderness have fallen short of the goal: replicating a standard cup of coffee. Instant packets? No matter how many of those sleeves you pour in, it doesn't taste the same. Synthetic drip coffee makers? They often leave a plasticky aftertaste. And it's often impractical to bring along a bulky, multipiece brewing system that fits awkwardly in your pack.
Enter the Miir Pourigami. It's a portable pour-over coffee dripper that won our hearts with its simple, effective design.
As the name implies, the Pourigami looks like well-crafted origami. It's made up of three pieces of stainless steel that interlock into a triangle that rests on top of your mug and supports a filter (it's compatible with the number-two conical type). At first I was surprised by how good my Pourigami-brewed cup tasted, but then I realized this dripper just has all the perks of a ceramic one—like resistance to chemical reactions during brewing that give your drink unwanted aftertastes—minus the weight and bulk. As long as you have actual coffee grounds, you can make robust, barista-quality java.
Other than its brewing chops, the Pourigami's calling card is its packability: each piece is credit-card thin. And when it's time to disassemble, they stack together, and the entire four-ounce package slips into a foldable case, taking up less space in your pocket than an iPhone.
We give Miir bonus points for an elegant, minimalist design that looks as good in the campsite dirt as it does on your kitchen countertop. In fact, the company markets it as perfect for travel—which it is—but it's become the only way I make coffee now, having replaced my ancient Keurig at home. To top it off, the Pourigami comes at a very reasonable price: $30. Miir's latest gadget, currently available through Kickstarter, is a perfect example of how sometimes all the best gear has to do is make a task a little easier.
—Jeremy Rellosa, reviews editor