The Camo Wars Behind the Kanye West Lawsuit
Last week, camouflage brand Realtree sued West, alleging he ripped off one of its patterns for his Yeezy apparel line. But an oak-leaf print is an oak-leaf print, right?
Heading out the door? Read this article on the new Outside+ app available now on iOS devices for members! Download the app.
The gorpcore fashion trend took an interesting turn last week, when Jordan Outdoor Enterprises, which owns camouflage brand Realtree, served Kanye West with a lawsuit over alleged copyright infringement. The latest rendition of West's Yeezy apparel line, which debuted at New York Fashion Week, includes several camo items that Realtree alleges bear an uncomfortable resemblance to its copyrighted patterns.
Realtree pioneered photorealistic camouflage in the late 1980s, after founder Bill Jordan sketched some trees in his parent's backyard, then printed fabric swatches with his sketched pattern. Demand quickly grew. Today, Realtree is one of the country's leading camouflage companies. It doesn't make any of its own apparel, however; rather, it makes patterns and licenses those patterns to other companies. From coolers to clothing to tents to sunglasses, nearly 30,000 products bear Realtree camo. Licensees include Coca-Cola, Under Armour, OtterBox, and Nike.
According to the suit, filed in the Middle District of Georgia, a representative from Yeezy reached out to Jordan Outdoor Enterprises Ltd. (JOEL) in March 2016, inquiring about using Realtree camo patterns. JOEL told the Yeezy rep that they would need to fill out a licensing application and gain approval before using the prints. "Nevertheless, and without JOEL's authorization, YAL proceeded to copy JOEL's protected camouflage patterns and falsify, remove, and alter JOEL's copyright management information," the suit reads.
The document goes on to show photos of items from the Yeezy collection side by side with Realtree patterns, highlighting specific branches, leaves, and other elements that have been carried over into the pop star's apparel.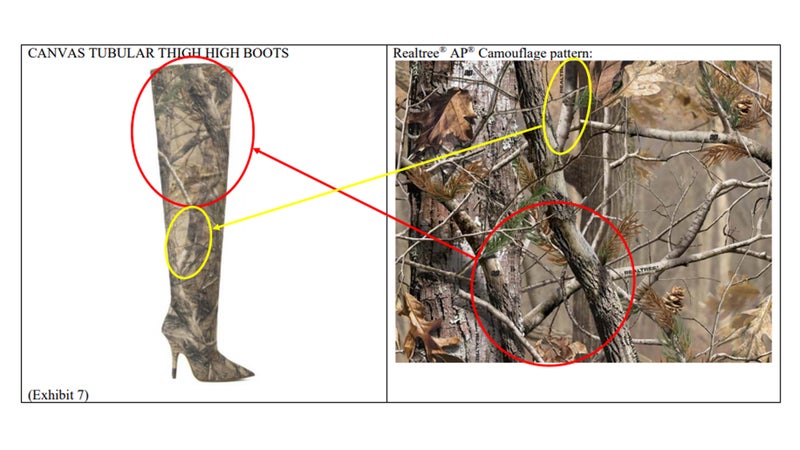 JOEL is requesting that Yeezy pay damages, as well as fork over all the profits it's made from the offending camo-printed goods. JOEL is also requesting that all remaining merchandise with the ripped-off pattern be destroyed. (Neither Realtree nor its attorneys responded to Outside's request for comment.)
How much work goes into developing a print in shades of green and brown? A lot, according to several other small hunting brands we spoke with. Effective hunting prints are expensive to develop, leading hunting brands to be protective of their camo patterns. "If you're simply creating artwork—sketching some trees or grass— it's very easy," says Jonathan Hart, who co-founded hunting apparel company Sitka Gear. "If you are investing in the science of concealment, it's very expensive." To develop its signature Optifade pattern, Sitka worked with an expert in animal eyesight and the inventor of military digital camo. Together with Gore, Sitka has since developed several Optifade patterns, each specialized for a different type of hunting, based on animal (big game, whitetail, waterfowl) and environment (wooded areas, open spaces, marshes).
Kenton Carruth, who co-founded merino-wool hunting apparel brand First Lite in 2007, hired an ex-military camouflage specialist to design a camo pattern that would work both in dark, forested areas and in more open environments. "It costs about $50,000 to develop a pattern," he says. "But what's really expensive is the commitment to put it on clothes." First Lite works with five weights of merino wool, in addition to nylon and other shell and face fabrics. Each fabric takes the camo print differently, so "you have to spend money to get the printing to look the same on every item," Carruth says. "Then you have to decide how much to order of each item and hope people like it."
But Carruth and Hart agree that it's about a lot more than cost. It's about brand identity. "The camo pattern is the brand," Hart says.
Jason Hairston, who co-founded Sitka Gear with Hart, then branched off to start his own hunting apparel company, Kuiu, agrees. "A camo pattern is a brand's logo." If a company creates a product in, say, a knockoff Kuiu pattern, customers might mistake that knockoff for the real thing. For brands like Sitka, Kuiu, and First Light, which specialize in high-quality, technical hunting apparel, any such confusion taints the brand.
For Realtree, though, which doesn't specialize in specific products, the crisis is even more existential: Losing control of its patterns risks the business itself. Fifteen years ago, Realtree and Mossy Oak were the only two camouflage brands in the industry, mostly because of the aforementioned difficulty printing camo on textiles. Instead of creating and printing their own camo patterns and fabrics, companies bought patterned fabric through Realtree or Mossy Oak and then paid a licensing fee.
"There was stagnation in the marketplace, because you couldn't build a brand in hunting," Hairston says. Clad in the same handful of patterns, "Everything looked the same." When Hairston and Hart created Sitka, they were adamant about making sure their product didn't look just like everyone else's, so they decided to create their own pattern and figure out how to print it on the fabrics they wanted, rather than the same five fabrics Realtree and Mossy Oak offered.
"Realtree and Mossy Oak are two 800-pound gorillas," Hart says. "Their influence over an entire industry has been masterfully crafted, from a business perspective." According to Hart, when Sitka first came around, they had several heated conversations with Realtree, during which Realtree implied that it didn't think Sitka would make it very far without using Realtree patterns and fabrics. To the surprise of the entire industry, Sitka was a success. Over the past decade, that success has paved the way for other smaller hunting brands to design and print their own camo patterns as well. "Realtree and Mossy Oak's monopoly has been dissolving since then," Hart says.
The three business owners were split on how they felt about Realtree's decision to sue Yeezy. Carruth says that if he were in the same position, he would strongly consider a lawsuit: "Certainly if they had contacted us first, which proves that their whole project was based on our pattern." Hairston says he likely wouldn't sue, but he would ask West to sign a retroactive licensing agreement. "I'd be stoked if Kanye wanted to use our pattern," he says. Hart agrees with Hairston—he would ask about getting royalties and be thankful to the pop star for putting his product on a world stage. "I think the lawsuit is insane," Hart says. "Unless Realtree's strategy is to get the brand name in the news and then write it off as marketing expense."
Lead Photo: Neil Mockford/GC Images