REI Is Crowdsourcing Its Design Process
The result: quality gear made for the masses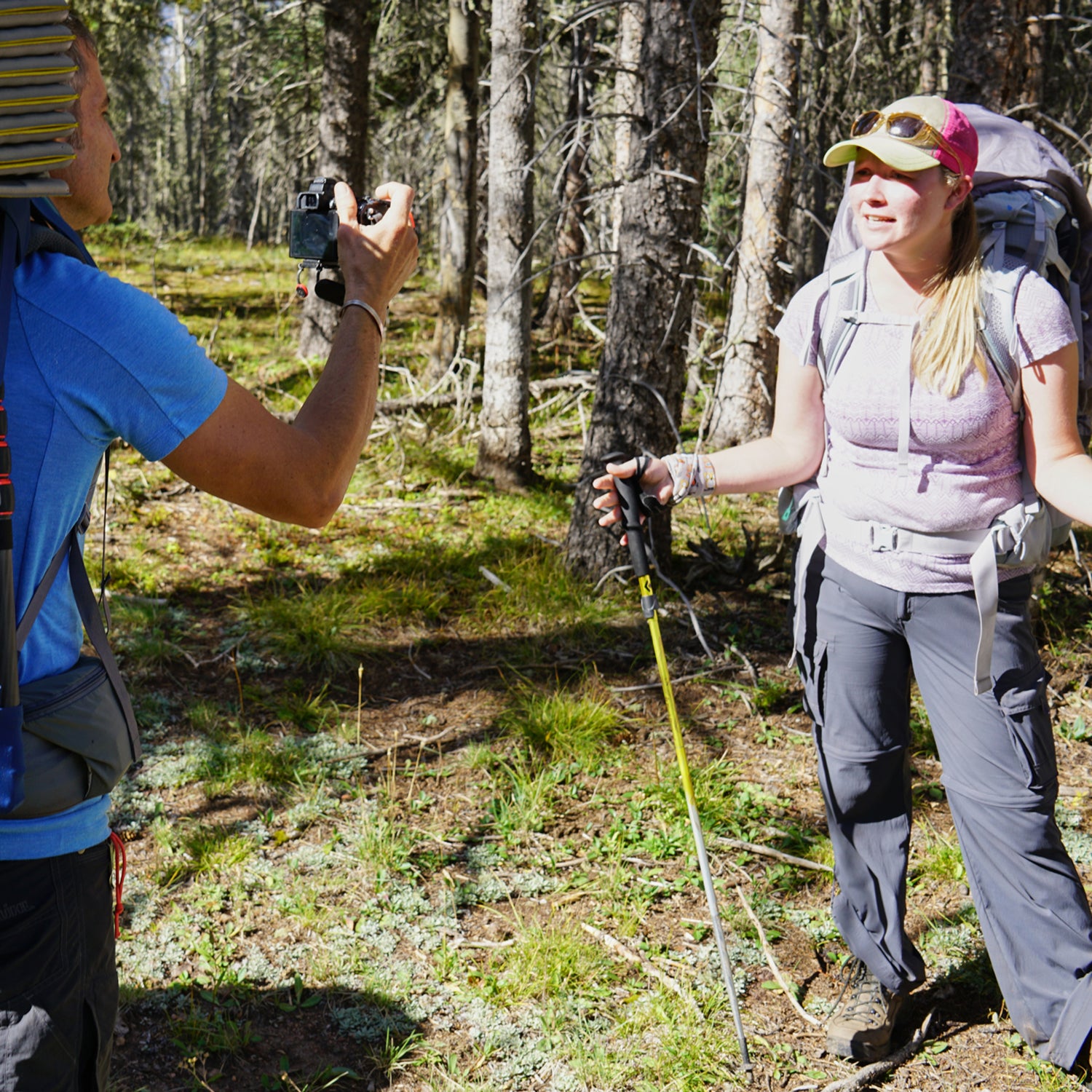 Heading out the door? Read this article on the new Outside+ app available now on iOS devices for members! Download the app.
Dale loves to walk. He spends three months of the year backpacking, in no particular hurry to get anywhere. When other hikers and backpackers rush by, Dale just shakes his head.
"Where are they going so fast?" he wonders. "Don't they know they're already here?"
I don't know Dale's last name or where he lives, but I do know he's a real person. He's the living, hiking, and breathing personification of REI Co-Op's Traverse line. He got there by volunteering to be an adviser to a new cooperative design philosophy REI is steadily adopting across its in-house product lines, from backpacks to bikes. Rather than rely on sales managers to decide what it should make and industrial designers to decide on the products' features, REI is tapping into its competitive advantage: 16 million members and 12,000 employees. The first results of this design shift are now on store shelves.
In my decade of reviewing outdoor gear, I've never heard of a company heading out with weekend warriors to gather design ideas.
"When you unpack what we're doing, it's about our ability to leverage our community to better understand what products we should make and to make them better," says Nasahn Sheppard, vice president of product design at REI. "Being a cooperative, we have an advantage. We have such a large community to draw from, it's an embarrassment of riches."
REI wasn't tapping that gold mine when Sheppard joined the company in July 2013. Back then, REI practiced a traditional product design process with its private label brand. It would either identify a hole in the market and design a product to fill it or mimic other brands' bestselling products. Once the new product was almost ready for production, REI would take it to the lab, run it through mechanical stress tests, and hand it out to a small team of field testers to use outside. Because this happened late in the production cycle, these tests were designed to catch minor issues and failure points, not drive the design process.
"There was little to no connectivity with who would use the product," says Sheppard. "It was a designer-knows-best philosophy."
So Sheppard created a five-person design insight team to connect with members and employees. Initially, they tapped the obvious resource: the 12,000-person general staff. From that pool, they recruited field agents, filtering out staff by the activities they were most proficient in. These agents would answer designers' questions, as well as meet with them one-on-one to provide more detailed feedback.
Next, the insight committee recruited 5,000 REI members via random invitations as testers.
The REI team conducted in-person interviews, shopped with the members, and even watched them set up, clean, and repair the products, says Sheppard. "Whenever possible, we try to engage in the activity with them. We aim to understand their needs, wants, desires and frustrations," he says.
They'd go into a tester's house and see how she stored her gear, says Sarah Parker, former senior manager of design insights at REI. They'd go backpacking with her to see how she used her gear on the trail. The designers took this research to create prototypes that they sent to both staff field agents and members to test. When it came to redesigning the Quarter Dome tents, for example, the insight community backpacked with eight REI members and 23 field agents over the course of five trips.
For the new backpacks, the insight team's research identified two types of users. First up was the light-and-fast crew willing to give up comfort for efficiency. REI designed the Flash backpacks for them.
"Whenever possible, we try to engage in the activity with them. We aim to understand their needs, wants, desires and frustrations."
The other group is Dale. Dale and his pals are more interested in the experience than the destination. They want comfort. Dale came to fit this category so stereotypically that Parker and her team began referring to this kind of backpacker as Dale, asking things like "Would Dale want this feature?" and "What color would Dale like?" For that group, REI developed the Traverse line.
Most companies focus on their high-end user—the speed hikers, guides, and cutting-edge expeditions. They develop technology for these elite users, then trickle some of those ideas down through the line for the rest of us. In my decade of reviewing outdoor gear, I've never heard of a company heading out with weekend warriors to gather design ideas.
Even more notable: The end results have been excellent. I've tested tents, packs, and apparel designed through this new cooperative effort, and it's all been more refined, attractive, intuitive, and better looking that previous REI products. What sets most of the stuff apart is the plethora of smart but simple features. Take the mesh water-bottle pocket on the side of the Flash 45 Pack. Tilted forward, it's easy to reach without taking off the pack. Even more important, it's just as easy to get the water bottle back in. It fits everything from wide-mouthed bottles to skinny, disposable Evians—the latter of which, the designers realized, many of their members use often.
The first products resulting from this new user-focused design process hit store shelves last spring. The collection also includes REI's excellent new cycling brand, Co-op Cycles. More cooperatively designed products are on the way soon, including a kids' clothing line.