This Company Is Changing the Way We Buy Used Gear
Just because your shirt is made from eco-friendly recycled water bottles doesn't mean it won't still end up in a landfill. The Renewal Workshop wants to stop that—which means a cleaner planet and way cheaper gear.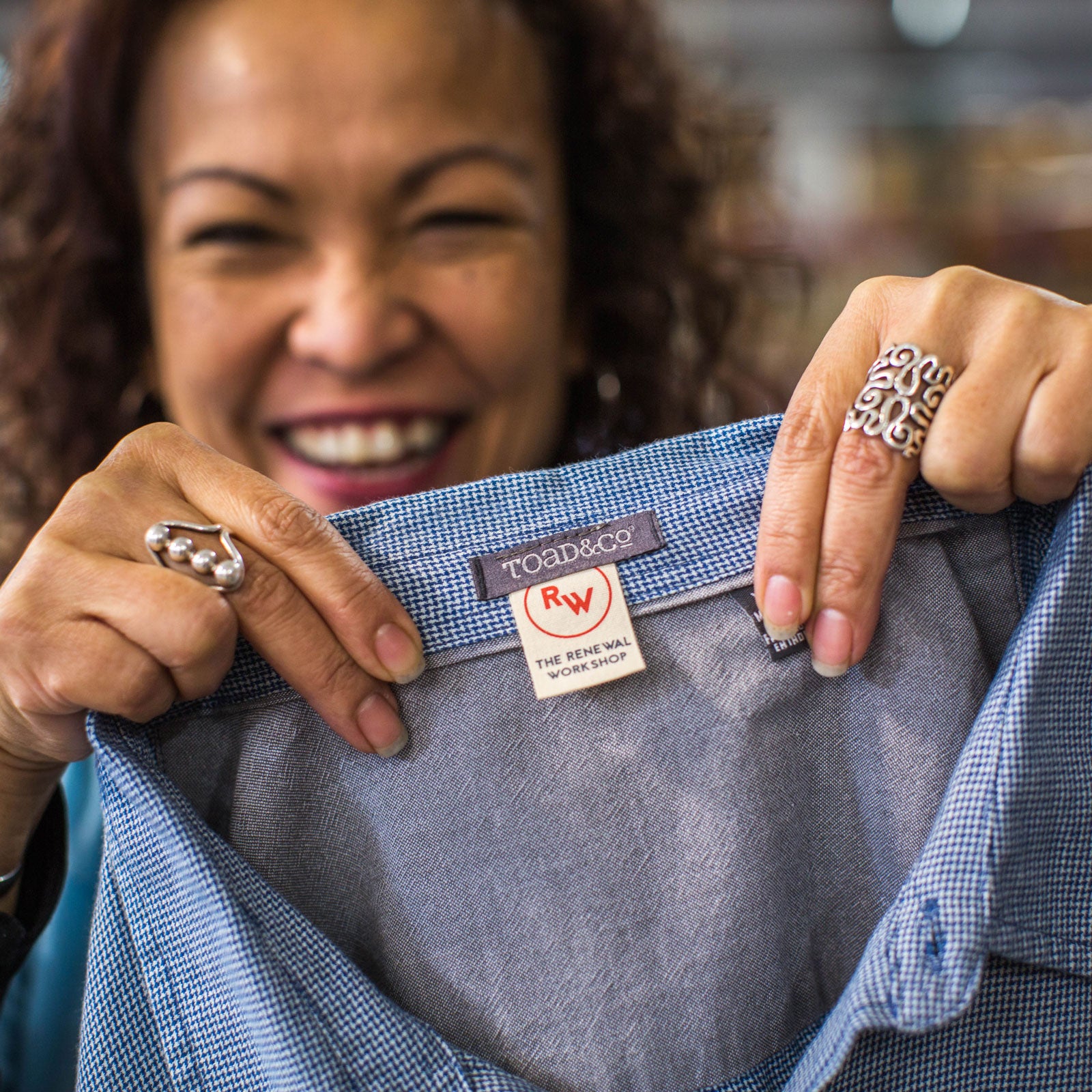 Courtesy The Renewal Workshop(Photo)
Heading out the door? Read this article on the new Outside+ app available now on iOS devices for members! Download the app.
In June 2018, the North Face launched an e-commerce platform dedicated to secondhand apparel. Called North Face Renewed, the website boasted an inventory of jackets, fleeces, and more that had been returned (or damaged in the factory) and repaired to like-new condition. 
The North Face didn't launch North Face Renewed alone. Behind its platform and others like it—from companies like Icebreaker, Mountain Khakis, Pearl Izumi, Prana, Outerknown, Timbuk2, and Toad&Co—is a small factory called the Renewal Workshop, which has positioned itself at the center of the growing refurbished-gear movement. 
This isn't your average gear-repair shop. Based in Cascade Locks, Oregon, the three-year-old company works with apparel brands across the outdoor and fashion industries to refurbish and resell damaged returns and imperfect inventory previously deemed unsellable. The U.S. has plenty of consumer-facing facilities that fix individuals' equipment for a fee, such as Seattle's Rainy Pass, but few that collect product directly from gear makers, fix it, and then put it back on the market at scale. 
By providing the technical labor, e-commerce systems, and financial modeling that brands need to go all in on reselling used product, the Renewal Workshop founders Nicole Bassett and Jeff Denby are part of a movement to fundamentally change the business model for making and selling outdoor gear. They join the likes of Yerdle, the repair and resale startup behind used-gear programs that have launched in the last year from Patagonia and REI.
The idea for the Renewal Workshop came to Bassett in 2014. The then 37-year-old had spent her career in sustainable-supply-chain management, first at Patagonia, then at Prana, then through her own consulting firm. As eco-friendly fabrics, recycled materials, and Bluesign manufacturing started to boom, she began to consider the next step for environmental consciousness in the industry.
Her answer: extending the life span of products already in circulation. "We need to figure out how to help brands make revenue off of existing product," she says. The idea of a circular business model—one where companies prioritize recapturing product and giving it a second life rather than shipping it out with a one-way ticket to the landfill—led to the idea for a company that would help brands get there, a sort of sustainability enabler.
In 2015, Bassett tapped Denby, who cofounded the fair-trade cotton-apparel brand Pact, to join her as a business partner. By that December, they had formed the Renewal Workshop. Over the next few months, they bought and renovated a warehouse in Cascade Locks, and in June 2016, the Renewal Workshop officially opened for business with a skeleton team of seven sewing technicians and a starting roster of five partner brands: Ibex, Indigenous, Mountain Khakis, Prana, and Toad&Co.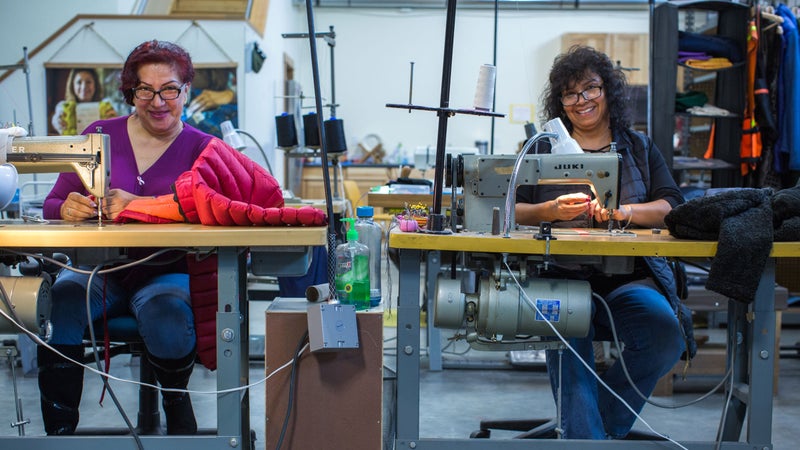 Clothing comes to the Renewal Workshop from brands' distribution centers—usually customer returns and damaged product that never made it to stores. The Renewal Workshop staff sorts it and determines what can be made new and what will need to be reused and broken down to help patch other pieces. The Renewal Workshop holds on to all unsalvageable apparel for this purpose, though Bassett is also working with several recycling centers in the hopes of starting a program for turning end-of-life clothing back into yarn for new fabric. "Textile recycling is an old thing," she says. "You can recycle wool or cotton into new yarn. But most outdoor apparel is polyester, nylon, and spandex. There isn't a lot of recycling available for that." Several facilities are piloting systems to pull apart polyester, nylon, and spandex from blended materials and spin each into new fabric, though Bassett says the technology is still five to ten years out.
After sorting, everything gets washed in a machine that cleans using pressurized liquid carbon dioxide instead of water, to reduce waste. Then it's off to the sewing technicians, who replace missing buttons and broken zippers, patch holes, and stitch ripped seams, using material harvested from similar garments from the same brand. The Renewal Workshop then sells the refurbished apparel on its website for anywhere from 30 to 40 percent off and gives brands a cut. (The North Face pays the Renewal Workshop to run a separate, TNF-branded site.) 
In an age when sustainable design and manufacturing is ever more in demand, the Renewal Workshop addresses a hypocrisy few in the outdoor industry ever talk about: every shirt made from recycled water bottles and every jacket made with recycled-polyester insulation will wind up in a landfill. The materials and manufacturing may be eco-friendly, but putting another item out into the world is not.
"The elephant in the room for every brand is that, at the end of the day, the only way we can make money is by making new things," says Bassett. "Addressing consumption is a big deal. We have to figure that out if we're truly going to be sustainable." Investing in refurbish and resell programs comes with inherent economic incentives, she says. Any money a brand can make off a product that has already sold once is a bonus. While Bassett has no illusions that companies will ever stop producing new clothing, she hopes that by opening up new revenue streams with used gear, they'll be able to get away with making less of it. "Every time they don't have to make a new product," she says, "their impact goes down."
What's missing is the financial and environmental data that brands need to scale their own circular business models. That's also where the Renewal Workshop can help. 
Twice a year, Bassett and Denby's team provides partner brands a breakdown of overall sales, how much of the brand's product the Renewal Workshop sold, how many items it saved from landfills, what products the Renewal Workshop team received, and what they had to do to fix it. "They know what brands need to make it make sense for them," says Rachel Lincoln, director of sustainability at Prana. "If I can take data from the thousands of units she's received and go to the design team and tell them there are holes showing up in the knees of a particular pant model, that's valuable." 
Every shirt made from recycled water bottles and every jacket made with recycled-polyester insulation will wind up in a landfill.
Tensie Whelan, a professor of business and society at New York University, thinks the circular business model spells big opportunity, between textile upcycling, clothing-rental programs, and closed-loop manufacturing. "Accenture [a strategy and consultancy firm] has found it can generate $1 trillion in business opportunities," she says. "Many in the apparel sector are exploring circular fashion." In 2017, a number of companies—including Adidas, Eileen Fisher, Gap, H&M, and Nike—signed the 2020 Global Circular Fashion System Commitment, an agreement to focus on growing circular business models (the commitment also encourages companies to use more recycled materials). However, Whelan says it's too soon to tell whether consumers will buy refurbished clothing at scale, since it usually retails for more than consignment clothing.
So far the Renewal Workshop's program seems to be working. "We are very happy with how it's going," says James Rogers, director of sustainability at the North Face. "We're already looking at what the next phase would be and thinking about how to take items back directly from consumers to increase inventory." All of this means we may start seeing more renewed apparel on the market and more brands soliciting customers to send back clothing when they're done.
Could refurbished clothing have a sizable impact on the outdoor and apparel industries' waste problem if it's widely adopted? All the experts we spoke with say yes. "When we look at the environmental impact of a brand, we know our biggest impact areas are around materials—how they are sourced and where they end up," says Nikki Hodgson, manager of sustainable business innovation at the Outdoor Industry Association. "If we can find new ways to ensure materials are being kept in the loop for as long as possible, this will be a game changer."
Lead Photo: Courtesy The Renewal Workshop
Trending on Outside Online