Sandal Battle
Sandal Battle, Round Two: Vote for the Final Four
Chaco and Teva storm into the second round, while an upset shocks the Crocs camp
Heading out the door? Read this article on the new Outside+ app available now on iOS devices for members! Download the app.
This article is part of Outside's Sandal Battle. View the full field of contestants here.
Welcome back to the Sandal Battle, Outside's March Madness–style tournament that will crown the ultimate outdoor sandal. We've finished one round of this three-round contest. With half the field eliminated, we head into the Final Four. Our sandal-obsessed editors have weighed in on the Elite Eight action, below, plus we've previewed the penultimate showdown. Voting is open!
The Bracket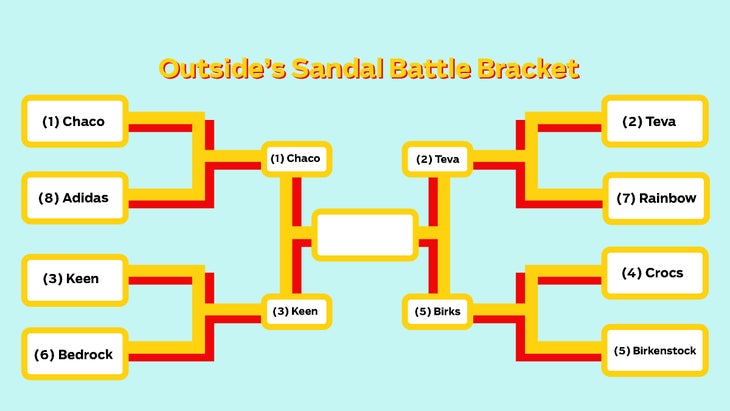 The Elite Eight: Results
(1) Chaco Versus (8) Adidas
Winner: Chaco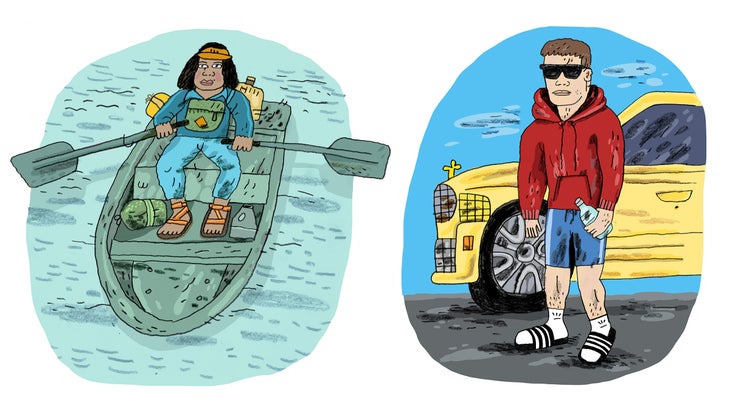 When I asked a few editors to break down the first-round action, articles editor Frederick Dreier hit me back with a spot-on analysis. I'll just leave this here:
"Throw in the towel, folks, because this sandal battle ended just a few seconds into round one, with Chaco quickly handing a knockout to Adidas," he writes. "What's the proper sports metaphor for this utterly lopsided contest? Hmm. Think: the U.S. women's World Cup soccer team versus your local middle school squad, or Usain Bolt versus an actual tortoise. I chalk Chaco's 85.5 percent approval rate up to its comfortable soles and bombproof construction. As for Adidas's lackluster performance, I can vouch for how easy it is to slip into a pair of the brand's famed slides, but I'd never go anywhere near a trail while wearing them."
(2) Teva Versus (7) Rainbow
Winner: Teva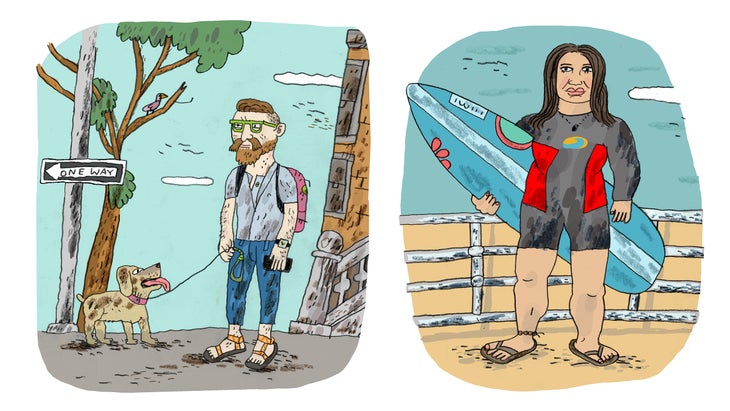 Second-seeded Teva cruised into the next round with a decisive victory over Rainbow. Teva's wide-ranging fan base came through with a healthy 68.7 percent of the vote, while supporters of the casual flip-flop put up a decent fight with 31.3 percent (maybe they were too lax). In the end, features editor Matt Skenazy thinks there was some foul play. "Clearly this was a rigged sandal election, and I will be holding a rally in front of the REI to #stopthesandalsteal," he writes.
(3) Keen Versus (6) Bedrock
Winner: Keen

When I wrote that I was most excited for this first-round matchup in particular, I did not expect it to be this close.
It is very close right now. pic.twitter.com/BZRGcE6yeJ

— Jeremy Rellosa (@jrello9) April 26, 2022
In just a few hours, Bedrock jumped ahead with a narrow lead and maintained it for a few days. Then Keen surged and held on to the lead with a tight grasp—just as grippy as the traction of its lugged sole. A few Outside staffer Bedrock stans were heartbroken when I shared the results. "This is terrible news," one colleague wrote me. "No way," another exclaimed in disbelief. "Are these the final results?" I could feel their pain through my screen. But this was expected. In a field of new competitors trying to find their footing, Keen's veteran experience paid off. It is the third seed, after all.
(4) Crocs Versus (5) Birkenstock
Winner: Birkenstock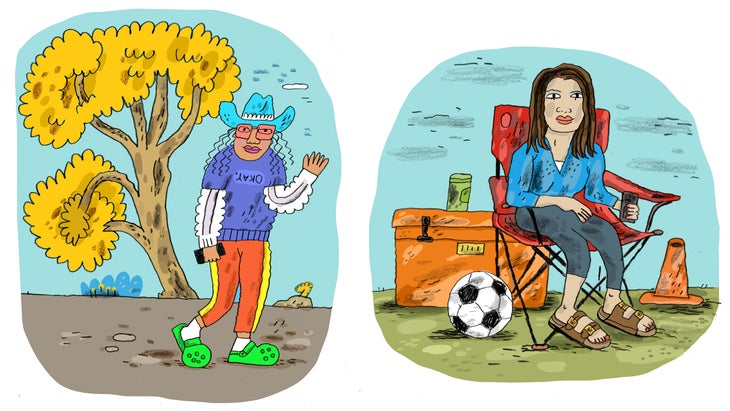 Upset alert! The Birkenstock supporters delivered a dizzying blow to Camp Crocs, sending the rubbery clog home packing. "House Stock has rightfully triumphed over the trypophobia-inducing Crocs, proving once and for all that this classic is king," writes podcast producer Maren Larsen. I incorrectly predicted that this would be a close contest. What happened to the Crocs' fan base? "That which is misunderstood is often maligned, and there is no better proof than Crocs' early loss," associate editor Daniella Byck writes. "Crocs were always going to be the underdog in the bracket, let alone this matchup. After all, Birkenstocks are textbook sandals: what you see is what you get. But Crocs dare us to imagine a world where a shoe can be so much more, thanks to adaptable straps, amphibious materials, and Jibbitz, the ultimate form of creative expression. Alas, in all their visionary boldness, Crocs were always simply too avant-garde to clinch the popular vote." Onward.
The Final Four: Voting
(1) Chaco Versus (3) Keen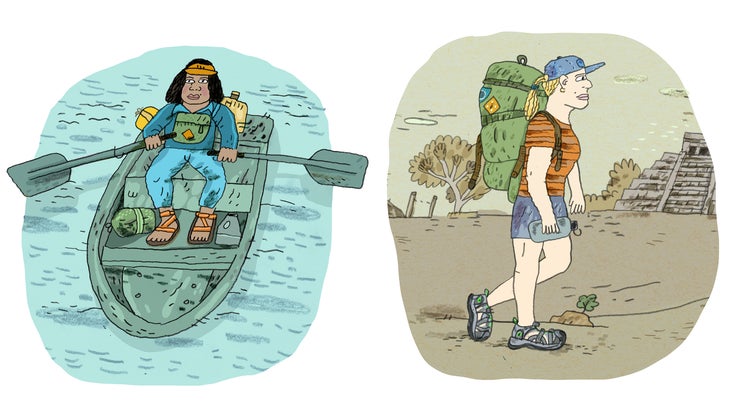 The Sandal Battle is probably the only time I'll be able to use this many basketball analogies without breaking some rule in Outside's style guide, so I'm just going to lean into it. If we're being consistent with my previous comparisons, Chaco versus Keen is indeed like Kentucky versus Gonzaga: two powerhouse teams, each with a long history of success and name recognition. This round has toss-up potential. You could bet the house on Chaco's popularity alone, but how can you underestimate the sneaky, unassuming dad-sandals energy that Keen is riding from round one? Fun fact: Kentucky and Gonzaga have only played each other once, way back in 2002. The Wildcats won.
(2) Teva Versus (5) Birkenstock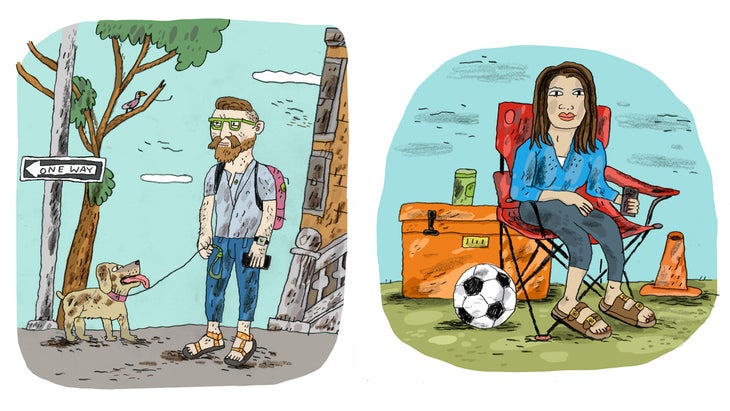 I'm not normally known for hot takes, but I highly suspect that Birkenstock will pull off another upset this round against Teva. I think the proof is in the pudding, yes, but also in this line of podcast producer Maren Larsen's ode to her Birks: "Not only are they incredibly versatile, but they also have supreme staying power: the two-buckle style my mom wore in the nineties is nearly identical to the pair I wear today." According to a peer-reviewed study from the Sandal Bracketology Center for Applied Sciences, this stamina that Larsen references should translate to a deep, deep tournament run. Teva fans, prove me wrong. House Birk, vote your hearts out.
Lead Illustration: Mark Todd