The Idaho Apparel Shop SCOTTeVEST Employs the Honor System. And That's It.
Should you leave your store unattended? One daring outdoor clothing brand says the practice has boosted trust—and sales.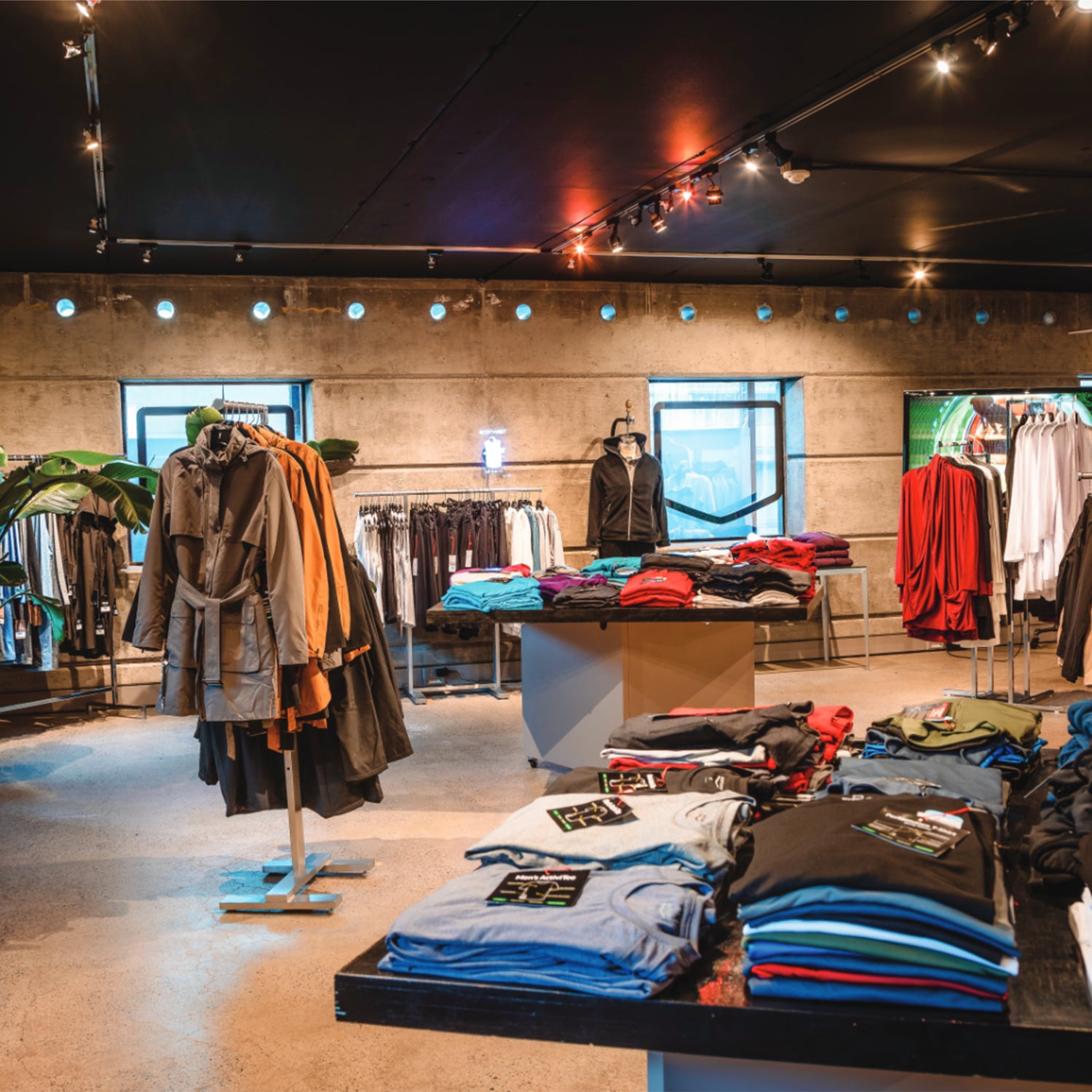 SCOTTeVEST
Heading out the door? Read this article on the new Outside+ app available now on iOS devices for members! Download the app.
Scott and Laura Jordan headquartered SCOTTeVEST, their pocket-laden outdoor clothing line, in Ketchum, Idaho, because they love to hike with their three poodles in the Wood River Valley. The sleek glass-and-concrete building includes the retail shop and showroom on the first floor, an e-commerce office on the second floor, and a climbing wall in the stairwell between the two. They live upstairs, where they enjoy views of the Sun Valley ski area.
Read more: Retail secrets of the best winter gear shops
When Scott, the brand's CEO and co-founder, wanted to take the pups for a hike last summer, he didn't have a staffer to mind the store. So, he bought a few hundred dollars' worth of electronics, including a Ring doorbell, motion sensors, an Alexa Echo speaker, and security cameras. He put a sign on the door explaining the concept of "honor shopping." When customers ring the doorbell during business hours, his phone alerts him, he introduces himself over the speaker, and he opens the door remotely so they can shop solo. He encourages them to ask about product features, colors, or sizes via the shop's microphone, which is always on, or to dial his cell. When they're ready to buy, he'll come back if he's nearby, or they can pay via PayPal and he can keep hiking. "I'm a social animal and I like building relationships," Scott says, "so I work to manage expectations so the experience isn't weird."
'Honor Shopping' Actually Works
The company, which reportedly generates seven figures in annual revenue and doesn't currently employ other staffers, counts honor shopping as a success. The Jordans don't have to preside over an empty shop, and, Scott says, customers appreciate that they can try things on at their leisure.
"Trust begets trust," says Carla Smith, a retiree from Calgary who honor-shopped at SCOTTeVEST while vacationing in the area. "If you are willing to make the first move and show you trust people, it will be reciprocated." Indeed, Laura says customers have been more likely to return to the website for repeat online purchases after honor shopping.
That said, there are drawbacks to the concept. Customers who value hands-on assessment for the fit of a boot or the size of a paddle may find the lack of in-person assistance off-putting. Plus, accessibility challenges—say, for items stocked on high shelves—or purchase returns mean shoppers would have to plan a visit during staffed hours.
Read more: How Neptune Mountaineering has survived 50 years in a changing market
Nevertheless, the idea is likely to catch on, says Brittain Ladd, a global retail and supply chain consultant based in Dallas: "A lot of people think it's about labor shortages, but it's primarily about convenience. It gives the consumer the ability to shop when they want, in a cost-effective way [for the store]."
In most of the honor-shopping programs Ladd has set up, regular customers register in advance, so their credit cards are on file—a different approach from the SCOTTeVEST model that invites new folks to wander in. For small outdoor retailers, Ladd envisions a true showroom setup, with paddles and fishing rods on the floor—and no sales associate on site—so customers can get the hands-on experience they miss with online shopping. When ready to purchase, they'd receive the item from a staffed window or via delivery within 24 hours.
For customers like Smith, the no-pressure buying environment is perhaps most appealing of all. And the Jordans get that. "I hate it when someone is following me around asking me if I need help—except when I want help," Scott says. With his new system, he points out, the best of both worlds is possible.
This story first appeared in the Winter 2022 issue of our print magazine. Read the full issue here.