Smith Optics Mogul – Sunglasses : Reviews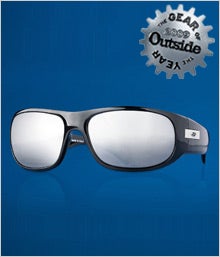 Heading out the door? Read this article on the new Outside+ app available now on iOS devices for members! Download the app.
1. The Mogul's lightweight glass lenses mean zero eyestrain, a huge but unsung benefit of stellar optics. Plastic/polycarbonate's un­detectable distortion and surface imperfections make your eyes tired and cranky, and the surfaces sooner or later get all fuzzy from microabrasions. But, unless you take a diamond to it, glass is literally scratchproof. These'll last you.
2. A do-everything multisport tint, golden brown is suited to playing on dirt, water, rock, and snow, making depth seem deeper, adding edge and contrast. Yet it doesn't screw up natural colors. With polarization to nix blinding light and photochromic tinting to adapt to changing conditions, the Mogul delivered. Colors throbbed, details danced, and just looking became a little more fun.
3. The sporty-stylish frame wears lightly and rides close, offers uncompromised field of vision—i.e., full orbital and peripheral lines of sight—and protects your eyes from wind and airborne matter. Thanks to hydro­philic rubber on the temples and nose pads, sweat is no sweat; these things stick to you. And the sturdy build includes stainless-steel hinges.
BonusPrescription lenses available.