Yes, an 80 Percent Discount Is a Scam
The only way to stop gear scammers is to stop clicking their links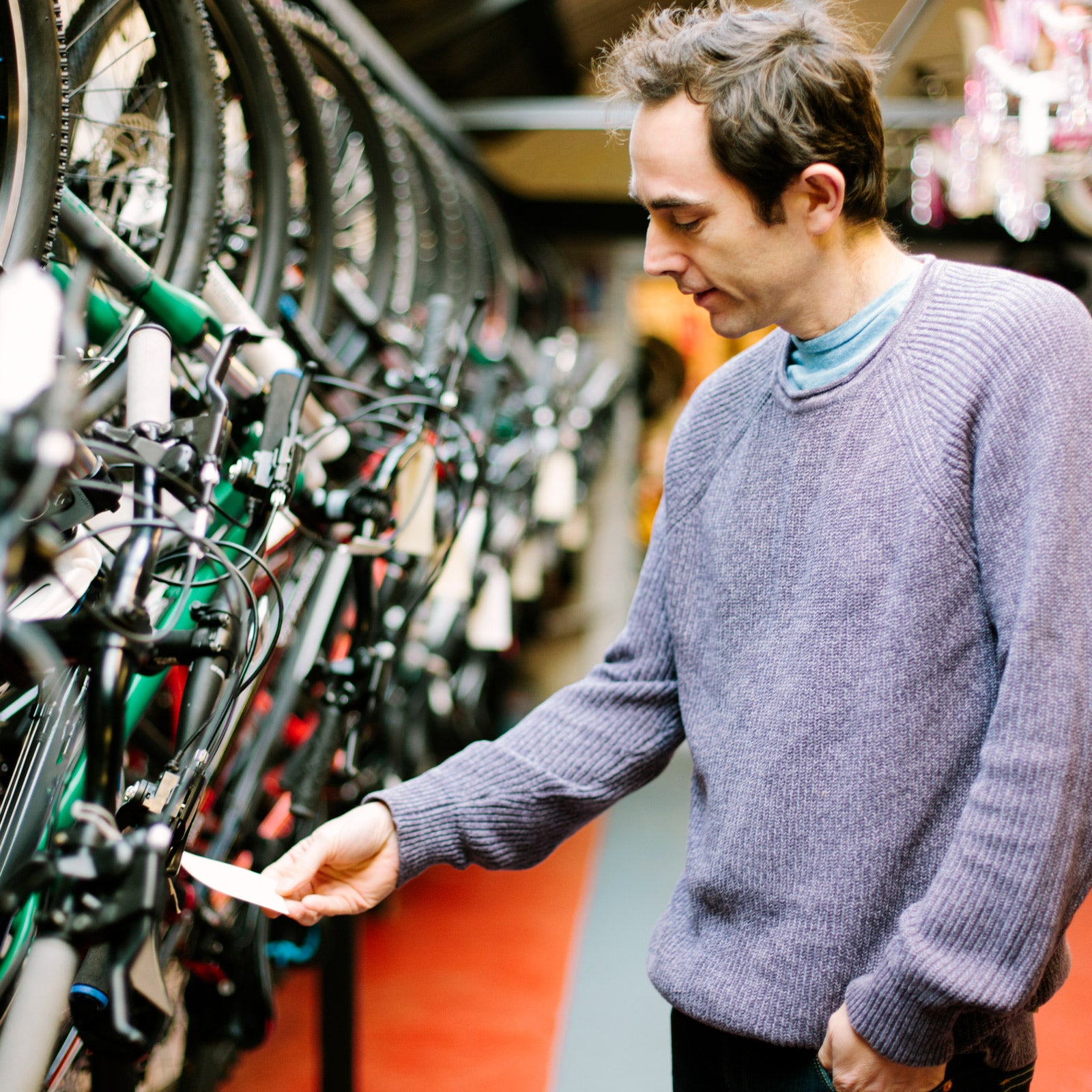 Heading out the door? Read this article on the new Outside+ app available now on iOS devices for members! Download the app.
The call volume at the Surf Station picked up dramatically on Friday, September 21. Thanks to a concerned customer, employees at the Saint Augustine, Florida, store had known for about two days that a scammer was impersonating their business online, but Friday was when things "got heavy," says manager Tony Berracol.
The problem: A scammer had grabbed assets like logos and photos from the legit Surf Station website, then set up a quick-hit copy on a similar URL. Brand-new boards from premier makers like Channel Islands, Firewire, and Lost were advertised at 70 to 90 percent off. Four other doppelgänger sites, likely from the same scammer, also appeared.
Berracol says the scammers bought ads on Facebook—a common tactic among crooks—to target potential victims. It worked. "We must have gotten 100 phone calls that Friday," he says. "Some were people who were about to buy [products] or had already checked out. It's slowed down since then, but people are still getting ripped off." Some of his customers called wondering when an order would be shipped, while others were concerned they had gotten scammed. Still others were simply tipping off the shop to the existence of the other sites.
Outdoor gear is undeniably expensive. Coolers for $300. Jackets that cost $750. Road bikes that routinely run to five figures. But it isn't cheap to make. "You can't even manufacture surfboards for the cost these guys are charging," says Berracol. "People are unaware of the real price."
The industry has struggled with scams like this for years. "I saw my first outright scam site in about 2010," says Andrew Love, the longtime director of brand security for Specialized Bicycles. Love's job is to battle criminals trying to capitalize on Specialized's business. Much of his work involves trying to shut down online sellers hawking counterfeit goods. But he also has to fight scammers who have no intention of delivering any products, even fake ones. "I've knocked down hundreds of these," Love says.
The scammers sometimes imitate a company's own site, under the factory-outlet ruse. But they also impersonate retailers like the Surf Station. Their modus operandi follows a pattern: the scammers set up a site with assets like photos, logos, and product copy lifted from legitimate sources, offer jaw-dropping discounts, and then flood Facebook and other social-media platforms with ads. Because advertisements aren't expensive, they can be targeted to particular demographics and optimized around user activity or even browser history, like searching "surfboard sale" on Google.
Love is currently battling a site that advertises S-Works tarmac discs for $260, a nearly 98 percent markdown from the admittedly astronomical retail price of $11,000. That discount is completely unhinged from reality. But scammers play on human psychology, appealing to narratives like how the traditional retail model involves too many middlemen, and that you can save 70, 80, or 90 percent with their direct model.
Specialized isn't the only bike-industry target; previous victims include Scott and Trek. In outdoor apparel and shoes, Salomon has been hit, as has the North Face. One site capitalized on high-end cooler brands, including Yeti. It's a persistent enough problem that Trek recently posted a page on its website detailing how consumers can determine whether a seller is legitimate or not.
Early scam sites were often poorly done, but today's versions are becoming increasingly sophisticated. "A [Specialized] retailer in the UK had a similar situation" to the Surf Station, Love says. "The scammers even copied employee headshots." Some scammers will generate a tracking number for shipping. Others will send a physical item of some kind, perhaps a keychain or other trinket, intended to show that a product—though not the one that was ordered—was in fact delivered, says Eddie Toy, the Surf Station's web developer. That helps the scammers fight back legally when jilted buyers lodge complaints.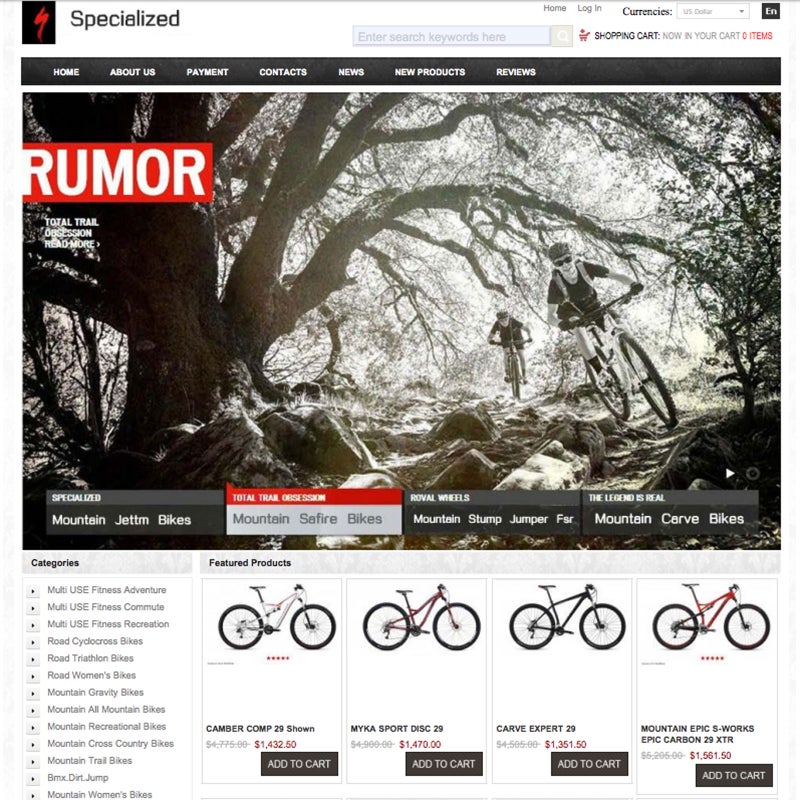 Scammers use social-media ads for the same reason legitimate companies do: they're a cost-effective way to reach specific audiences. (This year 66 percent of digital advertising dollars will be spent on Google and Facebook properties, according to Salesforce.) "We've noticed that a lot of this starts on Facebook and Instagram, because there's a lower barrier to entry for placing ads on those platforms," says Trek spokesman Eric Bjorling, adding that Trek actively advertises on several social-media platforms. "You can make an ad that's similar to the real brand's ad, and it's hard to tell the difference when you're scrolling your feed." 
"Facebook prohibits advertisements that are deceptive, false, or misleading," a Facebook representative told me via e-mail. She said that Facebook unpublished the fraudulent Surf Station ads and disabled the account promptly, noting that none of the ads were reported for intellectual-property violations. But Surf Station staffers provided Outside with a copy of an IP violation report submitted to Facebook on September 24, and said they continued to get reports of buyers throughout that week. It's possible that the scammer had multiple accounts set up to purchase ads, according to Toy. The Facebook spokesperson told me that all ads go through an automated review process that includes an analysis of ad text, images, and website landing pages that the ads lead to, and in some cases a human review as well. But the Facebook system missed the clear signs in the Surf Station case, such as promised discounts of up to 90 percent, and a landing page with weak SEO presence that had been live for less than two weeks. The system doesn't catch everything, the Facebook spokesperson admitted, but she contended that Facebook continues to add staff and resources to fight the problem of scams.
Although Facebook instituted a mandatory identity-verification process earlier this year for political ad buyers and certain commercial ads (such as cryptocurrencies), it has not yet expanded that to commercial ad buyers in general.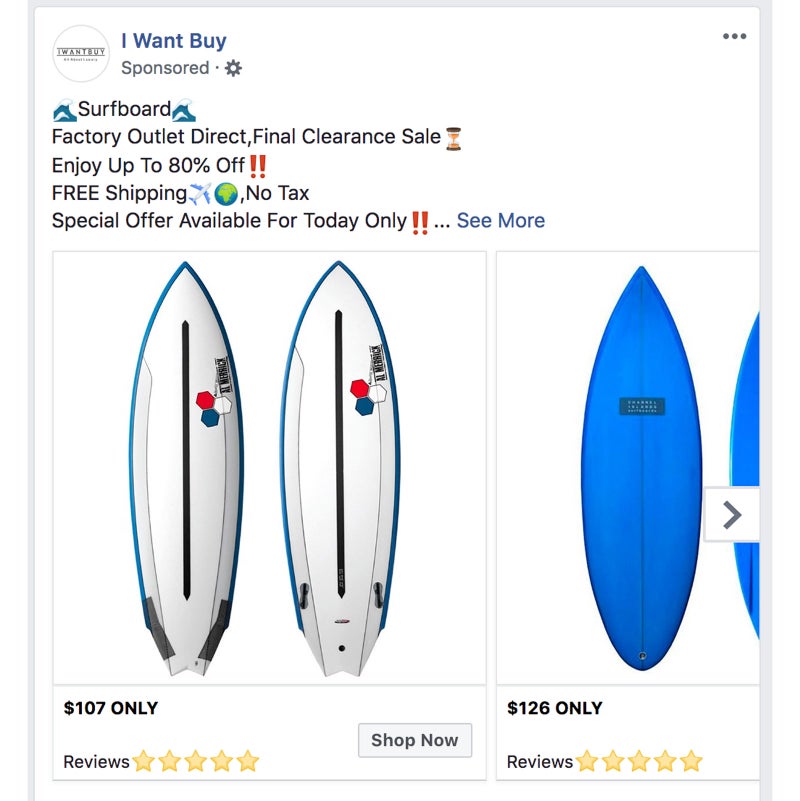 How can you tell when a site is not legitimate? Some clues our sources have mentioned: beware if a site's content includes sloppy product copy or pixelated, low-resolution images, product specs don't match those of the manufacturer, and the only contact information is an online form. Legitimate sellers list phone numbers and e-mail contacts. Another telling sign is if the site is brand-new, but a WhoIs search will show its country and date of registration, even if other contact information is hidden.
---
If you see a scam, there are several things you can do: Alert the manufacturer or retailer. Flag the ads on social media. And if you got scammed, file a report with the FBI and dispute the charge with your credit-card provider. (They should communicate quickly and directly with you, but don't expect much from other organizations.) Despite concerted efforts by the Surf Station staffers, it took almost two weeks to knock the scam sites offline. They told me that they didn't receive more than an automated-form response to their requests from the hosting company, Facebook, and the FBI. The scammer, meanwhile, has registered over 3,000 domains this year, says Berracol.
It's hard to avoid the almost instinctual response to a great deal, and sources we spoke with were sympathetic to the lure that these sites offer. Love says that even though he does brand protection for a living, he's been suckered. Innovations like Amazon's dynamic pricing make determining a fair cost even harder. "Yesterday my daughter lost her Crocs, and I'm looking for a pair on Amazon, and I don't know what's real and what's not," he says, laughing. He saw shoes ranging from $15 a pair to $50.
And scammers prey on victims' passion for their sports. "People are just trying to get a great deal," says Trek's Bjorling. "They're trying to enjoy something that would normally be unattainable to them."
Lead Photo: urbancow/iStock