Sponsor Content: Stanley
3 Ways to Get More Out of Summer
Wilder adventures. Bigger waves. Better meals. Three adventure experts share their tips.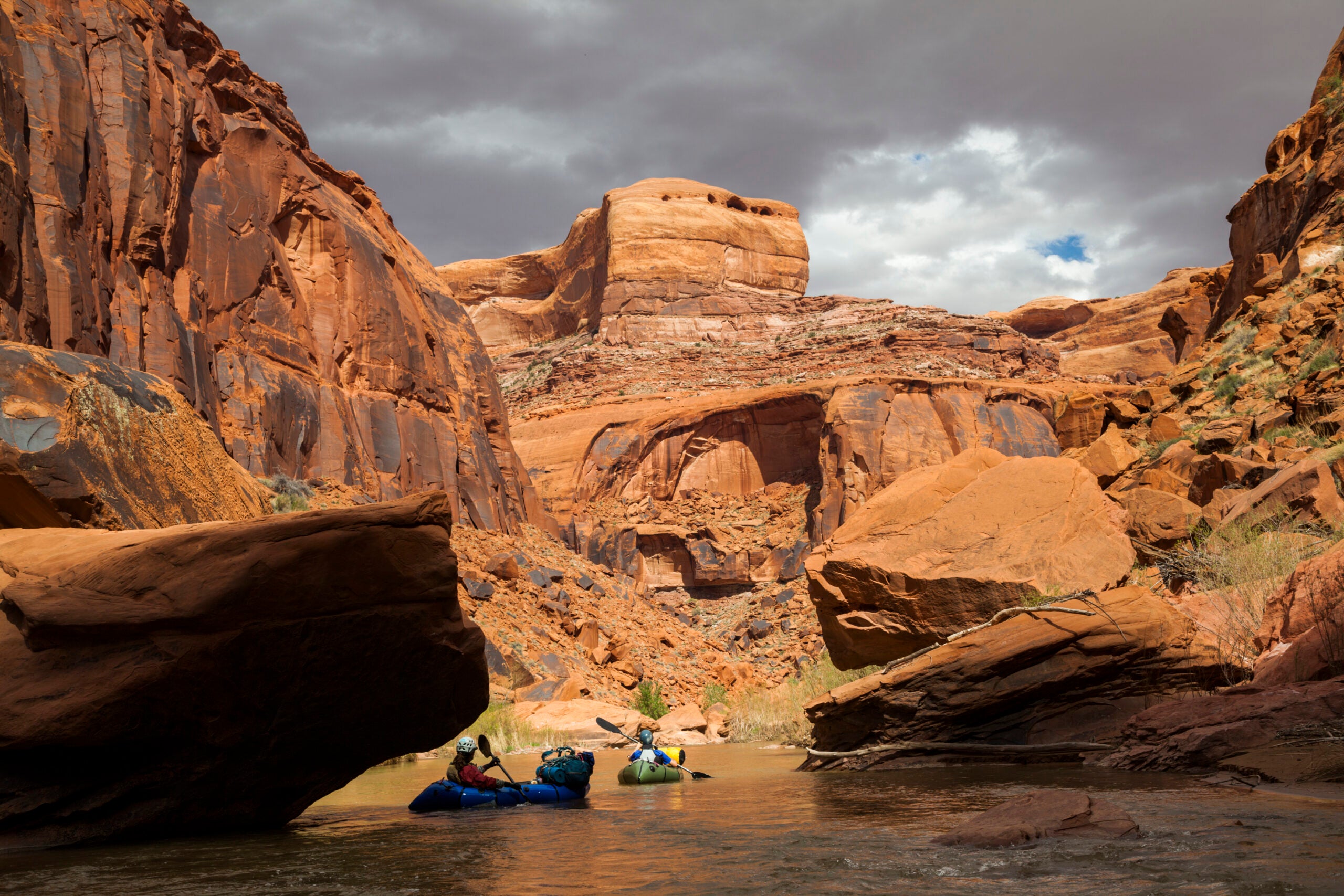 Want to wring the most out of the sunny season? Take the advice of those who have mastered the art of maximizing summer fun. We interviewed three outdoor creatives with unique adventure philosophies. From eschewing the easy route to going all out at mealtime, here are their tips for making summer last.
1. Venture Off the Beaten Path 
When photographer Jacob Moon (@moonmountainman) took his five-year-old daughter on a three-day packrafting trip in southeast Utah, they both learned the value of leaving the crowds behind.
"I spent this spring diving into remote canyons in Utah—places that I've always wanted to explore. One of the more special trips was in a canyon going down to Lake Powell. It's in a region that's been uncovered recently as the reservoir has receded. It hasn't been visible for the last 50 years, and there are really no trails down there. I went with my wife, and because there was lots of shade, we were able to bring our five-year-old daughter. We backpacked in and packrafted the whole thing in three days.  
I've explored all over Moab and I've visited all the Utah national parks, but there's something cool about going to places that are more remote. I get more value out of my adventures if I put a little more effort into finding them. It's a different feeling. It's more rewarding. 
And that's especially true with canyons like this—they change every year as the water level rises or drops or flash floods come through. This trip felt like a moment frozen in time. If I go back in three years or five or ten, it'll look different every time. Knowing that makes you more attentive. You pay attention to the details, and really try to soak it in. That makes the trip more rewarding, too.
It was also really special that my daughter got to be there with me. It was her first trip where she hiked every step of the way, and she loved it. And when you're off the beaten path like this, you can kind of take your time and focus on the people you're with. I really like having slow mornings with my family. It's a meditative thing for me, making coffee and watching the sun creep across the cliff and paying attention to all the noises and sounds and smells. We used a Stanley Adventure All-In-One Boil + Brew French Press on this trip. Having this as part of our camp gear made our morning coffee making feel more like a ritual—and was a real game changer for setting the vibe of each day.
Trips like this make me realize that there are so many places out there where you can experience that kind of quiet. You just have to look a little farther and dig a little deeper to find them."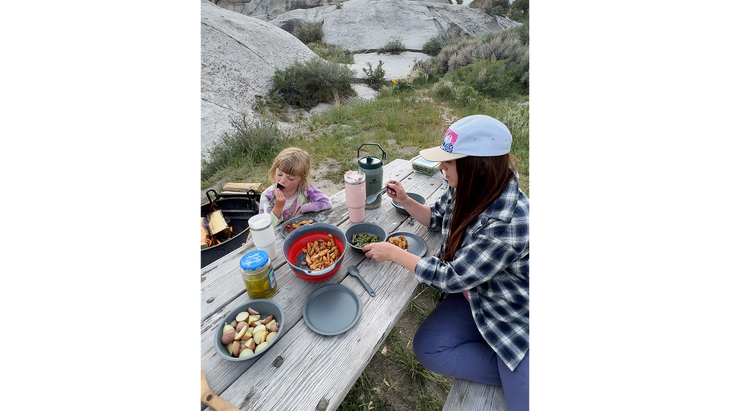 2. Slow Down 
When she broke her back mountain biking at age 21, artist Gianna Andrews (@giannaandrews) learned an unexpected lesson: Slowing down was the secret to unlocking better adventures—and her creative side. 
"I grew up with a mountain climber dad who took me climbing and skiing as a kid. I eventually moved to Bozeman, Montana, where I spent five years. Then in 2015, I had a really bad accident mountain biking and broke my back. I was in a clamshell for several months and needed a lot of help from my parents. I couldn't get in or out of bed by myself. That recovery period was really hard on me. Then, as soon as I was healed, I went rock climbing and broke my foot. That was the last straw. 
I realized that I'd been so focused on sports that I'd never taken the time to slow down and realize my other dream, which was painting. So I moved home to Washington and started focusing on art, which I'd started to get back into while recovering from my bike accident. 
Once I was home, I found myself really drawn to the van-life surf culture. It was similar enough to the outdoor sports I'd loved, but new enough that it felt like a fresh start. 
Now, my priorities have totally shifted. Instead of getting overly attached or identifying with the sports I do, I surf in a way that feels relaxing and authentic to me. My focus is on my art, wellbeing, creativity, and health. Surfing is just something I do to enhance that. 
For me, balance has become really important. When I'm at home, I'm working on commissions all the time, but when I'm on the road or on vacation, I do little projects that are just for me. It helps me slow down and appreciate the days I spend surfing. And the time I spend outside inspires my art. They complement each other. 
Right now, I'm working on painting the wood panels on the back of my van, who I call Bossy Betty. And I recently painted my Stanley Perfect-Brew Pour Over Set. It was a rainy day and all I wanted to do was drink coffee and paint, so I did. Now, I have art to look at as inspiration first thing in the morning, and this mug is so durable that I know I'll have this piece of art for a long time. 
If I could talk to my past self now, I'd tell her to slow down, instead of always looking to the next trip or the next thing. When you're on an adventure, it's not going to last forever. Everything changes. You don't want to look back on a trip and wish you'd really lived it. Better to slow down and live it now."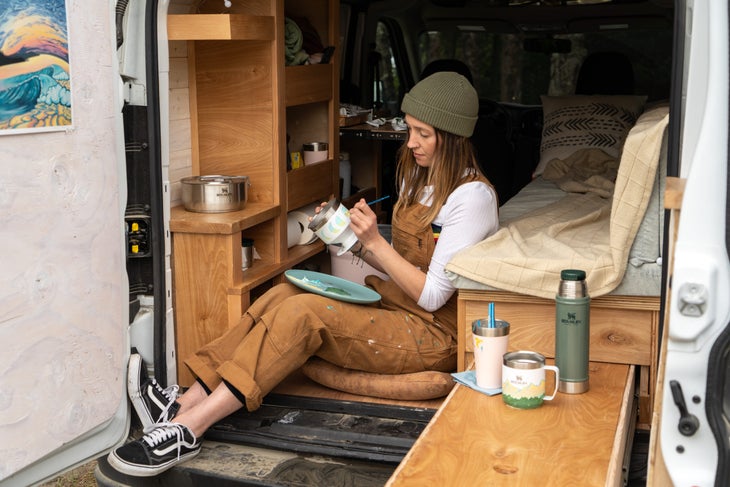 3. Cook a Campfire Feast
For hiker and cook Kena Peay (@kenapeay), camping is all about community, connection, and, of course, really good food.   
"I've been cooking since I was 8 years old, and I've done just about everything—I've cooked in kitchens, restaurants, pop-ups, and I won a cooking show [NBC's Food Fighters, in 2014]. Then, about four years ago, I started cooking outside. 
There are different ways to connect with the outdoors, but one of those ways is through food. If you're spending time outside with your family or friends, it should be about reconnecting with one another. If you're alone, it should be about reconnecting with yourself and finding time to relax and respect nature. Making or sharing good food helps us do that.   
If you're new to cooking outdoors, there's a few things I'd recommend. One, make sure all your ingredients are pre-portioned out ahead of time. When you're cooking over a fire or a camp stove, the heat is higher, so you don't usually have time to turn around and chop something before things start burning. 
Second, make sure you have really good, strong cookware. I hate having a ton of pots and pans to pack in—I like to have just one cookset, and that's all I use. Recently I've been using the Stanley Adventure Even-Heat Camp Pro Cook Set. It all nests together so it's easy to pack, and the pans cook like what I would use in my kitchen—they can withstand high heat from cooking on a campfire grate, and nothing sticks to them.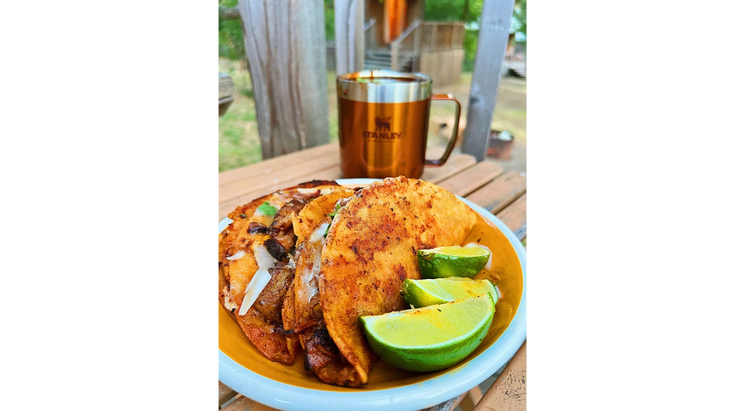 I also recommend bringing a fire starter to make things easier on yourself. I've been putting a little charcoal in a paper bag, making a teepee with good dry wood, and sticking the bag in the middle and lighting that. It's been a game changer. 
And if you're thinking about going outdoors or cooking outdoors but are intimidated by it, my advice is to just do it. Start easy, and do what you can. If you're nervous about hiking in the woods, hike in your local park. I want to be an encouragement and inspiration to those who might be a little hesitant to get out there and experience all that the outside has to offer. I mean, look at me. I'm scared of the dark. But I camp anyway. And I eat incredibly well while I'm at it!" 
---
Founded in 1913 by inventor William Stanley Jr., Stanley has been there for generations of adventurers. Over 100 years later, a steady stream of products continues to honor the Stanley legacy, keeping your warms warm and your colds cold. We'll be with you on your journey as we have with generations past, helping to build a more sustainable, less disposable life and world while opening the door to an awe-inspiring future.
Lead Photo: Cavan Images / Getty Images