Gear Guy
Are there gear carts for hikers with back problems?
I would like to camp at some walk-in campsites but can't carry a heavy pack, having a history of back problems. Does someone make carts for camping that can be wheeled on a trail? Andy San Francisco, California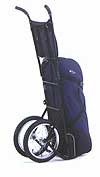 Heading out the door? Read this article on the new Outside+ app available now on iOS devices for members! Download the app.
There is indeed a cart designed specifically for what you have in mind. It's called the Sherpa Cart and is made by a company based in Arizona (www.sherpacart.com). Their camping-specific model, imaginatively named the Camping Cart, costs $165 and looks much like a warehouse hand truck, except the wheels are taller and the cart has a large backpack-type bag that extends almost the cart's full height. It's made from welded steel and weighs a hefty 23 pounds. Yes, that's anathema to most ounce-counting backpackers, but who's counting? You're pushing (though bear in mind that may not necessarily be good for your back, either).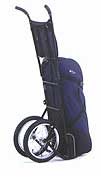 Camping Cart

The included bags have a capacity of around 5,200 cubic inches, about the same as a large backpack, and the cart itself can hold 200 pounds (as if!). You can push or pull it—whichever suits the terrain and your comfort. This isn't a go-anywhere cart—rocky trails will flummox it—but for access to campsites that are on good trails and are moderately close to a trailhead, it's just the ticket.


The existence of the Sherpa Cart actually raises interesting possibilities. For folks in your situation, of course, it's perfect. Parents with infants, meanwhile, could load their camp gear on a cart, and carry a child backpack with the youngster. Hunters might find the cart useful for packing out game. And then there's the ability to haul beer on the thing—what, four or five full cases? The mind boggles.
Trending on Outside Online