Gear Guy
Are waterproof boots too hot for desert hiking?
Are waterproof hiking boots hotter to wear than non-waterproof hiking boots? And are they less breathable than regular boots? If I'm hiking through the desert, would waterproof, leather hiking boots be too hot? Suzie Johannesburg, South Africa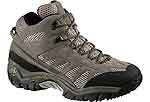 Heading out the door? Read this article on the new Outside+ app available now on iOS devices for members! Download the app.
Indeed, Suzie, waterproof boots are hotter than non-waterproof boots. In some conditions, they'll be much hotter. After all, when it's 100 degrees out, would you rather wear a light, breathable nylon shirt or a waterproof parka, even a so-called waterproof-breathable one? True, the parka is supposed to breathe and keep you more comfortable, but really warm temps will render this moot. For that reason, I remain lukewarm (no pun intended) to the concept of waterproof boots. In a cool, wet climate, I'm willing to buy it. Otherwise, forget it.

Mesa Ventilator


For you, I'm inclined to recommend really breathable boots that use a lot of mesh fabric. For example, if you can find them over your way, the Merrell Mesa Ventilator Mid ($80 U.S.; www.merrell.com) is a comfortable, light boot that uses leather and mesh construction for high breathability. Waterproof? Not on your life. But in hot conditions, ideal. It comes in a low-cut, trail-runner model for $75 if you need a less clunky, lighter shoe. The Vasque Breeze ($110; www.vasque.com) offers similar materials in a slightly heavier boot for bigger loads.
Otherwise, look for an all-leather boot without a waterproof insert: Scarpa's Delta M3 ($219; www.scarpa.net) is a superb example. Its 2.8-millimeter leather uppers meet the criterion of "waterproof," but it's still much more breathable than a boot with a waterproof insert. Too hot in the desert? Well, possibly. Some people are prone to hot feet and some are not. And, it's good for either extended day hikes or big weeklong trips. Lowa's Tanark Mid ($170; www.lowaboots.com) is a similar boot, though a little less rugged than the Scarpa.
Remember, too, that a good pair of light, wicking socks will go some way to helping mitigating foot sweats. Pairs from SmartWool (www.smartwool.com) or Wigwam's line of Ultimax hiking socks (www.wigwam.com) should help keep your dogs drier.
Trending on Outside Online