Indefinitely Wild
Nemo's Hornet Elite: the Best Backpacking Tent
Nemo's 1.75-pound Hornet Elite 2P is shockingly livable for an ultralight shelter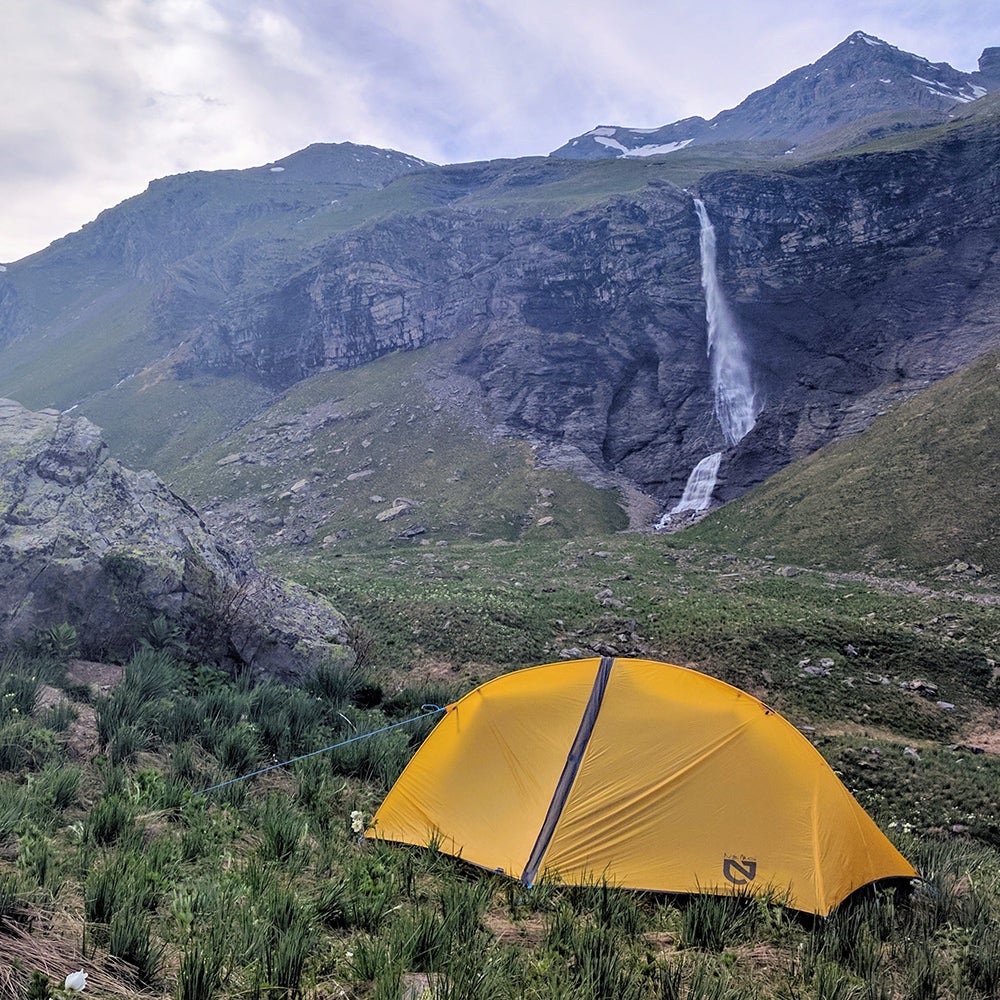 Heading out the door? Read this article on the new Outside+ app available now on iOS devices for members! Download the app.
The trouble with most ultralight shelters is that they sacrifice livability to achieve their exceptional packability. They're great to carry, terrible to sleep in. This new Nemo is different. It weighs less than two pounds, but can genuinely accommodate two people comfortably. 
What Is It?
The big selling point here is the number two. Two people, two doors, two vestibules—all for less than two pounds. 
How light is that? It's a full pound lighter than the one-person Sierra Designs Light Year that I carried for a good decade. And it packs down much smaller, too. It's nearly three pounds lighter than a standard 2P backpacking tent like the REI Halfdome 2. 
There is a lighter 2P tent out there: the Big Agnes Fly Creek HV2 Platinum weighs two ounces less, but makes do with only a single door and vestibule. That means you'll have to crawl over your partner every time you get in and out, and that tent also has much less interior space and head room. 
And there's another 2P tent that weighs virtually the same: the MSR Carbon Reflex 2 is just one ounce heavier, uses the same fabrics as the Nemo, and has one square foot more floor area, but crucially it has three inches less interior height. It also uses carbon fiber poles, which in my experience have begun to splinter after just a handful of camping trips. The Nemo's aluminum items should have no such problems. 
Many of the most committed ultralight types have made the switch to floorless tarps that stand up with the aid of trekking poles, saving some weight and space in the process. Personally, I find such shelters inadequate for my needs. A proper tent like this Nemo will always offer more comfort and weather protection in a package that's easier to pitch, doesn't require a perfect location, and that protects your entire body from mosquitoes.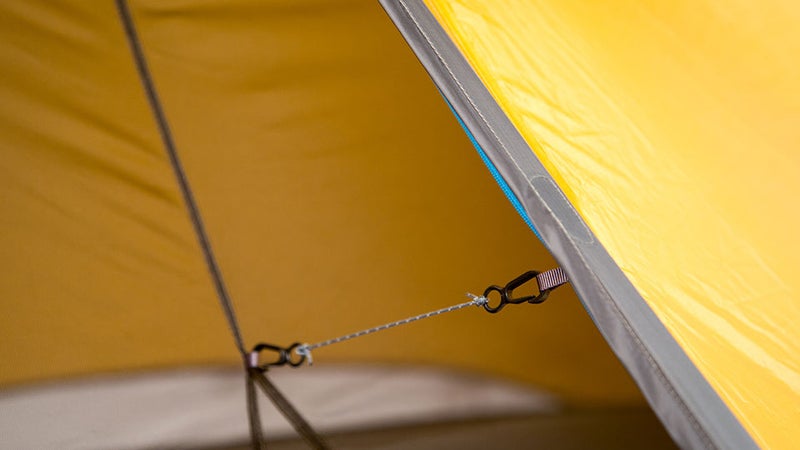 Who Is It For?
The Hornet Elite is design to offer committed ultralight backpackers the lightest materials possible, in a shelter that remains comfortable. And that lightness comes at a price: at $500, this is not a tent for casual campers. 
Nor is it an easy way for backpackers to shed substantial weight in their packs. The $140 cheaper non-Elite Hornet 2P weighs just four ounces more, and is otherwise nearly identical. Are four ounces worth $130 to you? You can probably save that amount of weight, or more, for free by simply analyzing the stuff you plan to pack and eliminating non-essentials. If you are genuinely at the point where you need to spend money to go lighter, then you can slash much more weight out of your whole sleep system than you can with the tent. 
Already done all that? Already pairing your down sleeping bag (or more likely, your quilt) to the exact temperature range you're dealing with? Already using a cat-food can as your stove? Know the precise amount of denatured alcohol you need to bring to run that stove for each individual trip? Dialing in the calories-to-weight ratio of your meals?
Then this tent might be for you.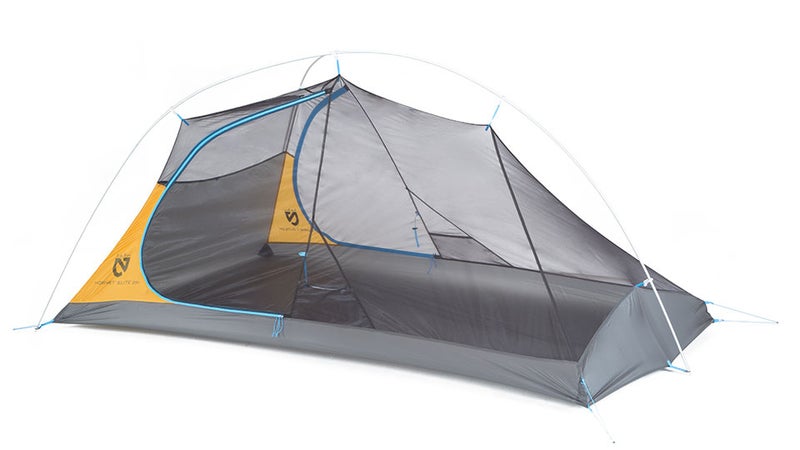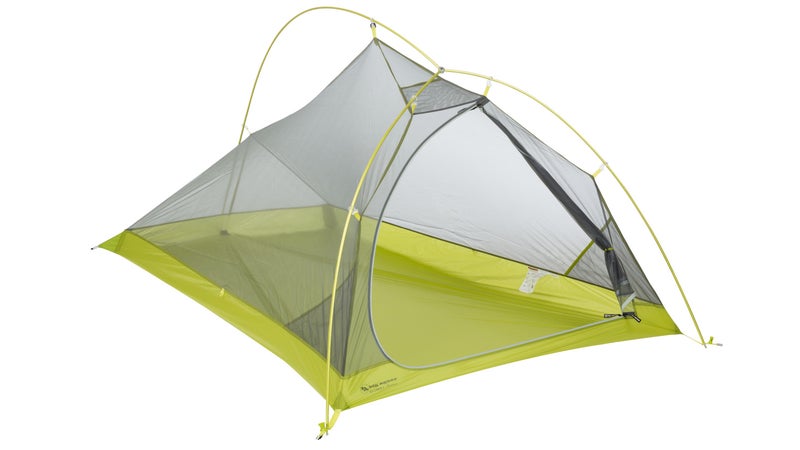 Design
There's nothing radical about the Hornet Elite's design. Its single, Y-shaped pole design is used throughout the lightweight-tent world. And it achieves its lightness by employing similar 7D Silicon impregnated, polyurethane coated nylon for its fly, 10D ripstop for its floor, and no-see-um mesh for its body. Where Nemo has applied its cleverness is to the details. 
Take, for example, one of my issues with the Big Agnes Fly Creek: how drastically headroom is reduced as the body falls from the peak to its foot. Its frame is effectively identical to the Hornet, but Nemo adds an additional pole clip over your knees to raise the body in that area. That makes changing and moving around inside the interior much easier. 
Where other tents feel like they've simply been designed by an engineer looking for efficiencies, the Nemo feels like someone slept in it and made iterative changes as she learned what she did and didn't like. 
Those clever touches abound everywhere you look. The reinforced guyout points are backed by Velcro loops that further secure the fly to the poles, maximizing the strength of the resulting structure. Those guyouts double as the loops you use to roll the vestibule open. The pole tips lock into their points on the body so they can't slip out. The tensioners on the stake lines allow the use of a single strand of spectra, rather than a loop. The tent's compression sack has drawcords in two parts, enabling you to compress the tent whether you're keeping the poles with it, or separately. You get the idea.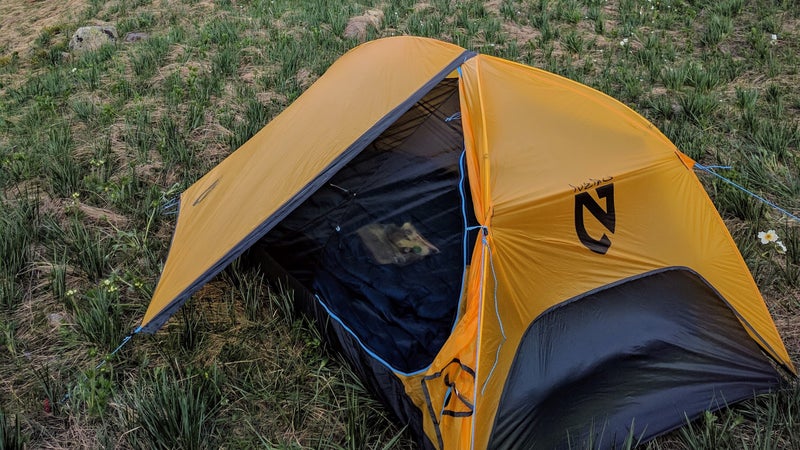 Using It
My girlfriend and I paired the tent with our fancy new ultralight 2P sleep system from Big Agnes. That 40-inch-wide pad fills the entire volume of the tent's interior side-to-side, but its 72-inch length leaves about six inches of extra space at your foot or head, where we stuffed our layers when we stripped at night. 
The tiny vestibules were just big enough to keep our packs and shoes dry during an overnight rain storm, and having two doors allowed us to individually enter and exit the tent without disturbing each other. They also enabled us to change simultaneously, or easily access stuff inside the tent while the other was inside. 
We were camping next to a river, just down from 300-foot waterfall, in a damp meadow, with rain and fog constantly present. Day-time temperatures were in the high 60s, and night times got down close to freezing. The tent stayed dry and condensation free throughout the three-day trip. 
As with any ultralight backpacking tent, wind can be a challenge. Nemo has placed the three guyouts high on the tent, and, as mentioned before, attaches them to the poles with Velcro to maximize the resulting structure's strength. With the tent's head facing into the steady winds to maximize ventilation through that big vent, and the two guyouts on that end firmly staked down, I was surprised by how well the tent stood up. Despite the lightweight materials, this thing really is made for the mountains.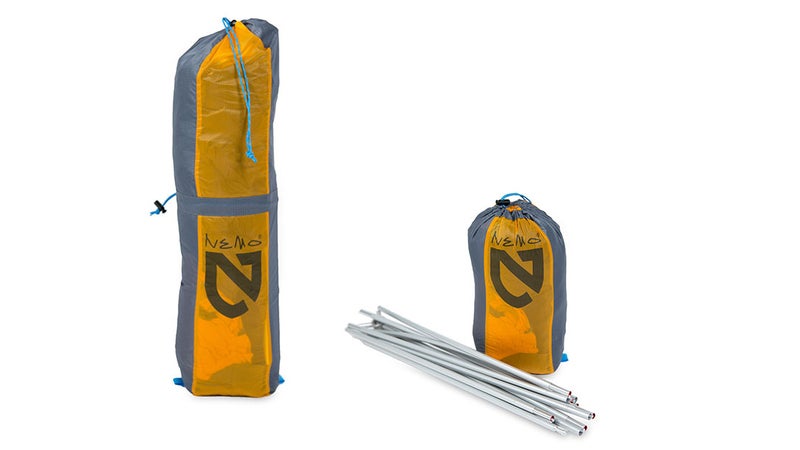 Likes
Feels like the designer used the tent heavily, and made incremental improvements over time, gradually nearing in on a perfect product. 
Stays condensation-free through wet weather. 
Stands up to high wind nearly as well as a mountaineering tent. 
Big enough inside to comfortably change clothes.
Two side doors make entry and exit for two people easy.
Thin materials are actually pretty strong. 
Aluminum poles resist hard use better than carbon. 
Pull the poles out, and the tent pack as small as a grapefruit. 
Y-pole is much stonger in high winds than the two seperate hoops of non-freestanding designs. 
Dislikes
You'll need to add four of your own stakes—guying this thing out is a necessity. 
Vestibules open windward. 
We had no problems with them, but the zippers feel like they'll be the first thing on the tent to give out. 
Fully open, the vestibules allow rain to enter the tent.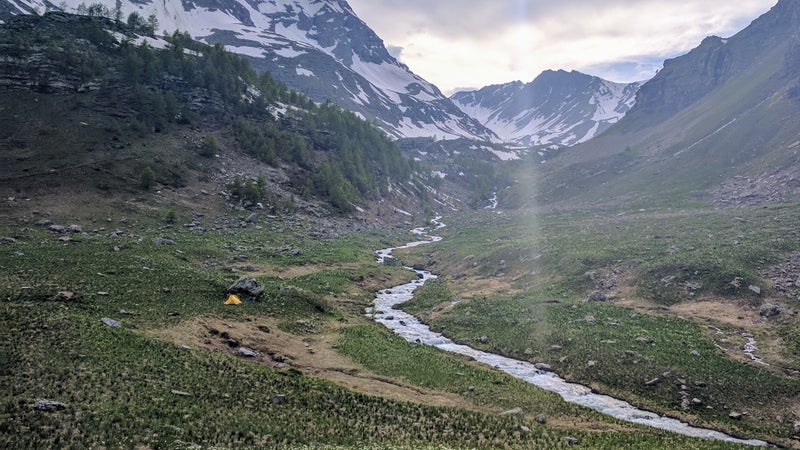 Should You Buy One?
If it was my money, I'd buy the regular Nemo Hornet 2P. It's only four ounces heavier, and benefits from all the clever design features mentioned here, but costs just $370. Spend the money you save upgrading your bag/pad or on a sweet new knife. 
But if you really must have the best new backpacking tent there is, then this is it.