The Best Summer Hiking Boots of 2017
Boots for every adventure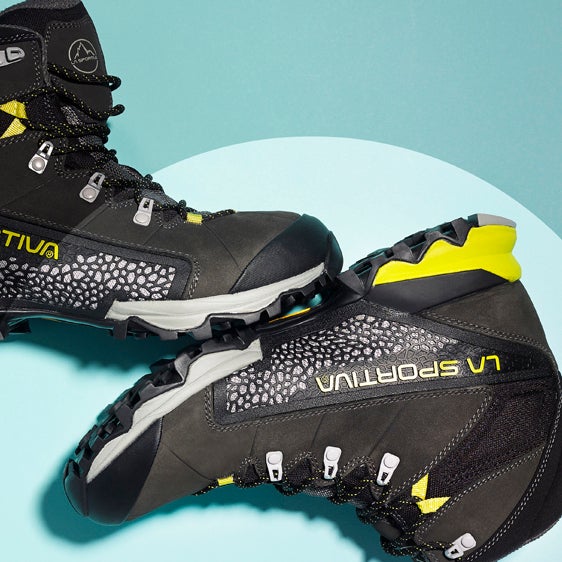 Heading out the door? Read this article on the new Outside+ app available now on iOS devices for members! Download the app.
We tested dozens of boots last season. These 10 stood out for their versatility, durability, and comfort. 
La Sportiva Nucleo High GTX ($200)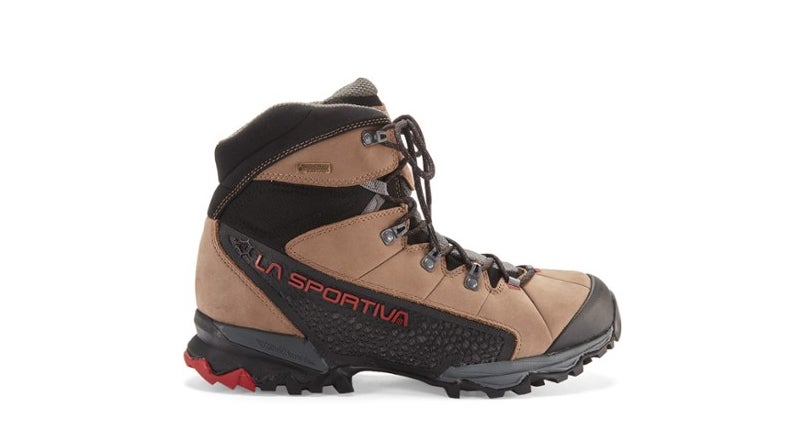 (Pictured above) The lines separating specialty hiking boots from one another got sharper this year. Looking to set a fastest known time up a Colorado fourteener? There's a shoe for that. Carrying a 50-pound pack through the Montana wilderness? There's a shoe for that, too. Of course, there are still good old dependable hiking boots that refuse to be pigeonholed. Take the La Sportiva Nucleo High GTX. We adore this everyhiker's companion because it does damn near everything well. The outer is comfy nubuck leather that's durable enough to be raked over scree at 12,000 feet. The Vibram soles offer confidence-inspiring traction but aren't so heavy that they feel like anchors. The Gore-Tex liner kept our feet dry while slogging through rainstorms, yet vented well enough to prevent hot spots. In short, La Sportiva packaged all the best features into a workhorse shoe that's exactly what most of us want. 1.1 lbs (men's) / 13.4 oz (women's)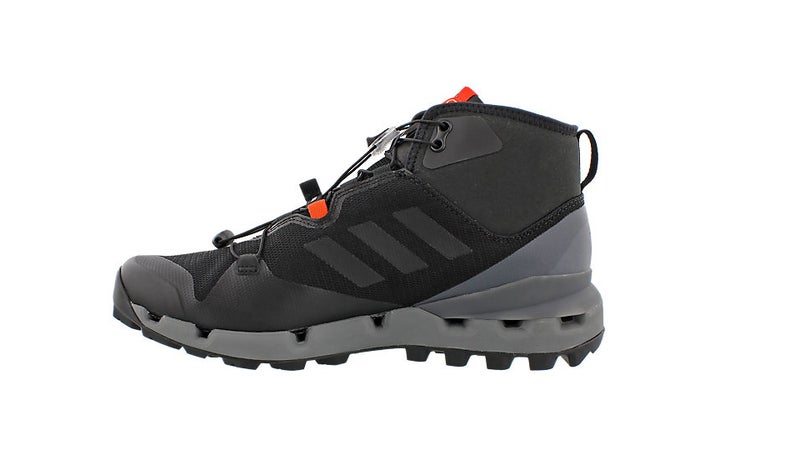 Adidas Terrex Fast GTX Surround ($225)
Best For: Rainy slogs.
The Test: Adidas must have taken design cues from a sieve when making the ­Terrex Fast. To vent heat and sweat, seven cough-drop-size holes are notched into the top edge of the midsole (visible above on the women's version of the shoe). Even in our local desert testing grounds, we could feel our feet shedding steam. Adidas matched the pliable upper, which snugged around our ankles to keep water and debris out, with a Gore-Tex liner to jack up the weatherproofing. The Continental rubber sole, with a tread based on the company's tires, flexed over rocky outcrops, boosting grip.
The Verdict: A Pacific Northwesterner's dream. 13.6 oz (men's) / 11.6 oz (women's)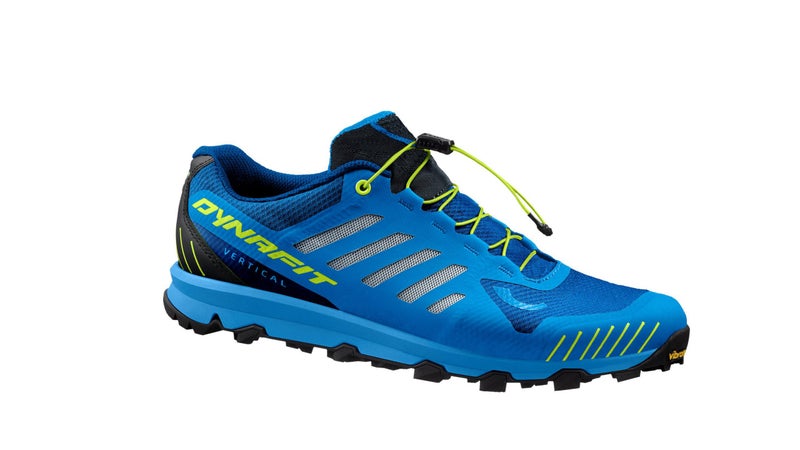 Dynafit Feline Vertical ($130)
Best For: Racing Kilian Jornet.
The Test: Dynafit married a barely-there upper to a rock-solid chassis to give the ­Feline Vertical an almost uncanny mix of speed and stability. Sheets of tightly woven mesh and a thin layer of polyurethane line the upper without adding weight—each shoe tips the scales at just half a pound. When cinched around our feet, they provided loads of support on steep, technical terrain. Down below, a medium-stiff outsole allowed for plenty of nuanced ground feel while still ­offering enough protection from jagged babyheads. Aggressive Vibram Megagrip lugs helped with strong braking on the race down.
The Verdict: The peak bagger's perfect match. 8.8 oz (men's) / 7.4 oz (women's)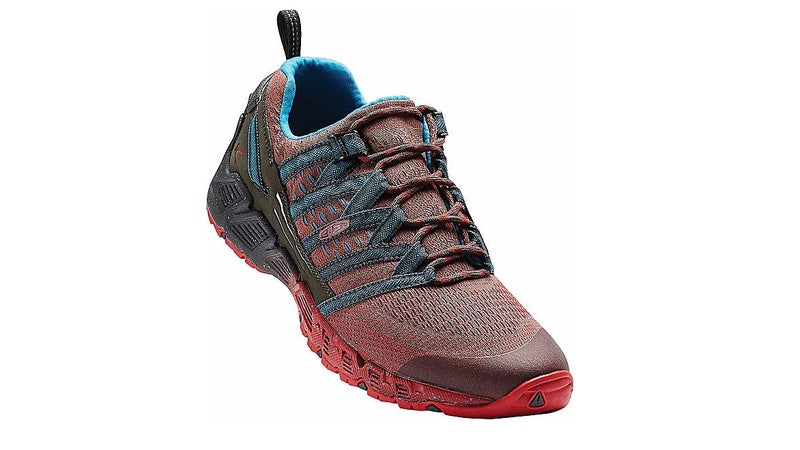 Keen Versago ($120)
Best For: Light duty.
The Test: From our very first steps, we knew we had a comfort winner. Credit goes to the thick, cushy midsole that ate up choppy ground, the highly breathable synthetic upper that vented well without gripping our feet like a vise, and the gusseted tongue that hugged like a running shoe's. The Versago was ideal for five-mile Saturday-­afternoon jaunts or quick two-mile after-work outings past the trailhead, and it served us best on smooth or wet trails—the thin lugs were skittish on desert kitty litter. Plus, the color scheme nicely ­complemented jeans and a flannel at the office.
The Verdict: An easy-wearing, no-nonsense day hiker. 10.6 oz (men's) / 8.4 oz (women's)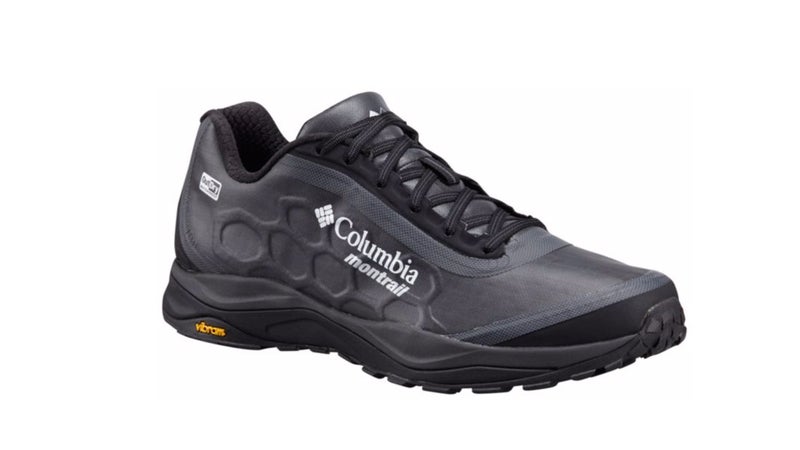 Columbia Montrail Trient OutDry Extreme ($175)
Best For: Monsoon season.
The Test: The glossy sheen on the Trient's upper reminds us of a technical shell—which is apt, considering that this is by far the most waterproof shoe we tested. Chalk it up to Columbia's OutDry Extreme technology, a waterproof-breathable membrane that repels moisture like a greased umbrella. But it also vents pent-up body heat surprisingly well, because it ditches the exterior fabric you find on its competitors: while leather and mesh can get waterlogged, the Trient stayed light and dry even after dashing through a creek. Water just beads off, no sweat.
The Verdict: Columbia reinvents the rain bootie, and we love it. 13 oz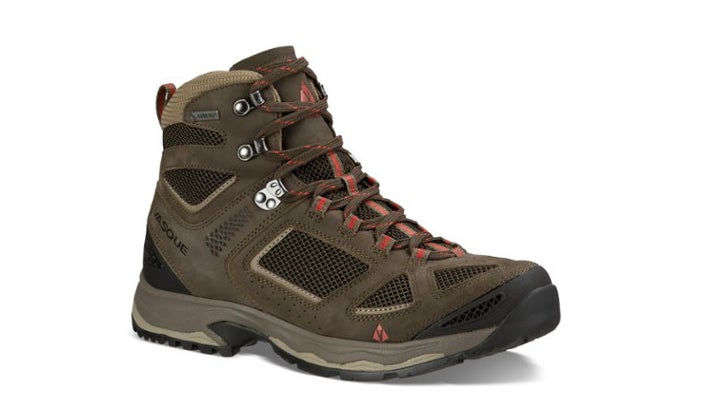 Vasque Breeze III GTX ($180)
Best For: Saturday-into-Sunday jaunts.
The Test: The Breeze III—possibly the most versatile shoe in our test—toes the line between a light-duty hiker and a beefy backpacker. The upper is made from nubuck and mesh, providing plenty of support for 30-pound loads. But it's still light enough for quick trips. The thick plastic toe and heel caps held up well on rough, rocky scrambles, as did the plate-reinforced sole, which ­allowed us to run right over jagged rubble. True to its name, the Breeze is relatively airy, with small perforations in the toe and heel (visible above in the women's version), though the Gore-Tex liner got sweaty on hot days.
The Verdict: Weekend warriors, meet your boot. 1.3 lbs (men's) / 1.1 lbs (women's)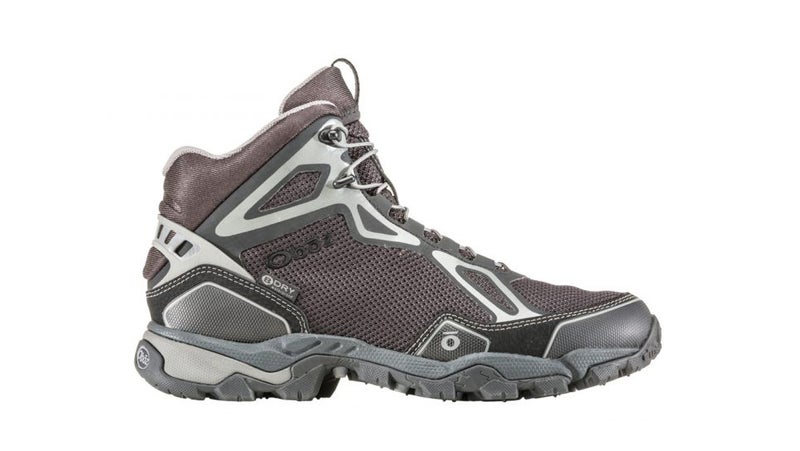 Oboz Crest Mid BDry ($165)
Best For: A comfortable ride.
The Test: Some boots are responsive but too soft. Others are stiff but feel like bricks. The Crest is just right. "It's not often that a boot ­immediately stands out on the trail," said one tester. "But a perfect recipe of rebound and cushion in the midsole—sort of like a perfectly tuned mountain-bike sus­pension for your feet—was notice­able right off the bat." That springiness sped up our gait considerably, which over the long haul can reduce wear and tear on knees and ankles, while the cushion kept us comfortable during long treks. The Crest also wins for dur­ability—after 100 miles, it didn't look even a little beat-up. 
The Verdict: A Cadillac for the trail. 1.1 lbs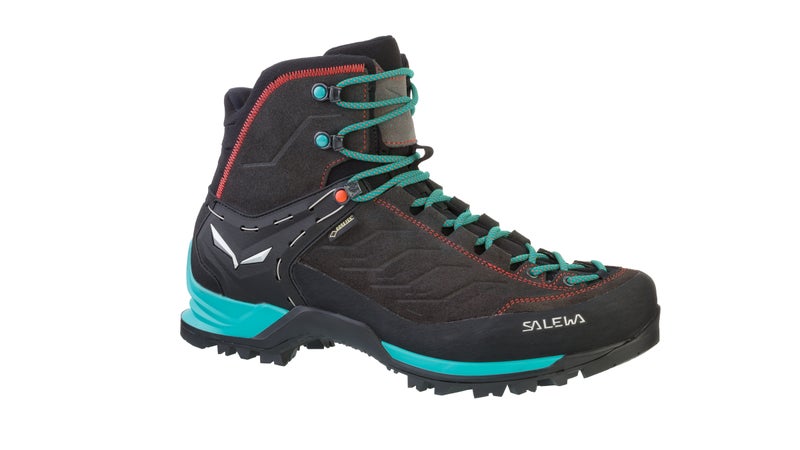 Salewa Mountain Trainer Mid GTX ($250)
Best For: Billy-goating down the steeps.
The Test: Salewa engineers say they designed the Mountain Trainer for the downs as much as the ups. While the stiff, aggressively lugged outsole had no issue climbing, we have to agree that the boot (shown: women's version) relishes descents. The secret is in the TPU-injected midsole, which locks in your heel. The upper, made with a rubber rand and thick suede, strikes the perfect balance between support and pliability. It didn't so much as shrug when we hoisted a fully loaded pack, but wasn't so stiff that it felt like a two-by-four wrapping our ankle.
The Verdict: Flies over technical terrain. 1.4 lbs (men's) / 1.1 lbs (women's)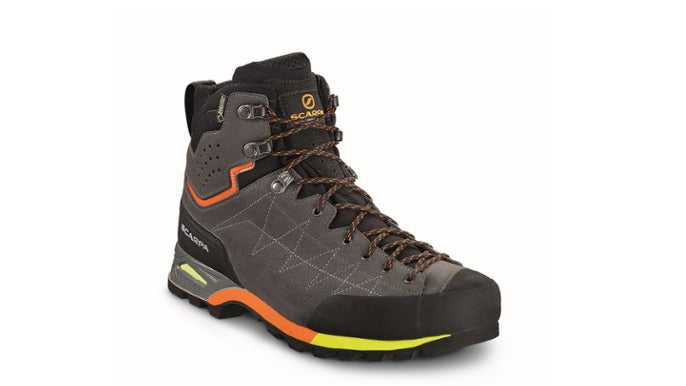 Scarpa Zodiac Plus GTX ($250)
Best For: Backup for your ankles.
The Test: The first time we picked up the Zodiac, we did a double take. It looks hefty, but at just 1.2 pounds per boot, it's lighter than any other model on this page. Scarpa cleverly cut weight by thinning the midsole yet kept everything supportive by incorporating higher-density EVA at the midfoot: we had to stand on our toes and throw our weight forward to get this boot to bend at all. The leather upper isn't as thick as on some of the other boots here, limiting the Zodiac to weekend trips. But if expedition hiking isn't in the cards, it's all the boot you need.
The Verdict: The looks of a backpacking boot with the soul of an approach shoe. 1.2 lbs (men's) / 1 lb (women's)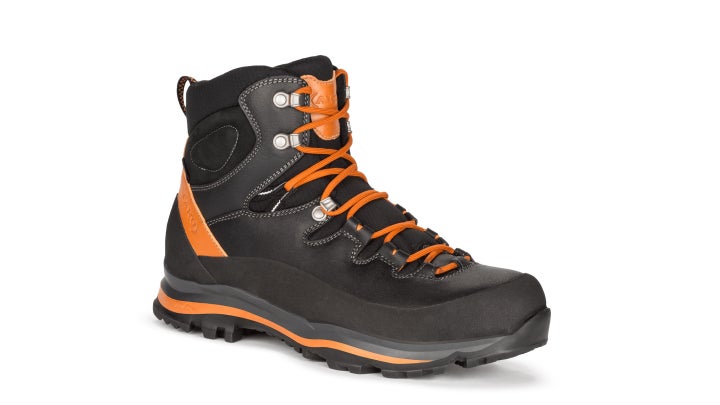 Aku Alterra FG GTX ($299)
Best For: Epics.
The Test: Call this the Ford F-150 of hiking boots—it'll happily carry big loads over many, many miles. With a full-grain leather upper and carbon-stiff midsole, it skipped along under 50-plus-pound packs. Reinforced rubber wrapping the toe, sides, and heel shrugged off scrapes and gave testers confidence during backcountry bushwhacks. Shockingly, it didn't take ages to break in: a flexible upper collar and tongue, plus an easy-to-adjust lacing system, helped with fit right out of the box. (Still, expect 20 to 50 miles before full comfort.) In the end, we appreciated the Alterra's stalwart support.
The Verdict: Heft meets cush for geared-up wanderers. 1.7 lbs