The 10 Best Fanny Packs for Every Type of Adventure
Ditch the daypack and never go back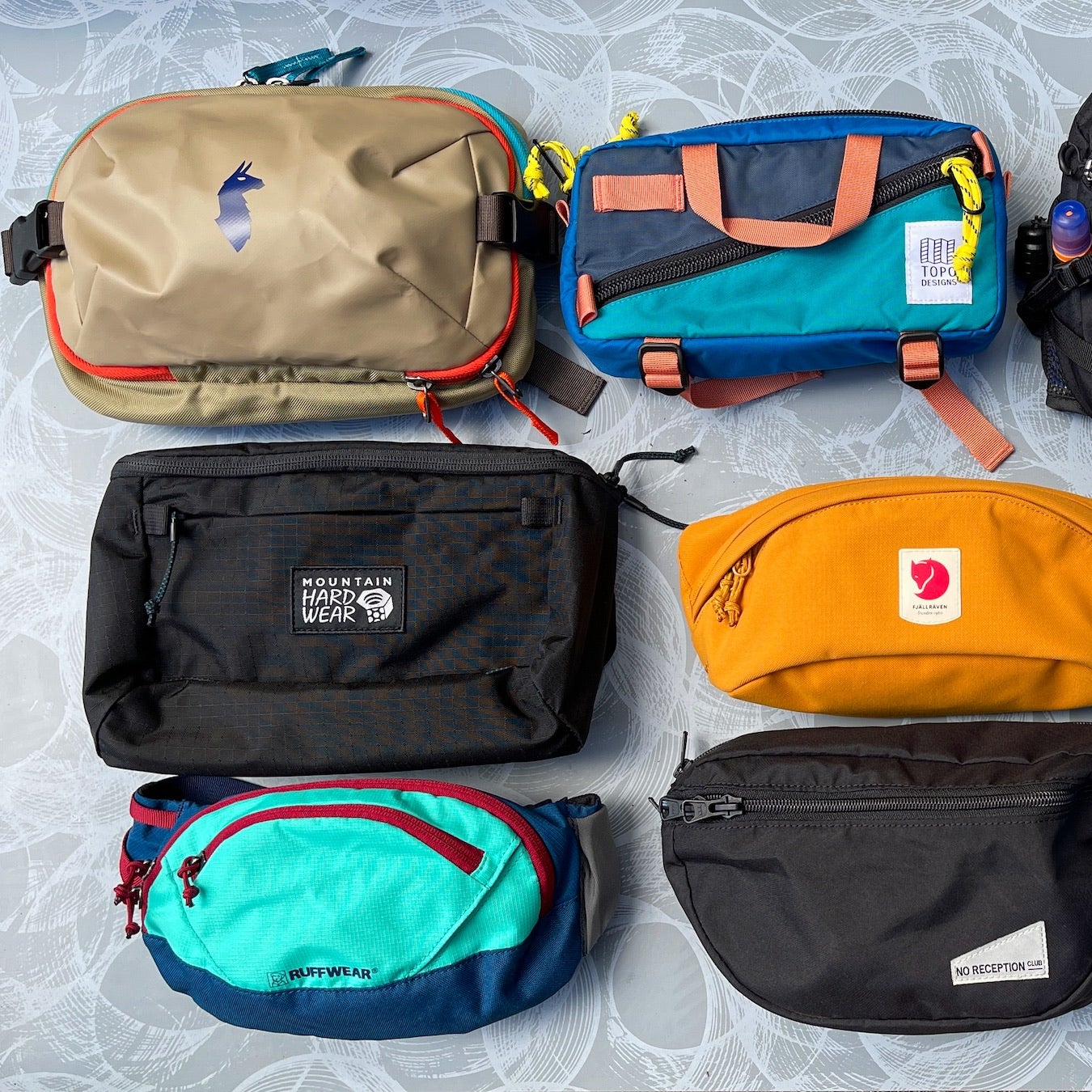 Ebony Roberts
Heading out the door? Read this article on the new Outside+ app available now on iOS devices for members! Download the app.
The answer to the question, "Are fanny packs still cool?" will always be a resounding yes for me—I'm Team Hip Pack all the way (though I am aware that others are not so sure). I'll still reach for a backpack when I'm going for a long hike or have my kid with me, but for most quick outings, I think a fanny pack is the way to go. But for such a ubiquitous piece of gear, they're not all created equally.
What Features Make Up the Best Fanny Pack?
A good fanny pack should sit nicely against the body, not pull down (or ride up), pinch, or rub, and it should have the right features and capacity for whatever you plan to do with it. A nice size for everyday essentials is in the one to three-liter range, and for moderate day outings, three to five liters is typically enough volume. For whatever you like to do, here are the ten best fanny packs that get the job done—and look good doing it.
---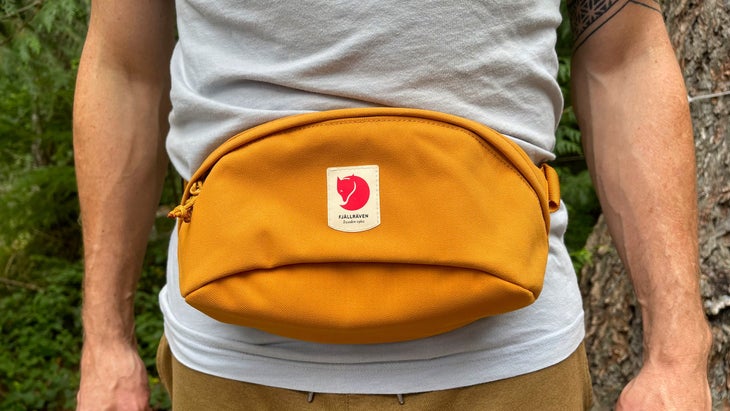 Best for Everyday
Fjällräven Ulvö Medium Hip Pack ($55)
Volume: 2 liters
Pockets: One main compartment and one security pocket
For carrying everyday essentials, the Ulvö is the only fanny pack you'd ever need. It's functional without feeling over-designed and comes in solid muted colors that will never go out of style. The unique shape lays comfortably against the body, and looks good worn crossbody or on the waist. The main compartment has a two-way zipper and an internal mesh sleeve for organization, and the zippered security pocket on the back keeps important items like cards or a passport safe. The durable material is waterproof enough should you get caught in the rain, and though the zipper isn't watertight, there's a storm flap for added protection. The Ulvö has enough room to carry what you need for a quick hike, running errands, or traveling through the airport, but if space is a concern, there's a larger four liter version ($65).
---
Best for Travel
Cotopaxi Allpa X Hip Pack ($75)
Volume: 4 liters
Pockets: Two large compartments and one security pocket
The Allpa X hip pack is a two-compartment fanny pack with multiple mesh internal pockets that makes organizing travel items a cinch. The discreet back panel security pocket is large enough for a passport, cards, and travel docs, while the butterfly-style opening (when unzipped, the pack lays out like a book) makes packing and finding your stuff more manageable. If you're using it as part of a travel system, the strap tucks away from sight in the back panel, allowing it to double as a Dopp kit. Other four-liter packs can be bulky, but the Allpa has a comfortable dome-like shape with side-release buckles that compress it to fit the contents. It's especially great for camera gear because of the fully padded internal pocket. It keeps small day-trip items close at hand, and it has major style points.
---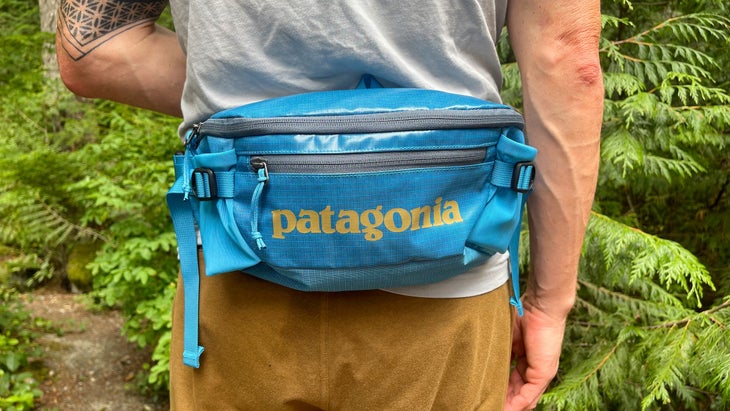 Best for Day Hikes
Patagonia Black Hole Waist Pack ($69)
Volume: 5 liters
Pockets: One main compartment and one front zippered pocket
For days on the trail when you want to give your shoulders a rest or it's just too damn hot to wear a backpack, the Patagonia Black Hole Waist Pack has enough internal storage to carry hiking essentials, two mesh water bottle pockets. It's more banana-shaped than rectangular, so it doesn't bounce around or pull down on the hips when loaded (compression straps help keep it snug), and the waistband doesn't loosen while hiking. The lumbar padding adds comfort with mesh fabric that keeps it breathable enough for all-season use. The main compartment has a double zipper so you can access each side of the pack, and the internal mesh sleeve prevents small items from spilling out. We loved the small exterior pocket for our phone. The Black Hole's durable recycled polyester ripstop fabric is treated with a TPU-film laminate, which makes it highly weather resistant against everything but a heavy downpour.
---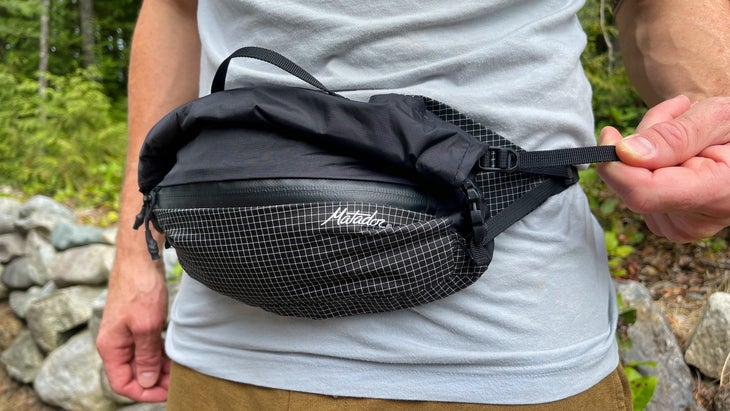 Best for Watersports
Matador Freerain Hip Pack ($60)
Volume: 2 liters
Pockets: One main compartment and one front zippered pocket
The main zippered roll-top compartment on the Matador Freerain is fully waterproof, making this ultralight fanny pack ideal for days on the water or being out in the rain. When rolled down, it has two liters of storage, but when left unrolled (and still secured by a zipper), you get almost double the extra space. I can stuff a lot into this fanny pack for a day of paddleboarding or hanging at the beach: a packable towel, goggles, phone, keys, cards, sunglasses, sunscreen, and a few snacks. The nylon fabric is durable and ultralight, the zippers are coated with sealant, and it compresses down into a mesh sack that takes up just a few inches of space. Adjustable straps snug the fit on the fly, and though the buckles are a little delicate, the tradeoff is that it weighs next to nothing.
---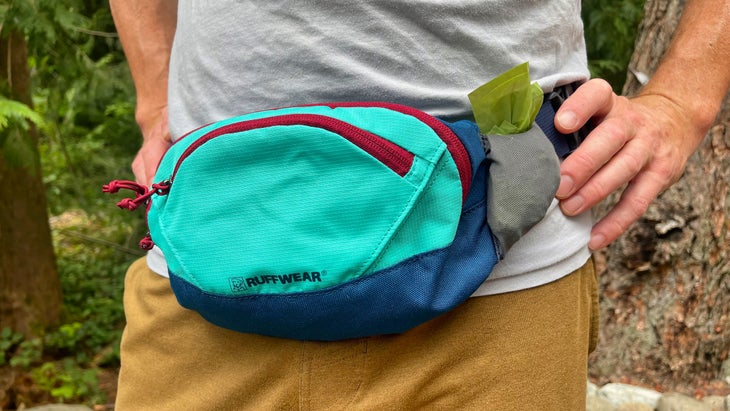 Best for Dog Outings
Ruffwear Home Trail Hip Pack ($45)
Volume: 1.8 liters
Pockets: Two zippered pockets and one stash pocket on the back panel
Sometimes, I wear two fanny packs: one for my kid's crap (not literally) and another for my dog's crap (literally). I keep them each stashed with ready-to-go essentials to get out the door more quickly. Any small hip belt will work for carrying everything you need for a dog walk, but the Home Trail has a few details that make it the best for dog owners who want a dedicated pack. It wears close to the body, so it doesn't get in the way of active play, and the internal "mess pocket" inside the main compartment keeps smelly treats or a slobbery ball separated from everything else. There's a small external mesh pocket for dog waste bags, a quick-access stash pocket on the back panel for your phone, and the small front pocket has enough room for keys and cards.
---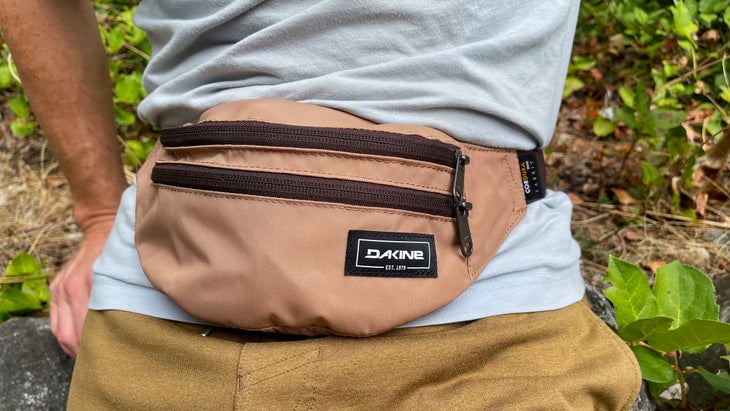 Best for Simplicity
Dakine Classic Hip Pack ($32)
Volume: Roughly 2.5 liters
Pockets: Two zippered pockets
Dakine's Classic fanny pack is a simple and versatile pouch that's best for when you want to travel light. This small basic pack has two zippered compartments with enough room to store everything you need to run a few errands or walk the dog. It's lightweight and durable, with an adjustable waistband and heavy-duty buckle. The belt is a little thick for the size of the fanny pack, but it's comfortable to wear and doesn't look excessive when worn on the waist or crossbody. Plus, it comes in a ton of colors and patterns. If you want to lean into the traditional fanny pack style, the Classic is just that.
---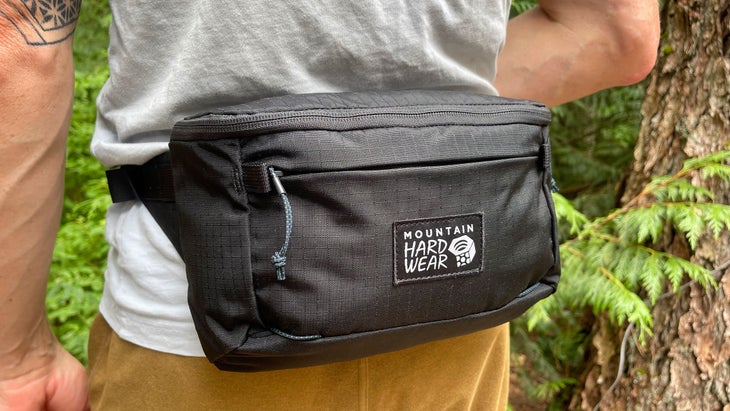 Best for Muddy Outings
Mountain Hardwear Road Side Waist Pack ($40)
Volume: 4 liters
Pockets: One main compartment and one front stash pocket
The hard-wearing Road Side is a no-frills fanny pack that's durably constructed and holds a ton of stuff for its size. The main compartment has a small sleeve against the back panel for stashing a wallet or keeping other small items separate, but it's essentially one big rectangular holder that makes packing items in easier (the double zippers help, too). The Road Side is large enough for a few aluminum cans, snacks, and even a couple of small clothing items. The smaller front pocket can hold sunglasses, keys, cards, and other little things you don't want to dig around in the main pocket to find. The tough nylon fabric is easy to wipe clean, so there's no worry if it gets covered in mud while you're biking or at an outdoor festival. The belt and buckle tuck into a sleeve on the back panel, so it's also pretty travel-friendly. One ding: the thin waistband isn't the most comfortable for long days when the Road Side is packed to capacity.
---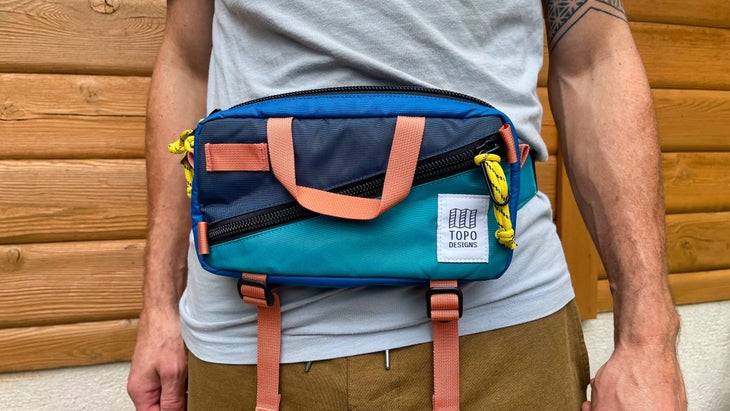 Best for Wallet Replacement
Topo Designs Mini Quick Pack ($49)
Volume: 1.7 liters
Pockets: One main compartment and one exterior zippered pocket
While other fanny packs blend in, the Mini Quick Pack stands out in the bold, vibrant colors, with a hardy shell that makes it impervious to most weather. A smaller version of the popular seven-liter Quick Pack ($69), it's got room to store essentials but not much more. The main compartment is fully padded, so it's a good spot for sunnies and a phone; plus, there's an internal hanging pocket suitable for Chapstick and a couple of cards. The front diagonal pocket features an internal key clip, and there are a handful of other attachment points on the outside, including two bottom compression straps that you can clip onto or use to stash a packable jacket. The long rectangular shape is a bit bulky, and the thick strap is a little overkill and doesn't stow. But all the components are high-quality, and this maximalist fanny pack is sure to last for years.
---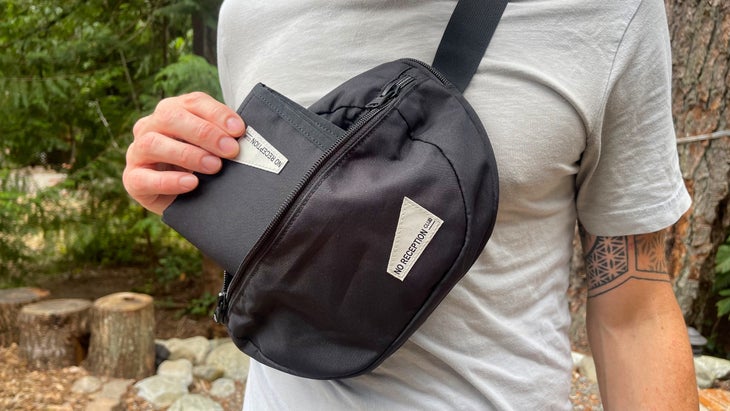 Best for Parents
No Reception Club Sidekick ($75)
Volume: 3 liters
Pockets: One main compartment and diaper wipes back pocket
The Sidekick lets parents carry baby essentials without lugging around a cumbersome—and often ugly—diaper bag. For baby-wearing, it's much easier to strap a fanny pack around your waist than deal with backpack straps or an over-the-shoulder bag. The Sidekick can fit about six diapers, hand sanitizer, a backup onesie, and a few other small items like a pacifier or teething toy. It comes with an easy-to-wipe removable changing mat, and the back panel has a diaper wipe dispenser with magnetic closure so you can open it one-handed. The Sidekick is designed to pair with the Getaway Bag ($235), a highly compartmentalized and stylish backpack that makes traveling with baby gear more organized.
---
Best for Hydration
Deuter Pulse 3 Hip Pack ($115)
Volume: 5 liters
Pockets: One main compartment, one zippered front pocket, and two small zippered mesh pockets
The Pulse 3 is best suited for hikers or mountain bikers who want quick access to water without stopping. The advantage of a hip pack with a reservoir is that you won't have a clunky water bottle shifting around while you move—and you'll probably stay more hydrated too). The 1.5-liter hydration bladder conforms perfectly to the shape of the hip pack, filling out the back panel and wings with enough water for a few hours of hiking. Even with a full bladder, the hip pack has enough room for food, a first aid kit, and other supplies, and there are mesh pockets in the front compartment to securely stash smaller items. The ventilated back panel has breathable mesh fabric and a soft spongy lumbar pad that's noticeably comfortable on summer days, which is why the Pulse 3 has all but replaced my backpack for hot weather use.
Lead Photo: Ebony Roberts