The Best Trekking Poles
Poles seem simple, but they're an important part of your hiking or backpacking kit. Here are our all-time favorites.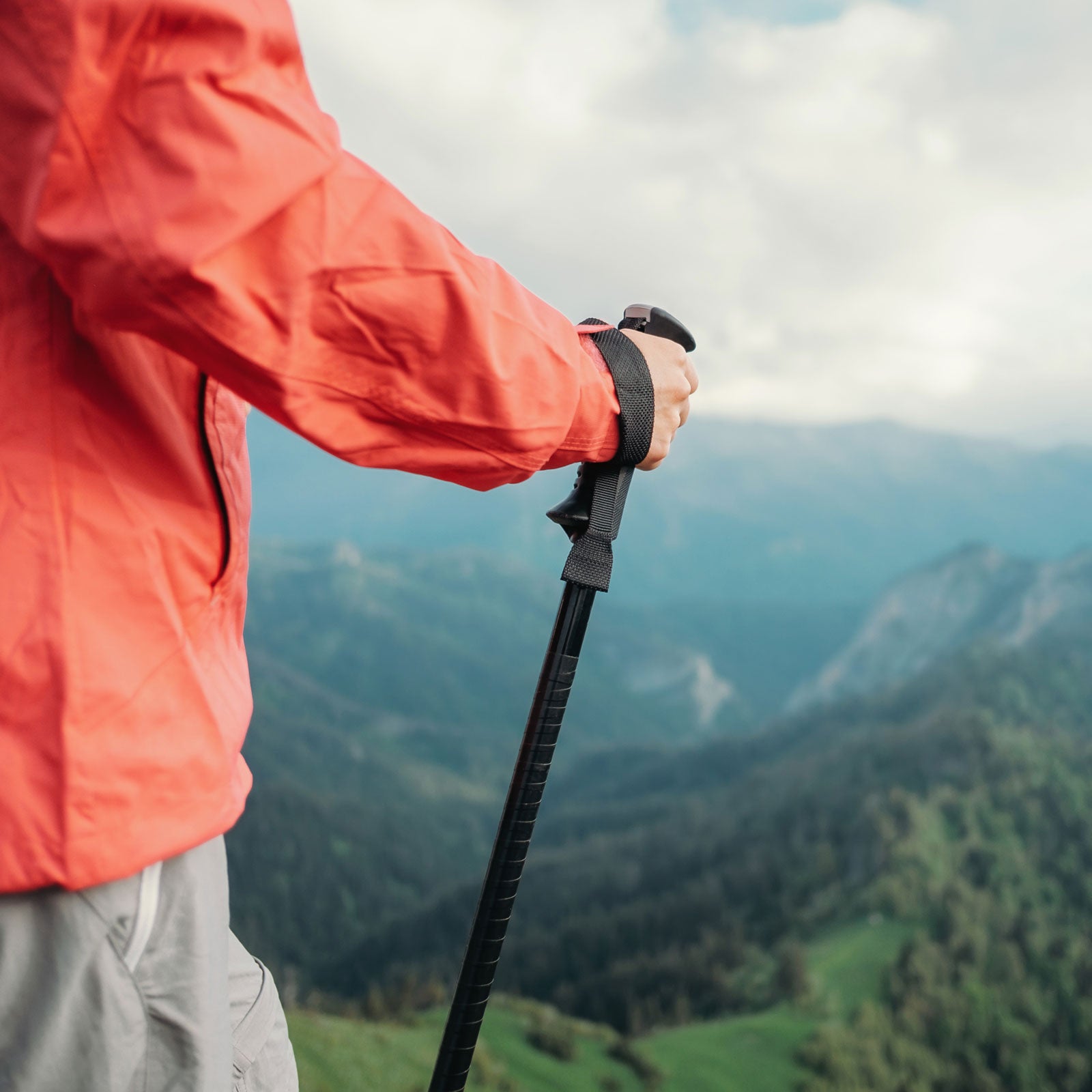 Remains/iStock(Photo)
Heading out the door? Read this article on the new Outside+ app available now on iOS devices for members! Download the app.
In 2002, on day eight of my first-ever thru hike of the Appalachian Trail, I descended to the Nantahala Outdoor Center at mile 138 with a deflated spirit, a crushingly heavy pack, shin splints, and inflamed iliotibial bands. That afternoon, I shipped home a box of unnecessary gear, ate a cheeseburger, and traded the tree branches I'd been crutching on since day four for a new pair of Leki trekking poles. Trekking poles transfer load from legs to arms, helping to avoid injury and fatigue, and they were vital on my journey to Maine. The additional points of contact add stability on slippery or unstable surfaces, and on long trips they can even be used as tent poles with some backpacking shelters. I've brought a pair on every trip I've taken since that first Appalachian Trail journey, including expeditions that lasted months and covered thousands of miles.
This summer, I tested eight pairs of poles representing a range of prices, features, and designs. I had used some of these models in years past, but I gave them all a fresh look while guiding and hiking in California and Colorado. My first pair of trekking poles cost $100 and were nothing fancy. Poles have improved over the past 16 years, and while I really liked some options that push $200, the poles I recommend for most people, Cascade Mountain Tech's Carbon Fiber Quick Lock trekking poles, retail for just $45.
Our Favorite Trekking Poles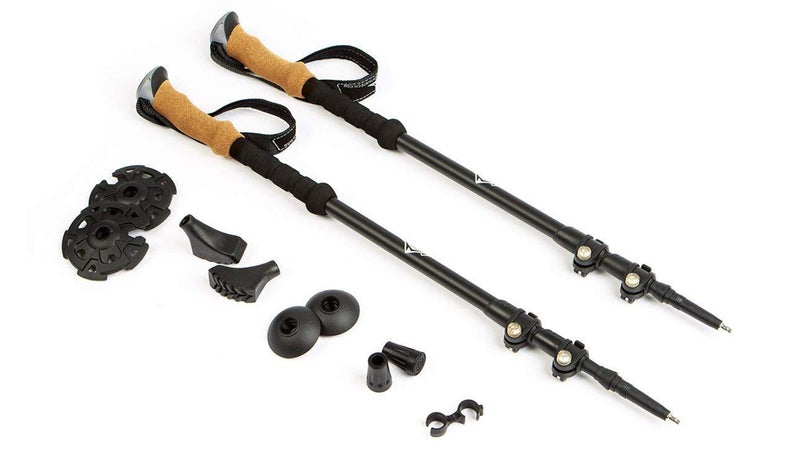 Cascade Mountain Tech Carbon Fiber Quick Lock ($45)
The Cascade Mountain Tech Carbon Fiber Quick Lock trekking poles are not best in class, but they're an irresistible combination of price and utility. Each spring, I see them at my local Costco for $30 per pair, and on Amazon they're never more than their $45 MSRP. At just under eight ounces per pole, they're a smidge lighter than other premium models, and their max length of 53 inches (135 centimeters) makes them suitable for snow travel and really tall people. When telescoped down to their minimum 26-inch length, they will fit into most checked suitcases. (You'll have to disassemble them for carry-ons.) I've used these poles extensively, including on a thru-hike of the Wind River High Route, and I've recommended them to countless hikers.
The Quick Locks include extension grips—sections of foam below the main grip that extend your range of carry options—and are available with either cork or foam grips. Both options will work fine, though the faux cork and two-piece construction isn't as slick as Leki's seamless grips. Cascade Mountain Tech includes snow baskets for winter use and rubber tip covers for paved surfaces, options that cost extra with other brands.
Still, these poles are inexpensive for a few reasons: The shafts vibrate, the grips are a bit rough, and the carbide tips don't last as long as those from Black Diamond or Leki. The locks don't slip or break and are easy to adjust, but they're not as nice as the metal locks on the REI Flash Carbon poles. Cascade Mountain Tech sells a higher-end pair for $58, the main benefit of which is more solid-feeling shafts.
For many users—especially those on tight budgets—the Carbon Fiber Quick Lock poles offer enough functionality with a few justified trade-offs. I think most people will be happy with these poles and an extra $120 in their wallets.
---
The Best No-Compromises Trekking Poles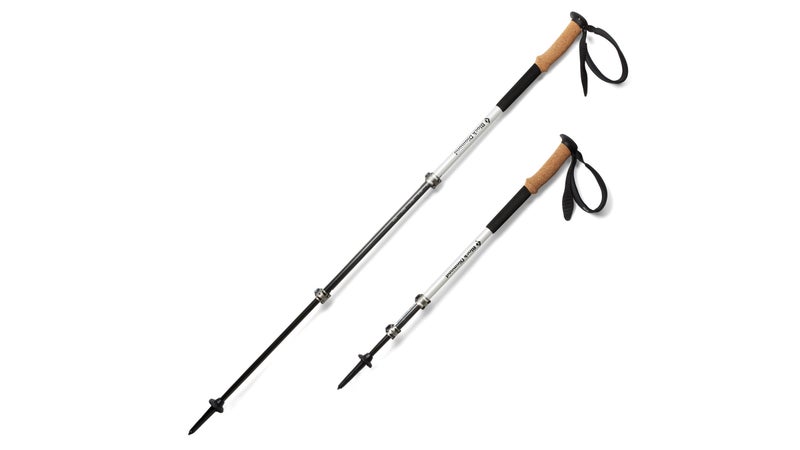 Black Diamond Alpine Carbon Cork ($180)
My pair of Black Diamond Alpine Carbon Cork poles are tough, stiff, and have endured years of hard use. Black Diamond included stainless-steel lever-style locks that are secure and easily adjustable, and the foam extension grips are comfortable and versatile. The cork in the hand grips is real. These poles, and the women's version (identical except for color), inspire confidence in rough environments.
My eight-year-old poles are still going strong, and I've heard nothing but positive feedback from others who have purchased them. (I did have to rebuild the grips with Aquaseal, but that's reasonable after nearly a decade of use.) At 8.5 ounces per pole, they're slightly heavier than the Cascade Mountain Tech poles, and I'd love to see these an ounce or two lighter. But I don't see how Black Diamond could cut weight without sacrificing strength, durability, or a few features—in other words, the things that make these poles great. If you can justify the extra expense, the Black Diamond Alpine Carbon Cork trekking poles are worth it.
---
Best for Frequent Fliers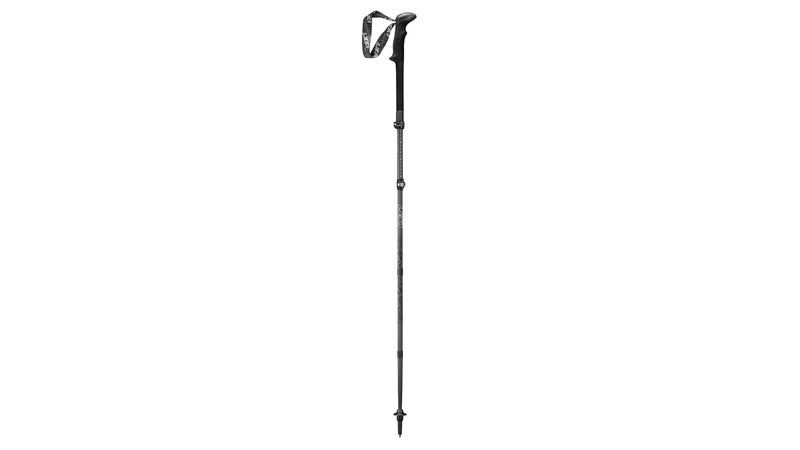 Leki Micro Vario Black Carbon ($250)
These Leki Micro Vario Black Carbon poles (8.5 oz) rival the performance of the Black Diamond Alpine Carbon Corks, with strong shafts, seamless hand-extension grips, long-lasting carbide tips, and reliable locking and adjustment systems. In one respect, they're even better: They collapse to just 15.5 inches, 40 percent shorter than the Alpine Carbon Corks and ideal for airplanes and mixed hikes/scrambles.
The deal breaker is the price. Ultimately, I don't feel that these poles are $70 nicer than the Alpine Carbon Corks, and in general I can't recommend spending more than $200 on trekking poles when a very decent option is available for less than $45.
---
Best for Local and Day Hikes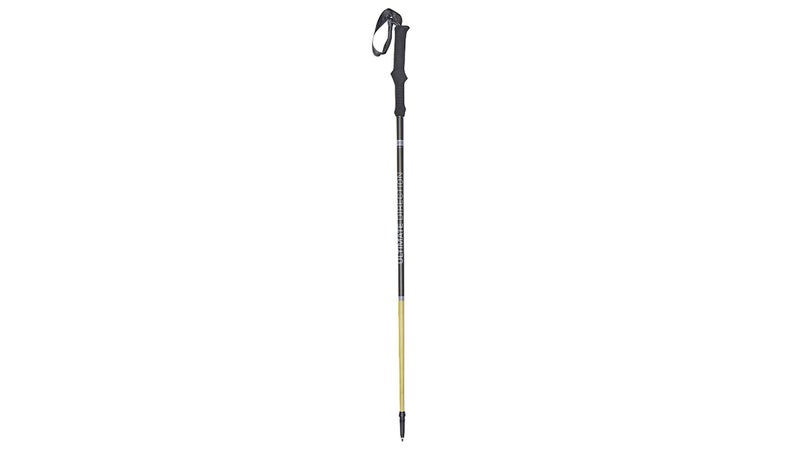 Ultimate Direction FK Poles ($150)
From a performance-only perspective, Ultimate Direction's FK poles are the best I've ever used. Designed with a wide, single-piece shaft—20 millimeters thick, versus the standard 16- or 18-millimeter diameter—the FK poles are the stiffest and strongest I have ever used, and my measured weight of 3.8 ounces per pole (in the 115-centimeter length, without straps or baskets) is simply dreamy. After using them, it's disheartening to use any other set of poles.
Most hikers, though, will be unable to overlook a serious shortcoming: They're not collapsible. That means they don't travel well, they're unwieldy when lashed to a backpack, they can't be adjusted for different terrain or outdoor activities, and they're fussy to use with many trekking pole–supported shelters. But if you don't need poles for any of that, you'll fall in love with the FKs—nothing performs better.
---
How I Test Trekking Poles
I've been hiking and trekking with poles for 16 years. That includes trips on the Sea-to-Sea Route (7,775 miles, 11 months), the Great Western Loop (6,875 miles, seven months), the Alaska-Yukon Expedition (4,700 miles, six months), and a half-dozen high routes in the Mountain West. Fortunately, in those years, I've seen pole manufacturers shift away from models made from heavy aluminum, uncomfortable plastic grips, and squeaky, heavy "anti-shock" springs.
For this test, I drew on those years of experience to select eight pairs of poles for in-the-field testing on trips in Rocky Mountain National Park and Sequoia-Kings Canyon National Park, exploring the Yosemite High Route, and elk hunting in western Colorado. I also loaned pairs to guided clients to gain additional perspective and insight. The eight models I tested: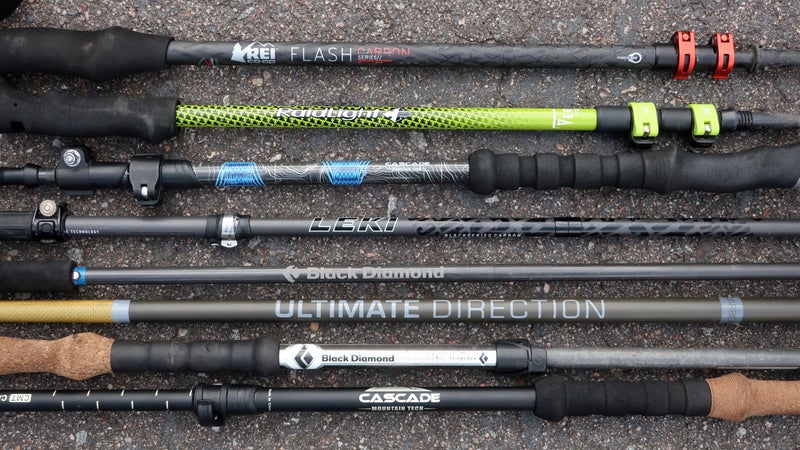 What to Know Before Buying Trekking Poles
When evaluating poles, I start with the shafts. They need to be stiff, free of vibration on impact, and able to endure reasonable contact with rocks and vegetation without fracturing. Next, I look at the hand grips, which should be soft on the hands but still responsive, meaning not mushy. I also really like extension grips. Finally, the locks need to be secure and reliable and easy to use and repair. Only some of the poles I tested met those criteria.
You can keep it simple by purchasing one of the models mentioned earlier. But if they don't suit your needs or budget or are unavailable, some other buying considerations are listed below.
How Heavy? How Long?
Product weight is always a consideration with outdoor gear, and it's especially important with trekking poles. You won't notice the difference between a six- and eight-ounce pole when it's in your backpack, but because of the leverage poles generate when swinging in your hand, a six-ounce pole will feel dramatically different than an eight-ounce model.
Given current pole technology and availability, I would rule out any pole that weighs more than nine ounces each or 18 ounces for the pair. People with less arm strength (or scrawny runner arms like me) may want to set an even lower threshold. To keep weight to a minimum, avoid "anti-shock" models, remove the mud/trekking baskets, and consider models with shorter shaft lengths.
To properly size your poles, stand upright and hold your elbows at a 90-degree angle. You should be able to hold the primary grip with the tip touching the floor. For difficult terrain and off-trail hiking, I prefer my poles shorter by a few centimeters. For long downhills, some people like to lengthen them.
And remember that lighter is not always better. For example, I've found that the ultralight (and ultra-thin) shafts of the Black Diamond Distance Carbon Z poles are too fragile for backpacking. The RaidLight Vertical Carbon 3 poles lack versatile extension grips, which is a deal breaker in my book.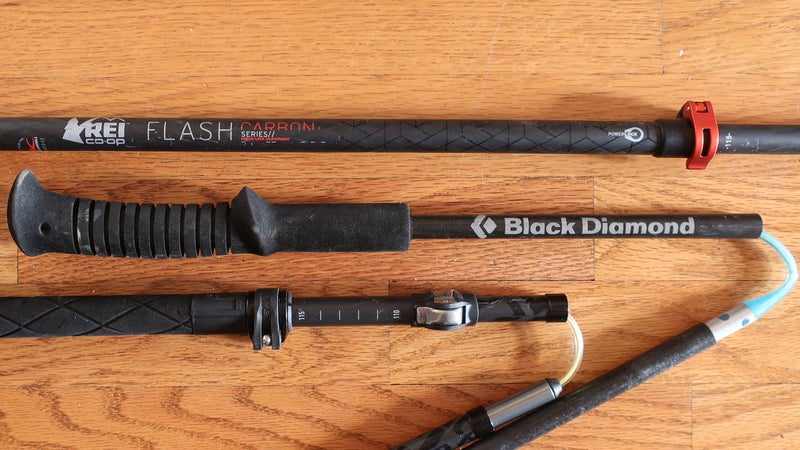 Adjustable vs. Single-Piece (Nonadjustable) Poles
All single-piece poles are fixed length and usually available in five- or ten-centimeter increments. Most (but not all) multipiece poles are adjustable. Adjustable-length poles will be heavier and more expensive than fixed-length models, collapsible or not. For example, the adjustable-length Black Diamond Distance FLZ and Distance Carbon FLZ are $20 to $40 more expensive and about 20 percent heavier than their fixed-length Z-series counterparts.
All things being equal, a trekking pole with a one-piece shaft will be both less expensive and lighter and stronger than a trekking pole with a multipiece shaft. For example, the single-piece Black Diamond Vapor Carbon 1 weighs 35 percent less and costs $20 less than the comparably strong Black Diamond Alpine Carbon Cork.
Multipiece shafts are much more popular, however, and I generally recommend this style. Because they collapse down, they travel better (and don't incur baggage fees on flights) and can be more easily lashed to a backpack when not in use, like while crossing extensive talus. Multipiece shafts are typically adjustable in length as well.
For hiking and general outdoor use, adjustable poles are worth the extra weight and expense. They can be used for more activities (hiking, snowshoeing, backcountry skiing) and perhaps by multiple members of the family. They can be adjusted to accommodate changes in terrain—shorter for uphills, longer for downhills, collapsed for scrambling. Finally, collapsible and adjustable-length models are compatible with more backpacking shelters that utilize trekking poles for support.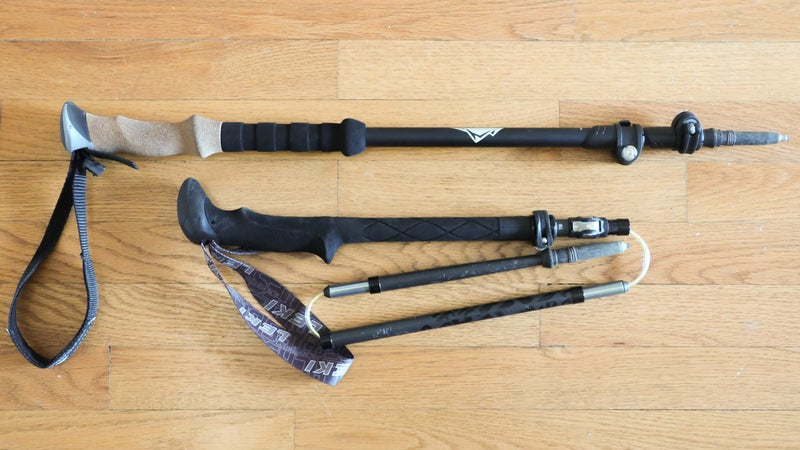 Telescoping vs. Foldable Shafts
There are two types of multipiece shafts: telescoping and foldable. Telescoping shafts nest into each other. They're more rigid and weigh less for a given strength, but they're less packable.
Folding poles pack down really small—to 15 inches, say, versus about 25 inches for telescoping poles—making them ideal for air travel, mixed hikes and scrambles, and trail runs. But they come with trade-offs: The joints always wobble, and the design is usually heavier, resulting in a sacrifice to either weight or strength.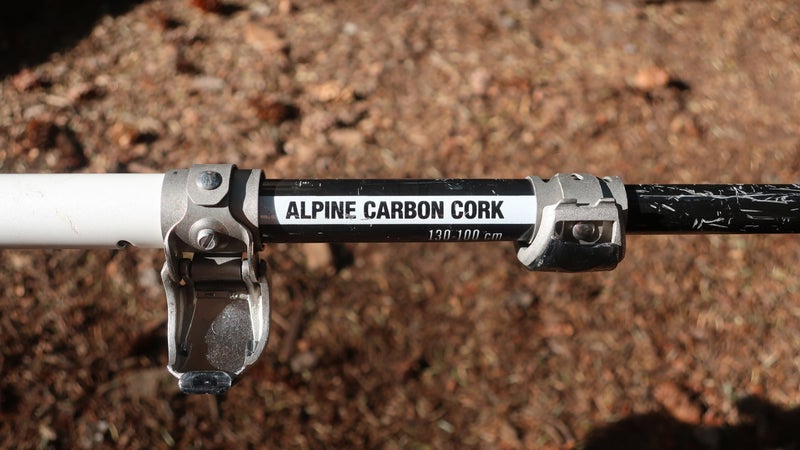 Twist Locks vs. Lever Locks
Adjustable-length poles will have twist- or lever-style locks. Avoid twist locks, period. Lever locks are more reliable (no slippage) and easier to adjust and troubleshoot.
Carbon Fiber vs. Aluminum Shafts
The shafts of premium poles are made from carbon fiber, which is stronger by weight than aluminum. However, aluminum is less expensive and better withstands abuse, especially dings and knocks. In cold temperatures, the conductivity of aluminum can be a liability.
I have broken several trekking poles, and I've witnessed other hikers break theirs. The common denominator was not the shaft material but user error. Specifically, the poles were being used on steep, loose, off-angle, and/or slick terrain, and the pole either became overly levered (like between two blocks of talus) or broke the hiker's fall after they slipped.
Grip Material
Consider models with foam, cork, or faux-cork grips. Choose rubber grips only if they will be used exclusively in winter. Always avoid plastic grips—they're cheap but terrible.
I don't have a preference between foam and cork. The grips merely need to be tactile, nonabrasive, and slightly soft (not mushy like the REI Flash Carbon).
I have a stronger opinion about extension grips, which sit below the primary hand grip. For easy trails, they're not critical. But when hiking on steep grades, trails filled with obstacles (rocks, roots, big stairs), and off-trail terrain, they offer instant height adjustment without touching the locks.
Wrist Straps
Trekking poles come with wrist straps, which when used properly can reduce pressure on the hand and wrist. Personally, I cut mine off for reasons I delve into here.
Tips and Baskets
Most trekking poles will come with trekking or mud baskets, which are about two inches in diameter. I always remove them. They add weight, tangle in trailside brush, and have no apparent value. Snow baskets are a different story. Without them, poles are nearly useless in unconsolidated snow. With most models, they are a $15 accessory item.
As for carbide pole tips, all are not created equal. I have worn down some tips to rounded nubs within a few hundred miles, whereas others have lasted thousands. Leki and Black Diamond tips are both notably reliable.
Lead Photo: Remains/iStock
Trending on Outside Online