The Best Women's Hiking Boots of 2023
Twelve testers put 33 boots to rock, dirt, and sand. These nine vaulted to the top.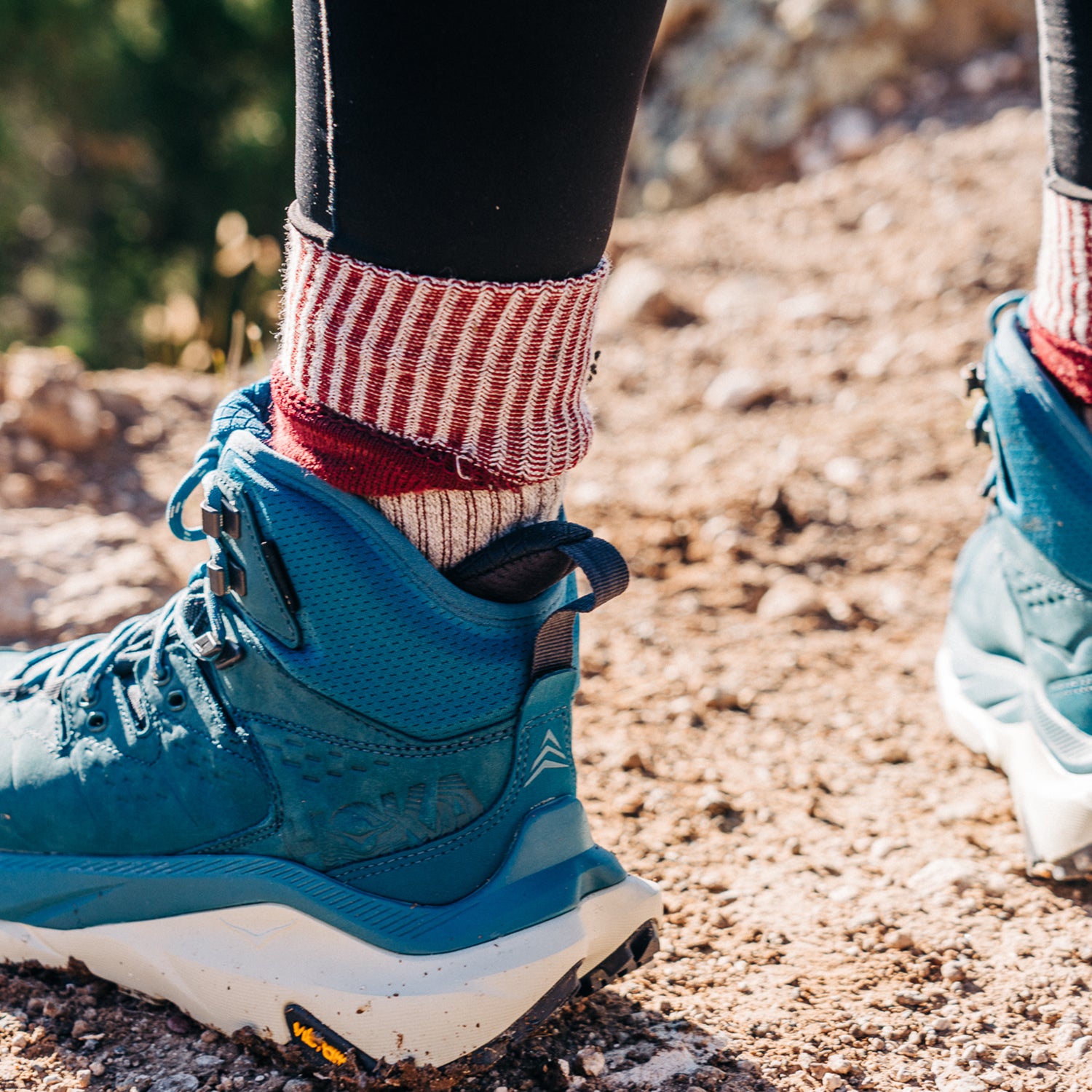 Heading out the door? Read this article on the new Outside+ app available now on iOS devices for members! Download the app.
There are few pieces of gear you rely on as intimately as hiking boots. A well-fitting pair can help the miles fly by, while the wrong boots make every step a pain. We tested over 30 women's hiking boots in a variety of terrain to find the best options for every hiker, from day trips to mountain expeditions. These nine rose to the top of the pile after impressing our testers the most with their fit, comfort, weatherproofing, and durability.
The Winners at a Glance
Best for Wet Hikes: Astral Pisgah
Best Value: Mammut Sertig II Mid GTX
Shortest Break-In: Zamberlan 335 Circe Low GTX
Best for Beginner Hikers: Columbia Facet 75 Mid OutDry
Best All-Around: La Sportiva TX Hike Mid Leather GTX
Best Cushion: Hoka Kaha 2 GTX
Best Protection: Topo Athletic Trailventure 2 Waterproof
Best Trail-to-Town Shoe: On Cloudwander Waterproof
Best for Narrow Feet: Salomon Cross Hike 2 Mid Gore-Tex
How We Test
Number of Testers: 12
Number of Products Tested: 33
Number of Miles Hiked: 520
Highest Elevation: 11,305 feet
Number of Dogs Who Joined Us: 18
Test States: New Mexico, Wisconsin, Michigan, Rhode Island, Washington, Oregon, Kentucky, New York
Throughout summer and early fall of 2022, our twelve testers from across the United States tested dozens of hiking boots in a wide range of trail conditions, from the deserts of the southwest and the mountains of Washington's Cascades to the forests of Michigan and New York. All testers are avid hikers, though they represent a spectrum of experience levels, from a former thru-hiker to a marathon trail-runner to a determined dog-walker. Our testers represent a wide age range, but together have amassed more than six decades of experience on the trail. Each boot was tested by at least two people over multiple day hikes and backpacking trips. Testers put boots through their paces in as many ways as possible, seeking out varied terrain and distances, and going out of their way to stand in streams and wade through mud. After their hikes were completed, testers filled out detailed surveys about their impressions of the boots, reporting on support, comfort, grip, cushion, durability, breathability, sizing, among other factors. At the end of the season, nine clear winners rose to the top.
Meet Our Lead Testers
Blair Braverman
Braverman (@blairbraverman) is an adventurer and writer who spends her winters mushing and her summers finding any other way to get out in the woods. She lives near the Nicolet National Forest of Wisconsin, and typically heads out for long day hikes or overnights. Her longest hiking trip was the 400-mile Oregon Coast Trail.
Chrissie Bodznick
A Montana-based wildland firefighter, environmental educator, and natural history filmmaker, Bodznick (@cbodznick ) spent the summer testing boots on the East Coast, where she hiked in the woods, rocky shores, and salt marshes of Cape Cod.
Rachael Drechsel (@r_drechsel) and Colleen Michelson are avid foragers and outdoors people in Madison, Wisconsin, who scour the forest for mushrooms and hike daily with their pit bull Reuben (@boi_meets_bea).
Jana Kay Slater
Sixty-six year-old Slater is our oldest boot tester, and has hiked roughly five miles a day for the past several decades in the rainforests of Oregon and Washington. She goes out rain, shine, or sleet, often off-trail.
The Reviews: The Best Women's Hiking Boots of 2023
Best for Wet Hikes: Astral Pisgah ($175)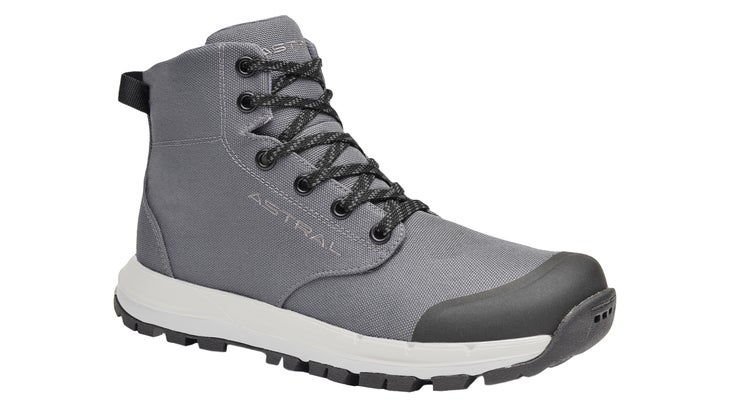 Weight: 10.5 oz per shoe
Sizes: 6-11
Pros: Lightweight; waterproof; made with recycled materials
Cons: Runs small; not very supportive
Leave it to Astral, a brand obsessed with water sports, to design a boot as waterproof, lightweight, and breathable as the Pisgah. These hikers are made from 100-percent recycled polyester canvas, with a waterproof-breathable membrane that performs well in both rainy conditions and standing water. Montana-based tester, Chrissie Bodznick, found that they kept her feet dry while she traipsed through a salt marsh in Cape Cod, Massachusetts, during a day hike. Pacific Northwest-based tester Jana Kay Slater's feet stayed similarly dry over a half-dozen 5- to 10-mile hikes in an Oregon rainforest; she called them "my new favorite all-purpose, light-as-air boots." Testers loved the simple one-fabric design, based on mid-20th century French jungle boots, which were easy to clean with just a few swipes. Directional lugs made from the brand's proprietary "high friction" rubber keep a firm grip on wet and slippery ground. An EVA midsole provides adequate cushion, although without a rock plate, the Pisgahs aren't the most comfortable on sharp, uneven terrain. Another downside? While a higher cut does a great job keeping water out, the canvas upper offers little in the way of ankle support—pack accordingly. Note that the Pisgahs run quite small; size up a half to full size for normal fit.
Bottom Line: Astral's Pisgahs are ideal for day hikers who regularly deal with wet, moderate trail conditions.
Best Value: Mammut Sertig II Mid GTX ($175)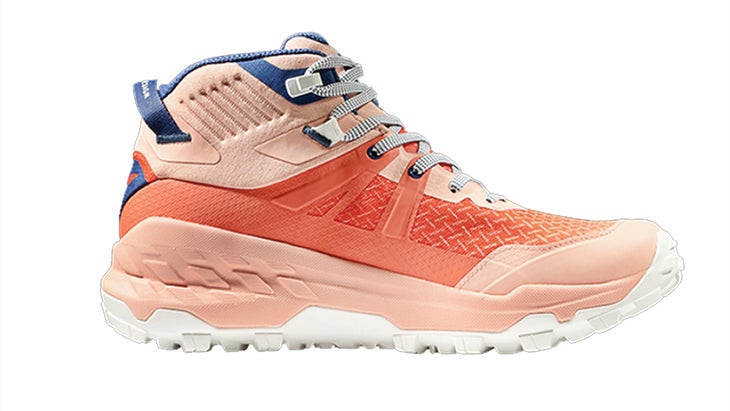 Weight: 11.3 oz per shoe
Sizes: 5-10
Pros: Waterproof, grippy lugs; durable lacing system
Cons: Runs slightly narrow
Though it's not exactly a budget pick, Mammut's Sertig II Mid GTX offered the best support-to-price ratio in our test, quickly becoming a favorite amongst testers for multi-day trips with heavy packs. These versatile boots have a heavy-duty rubber and EVA outsole with multidirectional lugs for grip and flexibility. A Gore-Tex bootie lining kept testers' feet dry in wet conditions. They fit true to size and were comfortable out of the box; one tester remarked that "after a day of break-in, I felt like I'd worn them for a year." Testers also liked the boot's bright colors, which feel fun and modern while retaining the style of a classic hiker. The high cut, well-cushioned ankle, and dual-density foam midsole was firm and supportive on a three-day backpacking trip through Wisconsin's national forest with a 45-pound pack, and the lacing system was a highlight: one tie that stays snug all day.
Bottom Line: The Mammut Sertig II Mid GTX offers ample support for multi-day trips without breaking the bank.
Shortest Break-In: Zamberlan 335 Circe Low GTX ($250)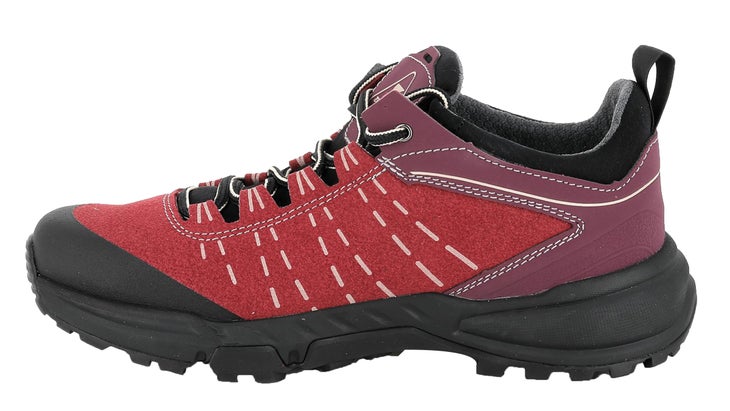 Weight: 13.4 oz per shoe
Sizes: 6-11
Pros: Warm; durable; waterproof; comfy out of the box
Cons: Too warm for hot climates
Despite the impressive level of support, these warm, low-cut hikers felt like slippers right out of the box. Testers reported that the Circes were extremely comfortable for long backpacking trips without a break-in period. The full 1.5-millimeter polypropylene lasting board was originally designed for hybrid trail-running and hiking shoes, which means the soles feel unusually flexible while still offering protection from sharp sticks and rocks, while a larger heel surface provides stability. The microfiber upper with Gore-Tex lining stayed waterproof throughout testing, and although the boots aren't insulated, they are surprisingly warm in variable conditions. Associate gear editor Kelly Klein wore them to the summit of New Mexico's Mt. Taylor, at 11,305 feet, on a three-day trip that involved trekking, at times, through up to four inches of snow. "I was impressed by how waterproof they are," she reported. "My toes stayed cozy the whole time, which is saying something, because I have Raynaud's and it's easy for my extremities to be extremely cold."
Bottom Line: The Zamberlan 335 Circe Low GTX is ideal for serious hikers who don't want high-cut boots but need enough support and durability for multi-day trips in variable conditions.
Sponsor Content
W's Katabatic Mid Waterproof from Oboz ($180)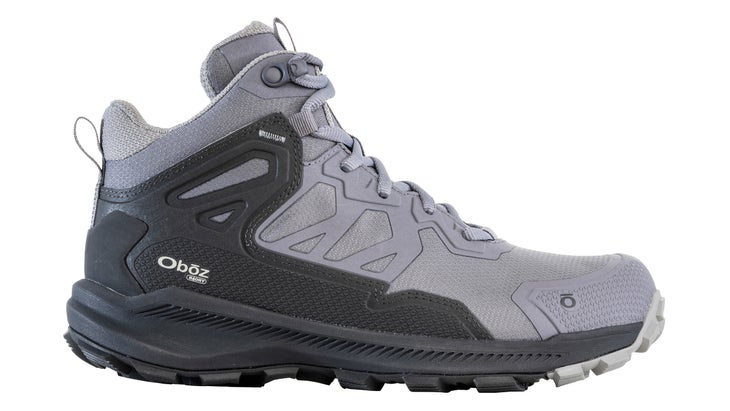 The Oboz Katabatic Mid Waterproof is a lightweight hiking shoe with the comfort you need for long days on the trail. It has the hallmarks of a minimalist shoe with all the features of a true hiker: support, stability, protection, and performance. The highly breathable waterproof Katabatic Mid is engineered to move fast on the trail and keep your feet dry in wet weather.
Best for Beginner Hikers: Columbia Facet 75 Mid OutDry ($140)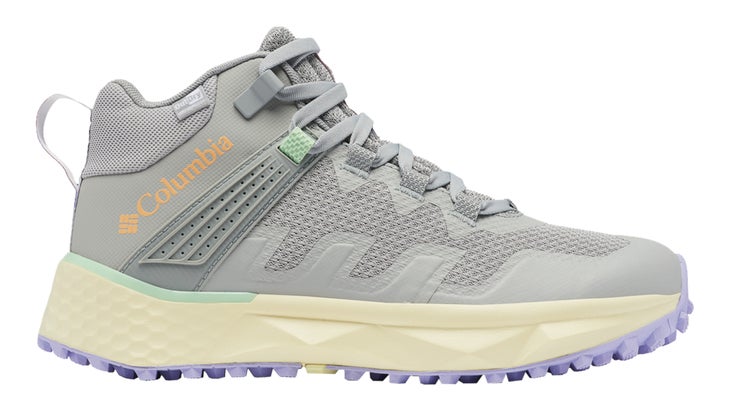 Weight: 11.4 oz per shoe
Sizes: 5-12
Pros: Affordable; comfy midsole
Cons: Not supportive enough for loads over 20 pounds
Columbia's Facet 75 Mid OutDry is an affordable option for hikers who want one step up from a sneaker for day hikes. The Techlite Plush midsole is soft and offers a cushioned ride, while the Adapt Trax outsole with 5-millimeter lugs provides excellent grip. A tester who hiked on Snowden Forest mountain bike trail in British Columbia, a rocky single track with large boulders, reported that walking on 45 degree-plus slabs was a cinch. The boots' waterproof OutDry lining is bonded to the mesh upper, and kept one tester's feet dry through a multi-hour hike in heavy Midwestern rain, though it leaked slightly in a stream crossing. Flat laces stay snugly in place all day. One note for sensitive hikers: eyelets sometimes hit the ankle bones when strongly pronating or supinating, but the incidence was rare enough that it didn't feel like a significant downside.
Bottom Line: The Columbia Facet 75 Mid OutDry is a great option t for the casual hiker who wants the feel of a sneaker, but with slightly more support.
Best All-Around: La Sportiva TX Hike Mid Leather GTX ($199)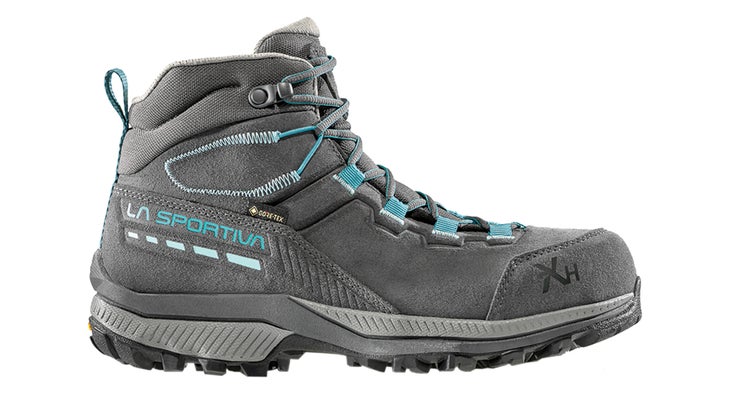 Weight: 14.2 oz per shoe
Sizes: 5.5-11
Pros: Versatile grip; supportive; breathable
Cons: Chilly in colder hiking conditions
The fabric version of this boot is one of La Sportiva's most popular; this leather update offers even more support and durability, and was a clear favorite among several of our testers. They raved about lightweight stability thanks to reinforced leather layers at the heel and toe cap, and remarked that the compression EVA cushion felt like "having a little extra power in each step." The recycled Gore-Tex lining stayed waterproof even after several minutes of standing in a stream, and the Vibram Ecostep EVO outsoles gripped well on granite, sandstone, mud, snow, and wet rocks. After several days in these boots, tester Jana Kay Slater announced that she'd be converting to La Sportiva after swearing a decade-long loyalty to a different brands' boot for her daily hikes. Another tester reported that her favorite wear was on a hiking date with her partner near a waterfall in Kentucky. "I should have been telling my partner how much I love him," she said, "but instead I kept telling him how much I love these boots."
Bottom Line: The La Sportiva TX Hike Mid Leather GTX is for the hiker who wants a versatile high-cut boot that's super-comfortable for day hikes and supportive enough for backpacking.
Best Cushion: Hoka Kaha 2 GTX ($240)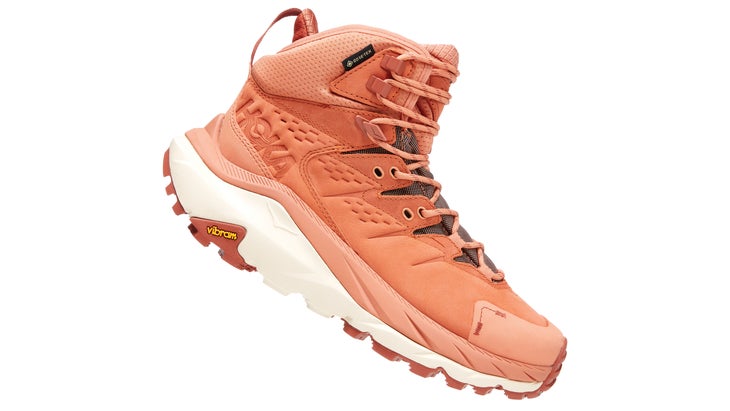 Weight: 15.6 oz per shoe
Sizes: 5-11
Pros: Supportive; very cushioned; good for wide feet
Cons: Clunky; pricy; laces come undone
By far the most cushioned hikers in this year's batch, Hoka's Kaha 2 boots are lightweight and striking, with unusually thick, dual-density compression-molded foam midsoles that feel—as Wisconsin-based tester Rachael Drechsel reported—"like you're walking on firm clouds. TempurPedic clouds. Solid marshmallows." The original Kahas were already comfortable and stable; this update features an extended heel and new outsole with better traction, plus a 45-percent recycled Gore-Tex upper. "I freaking love the monster soles," reported fellow Wisconsinite Colleen Michelson. Of course, the monster soles aren't just for looks and cushioning; they offer increased ground contact and traction, while a grooved rocker provides propulsion. The boots are clunky over scree and boulders, but performed well on smooth trail surfaces, including gravel, sand, and dirt, and stayed dry through shallow river crossings. They fit well for wide feet, with ample ankle support, a pull-on loop at the heel, and big hooks for easy lace adjustment—although the laces have a tendency to come untied mid-hike.
Bottom Line: The Hoka Kaha 2 GTX provides serious cushion and support for on-trail backpacking.
Best Protection: Topo Athletic Trailventure 2 Waterproof ($180)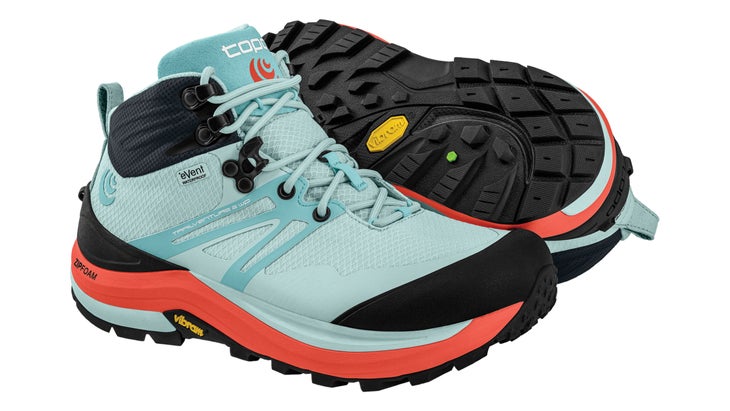 Weight: 13.1 oz per shoe
Sizes: 6-12
Pros: Rugged; supportive; cushioned
Cons: Laces come untied; heaviest boots in test
Topo's Trailventure 2 is a supportive, rugged boot for backpacking or off-trail hikes over uneven terrain. Testers appreciated its spacious toe box, which gives room to walk naturally without sacrificing precision, and higher ankle cushion that doesn't chafe or rub. Lead tester Blair Braverman found that the full eVent waterproof inner bootie construction stayed dry on an eight-mile hike through Wisconsin's Nicolet National Forest in heavy rain and several stream crossings (at one point, her feet were the only dry body part she had left). A full-length rock plate between the ZipFoam midsole and Vibram Megagrip outsole did a good job protecting Braverman's feet from sharp surfaces. One shortcoming? These boots are on the heavier side, and feel like overkill for day hikes on smooth dirt and gravel trails; their rugged support is better suited for rough terrain or carrying moderate to heavy packs deep into the backcountry.
Bottom Line: The Topo Athletic Trailventure 2 Waterproof is a stiff, supportive boot that offers protection for backpacking and hiking off-trail.
Best Trail-to-Town Shoe: On Cloudwander Waterproof ($180)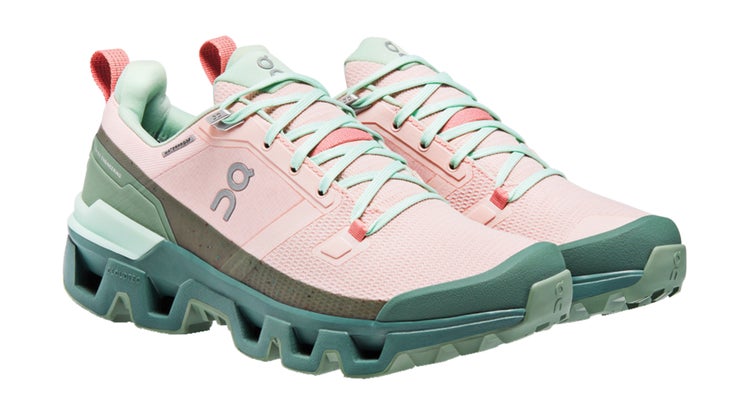 Weight: 11.3 oz per shoe
Sizes: 5-11
Pros: Bouncy, versatile
Cons: Not grippy, run slightly small
The On Cloudwander Waterproof is an unassuming low-cut hiking shoe that's versatile enough for travel and everyday use while still offering moderate support on-trail. Proprietary Cloudtec outsoles feature hollow pods for extra cushioning; they felt bouncy and comfortable, even on rock and pavement, while a slight flare—the soles are a touch wider than the shoes themselves—kept the shoes stable on shifting surfaces like gravel. (Those bouncy lugs aren't super grippy on downhills, however). On's Speedboard—a polypropylene plate in the midsole designed to help propel the wearer forward—give the boots a slight rolling motion when walking, and a water-resistant/breathable polyurethane membrane keeps them feeling dry and comfortable in rainy conditions. The Cloudwanders aren't super supportive, so they're best for day hikes, or to throw in your suitcase when you want to keep your options open on a trip.
Bottom Line: The On Cloudwander is a versatile shoe for day hikes that can pull double-duty for travel and everyday use.
Best for Narrow Feet: Salomon Cross Hike 2 Mid GTX ($190)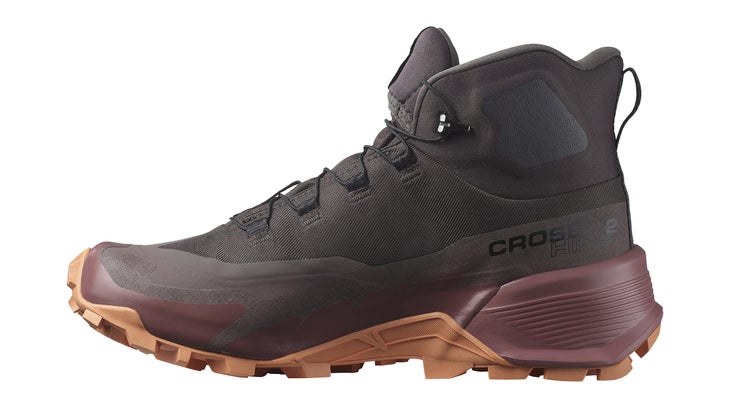 Weight: 12.7 oz per shoe
Sizes: 5-11
Pros: Waterproof; quick-lace system; cushioned ankle support
Cons: Too narrow for some; not much arch support
Salomon's Cross Hike 2 Mid GTX, now in its second iteration, has worked out many of the kinks of its predecessor, with better durability and a more flexible lacing system. The Mud Contagrip outsole grips well on muddy and shifting terrain, with Y-shaped lugs that face different directions for stability, whether you're walking uphill, downhill, or on a sideways slant. In addition to a Gore-Tex membrane, the welded upper is treated with a waterproof coating to keep the outer fabric from wetting out. A drawstring-like Quicklace system tightens with a single pull and stays secure all day—it's "ridiculously quick and easy," as one tester noted. Testers also appreciated serious ankle support: a mid-cut height with padding at the ankle bones offered structure for 14-miles through Michigan's damp and densely-wooded Upper Peninsula, with lots of bushwhacking, rain squalls, and a 30-pound pack. Although the boots don't have a rock plate, the EVA EnergyCell foam midsole provided enough cushioning (but not much arch support) for testers to feel comfortable on rough ground. One critical note: Regular and wide-footed testers couldn't comfortably squeeze into the boots. For narrow-footed hikers, though, the Cross Hikes might just be a dream boot.
Bottom Line: The Salomon Cross Hike 2 Mid GTX are sleek mid-cut boots with the support you need for long trips and heavy packs—as long as your feet are narrow.
How to Buy
What Type of Hiking Boot Do You Need?
The first step in buying hiking boots is determining your primary use. Are you planning a thru-hike, or walking your dog in the woods after work? Will you be on wide dirt trails or scrambling over scree? Do you live in a desert or a rainforest? Answer these questions to determine whether you need a real, rugged hiker, more of a simple trail shoe, or something in between.
Consider the Level of Support You Want
In general, the rougher the terrain you'll be crossing and the more weight you'll be carrying, the more support you want in your boot. A higher cut will keep your ankles supported while you're on slippery or uneven ground, but might be overkill for a gentle walk on a flat trail. Similarly, low-cut boots can be comfortable but leave you vulnerable to ankle-rolling when you have a heavy pack. Midsole cushioning, shanks, and stiffer, thicker uppers can also increase support. More support also typically results in a heavier boot, which will lead to increased effort and fatigue over the course of a long trip.
What Type of Traction and Outsole Do You Need?
For traction, particularly on wet or sloped surfaces, look for a deep and varied tread pattern. A rock plate—a protective plastic or carbon sheet between the midsole and outsole—can make the difference between happy and sore feet at the end of a day crossing rough terrain.
Do You Need Waterproof Hiking Boots?
Many boots today, including several on this list, are available in both waterproof (often Gore-Tex) and non-waterproof versions. The waterproof versions will keep your feet dryer during rainfalls or stream crossings, but can get clammy when your feet sweat. If you're in a warm, dry climate, or know that you'll only be doing day hikes, you're probably better off without the waterproof version.
Above All, Consider Fit
Fit is key; a boot that works perfectly for one person might be miserable to someone with a different foot shape. For that reason, unless you know how a certain brand's shoes fit your feet, it's wise to try on boots in-person (or if you're shopping online, be willing to return them if they're not perfect). Your feet swell over the course of the day, and will swell even more while hiking, so try on boots in the afternoon or evening.
When it's time to upgrade your gear, don't let the old stuff go to waste–donate it for a good cause and divert it from the landfill. our partner, Gear Fix, will repair and resell your stuff for free! Just box up your retired items, print a free shipping label, and send them off. We'll donate 100 percent of the proceeds to The Outdoorist Oath.
Lead Photo: Evan Green