Can I get away without plastics on Aconcagua?
I'm planning on climbing Argentina's Aconcagua in January '05 and could do with some advice on gear, particularly what sleeping bag and boots I will need. I've been considering getting a Superlight zero-degree down bag from The North Face, to be combined with a Thermalite sleeping pad. As for boots, I'm looking at the Scarpa Freney Pro GTX. (I'd like to stay away from the plastics unless absolutely necessary, as I unlikely to get much use of them again). Do you know how suitable this proposed gear setup will be for Aconcagua? Ciaran Dublin, Ireland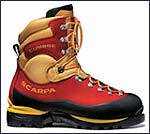 Heading out the door? Read this article on the new Outside+ app available now on iOS devices for members! Download the app.
I think you're on the right track, Ciaran. Generally, guides on 22,834-foot Aconcagua advise a sleeping bag rated to minus 20-degree Celsius (converts to minus four Fahrenheit). So if you're a reasonably warm sleeper, then a zero-degree bag ought to be fine. Besides, you can always wear extra clothing to bed, and I expect you'll be packing things such as expedition-weight long underwear. Other good bags in this range would include Mountain Hardwear's Phantom 0 (www.mountainhardwear.com), which uses a higher-quality down than the TNF bag and so weighs a bit less (two pounds ten ounces, versus three pounds ten ounces for the Superlight) but also costs more—$385, versus $249. Or there's Marmot's Lithium, another very light bag at two pounds eight ounces ($439; www.marmot.com). But whether it's worth spending an extra C-note to save a pound is something you'll have to decide.

Cumbre


Plastic boots are sort of a reflexive recommendation for Aconcagua, but not mandatory. That said, I think the Freney Pros ($325) may be a little on the light side, insulation-wise. Better to go with a boot such as the Scarpa Cumbre (US$435, but check www.scarpa.co.uk for Euro rates), which has Primaloft insulation, or the Salomon Pro Thermic ($335; www.salomonsports.com), which has Thinsulate insulation. Both boots offer the comfort of a leather boot, with the warmth of a plastic. And of course they're perfectly fine with crampons. You will, of course, also want to pack some overboots, such as Outdoor Research's X-Gaiters ($106; www.orgear.com).
Have a great climb! That's one very big mountain.
Read "Mountaineering 101" from the June 2003 issue of Outside for an indispensable start-up guide to conquering the top 10 North American high zones.
Trending on Outside Online