Car Camping, Minus the Car
Heading out the door? Read this article on the new Outside+ app available now on iOS devices for members! Download the app.
First, assume an Australian accent. It'll help when you pronounce the name of this snazzy bike trailer setup: Midget Bushtrekka. This pimped out bike trailer has "duallies" (kind of) and is designed to pivot and absorb shock. It can be adjusted to fit on a range of bike frames and has leveling legs to address uneven terrain. Of course, the main feature is the pop-up tent.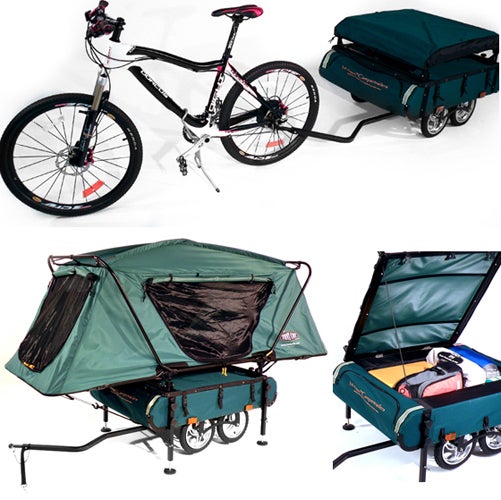 Images: Kamp Rite
The set-up likely isn't worth the $600 you'll spend on it unless you're a dedicated bike tourist and get a guarantee from the manufacturer that you won't have any hitch failures, which some commenters on eBay complain about. If you're willing to sleep on the ground, you could save some money and some weight (the Midget Bushtrekka will add 45 pounds to your trip before it's filled) with a standard bike trailer. 
An electric-assist bike might make bike-trailer-camping a whole lot more appealing. But if you're bearish on the trailer concept altogether, and you want a bike that's built for cargo, you might consider Surly's Big Dummy. It's far from a touring bike, but Surly claims the ride isn't much different than a standard frame, except that the rider must keep the extra length in while cornering. The company also says Big Dummy is pretty bomber when riding off-road.
If lightweight and agile are your middle names (you've got some nutty parents), Topeak makes the minimalists' minimalist bike camper, called Bikamper: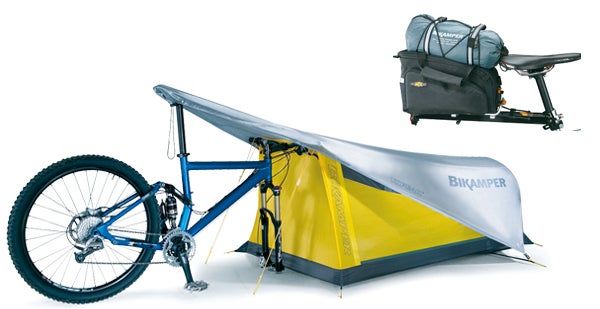 Photos: Topeak
Unsurprisingly, you'll also find a great variety of DIY bike campers out on the Internet.
Should you have the itch to get bike camping and are within pedaling distance of a National Park, get your bike pump ready. During the National Park Week, April 21-29, admission is free.
–Mary Catherine O'Connor
@mcoc