Coalatree Made the Essential Sun Hoody
Sun hoodies are the multi-tool of the hiker's wardrobe, but they often get gross, fast. Not Coalatree's new Suray.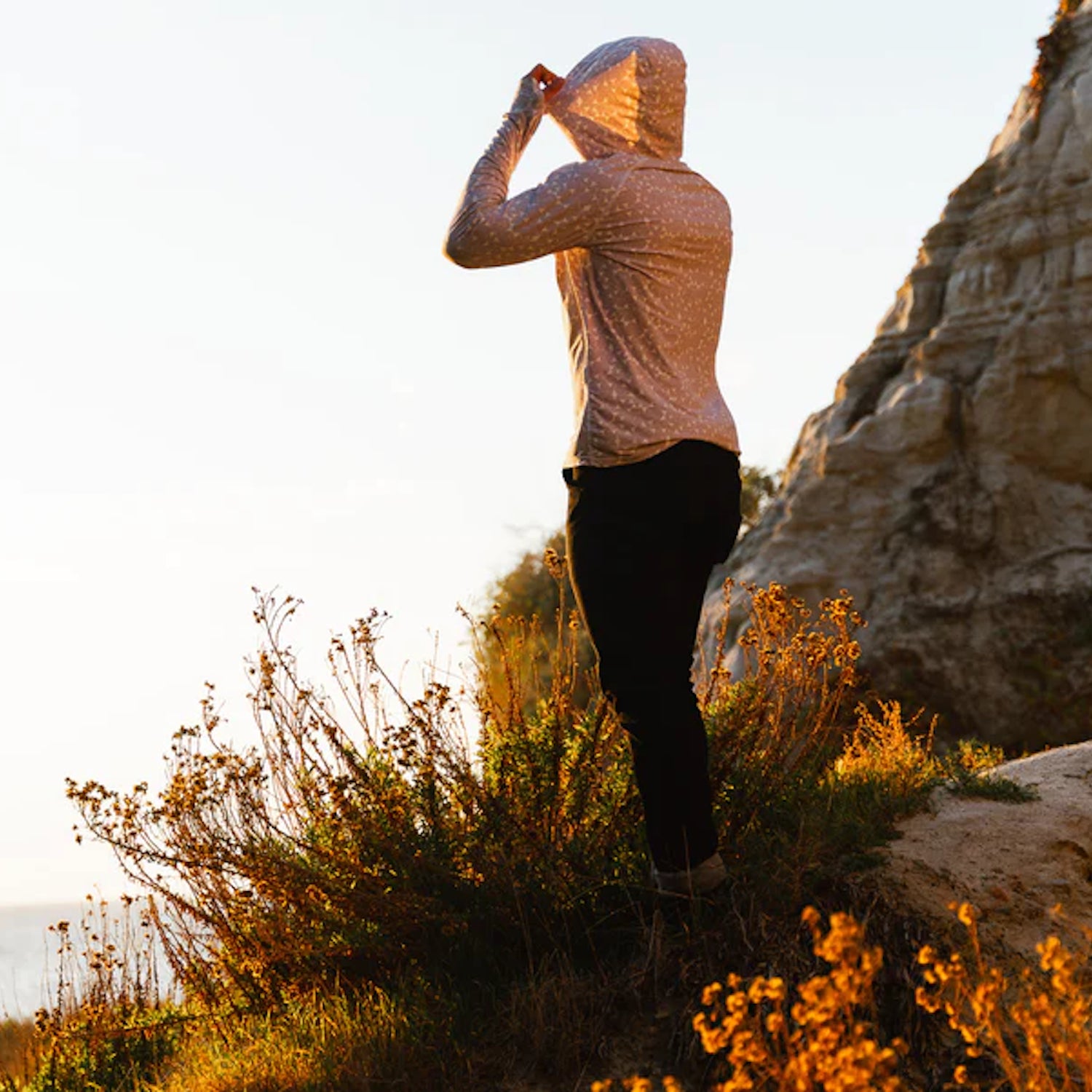 Courtesy Coalatree
Heading out the door? Read this article on the new Outside+ app available now on iOS devices for members! Download the app.
It was late August, and my longtime hiking pal, Abe, had just finished a torrid 23-hour run of the Leadville 100, an infamous race that starts in the center of North America's highest town and climbs from there. All day, I was half of his two-person crew, force-feeding him packets of assorted Gu and liters of water laced with Tailwind at checkpoints every dozen miles or so. Just before dawn, aching as deeply as atavistic blues, Abe finally shuffled toward the shower. I let myself out of the rental house where he'd been for a week to give him privacy, the front door unexpectedly locking behind me.
But just as I was walking away, an epiphany stopped me on the porch, leading me to the nearest window. During a frantic pit stop after midnight, Abe had reached for the first dry long-sleeved shirt he could find. It happened to be my new Coalatree Suray sun hoody, perhaps the best hiking shirt I've ever worn. Sure, by race's end, it was soaked in sweat and probably flecked with barf and blood, too. But there was no way I was leaving without it. I knocked on the window, and Abe shuffled toward the door with a glare. He grumbled and gave me back my sopping shirt. Sorry, bud, but leaving behind this hoody behind was never going to happen.
If you're unfamiliar with sun hoodies, sound it out. They're lightweight hoodies that serve as sartorial sunscreen, with SPF ratings typically hovering around 50 despite their thin fabric. They are great for mountaineering, when you need a safeguard against direct rays while above treeline, but don't want to stop to smear yourself with goop every hour. And they are critical for long-distance hiking, when you want each piece of gear to have multiple  jobs. A shirt that eliminates the need for a hat and a heavy container of cream, and also has pockets? The sun hoody is the multi-tool of the thru-hiking wardrobe.
But here's the thing: sweat a lot in a sun hoody—as one is wont to do while wearing hoods and sleeves in the sun—and they can become as irritating as a vintage polyester three-piece, salt matting against technical fabric. It might start to feel like the top half of some sandpaper jumpsuit, even after it's washed. I sometimes think I want to finish a thru-hike just so I can throw away my itchy, stiff sun hoody and never put it on again.
Not the case for Coalatree's Suray. The Utah company spent three years developing its first sun hoody, and launched it in March with a Kickstarter campaign that raised nearly five times its original goal. (They'll start shipping in mid-September of this year.) I have hiked in it, run in it, and even sported it for consecutive Rockies climbs without a single wash. I have taken it through caves and, of course, let Abe torture it. The fabric—nylon from Acteev and embedded with antimicrobial zinc—is still as buttery soft and smell-free as the day it arrived. It's the first time my own used sun hoody hasn't made me wince at its vestigial grossness. That is, I actually like wearing it.
Coalatree, however, didn't forsake functionality for feel. The hood itself is especially generous, allowing you to pull your face away from the sun, like a turtle slipping into an extra-voluminous shell. And the thumb holes in the sleeves, which keep the SPF fabric tight around your wrists, are perfectly snug. If, like me, you prefer to keep the sleeves pulled up toward your elbows, they actually stay in place because of the slim cut and strong stitching, unlike so many other sun hoodies I've worn.
There are, though, two problems that shouldn't really bother you, so long as you're wearing the thing. Its weight—8.4 ounces for either a men's or women's medium, with sizes ranging from XS to XXL—is higher than many of the big brands. On the other hand, at least for me, that's almost always worn, not carried, weight. Also, the entire hoody can be stuffed and zipped inside the hip-side phone pocket for easy packing. When you do that, however, you're greeted by an enormous #GreetTheOutdoors slogan, an incredibly cheesy and redundant note to self.
But now I'm picking the littlest of nits, when what I need to say is this: I'm hiking the 800-mile Arizona Trail in October, a scenario that will obviously require shelter from the sun, and Coalatree's Suray sun hoody was the first firm gear decision I made. Maybe the zinc is a little worse for wear by the end, or maybe the fabric is a bit coarser than I'd hope. But if it survived Abe and Leadville soft as satin sheets, there's a good chance of the Suray sticking around long after I reach another terminus.
Lead Photo: Courtesy Coalatree
Trending on Outside Online