Do I need high-top boots to hike the Grand Canyon?
I'm planning to hike the Grand Canyon in June. Do I need a high-top hiking boot? I have very comfortable, worn-in low-tops but have read that high-top shoes are recommended. What do you think? Danielle Peoria, Illinois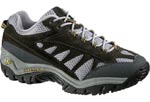 Heading out the door? Read this article on the new Outside+ app available now on iOS devices for members! Download the app.
When you say "hike the Grand Canyon," do you mean just down from the rim a little, or all the way down, maybe spending a few days exploring? Because obviously, they're different things.

Mesa Ventilator

Either way my thoughts are this: The Grand Canyon's trail network is pretty well developed, meaning that you're apt to spend most of your time on very well-maintained, smooth (although hardly level!) trails. Not a lot of boulder-hopping or off-trail stuff. So if you're carrying a light load or no load, you'll do fine with good-quality, low-top trail hikers. You don't say what you have now, but a shoe such as Merrell's Mesa Ventilator ($75; www.merrell.com) would work. Its good-quality, grippy sole, reasonably stiff mid-sole, and well-ventilated uppers are all ideal for Big Ditch conditions.


On the other hand, if you're backpacking and carrying a load of 25 pounds or more, then I'd definitely suggest a more traditional hiking boot. This needn't be a big burden on your feet: Tecnica's new Mizar Mid GTX ($150; www.tecnicausa.com) is a light, supportive boot; so too is Montrail's Solitude ($140; www.montrail.com), which by the way is designed solely for women.
Once you've got your dogs sorted, get training. Hiking in the Grand Canyon is a strenuous experience, combining the challenge of traveling at a high elevation (the canyon rim is right around 7,000 feet) with heat and arid conditions. Park rangers are constantly fishing people out of the canyon area who collapse like a sack of potatoes. And of course, one odd thing about hiking in the canyon is that the first thing you do is walk downhill. So you start to think, "Hey, this is easy!" And then you're at the base of the canyon, look up, and realize you have close to a vertical mile to climb up out of the canyon. It takes about twice as long to get out as it does in.
Interestingly, one common problem suffered by park visitors is not dehydration, it's the effect of too much water. This condition, called hyponatremia, dilutes the sodium in the blood, leading to light-headedness and other potentially life-threatening symptoms. To avoid it, drink when you feel thirsty rather than trying to "stay ahead" of dehydration by guzzling lots of water when you aren't thirsty. Sports drinks containing small amounts of sodium are also helpful.
Scare-mongering aside, the Grand Canyon is a fabulous place. You'll have a great time!
Trending on Outside Online