The 10 Best Backpacks of Summer 2012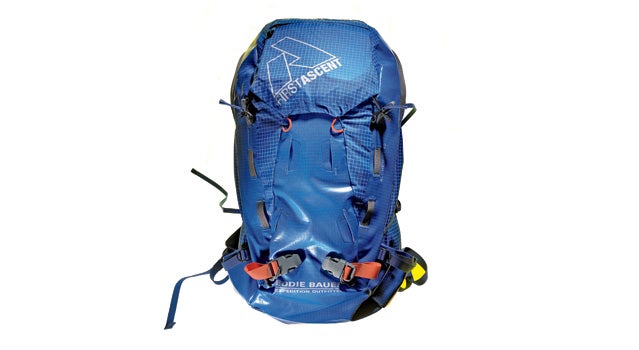 Heading out the door? Read this article on the new Outside+ app available now on iOS devices for members! Download the app.
Eddie Bauer First Ascent Alchemist 40L
This shape-shifter might just replace every pack you own. Lashed down, the Alchemist is compact enough for one-day summit bagging. Unzip the top wedge and unfurl the hideaway lid, and it morphs into an entirely different beast—a roomy 55-liter hauler with plenty of space for a multi-day trek in Colorado's San Juans. Smart features abound, like the simple hook system, which allows you to quickly change load size and distribution; and the pack's foam framesheet can be removed (shucking almost 11 ounces) and used as a bivvy pad or comfy seat. (The hipbelt also comes off.) Finally, the superthick, abrasion-resistant fabric easily fended off sharp rocks and baggage handlers during four months of testing. Other packs scored higher for specific uses, but for sheer day-in, day-out versatility, the Alchemist proved the best of the bunch. 4 lbs
HAULING COMFORT: 4
VERSATILITY: 5 (OUT OF 5)
Vaude Terkum 74+ 10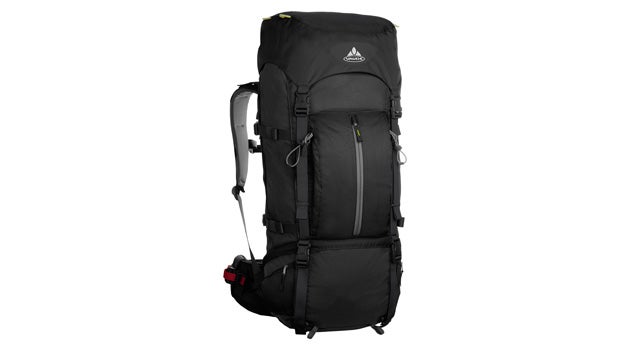 BEST FOR: Big dudes hauling serious loads. THE TEST: One reason the 75-plus-liter Terkum rides so well is the hipbelt's Boa system—the same knob-and-wire lacing found in helmets and shoes. We found ourselves microadjusting the belt to keep the weight riding on our hips instead of our shoulders. But there's more to the Terkum than techy adjustment options. The densely woven Cordura fabric is the toughest we tested, and the pack is loaded with user-friendly features—side pockets that zip away and a removable, stashable rain cover—to make heavy schleps easier. THE VERDICT: It ain't light, but whether we were hauling rock gear for a technical ascent, a winch for trail work, or the stuff our kids couldn't fit in their packs, this big bubba swallowed it all. 6.2 lbs
HAULING COMFORT: 4
VERSATILITY: 1
Adjusting the height of your shoulder-strap system usually involves taking it off and fumbling with a few straps. A self-locking piece of webbing on the Terkum's hipbelt allows you to make slight changes on the fly
Gregory Savant 58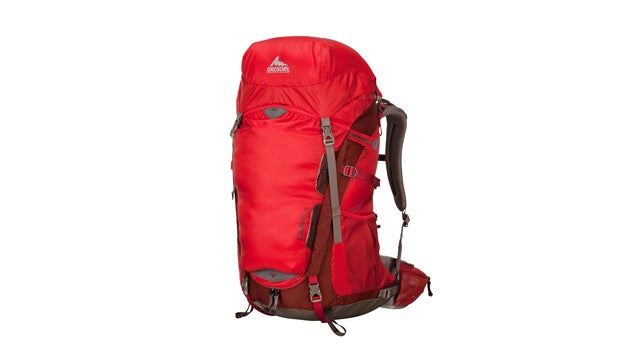 BEST FOR: Organized living. THE TEST: The 58-liter Savant was obviously designed by folks who spend a lot of time living out of a pack. A big front zipper panel made for quick entry, and the array of accessory pockets—five in all, including a roll-top lid and externally accessed hydration sleeve—never felt like overkill. That type of organization comes in handy when fishing out lunch mid-hike, but we liked it even more when the Savant was pulling double duty as our travel pack: it's just wide enough that you can lay dress shirts flat. THE VERDICT: It's not just about order. The Savant's cushy suspension system earned high marks across the board. Just make sure it fits you right—the shoulder straps are fixed, so you can't adjust the torso length. 3.4 lbs
HAULING COMFORT: 4.5
VERSATILITY: 4
Black Diamond Mercury 75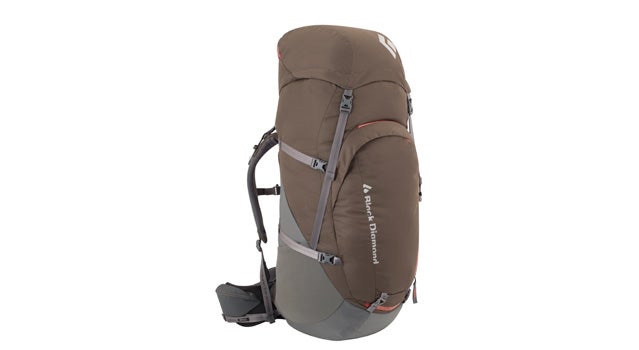 BEST FOR: Multi-day backpackers. THE TEST: Testers couldn't believe how good this 75-liter behemoth felt on their backs—"Much more comfortable than any pack this size I've tried," was one typical comment. Credit the innovative suspension, pivoting hipbelt, and straps that shift with the torso. On tricky alpine scrambles and teetering creek crossings, that movement kept the load from throwing us off balance. Though the Mercury has a clean-looking exterior, there are three pockets, a retractable trekking-pole loop, and a huge zipper into the main compartment. And even on warm days with a big load—in the 70-pound neighborhood—it stayed prettty cool, thanks to an airy back panel. THE VERDICT: Our favorite for full-on backpacking trips. 4.8 lbs
HAULING COMFORT: 4.5
VERSATILITY: 2
Mile High Mountaineering Salute 34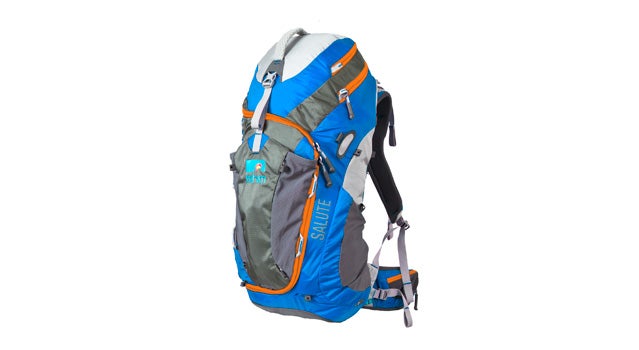 BEST FOR: Climbers and hikers. THE TEST: We're not sure the world needed another pack maker. But Denver-based Mile High Mountaineering, started by some recent college grads in 2009, has a fresh vibe and, more important, a roster of impressive packs. The 34-liter Salute stands out for its long, swooping zippered panel that snakes across the pack's entire back for quick access to nearly every nook. The same design also enables you to open the entire pack and lay it almost flat if you need to sort gear or stack a climbing rope. On the trail, the pivoting hipbelt and frame system kept the load tight and close, even when we had to run to escape the rain. Our only gripe: that S-shaped zipper is a bit overbuilt and sticky. THE VERDICT: Impressive debut from a new company. 3.5 lbs
HAULING COMFORT: 4.5
VERSATILITY: 4
Arc'teryx Kata 45
BEST FOR: Scrambling and peak bagging. THE TEST: With a rolltop closure to tuck everything safely away and few outer pockets, the 45-liter Kata was built for abuse. We slid through slot canyons in Utah's Escalante region and bushwhacked in tight trees in Colorado's Rocky Mountain National Park, and the pack's high-denier reinforced Cordura fabric still looked virtually new. The zippered kangaroo pocket in front and dual-pocket top pouch made it easy to grab necessities, though several testers wished for more organizational features. Once everything was inside, however, we agreed that this pack rode the best of any here. One knock: the back panel doesn't breathe as well as some others. THE VERDICT: Redefines bombproof. 3.7 lbs
HAULING COMFORT:: 5
VERSATILITY: 3
Marmot Odin 50 Plus
BEST FOR: Versatility at a stellar value. THE TEST: Though it isn't packed with a bunch of fancy features, the 50-liter Odin became our go-to top-loader for everything from back-packing overnights and hut trips to alpine climbs because of its simplicity and no-nonsense hauling capacity. "I stuffed it to the limit—a case of beer, a big tent, a stove, warm clothes," said one tester, "and it didn't flinch." For quicker missions, you can remove the framesheet and the Odin morphs into an impressively tidy daypack. It's also up for winter jaunts, outfitted as it is with a diagonal ski-carrying strap and loops for ice axes or trekking poles. THE VERDICT: A basic, sturdy backpack that will cover a lot of terrain. 3.5 lbs
HAULING COMFORT: 3.5
VERSATILITY: 4
In a hurry? Not carrying a heavy load? As with the Alchemist, the Odin's framesheet is removable, so you can save a few ounces of weight.
Salomon XA Pro 10+ 3 Set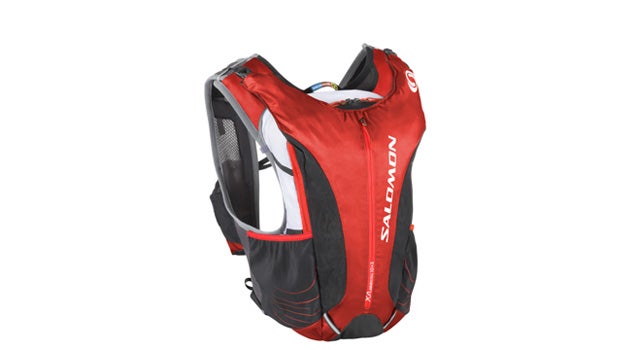 BEST FOR: Moving fast. THE TEST: Salomon touts the XA Pro for trail running. Two quick-draw chest pouches keep snacks at the ready, while the stretchy hipbelt, pliable suspension, and dual body-hugging sternum straps hold the XA Pro snugly in place, even when you're bounding down steep technical trails outside Boulder. The included 1.5-liter hydration system slides neatly into an insulated sleeve, and the hose is long enough to go over the shoulder or under your arm. Of course, you need not actually trail-run to reap the benefits. This lightweight, bare-bones bag was really all we needed for short hikes; the simple main compartment has just enough room for a shell, map, and other basics. THE VERDICT: A great austerity tool—you could carry more, but why? 1.3 lbs
HAULING COMFORT: 4.5
VERSATILITY: 3.5 
Mountain Hardwear Summit Rocket 30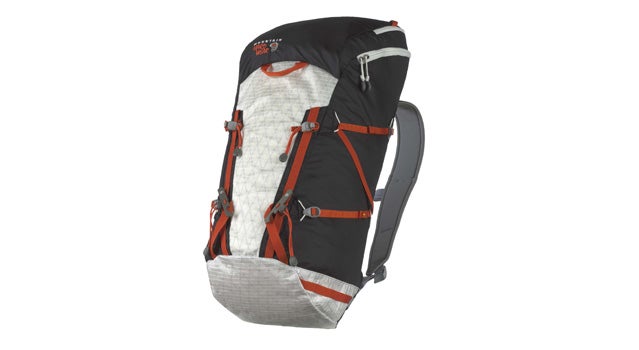 BEST FOR: Keeping it simple. THE TEST: The ultralight (just under a pound) and aptly named Summit Rocket is ideal for hardcore one-day pushes. At 30 liters, there's plenty of space for gear-intensive technical pursuits like climbing, even on iffy-weather days when you need more apparel. And minimalists could push it into overnight use. But the stripped-down Rocket—the hipbelt is a piece of thin webbing, the shoulder straps have virtually no padding—is feathery enough to haul around on smaller trips, too. In fact, when we removed the tiny framesheet, the whole thing was easy to roll into a multi-day pack for summit bids or travel luggage as a just-in-case pack. THE VERDICT: Plenty big but hardly bulky, it's the ideal minimalist daypack. 14.7 oz
HAULING COMFORT: 2
VERSATILITY: 4
Osprey Escapist 20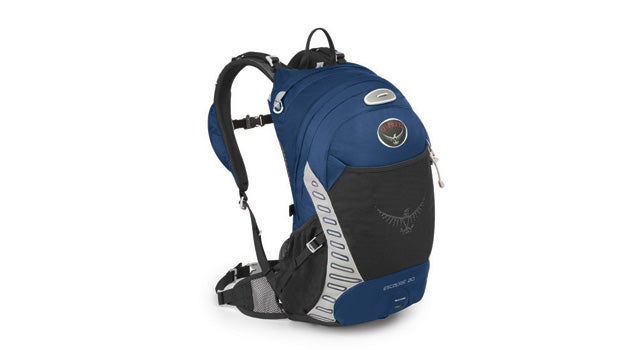 BEST FOR: Mountain-biking or hiking in hot climes. THE TEST: With internal pockets designed especially for bike tools, and attachment points for a light and helmet, the 20-liter Escapist was made for long-distance mountain biking, but it was so comfy and cool—the back panel and shoulder straps are mostly airy mesh—that it became one of our favorite daypacks, too. Plus, whereas the Summit Rocket eschews almost all creature comforts, the Escapist retains several. The hipbelt has a bit more structure, and the shoulder straps and back panel are well padded. These features and others (tuck-away rain cover, tons of pockets) add weight, but the Escapist is still a respectable pound and a half. THE VERDICT: We defy you to find something you can't use this for. 1.6 lbs
HAULING COMFORT: 3.5
VERSATILITY: 5
Once the province of multi-day packs, the stow-away rain covers are popping up on more and more daypacks, like the Escapist.