The Gear Junkie Scoop: Cutting Edge Adventure Tech
Heading out the door? Read this article on the new Outside+ app available now on iOS devices for members! Download the app.
The annual International CES (Consumer Electronics Show), held this week in Las Vegas, is the world's largest gathering of consumer technology companies, geeks, and technophiles of all types. But hidden in the halls of technology are outdoor brands and dozens of gadgets that cater to the adventure set. I'm in Vegas at the show this week to seek out the best of what's new. Here are a few items that caught my eye.

Bluetooth Helmet Cam — Contour will debut a major feature upgrade at CES. The company is adding Bluetooth wireless capability to its ContourGPS video camera, and the connection will enable a smartphone to serve as a "live viewfinder" for the camera. (You can see what your camera sees on your phone's screen!) Further, the wireless feature will let Contour users configure settings or preview just-shot footage on their phones. A mobile application was built to work with Android or Apple iOS phones. The Bluetooth feature is available to all current ContourGPS camera owners via a firmware upgrade from the company's website. www.contour.com/mobile
Pelican Tablet Case — Pelican cases are mandatory equipment for photographers and others who need to protect electronics in the backcountry. The hard-side waterproof cases come in many configurations, and at CES the company unveiled a new case made for small computers ("netbooks") and tablets like the Apple iPad. The 1070 HardBack case is touted as "crushproof, watertight, and dust-proof." The case's polymer outer shell is paired with an anti-scratch, gel-padded interior to keep your tablet sitting safe. $TBA, www.pelican.com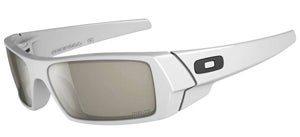 Oakley 3D Glasses — Three-dimensional television has hit the mainstream, including sports programming and even outdoor-adventure flicks like Teton Gravity Research's new "Light The Wick," a ski movie viewable in 3D. Oakley offers an upgrade to the standard red- and blue-lens cardboard glasses with its 3D Gascan, a pair of shades said to be the first "optically-correct" 3D glasses on the market. Oakley says the glasses extend the wearer's peripheral viewing angle and provide "truer alignment" of 3D images. $120, www.oakley.com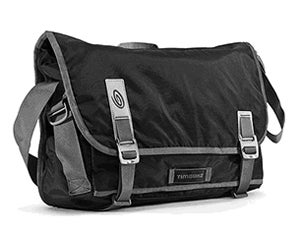 Timbuk2 Tech Bags — The California company that pioneered a unique messenger bag design way back in 1989 has gone from stitching one-offs in a San Francisco garage to making products ready for the Apple iPad, Amazon's Kindle reader, and TSA inspectors in airport lines. At CES, Timbuk2 will unveil several products, from a photographer's backpack to a foam-shelled iPad case. The company's Command messenger bag, new at the show, is a TSA-compliant "leisure suit for laptops [that] features metal hardware, sophisticated Oxford nylon fabric, and Timbuk2's signature laptop 'love glove.'" It costs $130. www.timbuk2.com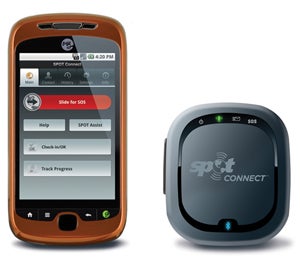 SPOT Smartphone Connection — The claim: "Turn smartphones into personal one-way satellite communicators." That's the gist of what the SPOT Connect product can do. It is a small GPS device that talks wirelessly with a smartphone via the Bluetooth protocol. SPOT then provides a link to a network of roving satellites, letting phone users communicate (text, Facebook, Twitter) far beyond where their cell networks end. Bonus features include the ability to send location-based text messages viewable on Google Maps and the option to blip out an SOS message in a backcountry emergency. Cost is $169.99 plus a required subscription service starting at $99.99 per year. Available this month. www.findmespot.com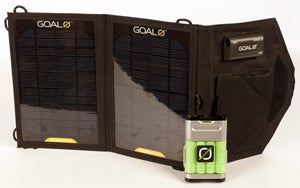 Solar Power Plant — The Guide 10 Adventure Kit from Utah-based GOAL ZERO includes foldable solar panels and a "power pack" device to store your solar juice. Made for charging cameras, computers and phones in the wilderness, the kit can capture and store enough electricity to run gadgets for hours. The power pack has four rechargeable AA batteries inside and a USB output port. The solar panels can charge up the battery pack in four hours of full sunlight. It costs $139.95, and GOAL ZERO calls the Guide 10 Adventure Kit its "most cost-effective, compact and lightweight solar energy system to date." Available in March. www.goalzero.com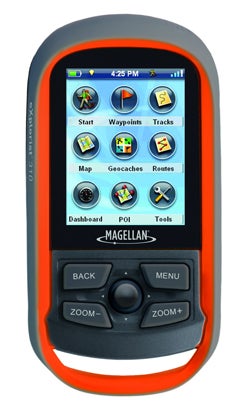 Easy GPS — Marketed as "easy and intuitive for the novice user," Magellan's eXplorist 310 is a GPS device with a 2.2-inch color screen and a simple interface. The device is waterproof and powered by two AA batteries (for up to 18 hours of use). The company touts a "highly-sensitive" SiRFstarIII GPS chipset that provides 3 to 5 meter accuracy. It will be sold as a GPS for geocaching and general use on hikes and other outdoor adventures. $199.99, www.magellangps.com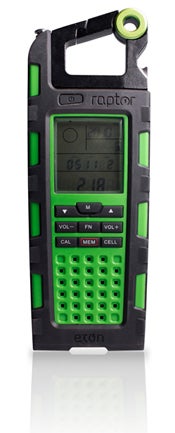 Emergency Unit — Eton Corp. bills itself as an "emergency-preparedness company." The new Raptor product offers preparedness in the form of an all-in-one, solar-chargeable unit that has an altimeter, barometer and compass built in. There's a USB port on the unit, letting you plug in cell phones or gadgets to recharge. But the "emergency-preparedness" doesn't end there. . . . The Raptor has an AM/FM digital radio, a digital clock with an alarm, an L.E.D. flashlight, and preset radio channels for with NOAA weather alerts. It weighs 11 ounces and comes in a tough, rubberized case. There's a battery-charge indicator. And if things get really rough, the Raptor unit has a built-in bottle opener as well. $TBA, www.etoncorp.com
–Stephen Regenold is founder and editor of www.gearjunkie.com.