Gear Guy
How Do I Take Care of My Hiking Boots?
5 ways to ensure your kicks last for years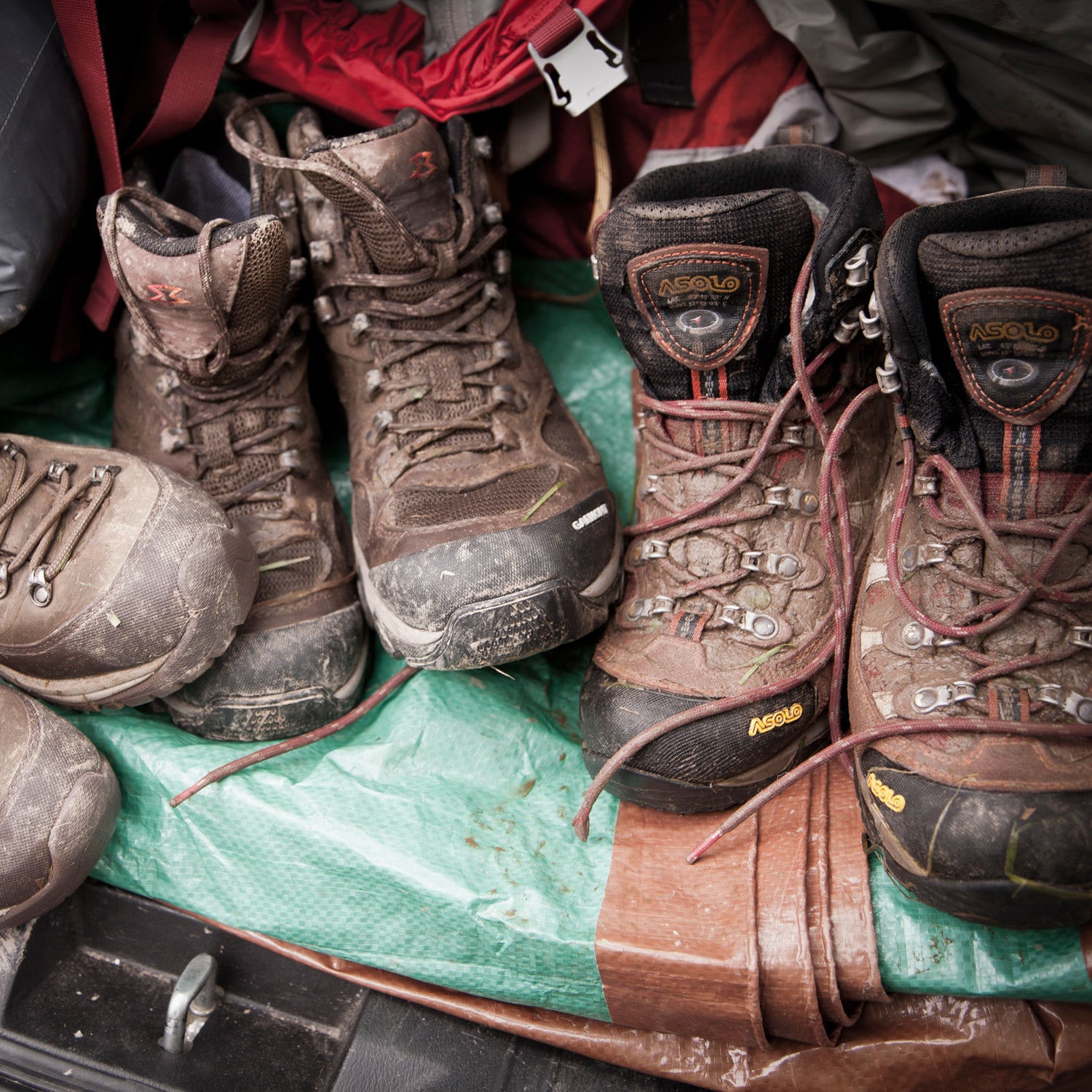 Jonathan M. Wertz/TandemStock(Photo)
Heading out the door? Read this article on the new Outside+ app available now on iOS devices for members! Download the app.
Dave Page knows a thing or two about boot care. He's owned a boot repair shop in Seattle for the past 40 years (aptly named Dave Page, Cobbler). Dave and his employees have worked on thousands of hikers. They are also authorized repair agents for 18 outdoor brands. I recently called him to talk boots and find out his top five maintenance tips.
---
Break in Leather Boots Slowly
Page doesn't immediately put wax or other products on his leather boots. "Perspire in them. Let them shape, blend, to your foot first," he says. He suggests taking new leather boots on a series of shorts hikes. Once you notice that the outers have gotten a little lighter and more pliable from use and sun, use a product like Nikwax's Conditioner for Leather, which will keep the leather soft and hydrated.
---
Keep Them Clean and Dry
Yes, good boots—leather or synthetic—will put up with plenty of muck and water on the trail. But mud can ruin your boot's outer if it stays on too long. Page suggests running your boots under a hose and then scrubbing with a vegetable brush. Dry them with a boot dryer or in a warm room. Never put boots next to the heater—too much heat can crack the leather and melt the soles.
---
Remove Insoles After Use
This is a no-brainer if you've been tromping through the rain, but Page recommends removing insoles after every hike. "The insoles hold moisture, and the dry, tanned leather that most boot companies use now will start to get soft and mushy if you leave the insoles in for an extended period of time." The same goes for boots made from synthetic materials. Wet insoles can also become smelly, bacteria-laden petri dishes if they're allowed to sit in the boot. Just let them dry overnight, and they should be good to go.
---
Keep Them Waterproof
Water will ruin leather, so you'll need to reapply a DWR treatment once in a while. You also want nylon hikers to keep water out once the DWR coating wears off. We like Nikwax's Fabric and Leather Proof because it's easy to use (and PFC-free). You should reapply a waterproofing agent whenever you notice that the outer materials—leather or synthetic—are becoming saturated in the rain. Heads up: you don't use much. Just coat the entire boot with one thin layer.
---
Avoid Saltwater
River crossings are one thing, but if you get your boots wet in or near the ocean, the saltwater will rust metal eyelets. And once the eyelets start to rust, they're hard to replace (unlike the sole or other parts of your boots). If you do soak your boots in saltwater, rinse them off as soon as possible. 
Lead Photo: Jonathan M. Wertz/TandemStock