Indefinitely Wild
An Ode to the Lowa Baldos, the Best Pair of Hiking Boots I'll Ever Wear
I came for their looks. I stayed for their all-day comfort and all-terrain performance.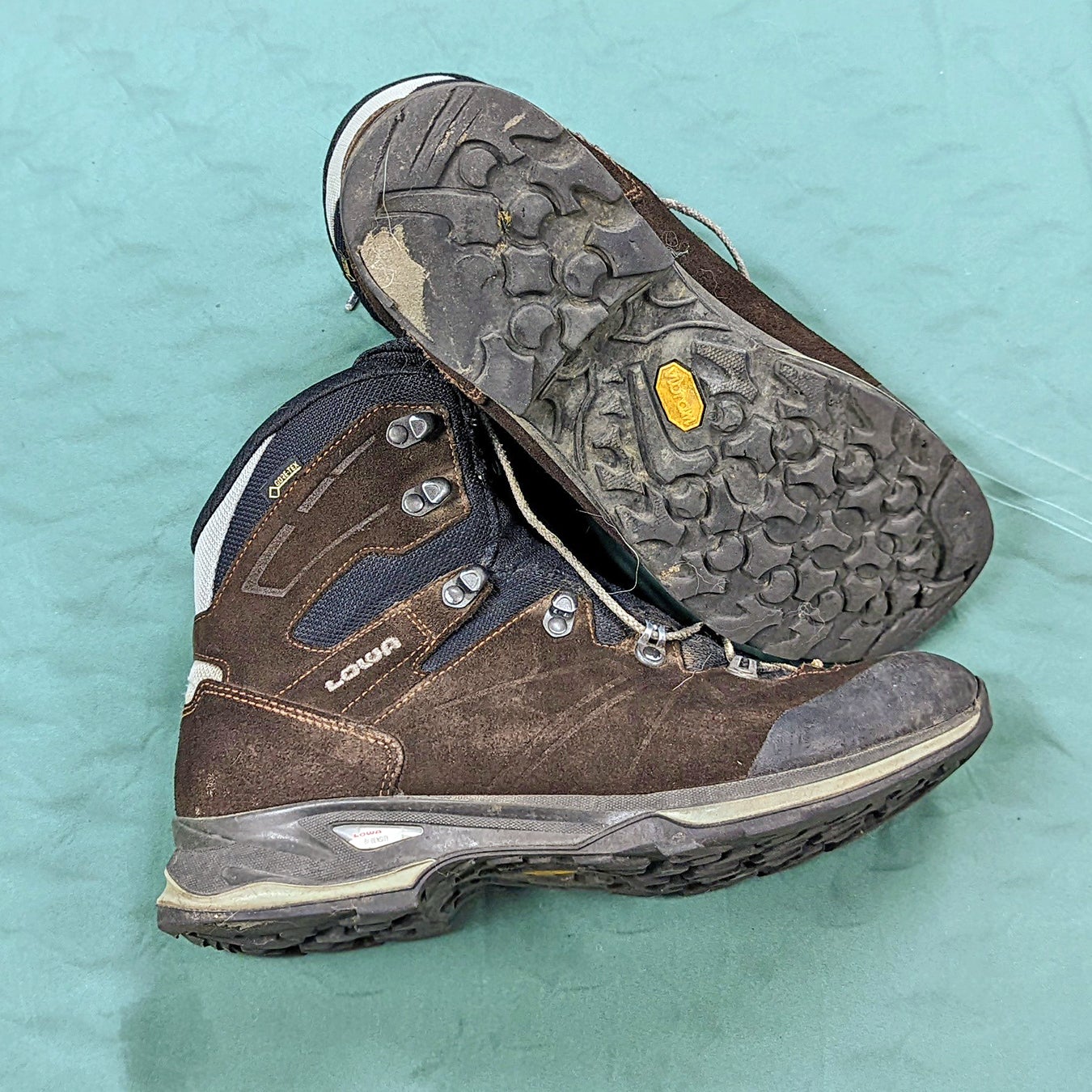 Heading out the door? Read this article on the new Outside+ app available now on iOS devices for members! Download the app.
Most of the time, my vanity works against me. This is a story about one time that it didn't. 
A couple years ago, I was looking at photos on the Fjallraven website and realized one of the reasons the pants looked so good on the models was because they were paired with some really nice boots. Lean and purposeful, yet understated and classy, they were made from a leather upper fitted with a sole that reminded me of an athletic shoe. I decided I had to own them, if only so that my Fjallraven pants could look as good on me as they did on those models.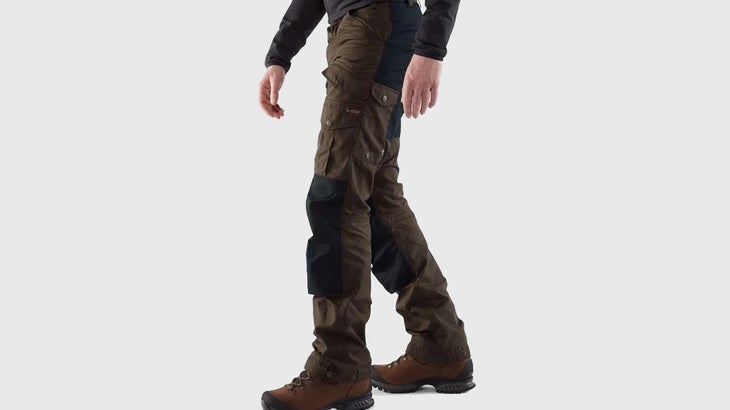 Digging into a Google image search, I eventually found a photo from the same shoot that gave me a glimpse of a logo on the boots. I spotted the giant red circle that Hanwag emblazons on all its boots. 
I've tried a few pairs of Hanwags before, but they've never really worked for me. In fact, hiking boots have never really worked for me. I'd wear them sometimes, sure, but usually just around town, or in bad weather. Anything that called for a lot of miles or exertion had me reaching for my trusty trail runners instead. No pair of boots, I was convinced, could ever match the comfort, agility, support, or light weight of a pair of sneakers. 
The problem was that trail runners look goofy, especially with a full-length pair of pants. And I wanted to look like the guy in those Fjallraven ads. 
I texted a few friends who rep major footwear brands, but the photos they sent back were of brightly colored synthetic boots and leather ones that looked like loves of bread. They just didn't get what I was asking for. So I turned to social media, where a request for help eventually led me to a boot brand I'd only ever heard of in passing: Lowa. 
It turns out that the guy who founded Lowa 99 years ago, Lorenz Wagner, was the brother of the guy who founded Hanwag, Hans Wagner. Hans beat Lorenz to the contracted naming convention by two years. Lowa is still headquartered in the Bavarian Alps, and makes its boots in Germany and Austria. More importantly, the brand's website featured exactly what I was after: a pair of leather boots that looked technical and athletic. The logos weren't garish, and there was even a brown option with understated gray trim. I pulled out my credit card and tried to order a pair, only to find them sold out in my size, in that color. If I wanted an 11, I'd have to go with gray and baby vomit green, or black and ugly orange. 
Eventually, Google led me to a third-party reseller that had a brown pair of Lowa Baldos in stock. I spent $270 ordering the last pair available.
When the Baldos arrived a few days later, I slipped a pair of Superfeet Flex insoles into them, put on my favorite Fjallraven pants, and looked in the mirror. It was love at first lace. 
The top two lace loops on the Baldos are made from ball bearings retained in metal loops. A lacing point holds the tongue in a centered position, so it won't slip down to the side as you move. This means I can lace up Baldos tighter than any other boot I've ever worn, but without any hint of a hot spot. A snug fit forces my foot down into the insole, and draws the upper tight around my ankle, eliminating any potential for play between boot and foot. 
It's not a boot's tall upper that provides ankles stability—those only offer protection from foreign objects and weather intrusion—it's actually up to the insole and foot bed. When your toes to spread out and your foot gets the correct support for your individual arch shape, you get that stability. 
One of the reasons I've never been very happy in a real boot is that I haven't been able to cinch them down onto my feet tightly enough. Even in boots that match the length and width of my feet, and put the arches in the right places at the right height, my toes would slide forward going downhill.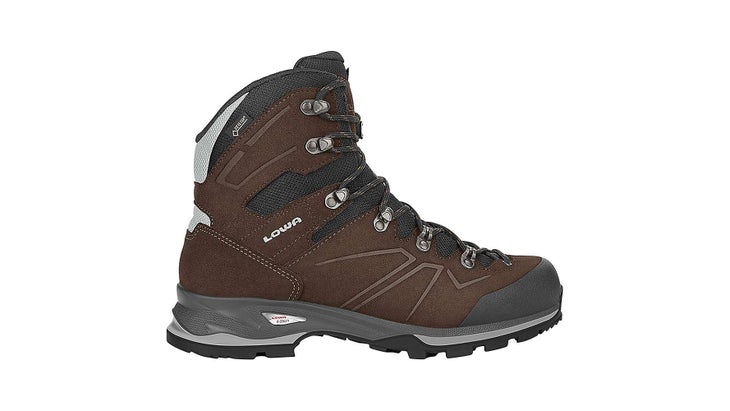 I'd only planned to wear the Baldos for video and photo shoots, and maybe in bad weather. But from the moment I put them on, my other footwear began gathering dust in my closet. From multi-day backcountry hunts to shoveling snow out of my driveway to walking downtown for dinner, these Lowas were the right choice. In addition to comfort and stability, the pronounced heel and aggressively-lugged Vibram soles provided traction everywhere, in every weather. Twenty-two months later, I can count the number of times I've worn something else on two hands. 
After what must have been thousands of miles, my original pair of Lowas was starting to look pretty worn out. They'd get soaked through in high alpine snow storms and river crossings, and salt from winter sidewalks had totally disappeared the angular heat embossing details on the sides. The lugs on the soles were worn bald, and the foam behind the rubber was beginning to show through. With another hunting season rapidly approaching, I desperately needed a new pair of boots. And I didn't want to try anything other than another pair of Baldos.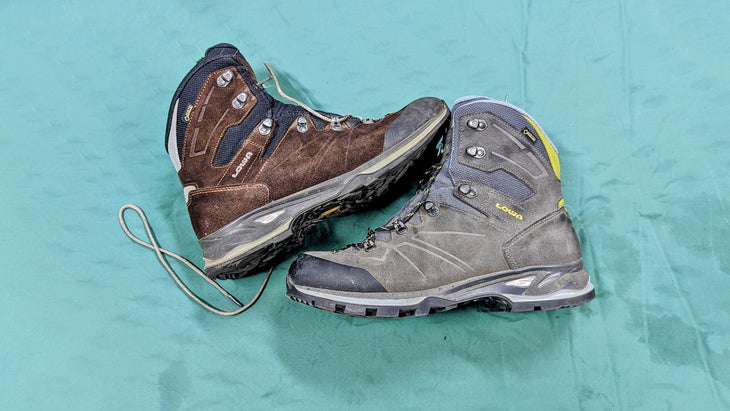 But it turns out that the pair I ordered almost two years ago was the last pair of brown elevens out there. I'm so happy in these things that it didn't feel like a hard decision to settle on a pair of gray and baby vomit green boots, but those truly bad colors do relegate this new pair to outdoor duty only. While they'll keep my feet happy in the elk country this fall, I also need secure, comfortable, good looking boots to wear around humans. 
My search is back on. I'm looking for a boot that's as durable and well made as these Baldos, that achieves a similar tech-meets-leather look, and that's so comfortable it may as well have been custom made for my feet. Is it too much to ask that they come in brown? 
Lead Photo: Wes Siler