Sherpani Rumba Superlight baby carrier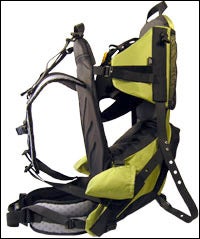 Heading out the door? Read this article on the new Outside+ app available now on iOS devices for members! Download the app.
My first experience using a baby backpack was more like medieval torture than a benefit of the joys of modern gear. Lugging our then-ten-month-old son in a loaned kid-hauler for a scenic hike through the Scottish glens this summer, I managed to concertina my spine into a pain-shooting pancake that laid me low until whisky numbed the discomfort.
Sherpani Rumba Superlight baby carrier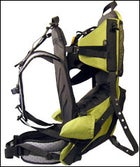 Sherpani Rumba Superlight baby carrier
So I admit I donned my green-tea-colored Sherpani Rumba Superlight with a healthy dose of trepidation. Before putting it on, I just figured that even though our umbrella stroller could handle only a lightly cracked suburban sidewalk, I'd forgo the trails until the sprog could damn well carry his own weight. We'd do finger-painting till then.
Happily, my biggest surprise was not that my son was giddy on the ride, slapping my head like a bedeviled mahout, but that the pack (and my back) held up under its hyperactive 20-pound load.
Pack a standard backpack like you do a kid carrier (heavy, bulky items on top, weight distributed far from your shoulder blades and back's center, everything pulling down on your shoulders and neck) and you'd be slapped straight into NOLS remedial school. So the very dynamics of how you carry stuff—one-year-olds tend not to like being stuffed in a backpack's smelly reaches like camping supplies—means baby backpacks need to perform in ways that normal bags don't. (Witness my Scottish sufferfest.) In this respect, the four-pound-eight-ounce Rumba Superlight scored with its series of jibs and harnesses to effectively disperse my squawking, top-heavy load.
A pared-down sibling of the higher-capacity Rumba, the Rumba Superlight exhibits sturdy functionality with aesthetics that are the hallmark of Boulder, Colorado-based Sherpani, a pack maker dedicated to crafting bags styled on a woman's shape and sensibilities. A load-dispersing suspension system, with comfortable, padded shoulder straps and rigid waist harness, did the job of making sure the pack remained stable while our little outdoor promenade didn't become a literal pain.
The pack itself looks good, styled for both moms and dads to schlep without fear of censure from Queer Eye for the Hiker Guy. Features include eye-pleasing trimmings like discreet floral patterning, a pack-cloth interior to ease cleanup of inevitable spills, and nifty stirrups for your baby's feet—ostensibly to ease circulation, but I think really there to drive home that you're their beast of burden. (Kids these days—they're smart.) Beyond that, the 1,500 cubic inches of capacity (in a back mesh pocket and lower storage compartment) offer enough space for diapers, snacks, and the usual baby-travel accoutrements, though not much more. Of course, if you're looking to more than short day hikes, take a look at the bigger, backcountry-ready Rumba (2,800 cubes). Myself—I'll wait until I don't have to factor dirty diapers into the Leave No Trace equation. $150; www.sherpani.us
Trending on Outside Online