Is TNF's new pack suspension system worth the extra weight?
Do you think The North Face Pivotal Suspension Pack is worth the extra weight? Ryan Leawood, Kansas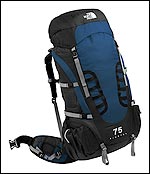 Heading out the door? Read this article on the new Outside+ app available now on iOS devices for members! Download the app.
This past year The North Face introduced a series of packs with what it calls "Pivotal Suspension," an articulated frame that follows the wearer's body movements in a more natural way than other packs with a rigid metal stay. Among the packs with this feature are the Catalyst 75 ($379, www.thenorthface.com), a 5,500-cubic-inch pack designed for long trips and expeditions.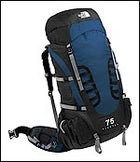 Catalyst 75

These are indeed somewhat heavy packs. The Catalyst 75, for instance, weighs nearly seven pounds in the medium size, more than seven in the large. That's certainly hefty, but it's competitive with other high-end, big packs. Arc'Teryx's well-regarded Bora 80 ($369, www.arcteryx.com), for instance, comes in at six pounds, 13 ounces in its medium size; the Osprey Crescent 85 ($379, www.ospreypacks.com) weighs seven pounds, one ounce.


My question would be: Does the Pivotal Suspension system work? And I'll be honest—I haven't tried it, although I do know it has been well-received by gear-testers at several magazines. Backpacker's 2005 Gear Guide notes of the Catalyst 75, "Brutal loads are uncannily comfortable." But my position has long been: Pack weight is less of an issue than most people assume. True, weight is weight, so a pack that weighs four pounds gives you a shot at saving three pounds over another pack, given the same load. But when the load is big, more than 40 pounds, that extra load from the pack becomes a lesser percentage of the total load. And what becomes important at that time is how well the pack manages the load so it doesn't start to squeeze your torso and restrict breathing, or become uncomfortable. Over the years I've worn some packs that shaved ounces, but made 30 pounds in them feel like 40.
So my philosophy is to look for the lightest possible pack that can handle a big load well, and then try to gain real weight savings from what I pack into it. I'd certainly give the Catalyst a look, trying a loaded version of it on as well as packs from several other makers. If it feels good, buy it.
Read more pack reviews in Outside's
2004 Buyer's Guide
.
Trending on Outside Online