The Vargo Bot Is the Only Backpacking Cookpot You Need
Want to cook chocolate fondue, grilled cheeses, and cold-soaked meals with one device on trail? The Vargo Bot is the miracle that makes it happen.
Heading out the door? Read this article on the new Outside+ app available now on iOS devices for members! Download the app.
After three months on the Pacific Crest Trail, I was finally enduring another meltdown—a chocolate meltdown, to be clear.
The trail towns of Northern California are not quite a food desert but no oasis, either. For several hundred arid miles, hikers subsist on the bargain shelves of Dollar Generals and spendy small-town grocers on the losing end of supply-side economics. My parents had kindly dispatched a box of indulgences across the country to supplement whatever we could find, and it had arrived amid an historic heat wave so sustained the word "wave" felt insufficient. My blessed mother had even packed a gargantuan Tony's Caramel chocolate bar, six ounces and six inches of total sugar pleasure.
But deep inside my black backpack, beneath the relentless sun, it was turning into useless goo, the chocolate intertwining with the silver wrapper and leaking from the creases of the thick paper around it and into my food bag. I was hoping for a trash can amid the spattercones and lava tubes of Lassen National Forest when an idea erupted: Why not turn the chocolate into peanut butter fondue and pour it over the bougie Belgian waffles my parents had also sent? I knew my Vargo Bot could handle the job; after all, after 1,400 miles, I was correctly convinced my Vargo Bot, my favorite piece of PCT gear, could handle most any on-trail culinary task.
Aside from a stove, a spoon, and a source of fuel, the Vargo Bot is the only cookware you will ever need for a backpacking trip of any length. "Bot" is a portmanteau coined by Vargo Outdoors founder Brian Vargo to encapsulate the product's two main functions: boiling or cooking your dehydrated meals and doubling as a one-liter bottle. That was a decade ago, however, and Vargo never imagined the legion of new uses that people, myself included, would invent with his invention. You know, like trailside fondue.
"A lot of times, I will come up with a product, like the Bot, that I conceive of using in a certain way. But then people will use it in ways I never even thought of," says Vargo. "People have been so innovative with uses for the Bot because it's so versatile."
The Bot would give us another liter and take the place of that old pot, pulling double-duty as all hiking gear should.
Nothing else like it exists, at least according to Garage Grown Gear general operations manager Adam Vachon. The Vargo Bot's brilliance and adaptability stem from a simplicity of concept and execution. An Appalachian Trail alumnus, Vargo began to contemplate why he toted a separate Nalgene water bottle and cookpot during subsequent backpacking trips. Their circumferences were nearly identical, and they both held water. So what if he created a titanium water bottle without a tapered top but with the same sort of screw threads that makes your Nalgene work? He added a thin silicone ring between the pot and its top to ensure a tight seal, and the Bot was born.
I admittedly balked at the Bot the first time I noticed its price—$110 or so if you want it with handles, $100 if you need no handles or want the smaller size. I'd toted a Snow Peak pot that cost half as much on the Appalachian Trail, so I found no need to change now. Tina, my wife and our family's lone gear maven, explained with the patience of a school-teaching saint that water, though, is obnoxiously omnipresent on the AT. We'd need as much water-carrying capacity as possible during the PCT's dry desert stretches. The Bot would give us another liter and take the place of that old pot, pulling double-duty as all hiking gear should. I dutifully placed my order.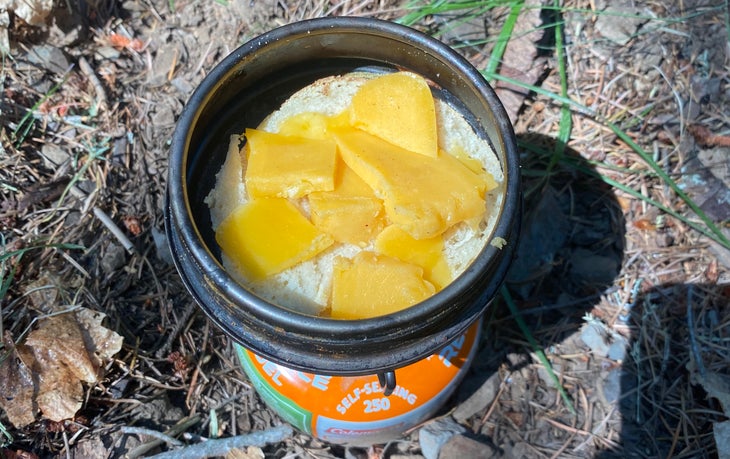 We'd hiked only a few dozen miles before I began to unlock the levels of the Bot's utility, as if it were a Swiss Army Knife or Leatherman. Yes, it could tote and boil water. I could empty noodles or couscous or any number of grains inside with a cup of water a few miles before the night's destination, and my meal would be cold-soaked to completion by the time my cowboy camp was set.
But I could also steep tea and brew compostable bags of great coffee with its lid, which, in the era of COVID-19, could work as a shot glass for a liquor bottle shared by dirty hiking comrades. It works as a cocktail shaker, should you tote some booze out of town. Take off the silicon ring, and the top is a small skillet that I've used to saute tempeh and soy nuggets. The wide lip of the Bot's lid makes it an excellent strainer whenever I added too much water to my food (just open slightly and tilt), a vexing process with ordinary pots that cause you to spill half your meal. At night, it makes a miniature locking bear can for the morning's breakfast, and I've even used it as an ad hoc hammer for tent stakes, though I am sure that is a use that would make Vargo himself wince.
I try not to gloat as other hikers stare with envy.
Still, the real coup of my love affair with the Bot has to do with the perfect size of its lid, which is just under four inches in diameter on the inside and just more than an inch in height. This is exactly the size of a standard English muffin, available in cheap six packs in even the grimmest North California grocery stores. Around that time, I began toting Thomas' English muffins and a half-pound of Tillamook extra sharp cheddar cheese out of every town when, one day, I realized they belonged together inside the lid of the Bot above a slow flame. Yes, I am indeed talking about grilled cheese sandwiches—or quesadillas, when English muffins aren't an option.
Each day at lunch, I remove the silicon ring from the Bot's lid and place it upside down (that is, Vargo logo against the flame) on the burner with the lowest heat possible. I split two muffins in half and stuff one piece inside the lid, covering it with a mountain of thinly sliced cheese. When it starts to melt, I turn off the flame and let it rest for a minute. Because of the way pure titanium heats and cools, you can soon reach into the lid and pull the bottom of the sandwich up without fear of being burnt. (There is a learning curve, so be careful.) I add the other half and toast it again while I slice an avocado or tomato, either of which fit inside the Bot alongside a fuel canister, spoon, and stove as you hike. I add some ketchup or olive oil, maybe seasoned salt or pepper if I'm carrying. And then I dig in.
I try not to gloat as other hikers stare with envy at the cheese leaking out from the muffin's blackened edges, little on-trail miracles of the divine Maillard reaction; I often fail and exclaim something like, "Pretty fucking cool, right?" Tina rolls her eyes, mocking my peacocking culinary pride.
But then, I like to think, she remembers the fondue—how she brilliantly suggested adding water to the body of the Bot to create a double boiler that wouldn't burn the chocolate; how I brilliantly added peanut butter to the melting chocolate to make it thicker and richer; how we stared at the brilliantly setting sun afterward, comatosed by the cataract of calories.
The Bot salvaged an on-trail meltdown. I never intend to hike without it.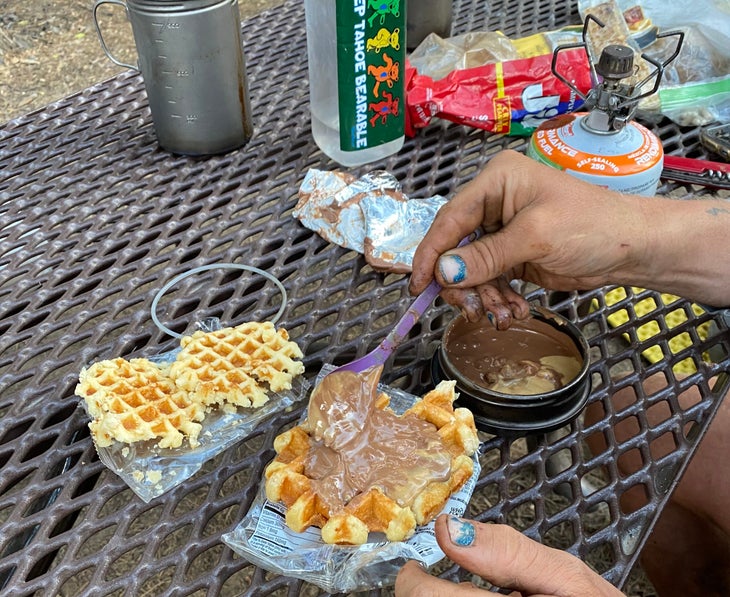 My Chocolate-Peanut Butter Fondue Recipe
Four ounces of your preferred milk chocolate
An ounce of peanut butter, or more to taste
Any and all dippers
3 ounces water
Pour three ounces of water into the large pot of the Vargo Bot. Bring it to a boil over a camp stove flame. Remove the silicon ring from the lid of the Vargo Bot. Reduce the heat to medium. Add the lid to the pot, top side (Vargo logo side) down. Add chunks of chocolate to lid, and stir rapidly. As chocolate melts, add peanut butter while stirring continuously. Taste a bit, and adjust chocolate or peanut butter to taste. Dip anything you have—pastries, Pop-Tarts, spoons, whatever—into fondue, or pour fondue onto whatever sounds good. Enjoy. Repeat.
Lead Photo: Grayson Haver Currin