What backpack will cover my daughter for a semester abroad?
My college-aged daughter will be studying abroad starting in January. The program requires that she bring everything she needs for the entire semester in a single non-wheeled backpack. She won't be camping out but doing homestays in Germany and Tanzania, with some travel in between. Deb Amherst, New Hampshire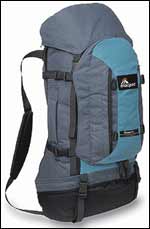 Heading out the door? Read this article on the new Outside+ app available now on iOS devices for members! Download the app.
It just so happens I saw exactly what she needs this past weekend in Salt Lake City, where I was attending the Outdoor Retailer trade show. One of the new exhibitors there was MacPac, a long-time New Zealand maker of excellent outdoor equipment that is now entering the U.S. market.
Genesis

Anyway, MacPac makes a BIG travel pack that's also an excellent all-around pack. Called the Genesis, it holds just over 5,000 cubic inches of stuff in the medium size, has a detachable daypack, and includes a built-in harness cover to simplify airline check-in. It's also very ruggedly built, and should last your daughter through many, many trips. Price is $350 (www.macpac.co.nz). Question is, can you find one over here? Try Bob Smith's Wilderness House in Boston (www.wildernesshouseboston.com). They're one of MacPac's new retailers, and if they don't have a Genesis, they can get you one.
You might also look at the Osprey Waypoint 80W ($240; www.ospreypacks.com), another excellent no-wheels travel pack. It's a little smaller than the Genesis, but still holds nearly 5,000 cubic inches, has a detachable daypack, and comes with traveler-friendly features such as pockets that help organize important paperwork.
It's also entirely possible to purchase a big "regular" backpack, then purchase an inexpensive duffle to stick the thing in when traveling via air or train. Gregory's Whitney ($329; www.gregorypacks.com) is an excellent, big backpack—5,450 cubic inches of space in the medium size. It's got a very fine suspension as well, so it'll be comfortable to carry.
One very worthwhile accessory will be a PacSafe 85 security web ($65; www.pac-safe.com), which is a stainless-steel mesh that locks over a pack to keep out prying hands. Well worth the money.
I hope your daughter has a grand adventure! And learns something too, of course…
For more expert reviews of the world's toughest haulers, check out Outside Online's all-new Backpack Buying Guide.
Trending on Outside Online