Gear Guy
What backpack would you take up Kilimanjaro?
We are going to climb Mount Whitney in preparation for a Mount Kilimanjaro bid next year. I'm five-foot-nine and 140 pounds, my husband's six-foot-five and 240 pounds. We're wondering if we'd be happier with internal- or external-fre backpacks, and what sizes we should be looking at. We were planning on going to REI and then I read your column and decided to ask you. Jan Federal Way, Washington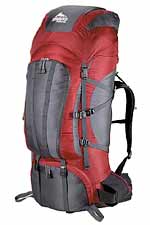 Heading out the door? Read this article on the new Outside+ app available now on iOS devices for members! Download the app.
Two questions, then: what style and what size.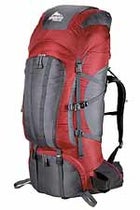 Palisade

The style one is easy, primarily because of the overseas component of your later trip. Although several pack companies make excellent external-frame packs—and this design has several attributes not found in internal-frame models (easier packing, cooler to carry)—internal-frame packs are pretty much the standard, and in particular are easier to check as luggage. Some airlines will take them as is, with all the straps cinched. In other cases, just toss it into a big duffel bag and check that. An external-frame pack, on the other hand, will have to be put in a duffel, and even at that may suffer at the hands of gorilla-like baggage handlers.


So, then we have to settle on pack size. For you, somewhere around 4,500 to 5,000 cubic inches. For him, something in the order of 5,500. That should give you plenty of room for even longish trips. The great news here is that there are lots of packs to choose from. One very reliable choice: Gregory's Palisade ($289; www.gregorypacks.com). In the medium size, which will likely fit you, it gives you 5,100 cubic inches in a pack with an excellent suspension, well-designed bag, and sturdy construction. The large size may fit your husband but might fall on the small side for him. Osprey's Crescent 90 ($340; www.ospreypacks.com) is available in extra-large with 5,900 cubic inches of capacity and has the option of different-sized waist belts. Dana Design's Terraplane LTW ($399; www.danadesign.com) also has big sizing and offers a little more rook than the Crescent. Both are extremely high-quality packs.
Packs are like boots—fit matters. So take some time to try on several packs loaded with 20 to 25 pounds. Get a sense of where the straps and belts hit you, how easy the pack is to adjust, that sort of thing. You'll notice real differences between packs and this is the only sure-fire way to get a true sense of what might work.
Good luck with the Whitney climb and onwards to Kilimanjaro!
Trending on Outside Online