What boots will stop my feet taking a Himalayan beating?
I an avid trekker in the Indian Himalayas, but on a recent five-day hike I ended up with mashed toes (black nails) and blisters in the heel area. I need a boot that's not too heavy and that will give good support on the killer downhills. L.L. Bean's Cresta Hiker or Vasque's Sundowner both get good reviews, though there seems to be some apprehension about the quality of the latter due to its Chinese manufacturing. Ravinder Delhi, India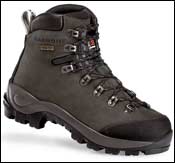 Heading out the door? Read this article on the new Outside+ app available now on iOS devices for members! Download the app.
Ouch, those were not good-fitting boots. It sounds as if they were too tight in both the toes and the heel, so the heel blistered and the toes got pounded with even the slightest push forward during a downhill stretch.

Nubuk

But there's a lesson here, and one I repeat often: When it comes to boots, the fit counts for more than the brand. So while both the Cresta Leather Hiker ($169; www.llbean.com) and the Vasque Sundowner ($190 in the Summit version with Gore-Tex; www.vasque.com) are fine boots, what matters is that they fit well. On this count, I know the Cresta is famous for a shape that seems to fit a surprisingly wide range of people, and the Sundowner also has a reputation for foot-accommodating fit. I wouldn't worry about the manufacturing source for the Sundowner, as these days gear is made all over the world and good quality control weeds out most problems early on.
But don't limit yourself to these two boots alone, as lots of good mid-weight trekking boots exist. Raichle's Mountain Peak GTX ($199; www.raichle.ch), for instance, is a rugged boot with all-leather uppers (like both the Bean and Vasque boots), a Gore-Tex liner (ditto) and grippy Vibram soles. Basically, these are great boots. Scarpa's Delta M3 ($230; www.scarpa-us.com) is an absolute modern classic—beefy, one-piece leather construction, great versatility on short or long hikes, excellent comfort. Lastly, Garmont's Dakota Nubuk ($209; www.garmont.com) is a near-mountaineering boot that's well suited for workhorse life in the Himalayas.
Any of these boots would work. Again, the key is how they fit. So if you have a chance to try on two or three of them side by side, do so. Your bruised dogs will thank you.
For more expert reviews of a range of hiking footwear, check out Outside Online's Hiking Boots Buying Guide.
Trending on Outside Online