What day pack should I use for winter adventures on the Gaspe Peninsula?
I planning a weeklong hut-to-hut ski trip in the Gaspe this winter. Food and heavier gear will be transported by sled but a day pack with essentials must still be carried, of course. Any suggestions for pack and gear? Tim Toronto, Ontario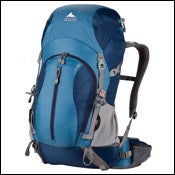 Heading out the door? Read this article on the new Outside+ app available now on iOS devices for members! Download the app.
Hey, I've been to the Gaspe Peninsula! For a travel story. That's about as far from where I live as you can go and still be in North America—plane to Boston, plane to Quebec, lo-o-ng train ride up to the peninsula. Gah, took forever. But I had a good time. Found a fabulous restaurant on a hill outside of Perce, I think it was, and pretty much camped there each evening. Wonderful lobster, and cheap. Lots of wine, too. Did some kayaking, hiking, bird-watching. Pretty place. Love the people there.

The Z35
Anyway, I was there in August. I imagine winters can be fierce. So you're likely going to need a moderate-size day pack to carry extra clothes, food, and emergency gear. Something around 30 to 40 liters (1,800 to 2,500 cubic inches) ought to be the ticket.
Here's one: The Arc'teryx Bora 35 ($146 Canadian). Nice day pack for snow sports, with watertight zips, lots of storage points, pockets for skis/poles, and a great suspension. I also like Gregory's Z35 (about $175 Canadian). A bit larger than the Arc'teryx at 35 liters but still a compact, close-fitting pack. Excellent suspension, plenty of packing options, sturdily made. I have the slightly smaller Z25 and like it very much, but that may be a bit too compact for winter.
What do you put in said pack? Enough so that if you break an ankle and it turns dark, you live. That means an extra fleece jacket like MEC's Reactor ($135) or Patagonia's down sweater ($250 Canadian), and a bivy bag like Integral Designs Microbivi ($147 Canadian), and maybe a compact stove and fuel like the Primus Express ($52 Canadian). Plus SPARE gloves, hat, and socks, in case what you are wearing at 5 p.m. gets wet.
My advice, get the lobster. And a gin & tonic.